Who is Sineenat Wongvajirapakdi, Thailand King's first-in-a-century royal consort?
After being deposed for a period of time, the noble consort Sineenat Wongvajirapakdi was pardoned by King Maha Vajiralongkorn, who brought her to Germany during the COVID-19 .
Thailand's King Maha Vajiralongkorn and General Sineenat Wongvajirapakdi. (Photo: Reuters)
Maha Vajiralongkorn, the king of Thailand, has allegedly pardoned his pilot concubine, whom he had thrown in jail last year, and has flown her to Germany to join his harem, according to The Sun Times.
Since October 2019, the whereabouts of Sineenat Wongvajirapakdi had been uncertain. The king had reportedly stripped his former concubine her of her titles and government ranks and imprisoned her, amid allegations about her "disloyalty" and alleged ambitions to be queen.
But on Aug. 27, a Boeing 737 plane from the king's private fleet was dispatched to Bangkok's Lat Yao Central Women's Prison, at which the concubine was said to have been kept. According to journalist Andrew MacGregor Marshall, a regional expert, she was flown to Munich, via a refueling stop in Dubai, where she was personally received by the king and driven to the Grand Hotel Sonnenbichl in the German resort town of Garmisch-Partenkirchen.
While public knowledge of Sineenat's personal life is limited (as her official biography, which was released by the palace in August, has since been removed from the bureau of the royal household's website), here's what you should know about Sineenat.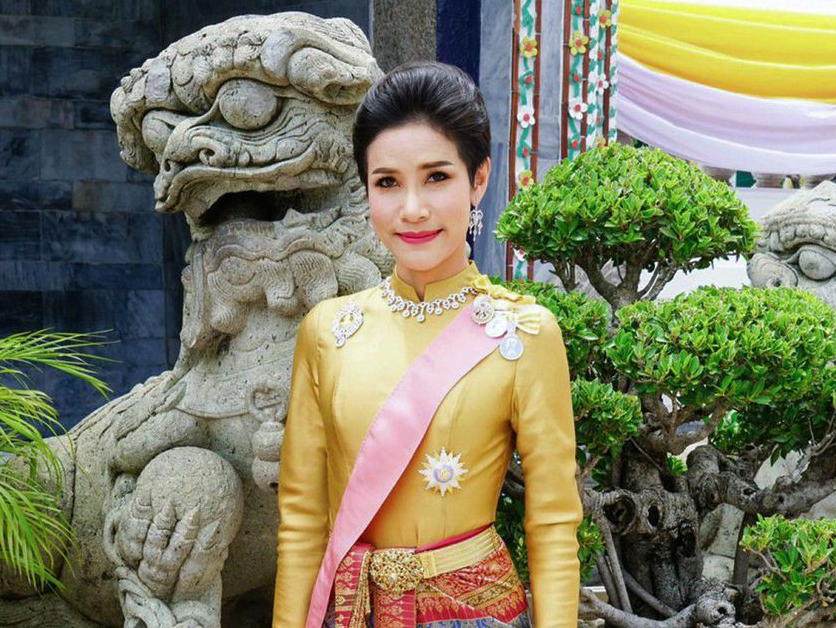 In this file undated handout from Thailand's Royal Office received on August 26, 2019, royal noble consort Sineenat Bilaskalayani, also known as Sineenat Wongvajirapakdi, is seen. (Photo: Thai Royal Office)
Sineenat Wongvajirapakdi - From an ordinary nurse to noble consort
Born on January 26, 1985, in Thailand's northern province of Nan, Sineenat first worked as a nurse after graduating with a Bachelor of Science in Nursing from the Army Nursing College in 2008.
In 2015, Sineenat joined the king's bodyguard corps, where she completed a variety of military courses, including jungle warfare and parachuting, and obtained a private pilot's license. She then moved up to serve as a major general before becoming the royal consort.
In July 2019 she was gifted the title of royal consort to mark the king's 67th birthday — the first time in nearly a century that a Thai monarch had taken a consort. And, in August, Sineenat received huge palace-arranged propaganda as the king's favorite.
While Thai monarchs have a history of electing royal consorts – who, in Thailand's case, are official companions to the king, in addition to his wife – the title has not been used since the country became a constitutional monarchy in 1932. The last king to publicly take a consort was King Rama VI, who ruled from 1910 to 1925.
The title of consort placed Sineenat in a polygynous relationship with Queen Suthida, 41, Vajiralongkorn's fourth wife, according to South China Morning Post.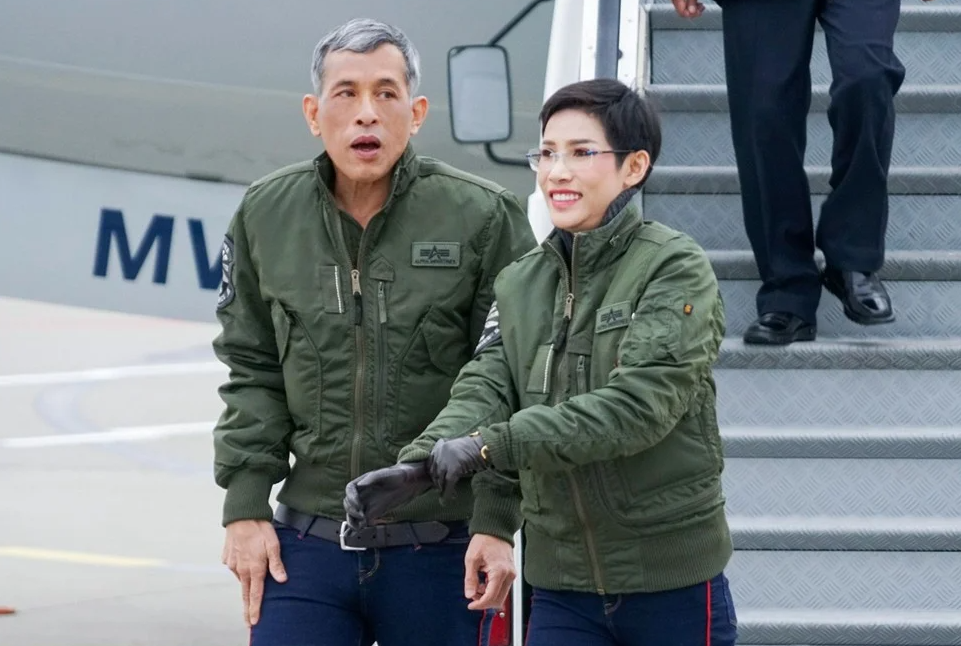 Thailand's King Maha Vajiralongkorn walks with royal noble consort Sineenat Bilaskalayani, also known as Sineenat Wongvajirapakdi. (Photo: Agence France-Presse)
Fell from grace in 2019
According to Thai Political Prisoners, at the time, the official announcement "accused Sineenat of attempting to prevent Queen Suthida from being crowned and abusing her royal status." Reports of the announcement stated:
Sineenat not only "expressed her opposition and exerted her pressure in every possible way" regarding Queen Suthida's elevation to the throne as the Queen of Thailand, but she also sought to have His Majesty the King appointed her to the role instead.
The announcement concluded that: "Her actions are considered disloyal, ungrateful, and ungracious of [the king's] kindness…. They caused division among the royal servants and misunderstanding among the public; these amount to acts of sabotage against the country and the institution".
She was stripped of all royal ranks, decorations, and her military rank in October 2019.
King Vajiralongkorn and Sineenat Wongvajirapakdi together again in Saturday 29 August 2020. (Photo: Bild)
Sudden released after just one year
According to the tabloid, Sineenat Wongvajirapakdi was flown in a private jet to Munich on Saturday and then drove to a four-star spa hotel in the ski town of Garmisch-Partenkirchen in the Bavarian Alps, Sputnik cited.
After a period of anonymity, Sineenat Wongvajirapakdi was pardoned by the King of Thailand and taken to Germany on a private jet. The King of Thailand himself went to Munich airport to pick her up at the isolated hotel with him on August 30. A photo provided by Germany's Bild purports to show King Rama X and Sineenat descend the airstairs on Saturday. There has been no comment from the royal palace.
It was previously reported that King Maha Vajiralongkorn - King Rama X - had "isolated" himself at the hotel for much of the pandemic. The king allegedly booked out the entire fourth floor and assembled the harem as a military unit.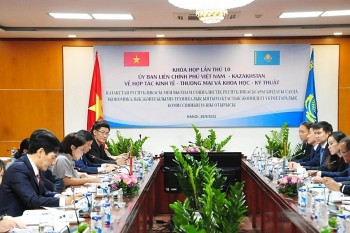 Friendship
The 10th session of the Vietnam-Kazakhstan Intergovernmental Committee on economic-trade and scientific-technical cooperation was held in Hanoi on September 26.