Why Danang Is Vietnam's Best Foodie Hotspot
Most travellers coming to Vietnam are really into our local food and drink and maybe you are not an exception. Let's scroll down to find out more information on Danang, the best foodie hotspot in Vietnam.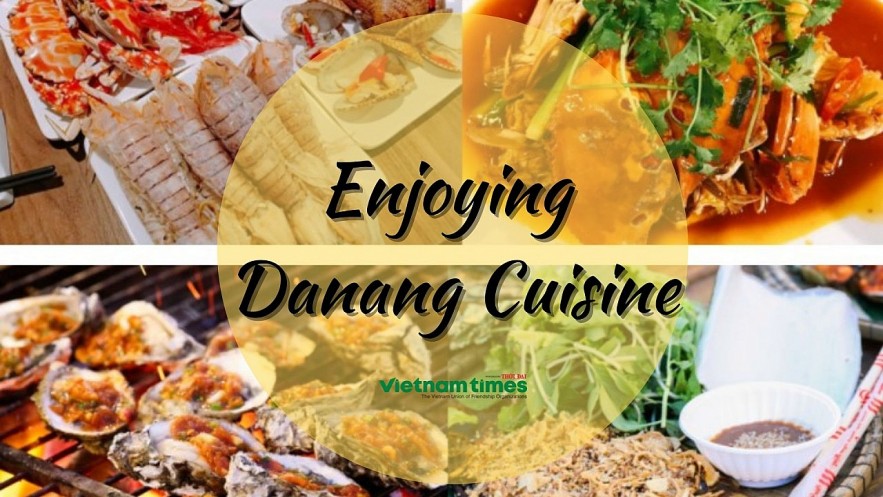 Danang Is Vietnam's best Foodie Hotspot. Photo: VNT.
From the outside, Da Nang looks like any other growing modern city, all shiny office blocks and newly built hotels. But once you look past the swish high rises you'll find a warren of back streets bursting with street-food stalls and local haunts untainted by mass-market influence.
Licking our lips with traditional cuisine
It comes as no surprise then, that Danang's food and beverage scene has begun to develop, too. Like the rest of the country, central Vietnam has always had great food, think cau lao in Hoi An, bun bo in Hue and Danang's delicious mi quang. We can't talk about the food in Danang without talking about Mi Quang, the most famous dish in the city.
Mi Quang pronounced "Me Wang" is a classic dish from central Vietnam. This was one of our favorite Danang foods we could always count on. A bowl of broad rice noodles with pork, shrimp, banana blossom, herbs and peanuts, mi quang is the quintessential Danang dish. Turmeric is often added to the noodles, as are extras like hard-boiled egg, chilli pepper and banh trang me (toasted sesame rice crackers). In Danang, a rendition with punchy soup stock, tender pork and juicy shrimp make Mi Quang Ba Vi (105 Le Dinh Duong) a perennial favourite with locals, silverkris reported.
Mi quang is Da Nang's definitive dish, featuring rice noodles that are tinted yellow using turmeric and bone broth seasoned with fish sauce, black pepper, shallot, and garlic. Meat toppings include river shrimp, boiled quails eggs, and roast pork, though some eateries use fish, chicken and beef slices. Lastly, the ensemble is topped with an array of fresh herbs such as basil, peanuts, coriander, lettuce, sliced banana flowers, and sesame rice crackers. You can also opt for chilli peppers for a spicy kick to the ensemble.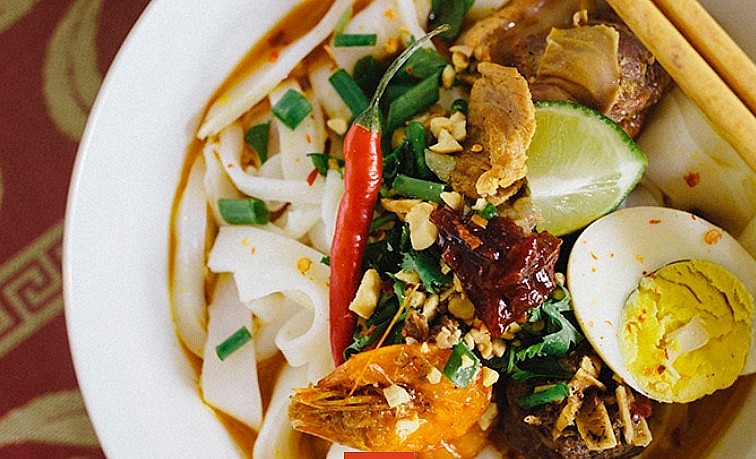 A bowl of mi quang – noodles with pork, shrimp, chicken, and egg in a savoury broth – at Mi Quang Ba Vi. Photo: silverkris.
Besides, banh xeo are savory Vietnamese crepes typically loaded with pork, shrimp, bean sprouts, spring onions and mung beans. The thin cracking crepe is made with rice flour, water and turmeric and cooked in a hot pan until it turns golden.
This Danang local food is served with a variety of fresh herbs and vegetables and sheets of rice paper. Roll everything together and dip it onto the peanut and meat sauce for incredible flavors. It's unclear when these tasty crepes were invented, though experts agree that the original bánh xèo was from central Vietnam.
Today's version is closely related to Hue's bánh khoái, a crispy pancake still eaten in the former Imperial Capital. Others speculate that the recipe was borrowed from Cham culture or even inspired by South Indian cuisine.
Eating banh xeo is a fun experience. It is best enjoyed hot and right out of the pan. If you are unsure where to start, see how the locals are eating or ask for help.
The first time we had banh xeo, we didn't know how to eat it. The vendor, seeing our confused looks came over to help. A personal favorite, this is one must eat Danang food.
Where to Eat The Best Mi Quang in Da Nang
Mì Quảng 1 A
Address: 1 Hải Phòng, Hai Chau, Danang
Hours: Open every day, 6:00 am to 9:00 pm
Price: 30,000 VND per bowl of Mi Quang (approx. $1.30)
Mì Quảng Dung
Address: 121 Đỗ Bá, Ngũ Hành Sơn, Danang
Hours: Open every day, 5:30 am to 1:00 pm
Price: 25,000 VND per bowl of Mi Quang (approx. $1.30)
Pro Tip: Order a side of the flatbread to go with your Mì Quảng, called Banh Quay for 5,000 VND (approx. $1.22).
Night markets - the biggest food heaven
Da Nang has grown rapidly in recent years – but it's still far less touristed than Vietnam's older cities. This also means it's less westernised than elsewhere in the country.
For the foodie, this amounts to plenty of authentic, local cuisine to taste. Here, street vendors peddling tasty, inexpensive meals rule the roads, each specialising in one or two signature dishes. Unsurprisingly, this also means that Da Nang is a very cheap city to eat out in – most on-the-go food is under $1, so there's nothing to stop you trying it all.
Behind Han Market, wind your way back from the river during the day and you'll come to a quiet street that seems all but deserted save for a few white signs proclaiming in red, blue and green: ""PHO", "NEM LUI" and "BO KEP LA LOT", or the occasional chair left outside a closed café.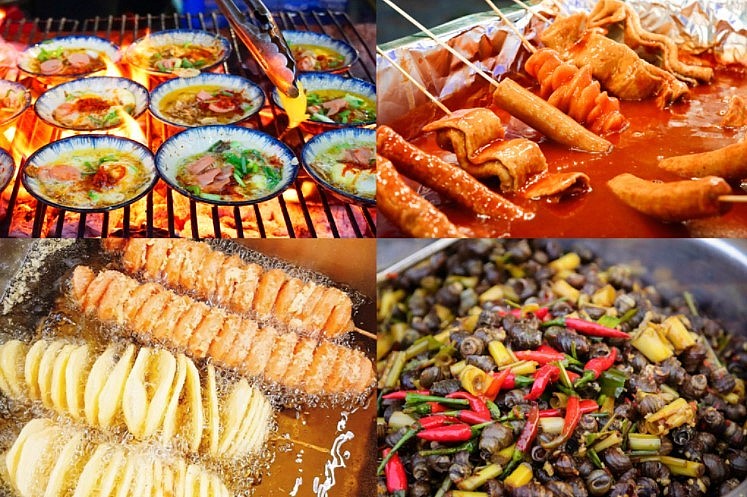 Photo: danangfantasticity.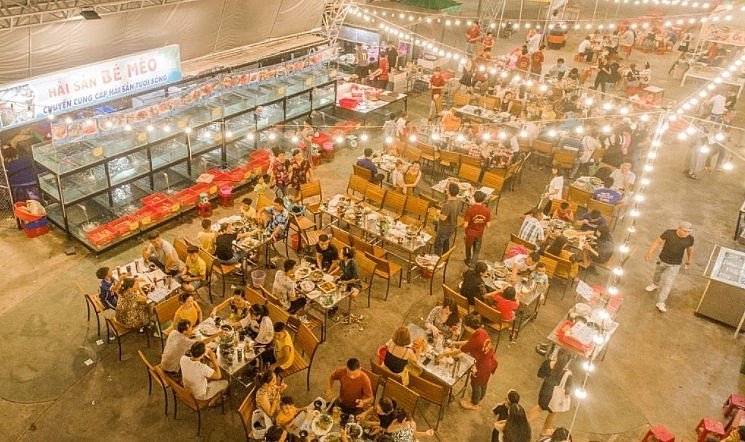 Photo: danangfantasticity.
Come again at night and you'll find the road crammed with motorbikes, awnings opened, shops lit up and the sound of people enjoying their evening meal. At the end of the road, a tall red arch proclaims the name of the street – this is Pham Hong Thai, and it's where locals come for Da Nang's best night-time street food, roughguides reported.
As a famous night market located on the central road 2/9 Da Nang, Helio Night Market is a place you must go. It boasts hundreds of delicious dishes from snacks, seafood buffet, beer, barbeque, milk tea, juices …. which for sure suits all your tastes.
Open every day from 17:30 to 22:30, with more than 150 food stalls, classified into 3 main zones, cuisine at Helio Night Market is a unique selling point that sets Helio different from other places.
It's such a pity to miss Con Market once visiting Danang. Located at the inrtersection Hung Vuong – Ong Ich Khiem, right at city center, it's so easy to find Con market, the destiation of all beautiful dishes you must try.
There are two eating areas inside and outside Con Market from 7am to 3pm every afternoon. The area for street food opens from 3pm.
In the indoor area, there are two lines of food booths, one side of sweet soup, smoothies and juice (i.e. tamarind juice, toad fruit juice…). Another side is lots of street food such as bun mam, vermicelli with grilled pork, Quang Noodle, Rice, spring rolls, snails, Filtered rice cake, Vietnamese pancake.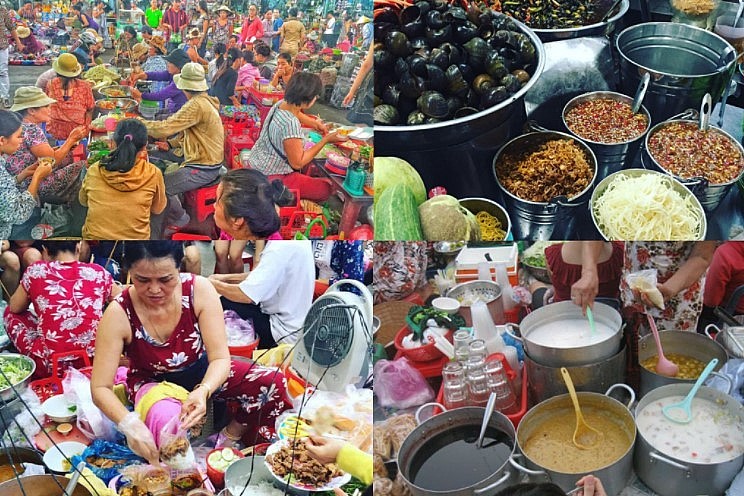 Photo: danangfantasticity.
When it comes to paradise of delicious dishes that are cheap and surprising, we can just say it is Bac My An Market. This market in Ngu Hanh Son district is highly rated by the "indigenous" with lots of delicious and 'strange' dishes, but the price is way so cheap.
As soon as entering the market, as reported by danangfantasticity, you will be overwhelmed by many food items, from Bun Mam, Vietnamese pancake, banh canh, …The most special thing in this market is the Ms Luyen's snail shop and the avocado ice cream by Ms. Van.
The snail here is cheap and so delicious. One plate is only 8.000VND ($0.35). Small snails, and big snails of all kinds are served with a spicy ginger sauce. The food is sold very fast. Occasionally, not even until 5pm, all food has been sold out.
Fresh seafood is abundant
Da Nang makes its home on a long coastline, around 74 kilometers in length, with many wild islands and a remarkable peninsula to the north of the city. With all this coastline, Da Nang has a variety of fresh seafood all year round ripe for the picking! It is a worthwhile place visiting in Vietnam.
Since the city is surrounded by sea, many local people become a fisherman, cruising on their boats upon the ocean as the sun sets. The ocean is very important to local people because it provides them with a way to earn a living and gives them the ability to take care of their family.
Fishing can take anywhere from one day to half a month, depending on which kind of seafood you want to catch. The fishermen use light to attract fish at night. That's why if you look out to the ocean at night, you'll see big spotlights attached to the front of fishing boats as they attract the fish to catch. Even if you put the net in the water for a short time, you can catch a huge amount of fish. All the fish are kept on ice after they're caught. Once the fishermen are happy, they come back to their family onshore, often in the early morning for the fish market.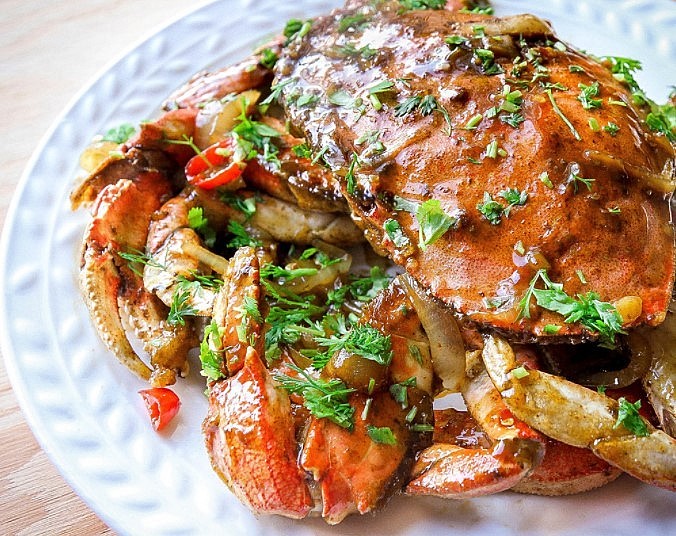 Crab sautéed with tamarind. Photo: focusasiatravel.
At sunset on Non Nuoc Beach, you'll notice men in conical hats heading out into the water casting wide nets out to sea. Others may be setting traditional woven bamboo basket boats onto the waves.
Ideally located right on the waterfront, Da Nang is the perfect place to try Vietnamese seafood dishes. Many of the city's specialities are fish-based and it's a safe bet at any restaurant. Go for bun cha ca, a fishcake noodle soup that is one of the most popular eats.
Goi ca Nam O is a special type of salad made with fish in Nam O district. Nam O is a fishing village where fresh fish first touch land after their long journey over the ocean. Local people will prepare the fish immediately, so eating this food in Nam O District is the most delicious. Sardine (ca trich) is the best fish to eat with this salad. You must gut and clean the fish, press the fish to dry, and season it with spices and Nam O fish sauce. Goi ca Nam Ois best when enjoyed with many kinds of herbs and vegetables (lettuce, young banana, cucumber, basil leaves, fish mint, etc). Then roll all of the ingredients into rice paper, dip into the fish sauce, and enjoy the remarkable taste!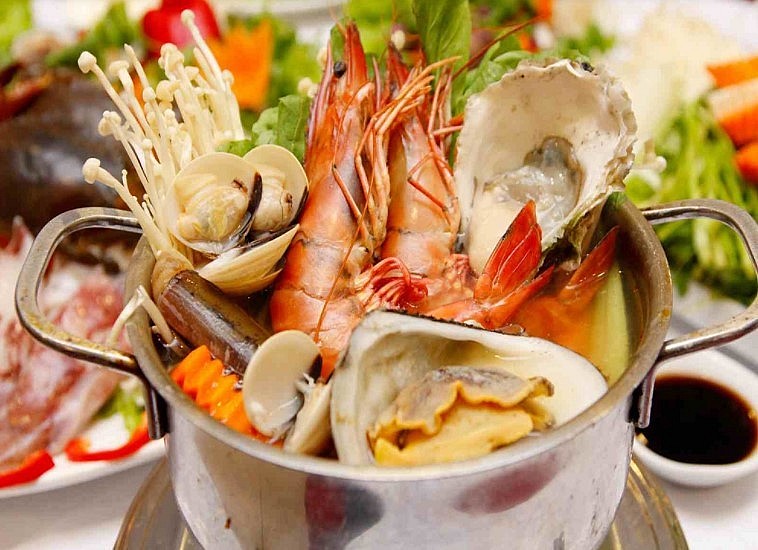 Photo: focusasiatravel.
Hotpot is a soup containing a variety of vegetables and ingredients, prepared with a simmering pot of soup broth on a burner right on your dining table. Seafood hotpot usually includes shrimp, clam, squid, fish, crab with tomato, mushroom, morning glory, and coriander. Each restaurant has their own specialty. Did you know that the broth is the most important element of hotpot? The broth is made of pork bone, which is stewed for one hour to make the naturally sweet flavor. A lot of the time if you got to a seafood restaurant and buy a fish, you can ask for the head in a hotpot at no additional cost.
Seafood hotpot is perfect for a cooler day on the beach and even more perfect for real foodies.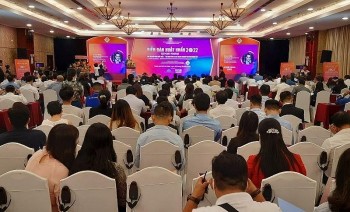 Focus
Vietnam News Today (Dec. 9): Vietnam - Singapore innovation centre helps firms transform production; HCM City among most searched destinations by travelers; Vietnamese digital technology industry's revenue estimated at 148 billion USD in 2022; Two Vietnamese films up for consideration at Oscars.