New match of Donald Trump and Joe Biden
US President Donald Trump on October 16 protected his government's response to Covid-19, while rival Joe Biden accused Trump of "doing nothing" to end the pandemic.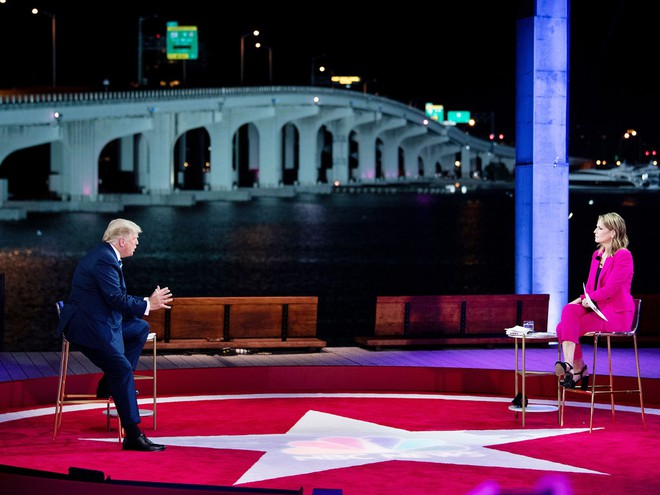 Mr. Trump in a question and answer session with voters AFP
On a night of simultaneous town halls on rival TV channels, Trump and Democratic nominee Joe Biden played out the roles of aggrieved incumbent and comfortable front-runner after the cancellation of their second debate, said CNN.
In these two question-and-answer sessions, Biden gave answers focusing on showing sympathy with voters. Meanwhile, President Donald Trump has made a strong statement defending the achievement in his first term, according to AFP.
Led by rival Biden in polls ahead of the March 3 election, President Trump was under pressure over the Covid-19 pandemic, which has killed more than 217,000 Americans and has seriously affected the economy.
However, during the Q&A event at the city hall of Miami City (Florida) yesterday, Mr. Trump was still optimistic that the Covid-19 pandemic was about to be over, even though the number of new infections has been still increasing strongly in many states of the country.
When asked about wearing a Covid-19 mask, President Trump did not respond directly and said he had heard "many different stories" about its effectiveness. He went on to praise the experimental Regeneron antibody drug, claiming that it helped him recover quickly from Covid-19 on October 2.
In addition, Trump emphasized the first term's achievement of creating more jobs before the pandemic hits and that the economy will flourish in 2021 if he is re-elected.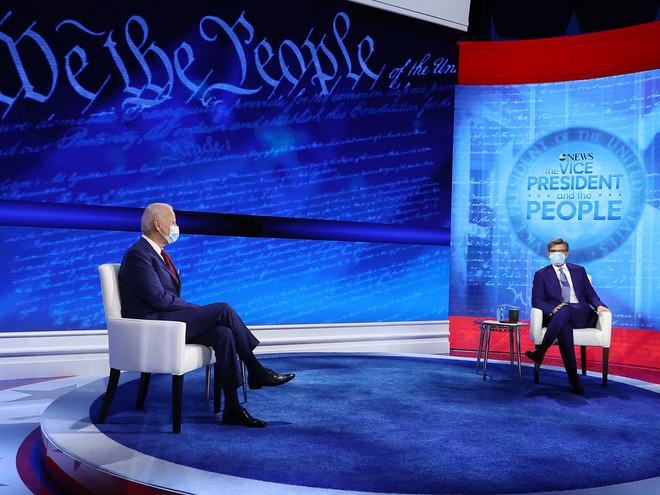 Mr. Biden in a question and answer session with voters PHOTO: AFP
During the Q&A session with voters at the town hall of Philadelphia City (Pennsylvania), Biden outlined a plan to fight the pandemic and revive the economy by prioritizing the expansion of the Covid-19 test, increasing the governmental state's budget, taxes for corporations and the wealthy, according to Reuters.
""We're in a situation where we have 210,000 plus people dead and what's he doing? Nothing. He's still not wearing masks," Biden said
The Democratic candidate repeatedly returned to the topic of solidarity, emphasizing he would try to end divisions in the US if elected. In a gesture of sympathy after the event ended, Biden lingered on the stage for another 30 minutes to continue answering many questions from voters.
As of October 16, more than 18 million Americans had voted early because of concerns about Covid-19, a record number and much higher than in 2016, according to a University of Florida report. After a question and answer session with voters, President Trump and Biden continued their campaign visiting important battlefield states. Specifically, Trump went to Florida and Georgia, two states seen as critically important to his chances of winning. Meanwhile, Biden will visit two cities in the state of Michigan.
New coronavirus update of Trump's diagnosis

Some answers emerged Saturday on President Donald Trump's condition as he battles the coronavirus, but Trump's medical team withheld some key information in their first ...