Why U.S: President Biden Makes Federal Worker Vaccine Requirement
U.S President Joe Biden is having a tougher approach at vaccine requirements with workers, as he felt like he has struck a "brick wall" in convincing holdouts to get shots.
Instead of merely asking Americans to get vaccinated, the President on Thursday is set to take his first step toward ordering it. In afternoon remarks, Biden is planning to announce that all federal employees must attest to being vaccinated against Covid-19 or face strict protocols including regular testing, masking and other mitigation measures, according to a source with direct knowledge of the matter.
It's not a mandate, officials insist, and most federal employees who do not get vaccinated will not lose their jobs as a result.
Still, the shift toward placing the onus for the current situation on those who have refused to get vaccinated reflects Biden's growing impatience that still-hesitant Americans are prolonging a crisis he said earlier this month was no longer paralyzing the nation.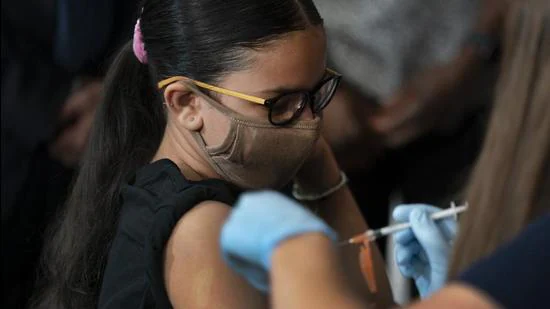 Giret Madina, 14, gets Pfizer's Covid-19 vaccine at Lehman High School on July 27, 2021, in New York, US. (AP)
As vaccination rates have fallen across the country, Biden has become increasingly frustrated. During his speech Thursday, he also plans to directly address the millions who have procrastinated or outright refused to get vaccinated.
The federal worker directive, which has been under review by the administration for several days, will be delivered in sterner terms than Biden has used previously, one official said. It marks a sharp strategic shift for the White House as it urgently moves to address the spread of the highly transmissible Delta variant, according to CNN.
Officials said the administration was still finalizing details of the announcement, including how it might be implemented across the sprawling federal bureaucracy. It is not expected to apply to the military. The announcement itself is likely to be quite broad, with the details left to individual agencies to sort out. It's possible different agencies, and different types of workers, will face different requirements.
But the goal, according to aides, is to render being unvaccinated so burdensome that those who haven't received shots will have little choice other than to get them. It's an approach being tested by leaders in Europe, including France's Emmanuel Macron, who required either proof of vaccination or a negative test at public venues. And some states, including New York, have also said government employees must either prove they've been vaccinated or be tested weekly.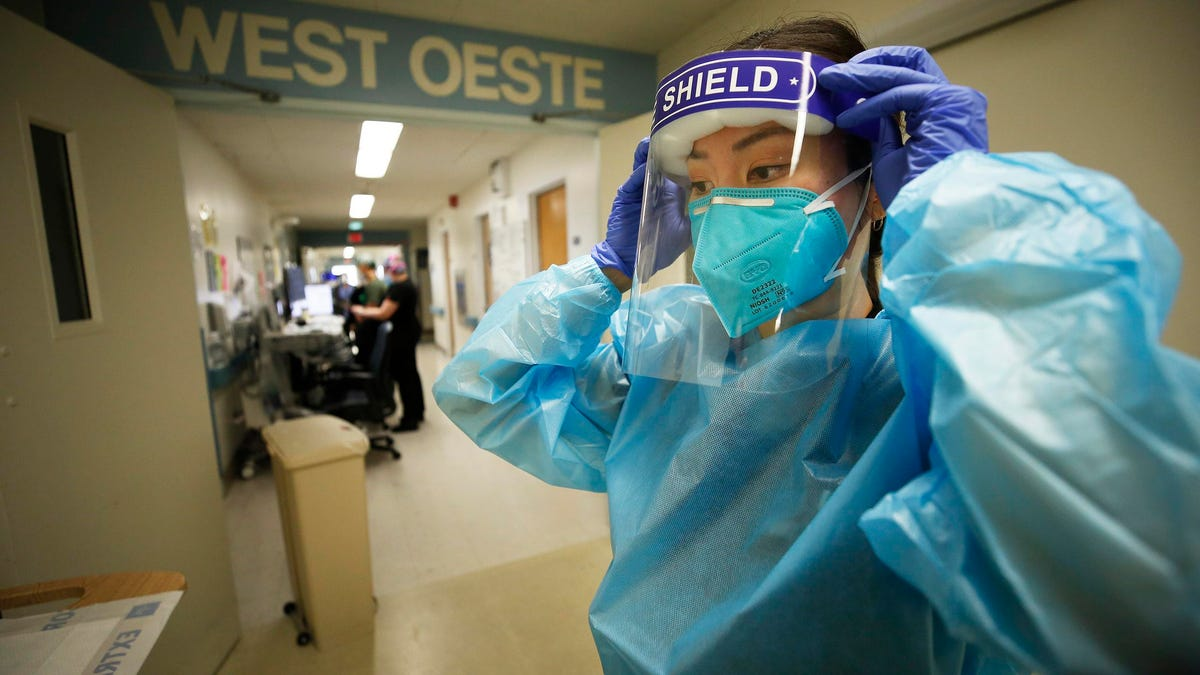 Photo: Los Angeles Times via Getty Images
Biden's aides said they were aware of the potential political fallout from the recent steps, and acknowledged privately that earlier resistance to vaccine requirements was based partly on the expectation it would spark backlash. But now, officials said health concerns should outweigh what many expect will be accusations of flip-flopping and harsh blowback from Republicans.
Top officials pored through new data and evidence regarding transmissibility of the variant and breakthrough cases. Dr. Anthony Fauci, director of the National Institute of Allergy and Infectious Diseases, briefed Biden on the changes Tuesday morning. Among the more significant announcements was a recommendation everyone in K-12 schools wear a mask, regardless of their vaccination status.
"If you're not vaccinated, you're not nearly as smart as I thought you were," Biden said on Tuesday, adopting a harsher tone against the still-hesitant he blamed for the continuing outbreaks.
"We have a pandemic because the unvaccinated and they're sowing enormous confusion. And the more we learn about this virus and the Delta variation, the more we have to be worried and concerned. And there's only one thing we know for sure, if those other hundred million people got vaccinated, we'd be in a very different world," he said.
American workers faces increasing pressure to get vaccinated against Covid-19
Unvaccinated American workers are facing increasing pressure to get Covid-19 shots, as the country sees a dramatic rise in the number of government and private sector employers pushing inoculations for those who want to come to work.
The moves, which picked up pace this week, came as the highly contagious Delta variant helped send daily Covid-19 case rates higher and spurred the US Centers for Disease Control and Prevention to issue new masking guidance.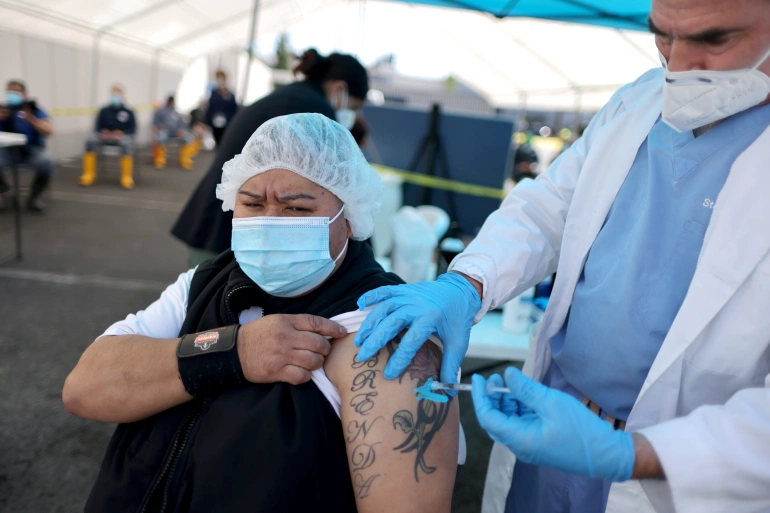 An essential worker getting a vaccination at a mobile drive for essential food processing workers in Vernon, Los Angeles, California, on March 17, 2021 [Lucy Nicholson/Reuters]
Employers' emerging vaccine policies take many forms, including those requiring shots for being on site, and those that provide alternatives such as strict testing and masking rules.
Federal workers are expected to hear their directives Thursday. President Joe Biden is planning to announce that all federal employees, except for the military, must attest to being vaccinated against Covid-19 or face strict protocols including regular testing, masking and other mitigation measures, according to a source with direct knowledge of the matter.
Earlier this month, Justice Department lawyers determined that federal law doesn't prohibit public agencies and private businesses from requiring Covid-19 vaccines -- even if the vaccines have only emergency use authorization.
As the Delta variant has increased its grip in the US, coronavirus case rates have jumped.
The US averaged more than 63,600 new daily cases over the last week -- an average that's generally risen since the country hit a 2021 low of 11,299 daily on June 22, according to Johns Hopkins University data.
As of Wednesday, cases rose in all but one state in the past seven days compared to the week before, and cases rose at least 50% in 36 states in that time, according to Johns Hopkins.
Covid cases are on the rise in all 50 states
Yet over the past week, a determination has been reached inside the White House that moving slowly and strategically was no longer the best course of action. The Delta variant was moving far faster, one official said, and it became untenable to ignore that point, so adjustments have been made on the fly, CNN reported.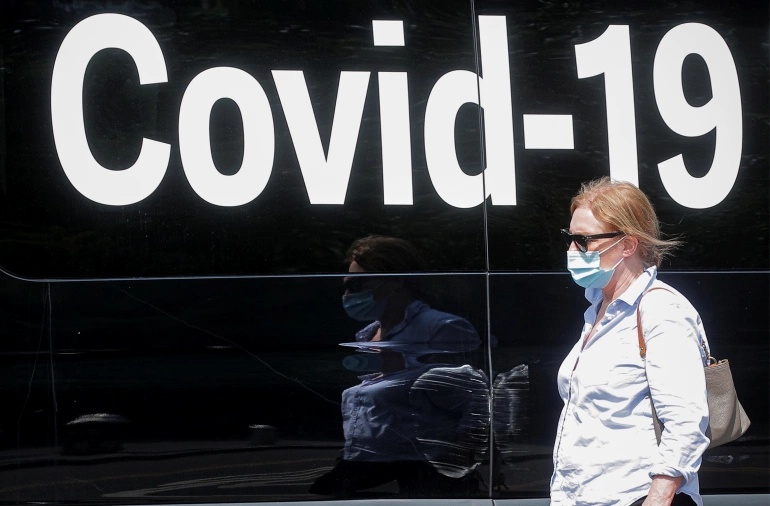 Alarms are sounding in the United States about the spreading Delta variant of the coronavirus as a woman wearing a mask passes by a COVID-19 mobile testing van in New York City on July 22 [Brendan McDermid/Reuters]
Word of a bipartisan deal on part of the President's infrastructure plan Wednesday was one of the few bright lights in the West Wing, where the fight against Covid has become "stubbornly frustrating," in the words of a top Biden adviser.
Covid cases are on the rise in all 50 states and the District of Columbia as the delta variant rapidly spreads across the U.S. and the virus once again tightens its grip.
The U.S. is reporting an average of about 43,700 new cases per day over the past week — far below pandemic highs but up 65% over the previous seven days and nearly three times as high as the level two weeks ago, data compiled by Johns Hopkins University shows. Cases hit a 15-month low in late June before they began to rise yet again as fewer people got vaccinated and the more infectious delta variant took hold in the country, according to CNBC.
"We were winning the fight against Covid, but no one ever said it was over," the top Biden adviser said, adding that blame should be placed on the unvaccinated, not those who were following the rules. "Now that's more clear than ever. It's not over."
New indoor mask guidelines for vaccinated Americans that the CDC unveiled this week have only exacerbated the sense that inoculated people are still being asked to sacrifice because a sizable portion of eligible adults won't get shots.
Biden, who along with senior aides has been careful over the past several months to avoid directly criticizing vaccine holdouts, did not hold back ahead of the CDC's announcement.
"We have a pandemic because of the unvaccinated, and they're sowing enormous confusion. And the more we learn about this virus and the Delta variation, the more we have to be worried and concerned," he said on Tuesday.