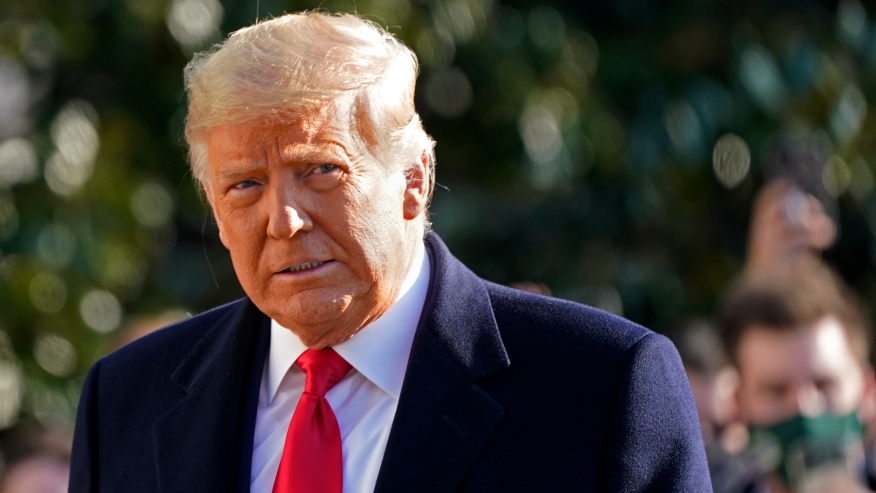 (Photo: Fox 8)
'Beyond seriously': Trump considering presidential run in 2024
Former President Donald Trump says he's "beyond seriously" considering running for president in 2024.
"Are you running again in 2024? What are the odds?" Fox News host Sean Hannity asked Trump during an hour-long interview from the former president's Mar-A-Lago golf club in Florida.
"I am looking at it very seriously, beyond seriously," Trump proclaimed. "From a legal standpoint, I don't want to really talk about it yet. It's a little too soon."
"I got tremendous numbers. Nobody has ever gotten the numbers I got. No sitting president has come even close. There's more popularity now than there was the day before the election because they see how bad things are at the border," Trump said. "They see what's going on. They see that their guns are going to be gone, their Second Amendment. Their taxes are going up. Regulations are going through the roof. Jobs are going to go out."
Trump has falsely insisted that he was denied reelection because of voter fraud, and in Georgia, which Joe Biden narrowly won, Republican lawmakers have worked to overhaul voting laws in response to Trump's claims, according to Fox8.
Prince Harry reportedly sent Charles a 'deeply personal' note before reunion
Prince Harry reportedly wrote dad Charles a "deeply personal" letter ahead of his UK homecoming — the only way he could reach him after a "complete communication breakdown."
Harry — who griped to Oprah Winfrey that his father stopped taking his calls — penned the missive from his California mansion before jetting off to grandfather Prince Philip's funeral, the Mirror said.
He was "forced to write letters" due to a "complete communication breakdown," a source close to Harry told the UK paper.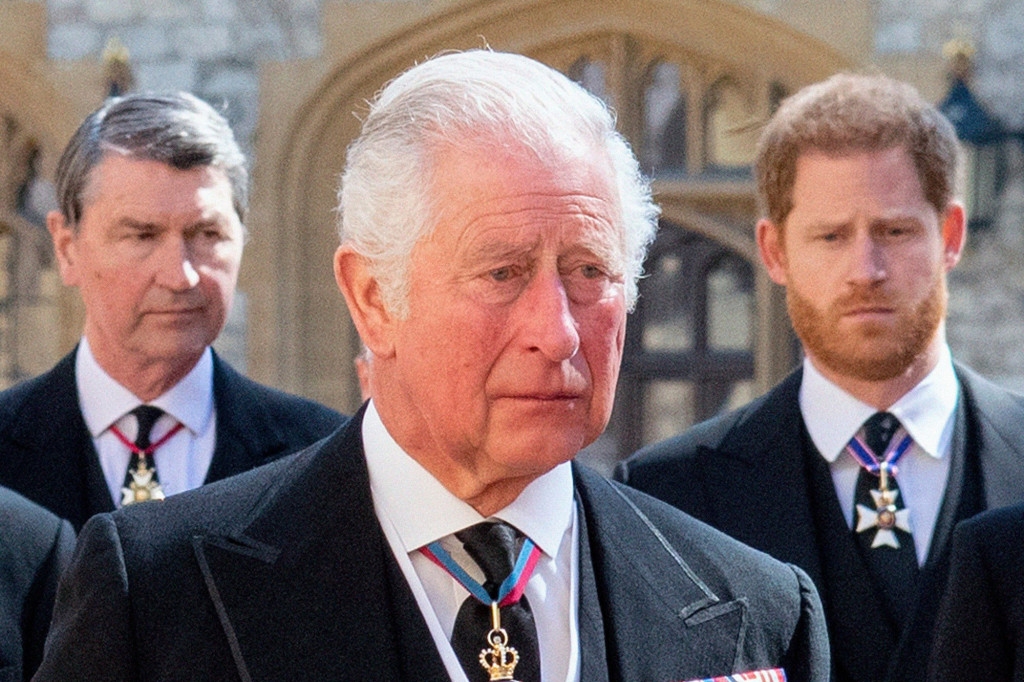 Prince Harry (right) reportedly wrote Prince Charles (center) a "deeply personal" letter ahead of his return home. (Photo: Shutterstock)
The Duke of Sussex previously admitted to Gayle King that an initial call with his father in the aftermath of his explosive Oprah tell-all was "not productive."
In his letter, Harry, 36, reasserted "his reasons for leaving" life in the UK as a senior royal, while promising to "respect the institution" of the monarchy, sources told the Mirror.
After Philip's funeral Saturday, Harry did get personal time with his father, meeting him and his brother, Prince William, at Harry's former UK home, Frogmore Cottage, numerous UK reports said.
Ex-U.N. chief Ban urges Guterres to engage directly with Myanmar army
Former U.N. chief Ban Ki-moon urged his successor on Monday to engage directly with Myanmar's military to prevent an increase in post-coup violence and said southeast Asian countries should not dismiss the turmoil as an internal issue for Myanmar.
U.N. Secretary-General Antonio Guterres' special envoy on Myanmar, Christine Schraner Burgener, has communicated with the military since it ousted an elected government led by Aung San Suu Kyi on Feb. 1, but the army has not allowed her to visit.
"Given the gravity and urgency of the situation, I believe the secretary-general himself should use his good offices to engage directly with the Myanmar military, to prevent an escalation of violence," Ban, secretary-general from 2007 to 2016, told a U.N. Security Council meeting.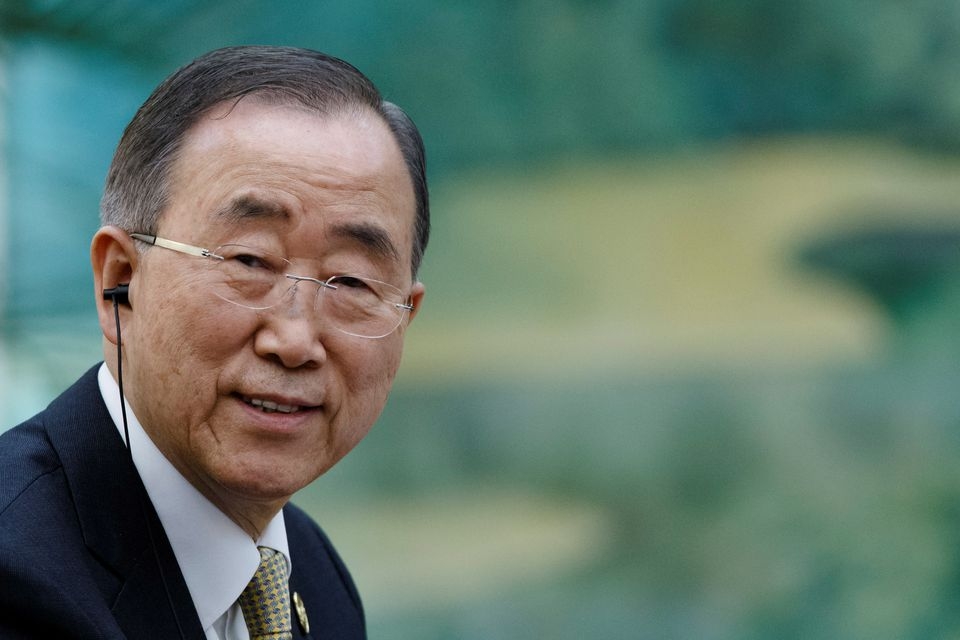 Head of the International Olympic Committee's ethics commission, former UN Secretary-General Ban Ki-moon meets Chinese President Xi Jinping (not pictured) at the Great Hall of the People in Beijing, China, May 15, 2018. (Photo: Reuters)
Guterres is "very actively involved" on Myanmar and "has been for a long time," said U.N. spokesman Stephane Dujarric, adding: "His good offices, along with his special envoy, are always available. We all want to see an end to the violence."
Guterres told the Security Council on Monday that a "robust international response grounded on a unified regional effort" was needed, urging "regional actors to leverage their influence to prevent further deterioration and, ultimately, find a peaceful way out of this catastrophe."
The 10-member Association of Southeast Asian Nations (ASEAN) has been trying to find a way out of the violence tearing at fellow member Myanmar. Junta chief Min Aung Hlaing is due to attend an ASEAN summit in Indonesia on April 24, Reuters reported.
Thailand PM won't join Asean summit on Myanmar
Prime Minister Prayut Chan-o-cha has decided to opt out of an Asean summit in Jakarta and send the foreign minister to represent Thailand at the meeting, a government source said on Monday.
The source did not elaborate on the decision of the prime minister to stay home by sending Foreign Minister Don Pramudwinai, who also is a deputy prime minister, to join other Southeast Asian leaders on the situation in Myanmar.
The special summit of the Association of Southeast Asian Nations will be convened in the Indonesian capital on Saturday to seek a solution to the deteriorating crisis in Myanmar.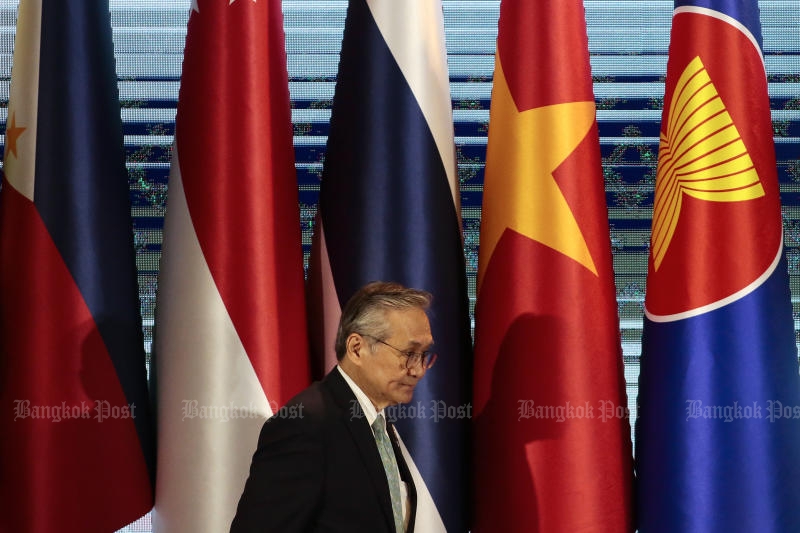 Foreign Minister Don Pramudwinai, who also is a deputy prime minister, will attend the Asean summit on Myanmar on behalf of Prime Minister Prayut Chan-o-cha. (Bangkok Post file photo)
The Thai Foreign Ministry said on Saturday Myanmar army chief Gen Min Aung Hlaing will take part in the high-level talks.
Myanmar's shadow government also urged Asean leaders to give it an opportunity to attend the much-anticipated summit.
More than 700 people were killed in nationwide protests against the junta after the coup on Feb 1 that overthrew elected leader Aung San Suu Kyi and instead charged her on multiple accounts.
Gold price forecast – gold markets continue to bounce around
Gold markets have gone back and forth over the last several sessions, as we continue to bounce around between the 50 and the 200 day EMA indicators.
Gold markets have gone back and forth during the course of the last three sessions, as we are trading between the 50 and the 200 day EMA indicators. This typically causes a bit of a "squeeze" to the market, as people are trying to figure out where to go next. That being said, I think that the market will continue to find a bit of interest in this area, as we see the market try to figure out where it wants to go longer term. After all, this is a market that I think continues to see a lot of questions asked about it, as interest rates in the United States will obviously have a lot to say as to where the gold market goes, FX Empire reported.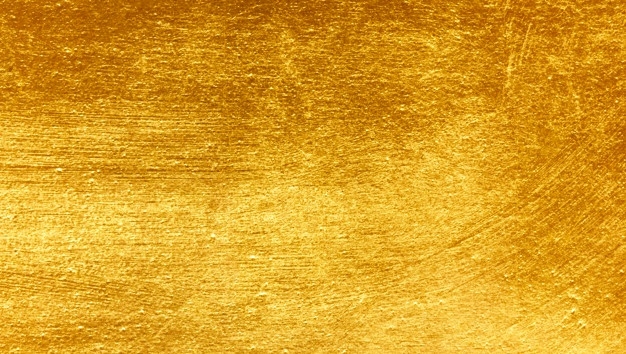 (Photo: FreePick)
Jasmine Le