World breaking news today (April 16): Chicago police shot and killed a 13-year-old boy
World breaking news today (April 16): Chicago police shot and killed a 13-year-old boy. Meanwhile, U.S. imposes wide array of sanctions on Russia for 'malign' actions, North Korea's Kim Jong Un visits family tomb and gold price also make headlines today.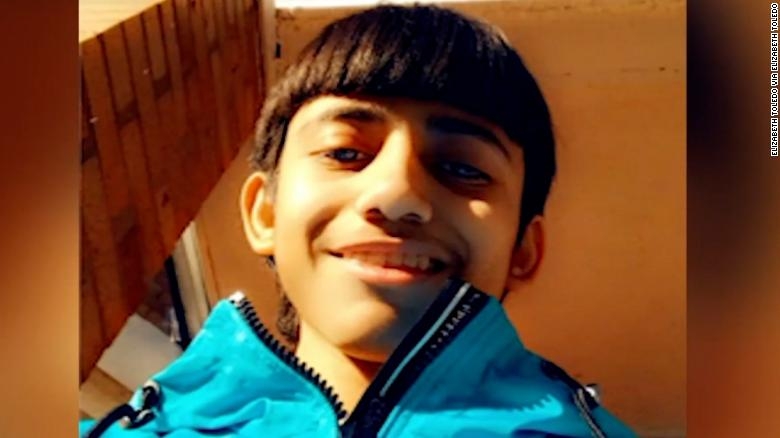 Adam Toledo, in a photo provided by his mother, Elizabeth Toledo, to CNN affiliate WLS, was in the 7th grade. His family says it took Chicago police two days to notify them of his death. (Photo: CNN)
Chicago police shot and killed a 13-year-old boy
Chicago police shot and killed a 13-year-old boy on the city's West side early Monday morning and haven't provided many details about the shooting in the four days since.
The boy, identified by the Cook County medical examiner as Adam Toledo, lived near where the shooting happened in the Little Village neighborhood.
The initial police department statement said an officer shot him during an "armed confrontation" and tweeted a photo of a gun that a spokesperson said was recovered at the scene.
In a follow-up statement Thursday, Chicago Police Superintendent David Brown released a statement identifying the person shot by police as a juvenile but did not mention the boy's age and declined to release his name.
The officer was placed on administrative duty for 30 days, he said.
During a news conference Friday the boy's mother, Elizabeth Toledo, said she wants to know the truth about why the police shot her son.
"I just want to know what really happened to my baby," Elizabeth Toledo said through sobs. "The cops shouldn't ... they had a lot of options, but not kill him. They could have shot in his leg, his arm, up in the air. I don't know. But kill my baby?"
The family released a statement saying that although Toledo was killed Monday, his family was not notified for two days.
Adeena Weiss Ortiz, the family attorney, said Friday that Toledo was told by police that her son had died but was not made aware that he was shot and killed until she met with authorities in person, according to CNN.
U.S. imposes wide array of sanctions on Russia for 'malign' actions
The United States on Thursday imposed a broad array of sanctions on Russia, including curbs to its sovereign debt market, to punish it for interfering in last year's U.S. election, cyber hacking, bullying Ukraine and other alleged malign actions.
The U.S. government blacklisted Russian companies, expelled Russian diplomats and barred U.S. banks from buying sovereign bonds from Russia's central bank, national wealth fund and Finance Ministry. The United States warned Russia that more penalties were possible but said it did not want to escalate.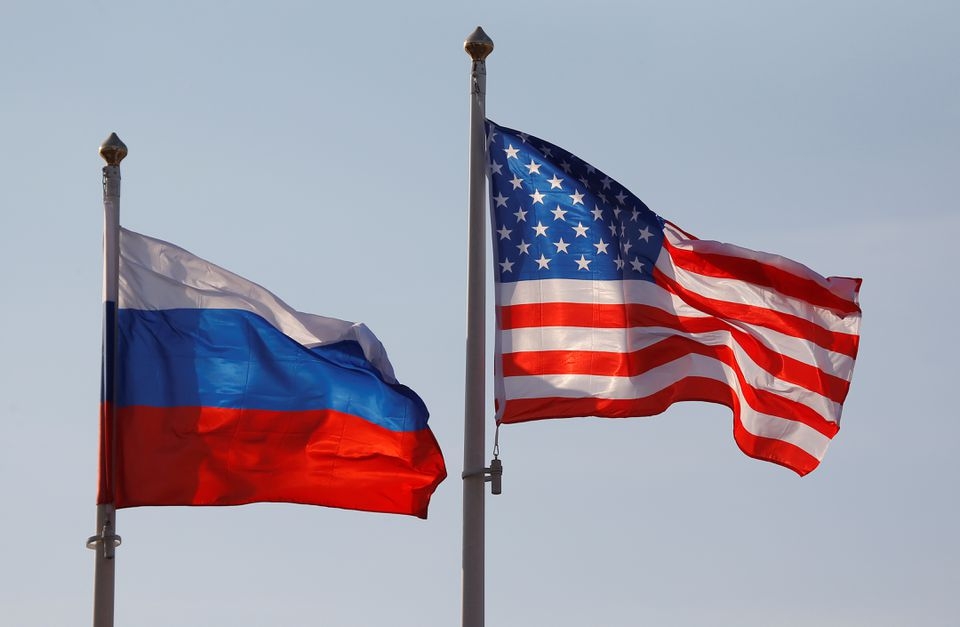 National flags of Russia and the U.S. fly at Vnukovo International Airport in Moscow, Russia April 11, 2017. REUTERS/Maxim Shemetov
The Russian Foreign Ministry reacted angrily, summoning the U.S. ambassador for a diplomatic dressing-down to tell him "a series of retaliatory measures will follow soon." A ministry spokeswoman also said a possible summit could be imperiled.
U.S. President Joe Biden spoke on Tuesday to Russian President Vladimir Putin to raise concerns about those issues and the buildup of Russian forces in Crimea and along the border with Ukraine, although a top U.S. general saw only a "low-to-medium" risk of a Russian invasion in the next few weeks.
Biden, who also proposed a U.S.-Russian summit, is trying to strike a balance between deterring what Washington sees as hostile Russian behavior, while avoiding a deeper deterioration in U.S.-Russian ties and preserving some room for cooperation, Reuters said.
North Korea's Kim Jong Un visits family tomb to pay tribute to grandfather
North Korean leader Kim Jong Un paid his respects at the mausoleum for his grandfather Kim Il Sung on Thursday (April 15) to mark the birthday of the founder of the state, official media KCNA reported.
Kim and his wife, Ri Sol Ju, also watched a performance of song and dance at the Kumsusan Palace of Sun, where his father and grandfather lie in state, in celebration of the national holiday, KCNA reported on Friday.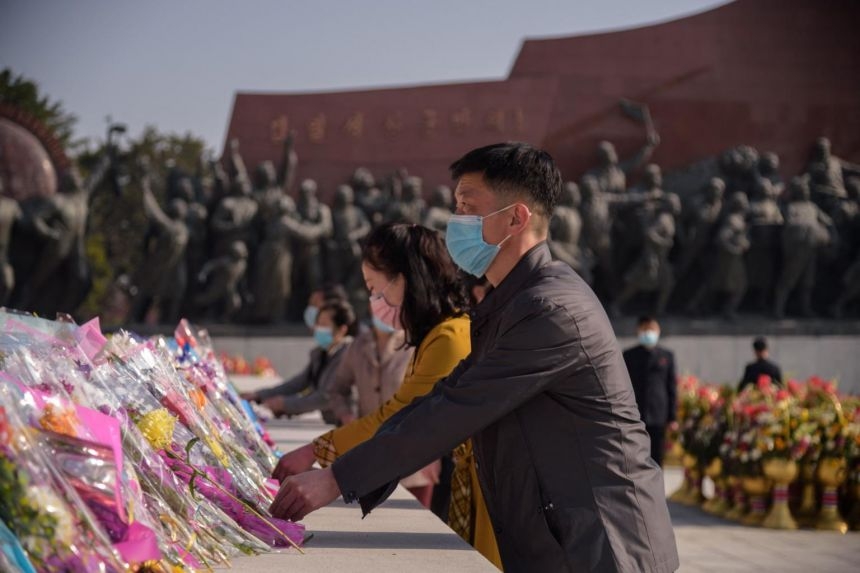 "When the performance was over, the audience again broke into stormy cheers for the General Secretary," it reported.
Kim's no-show at last year's anniversary fanned speculation about his health. A flurry of unconfirmed reports about his condition and his whereabouts followed, including reports suggesting that Kim was in grave danger after a surgery.
Kim was accompanied to the palace this year by senior North Korean officials, including his sister Kim Yo Jong, KCNA reported.
Mike Pence 'Expected to Fully Recover' After Successful Heart Surgery to Install Pacemaker
Former Vice President Mike Pence had successful heart surgery on Wednesday to install a pacemaker to steady his heart rhythm.
"He is expected to fully recover and return to normal activity in the coming days," his office said in a statement on Thursday.
Pence, 61, had the procedure at Inova Fairfax Medical Campus in Falls Church, Virginia.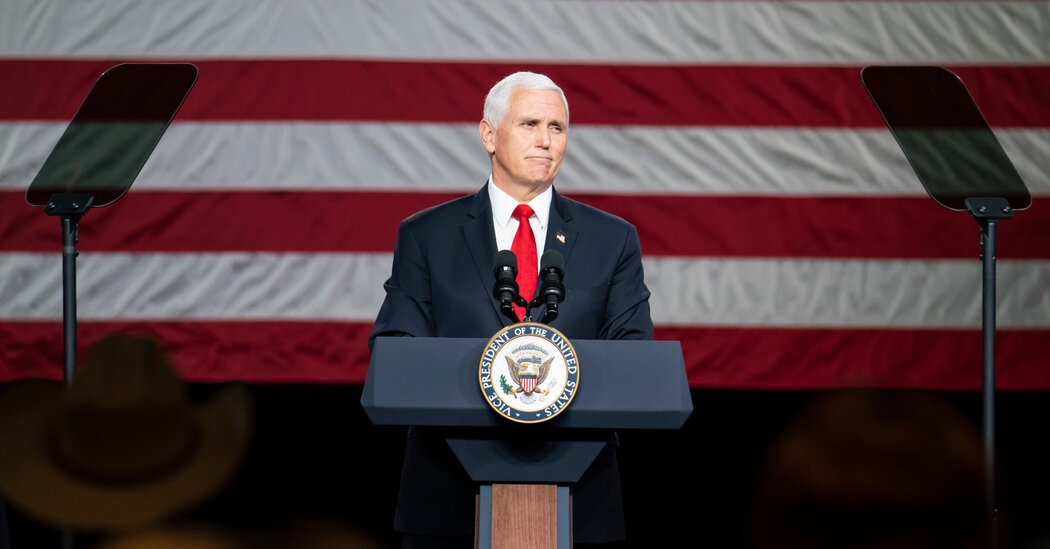 (Photo: News Colony)
Before he took office alongside President Donald Trump in 2017, the former Indiana governor revealed he has an asymptomatic left bundle branch block in his heart.
Over the past two weeks, his office said, he was experiencing a slow heart rate and went to the doctor, who advised him to undergo the procedure.
"I am grateful for the swift professionalism and care of the outstanding doctors, nurses and staff at Inova Heart and Vascular Institute," Pence said via the statement, thanking his doctors.
"My family has been truly blessed by the work of these dedicated healthcare professionals," he added.
Gold price forecast – gold testing 50 day EMA
The gold markets have rallied significantly during the course of the trading session on Thursday to reach towards the 50 day EMA.
Gold markets have rallied significantly during the course of the trading session on Thursday to break above the 50 day EMA. By breaking above the 50 day EMA, it does suggest that we are going to go higher but there are a lot of reasons to think that it will be somewhat limited. The ultimate indicator that a lot of traders will use for finding the trend is the 200 day EMA, and that currently sits at the $1794 level. If we can break above the 200 day EMA, then obviously it is likely to send this market much higher. At this point time, the market is likely to go looking towards the $1850 level, and then possibly the $1950 level.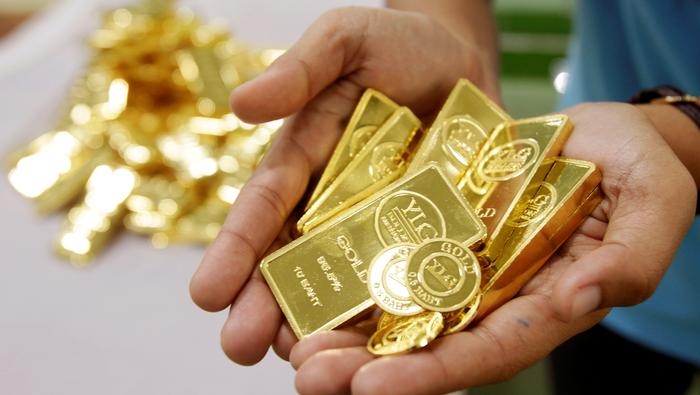 (Photo: Daily FX)
All things being equal, the market is likely to see selling pressure somewhere between the 50 day and the 200 day EMA, especially if the interest rate yields in America continue to fall off. However, they turn around and shoot up in the air, then it makes quite a bit of sense that gold would rally due to the fact that it is cheaper to simply clip coupons on a bond then it is to pay for storage.
From a pure technical analysis standpoint, we have made a turnaround and it certainly looks as if we are trying to go higher, at least in the short term. The fact that we have shot higher during the trading session to gain over $30 almost immediately does suggest that we probably have further upside. If you are a short-term trader, then the gold market is likely to see more people buying, as reported by FX Empire.