World breaking news today (April 22): China's Xi Jinping to attend Joe Biden's climate summit
World breaking news today (April 22): China's Xi Jinping to attend Joe Biden's climate summit. Meanwhile, Seoul, wife of the Belgian ambassador slaps two shopkeepers: mistaken for a thief, Hefty fines for lockdown violaters in Cambodia and gold price also make headlines today.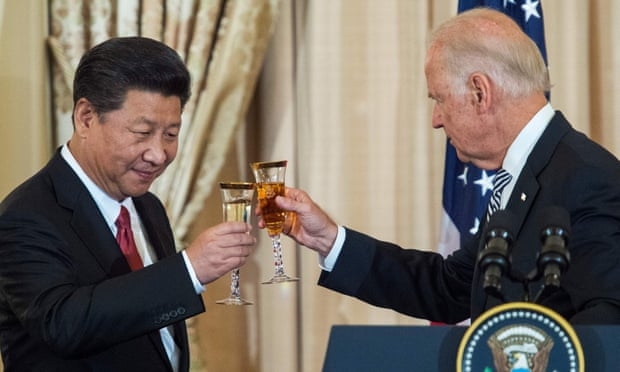 China's Xi Jinping to attend Joe Biden's climate summit
China's President Xi Jinping will attend a US-led climate change summit on Thursday at the invitation of President Joe Biden, in the first meeting between the two leaders since the advent of the new US administration.
According to Guardian, Biden has invited dozens of world leaders to join the two-day virtual summit starting on Thursday, after bringing the US back into the 2015 Paris agreement on cutting global carbon emissions.
Xi will attend the summit via video and will deliver an "important" speech, Hua Chunying, the Chinese foreign ministry spokesperson, said in a statement on Wednesday.
Beijing and Washington have persistently clashed over a range of issues, from alleged human rights abuses to China's economic clout over other nations.
In Alaska last month, US and Chinese officials held the first high-level in-person talks that bristled with rancor and yielded no diplomatic breakthroughs.
But the two countries, the world's two biggest greenhouse gas emitters, have rediscovered a common interest in battling climate change.
Seoul, wife of the Belgian ambassador slaps two shopkeepers: mistaken for a thief
Mistaken for a thief, the wife of the Belgian ambassador to South Korea slapped the shopkeeper and a saleswoman from a clothing store in the capital. The shop owners yesterday published the video of the attack which took place on April 9, causing outrage in South Korean public opinion.
In the images of her, Ms. Xiang Xueqiu is seen slapping the saleswoman in the back of the head first, and then the shopkeeper in the face. The latter suffered a swollen face and a bloodshot eye. The police have opened an investigation; however, as the wife of a diplomat, Xiang cannot be prosecuted by local justice.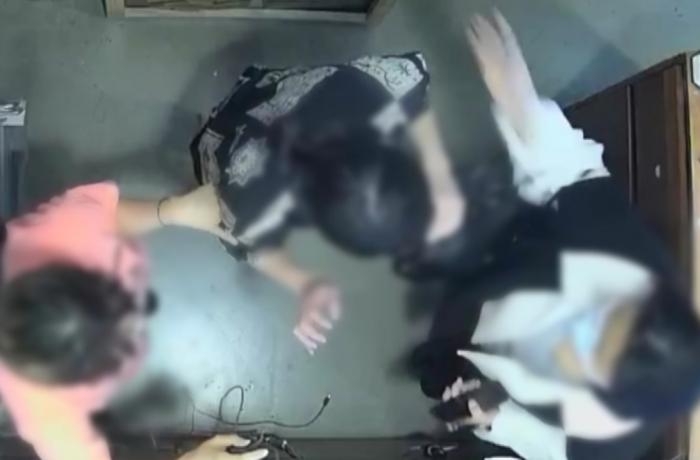 (Still image: Asia News)
The shop owner said he received no apology. Meanwhile, a wave of protests broke out in social media. South Korean netizens are demanding the expulsion of Ambassador Peter Lescouhier and his wife, as well as the payment of adequate compensation. In many posts, they also emphasize Xiang's Chinese origin, a reflection of a negative perception of China on the rise in South Korea.
So far, the Belgian embassy in Seoul and the Brussels authorities have not issued any statements on the incident, Asia News reported.
Russia defends restricting foreign navy ships off Crimea amid troop buildup near Ukraine
Russia insisted Tuesday that it has the right to restrict foreign naval ships' movement off Crimea, rejecting international criticism amid Western worries about a Russian troops buildup near Ukraine.
Ukraine last week protested the Russian move to close broad areas of the Black Sea near Crimea to foreign navy ships and state vessels until November. The U.S. also aired its concern Monday, with State Department spokesman Ned Price saying "this represents yet another unprovoked escalation in Moscow's ongoing campaign to undermine and destabilize Ukraine."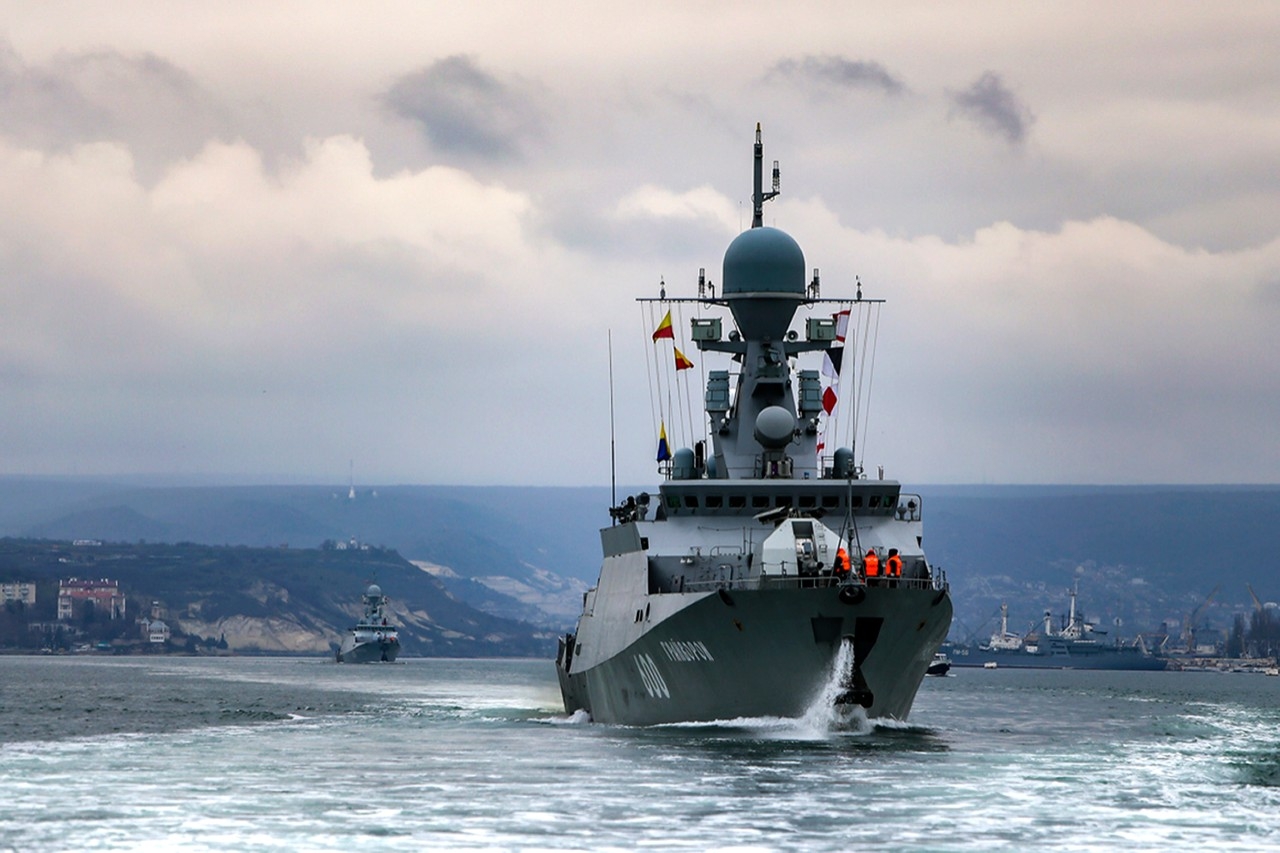 (Photo: CTV News)
Price noted that the move "is particularly troubling amid credible reports of Russian troop buildup in occupied Crimea and around Ukraine's borders."
The European Union also voiced concern about the troop buildup and the navigation restrictions.
Russian Deputy Foreign Minister Sergei Ryabkov charged that the restrictions on foreign naval ships were in line with international agreements, arguing that it's common practice to limit areas where military drills are held. He emphasized in remarks carried by Russian news agencies that the restrictions wouldn't interfere with commercial shipping.
In a separate move, Russia on Tuesday also announced restrictions on flights near Crimea for five days starting Tuesday, Military Times said.
Hefty fines for those who violate lockdown
The Phnom Penh City Hall has set several categories of hefty fines for people who intentionally do not comply with the administrative measures set by the government and the Phnom Penh City Administration in order to prevent the spread of COVID-19.
Phnom Penh Governor Khuong Sreng issued a new ruling on Sunday night, to fine those people who do not intentionally comply with administrative measures to prevent the spread of COVID-19 and other deadly and dangerous diseases in the Phnom Penh area.
Phnom Penh City Hall has confirmed the administrative measures and people will be fined from $500 to $1,250 for offences, including $625 for disobeying the travel ban. Meeting in a crowd, including drinking alcohol, carries a fine of $500.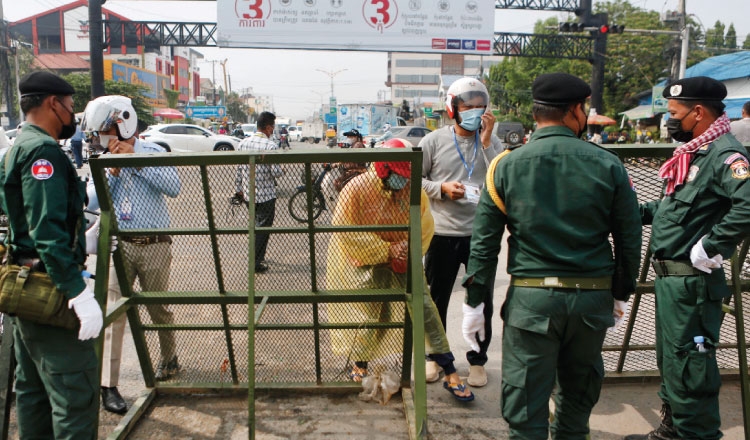 Police block Chamkar Doung Street (217) in the capital during the lockdown. (Photo: Khmer Times)
Violators of the prohibition of work, occupation or business activities will be fined $750.
In addition, City Hall added that any person who violates the curfew will be fined $875, people who violate measures in a lockdown area or an area where there is an outbreak of COVID-19 will be fined $1,000 and people who transport unnecessary goods and pose a risk of spreading COVID-19 will be fined $1,250.
City Hall has set a deadline to pay up within 30 days from the date of the fine, as reported by Khmer Times.
Gold price forecast – gold markets form exhaustion candle
Gold markets have rallied a bit during the trading session on Monday to reach towards the 200 day EMA, but then gave back the gains to form a bit of a shooting star. The shooting star suggests that we are running out of momentum, but more importantly we are stuck between the 50 and the 200 day EMA indicators. That suggests that the market probably has a lot of noise in this area, and if that is going to be the case it is likely that we will see this market gyrate.
Pay close attention to yields in America, because if they start rising again that will be toxic for the gold market, and we are starting to see a little bit of that happen. If we break down below the 50 day EMA, the market then goes looking towards the $1750 level, and a breakdown below that level opens up the possibility of a move even lower. The market breaking down below the double bottom underneath could open up the possibility of a move towards the $1500 level. On the other hand, if we turn around and break above the 200 day EMA, that is possible that this market may enter a bit of an uptrend.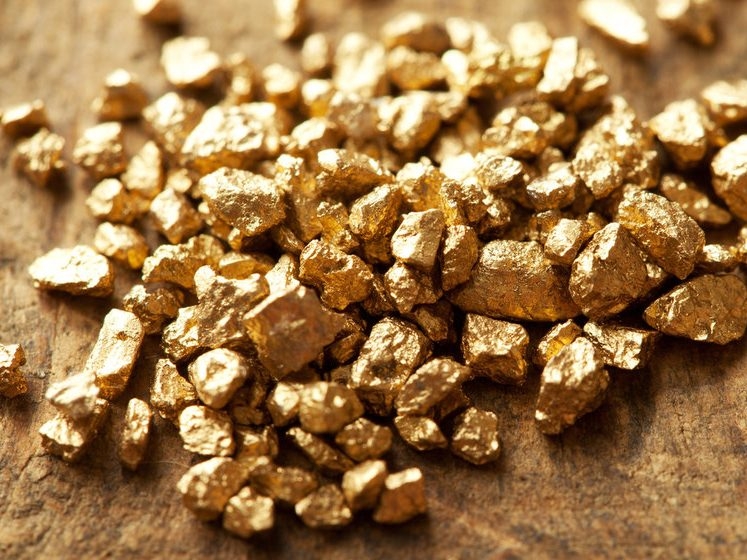 (Photo: Latam Mining)
It will be interesting to see how this plays out, but right now I think we are looking at a scenario that a bigger move is coming sooner rather than later, so waiting for that explosive candlestick is what we can do, as we can see, that will quite often lead to bigger moves if you just look back at previous price action. Gold does tend to be very volatile at times, and it certainly looks like we will see more of that going forward, FX Empire reported.