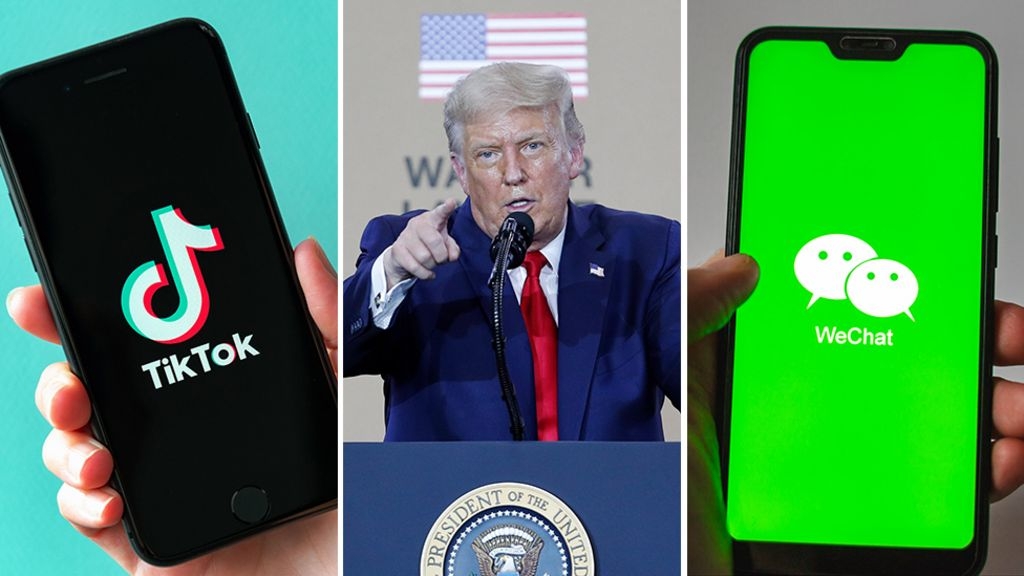 The Commerce Department plans to restrict access to TikTok and WeChat on Sunday (Photo: BBC)
US to ban TikTok and Wechat download starting Sunday
The Commerce Department plans to restrict access to TikTok and WeChat on Sunday as the Trump administration's executive orders against the two apps are set to take effect, CNN reported.
Accordingly, any moves to distribute or maintain WeChat or TikTok on an app store will be prohibited. Apple and Google didn't immediately respond to requests for comment.
While users who have already downloaded the apps may be able to continue using the software, the restrictions mean updated versions of the apps cannot be downloaded.
The restrictions targeting WeChat are more extensive. Beginning Sunday, it will be illegal to host or transfer internet traffic associated with WeChat, the Department said in a release. The same will be true for TikTok as of Nov. 12, it said. (The Trump administration is currently weighing a proposal involving ByteDance, TikTok's Chinese parent, and Oracle, designed to resolve the administration's national security concerns related to TikTok; the deadline for a deal is Nov. 12.)
TikTok said in a statement that it disagreed with and was disappointed by the administration's announcement.
Chinese hackers accused of stealing data from Spanish vaccine lab
Chinese hackers have stolen information from Spanish laboratories working on a vaccine for Covid-19, El Pais newspaper reported Friday.
It was not clear what information was taken, when it happened, nor how important it was, with the paper citing sources privy to the attack.
Quoted in the article, Spain's secret service chief Paz Esteban said hackers had mounted "a particularly virulent campaign targeting laboratories working on the search for a vaccine" not only in Spain but elsewhere.
Speaking to journalists on Thursday, Esteban who heads the CNI intelligence services, said there had been a "qualitative and quantitative" increase in attacks during lockdown, with hackers targeting "sensitive sectors such as healthcare and pharmaceuticals".
Such attacks had multiplied in other countries involved in efforts to develop a vaccine, prompting an exchange of information between their respective spy services, she said. Most attacks were carried out by hackers from China and Russia, often from state organisations, but also by criminal organisations and universities who trade in hacked data, security sources said.
But the attack in which Spanish data were stolen was launched by Chinese hackers, they said.
The CNI was not immediately available to comment on the report, The Local reported.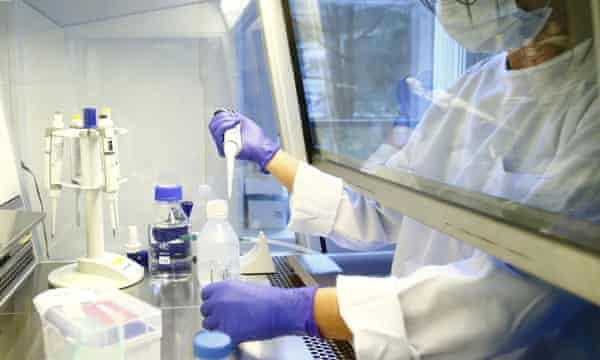 Chinese hackers have stolen information from Spanish laboratories working on a vaccine for Covid-19 (Photo: Guardian)
Justice Ruth Bader Ginsburg, Champion Of Gender Equality, Dies At 87
Justice Ruth Bader Ginsburg, the demure firebrand who in her 80s became a legal, cultural and feminist icon, died Friday. The Supreme Court announced her death, saying the cause was complications from metastatic cancer of the pancreas, as reported by NPR.
The court, in a statement, said Ginsburg died at her home in Washington, D.C., surrounded by family. She was 87.
"Our nation has lost a justice of historic stature," Chief Justice John Roberts said. "We at the Supreme Court have lost a cherished colleague. Today we mourn but with confidence that future generations will remember Ruth Bader Ginsburg as we knew her, a tireless and resolute champion of justice."
Just days before her death, as her strength waned, Ginsburg dictated this statement to her granddaughter Clara Spera: "My most fervent wish is that I will not be replaced until a new president is installed."
She knew what was to come. Ginsburg's death will have profound consequences for the court and the country. Inside the court, not only is the leader of the liberal wing gone, but with the court about to open a new term, the chief justice no longer holds the controlling vote in closely contested cases.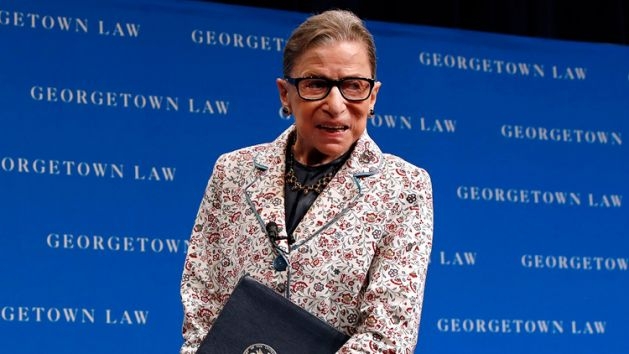 Justice Ruth Bader Ginsburg (Photo:Yahoo Sports)
Gold price forecast – gold markets continue forming triangle
The gold markets have rallied a bit on Friday, as the risk continues to be a major problem for most traders out there.
Gold markets have rallied a bit during the trading session on Friday, as the triangle itself continues to compress price. Do not be wrong, I do believe that we break the triangle one way or another relatively soon, and the key may be the US dollar. If that is going to be the case, then you need to pay attention to the US Dollar Index.
This market quite often will move in the opposite direction, unless of course is a major "risk off event", which can have both the dollar and gold rallying. Because of this, the US dollar should be thought of as an indicator, but only one of several that you should be paying attention to.
It is just like any other type of commodity or asset that you choose to buy, you need to find it at a good price. If we can break higher, the $2000 level will be the initial target, and a move above there opens up the possibility of $2100 after that, as reported by FX Empire.
The gold markets have rallied a bit on Friday, as the risk continues to be a major problem for most traders out there (Photo: FX Street)
Jasmine Le