World Population Report 2021: Vietnam's indicator value lower than Cambodia and Myanmar
Vietnam has the indicator value of 54% out of 100% achievement which is lower than Cambodia and Myanmar, according to UNFPA's 2021 flagship report, State of World Population, which was launched on Aprill 22 in Hanoi by UNFPA Vietnam, in collaboration with the Ministry of Home Affairs and the Ho Chi Minh Central Youth Union.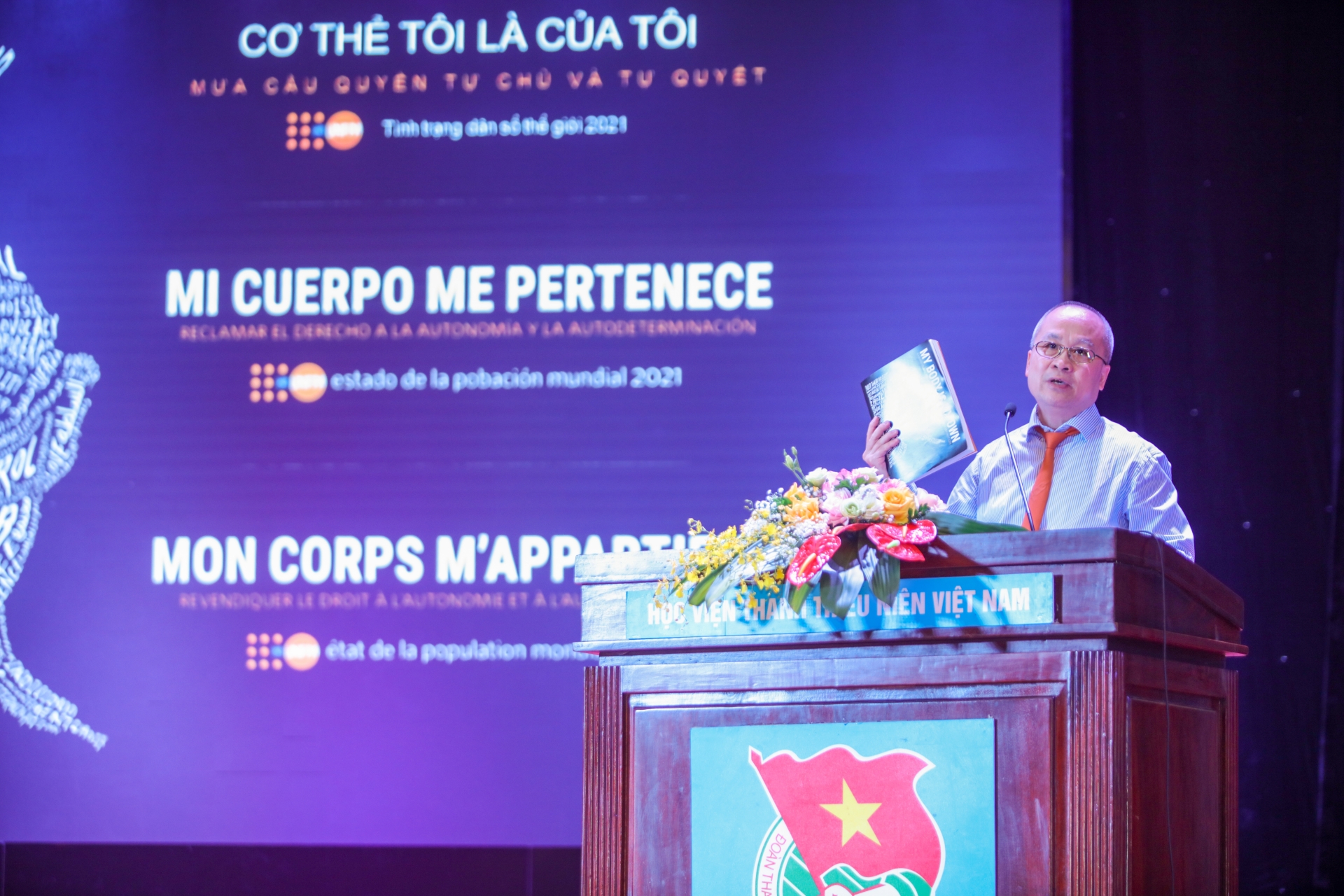 This year, UNFPA's flagship State of World Population report is dedicated to the issue of Bodily Autonomy. Source: UNFPA Vietnam
For the first time, a United Nations report focuses on the topic of bodily autonomy: the power and agency to make choices about your body, without fear of violence or having someone else decide for you. This lack of bodily autonomy has massive implications beyond the profound harms to individual women and girls: potentially depressing economic productivity, undercutting skills, and resulting in extra costs to health care and judicial systems.
Through this groundbreaking report, UNFPA is measuring both women's power to make their own decisions about their bodies and the extent to which countries' laws support or interfere with a woman's right to make these decisions. The data show a strong link between decision-making power and higher levels of education.
Bodily autonomy is measured through 2 Sustainable Development Goals (SDGs) indicators, ie 5.6.1 and 5.6.2.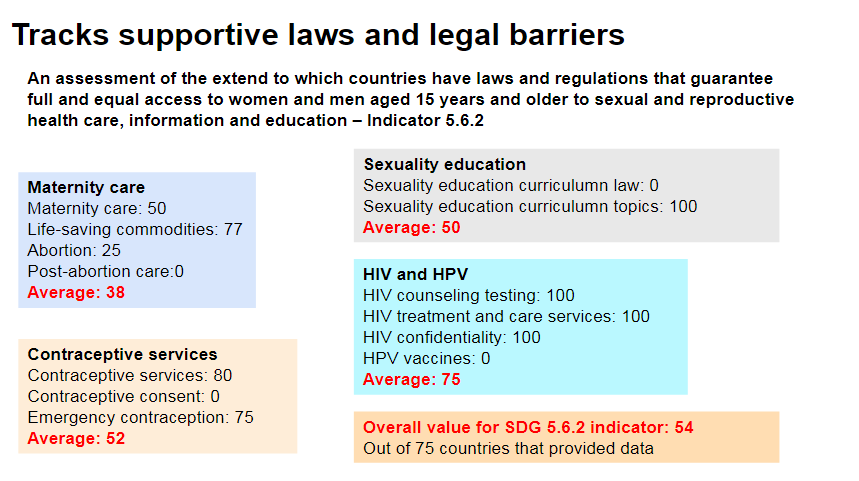 Vietnam has the indicator value of 54% out of 100% achievement. Source: UNFPA Vietnam
In the report, Vietnam is cited, among 75 countries which have data, for the measurement of SDG indicator 5.6.2: The existence of laws, regulations, or policies that guarantee full and equal access to women and men aged 15 years and older to sexual and reproductive health care, information and education.
Vietnam has the indicator value of 54% out of 100% achievement, which is higher than Nepal (48%) but lower than Cambodia (98%) and Myanmar (75%). However, Vietnam has not yet have a full data set for SDG indicator 5.6.1. (i.e. proportion of women aged 15-49 years who make their own informed decisions regarding sexual relations, contraceptive use and reproductive health care), but plans to make it available in coming years.
A national study on sexual reproductive health and rights among adolescent and young people aged 10-24 conducted by UNFPA in 2017 found that amongst unmarried people, 14.7% reported that their parents would decide your marriage compared to 41.4% would make the decision of marriage by themselves and 41.8% by both themselves and their parents.
Only 70% females could refuse having sex if the partner did not use condoms or insist on condom use during sex even if their partner did not want to. Among those who used contraceptives during their first sexual experience, 20% females reported their partners made decisions on contraceptive use rather than themselves or joint decisions.
The study shows that average unmet need for modern contraceptives was around 30%, reaching 48.4% among unmarried females aged 15-24 (compared to 7% of the married population).
"The denial of bodily autonomy is a violation of women and girls' fundamental rights that reinforce inequalities and perpetuate violence arising from gender discrimination," said Naomi Kitahara, UNFPA Representative in Vietnam at the national launch in Hanoi. "It is nothing less than an annihilation of the spirit, and it must stop."
"By contrast," Kitahara said, "a woman who has control over her body is more likely to be empowered in other spheres of her life too. She gains not only in terms of autonomy, but also through advances in health and education, income and safety. She is more likely to thrive, and so is her family, her communities, and her country."
Nguyen Tuong Lam, Secretary of the Central Youth Union said, "The theme of this year's World Population Report 'My body is my own' turns spotlight on bodily autonomy. With the focus on comprehensive sexuality education and gender equality, the report calls for joint efforts in strengthening awareness among young people, young women and men on sexual and reproductive health and rights to ensure that they are equipped with knowledge and skills to make their own decisions about their reproductive health care, contraceptive use and sexual relations."
Key findings: My body, but not my choice
-The report shows that in countries where data are available:
Only 55 per cent of women are fully empowered to make choices over health care, contraception and sexual relations.
Only 71 per cent of countries guarantee access to overall maternity care.
Only 75 per cent of countries legally ensure full, equal access to contraception.
Only about 80 per cent of countries have laws supporting sexual health and well-being.
Only about 56 per cent of countries have laws and policies supporting comprehensive sexuality education.
-The report also documents many other ways that the bodily autonomy of women, men, girls and boys is violated, revealing that:
Twenty countries or territories have "marry-your-rapist" laws, where a man can escape criminal prosecution if he marries the woman or girl he has raped.
Forty-three countries have no legislation addressing the issue of marital rape (rape by a spouse).
More than 30 countries restrict women's right to move around outside the home.
Girls and boys with disabilities are nearly three times more likely to be subjected to sexual violence, with girls at the greatest risk.
Solutions: the power to say yes, the right to say no
The report shows how efforts to address abuses can lead to further violations of bodily autonomy. For example, to prosecute a case of rape, a criminal justice system might require a survivor to undergo an invasive so-called virginity test.
Real solutions, the report finds, must take into account the needs and experiences of those affected. In Mongolia, for example, persons with disabilities organized to give direct input to the government about their sexual and reproductive health needs. In Angola, young people educated about their bodies, health and rights have been able to seek health care, use family planning, decline sex and petition for justice after sexual violence.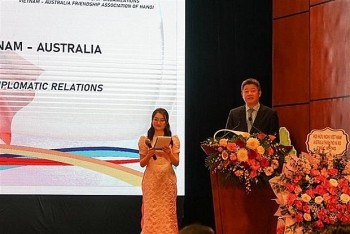 Friendship
A friendship exchange programme has been held recently in Hanoi to celebrate the 50th founding anniversary of the Vietnam-Australia diplomatic relations (February 26).