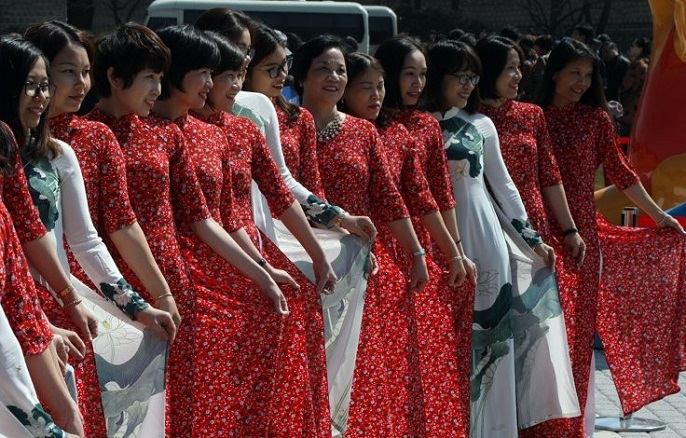 A group of Vietnamese tourists dressed in indigenous "ao dai" gowns poses for a photo in front of the presidential office in Seoul on April 3, 2019. Photo: Yonhap
Most divorced Vietnamese immigrant women in South Korea bring back their children whom they sent to their home country after divorce once they achieve economic self-reliance, according to a recent an analysis of data.
Choi Soo-ahn, a doctorate student in the Department of Multicultural Studies & Education at Inha University, said that such a conclusion came after analyzing a thesis presented at a seminar held by Dongguk University.
The thesis was based on the analysis of 14 theses that were found after searching for keywords such as divorce, single parent, and family disintegration in the Korea Citation Index (2013-2020).
The analysis showed that most divorced Vietnamese immigrant women adopted the strategy of sending their children to their home country due to economic hardship and the difficulty with child care and then bringing them back to South Korea after achieving economic self-reliance.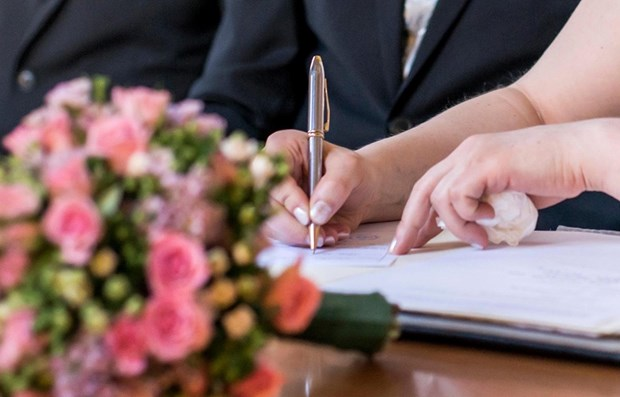 The number of divorces in South Korea came to 118,000 in 2019, up 2 percent from the previous year. Photo: theguardian
"Given the difficult situation facing the divorced Vietnamese immigrant mothers, the government should improve policies for their acquisition of citizenship and overall welfare," Choi was cited by The Korea Bizwire as saying.
The number of South Koreans marrying a foreign spouse came to 23,600 in 2019, up 4.2 percent from a year earlier, South Korea's Yonhap News Agency reported.
Among them, Vietnamese brides accounted for the lion's share at 37.9 percent, followed by Chinese at 20.6 percent and Thai at 11.6 percent. In comparison, American men accounted for 24.6 percent of foreign males who got married with South Korean women, followed by Chinese with 23.6 percent and Vietnamese with 10.7 percent.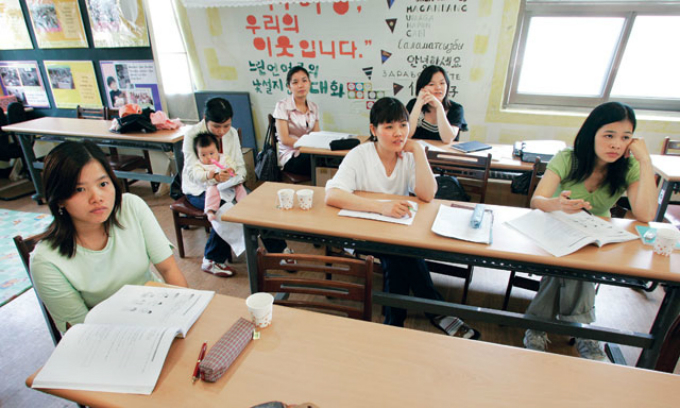 Vietnamese women attend a Korean class at the Women Migrants Human Rights Center in Seoul, South Korea. Photo by Reuters/Jo Yong-Hak
Meanwhile, the number of divorces in South Korea came to 118,000 in 2019, up 2 percent from the previous year, with couples married 20 years or longer accounting for the largest percent of the total at 34.7.
VnExpress said many Vietnamese women from poor rural families marry South Korean men in the hope of finding a better life in the wealthy nation. But it is not always a fairytale ending, and there have been a number of reports of suicides and fatal beatings, often due to conflicts from language and cultural barriers.
According to a National Human Rights Commission of Korea survey of 920 foreign brides, including those from Cambodia, China, the Philippines, Uzbekistan and Vietnam, 42.1 percent said they had experienced domestic violence and 68 percent had experienced unwanted sexual advances. 20 percent were threatened with weapons and 19 were killed in the past 10 years./.
Rosy Huong