'Zero-VND charity combination' in the heart of Hanoi
A combination of charity activities including clothing donation, zero-VND library and free water for workers has just been born amidst the heat of Hanoi summer by a small business owner, Ms. Nguyen Thi Thao. 
One day late in May, Tran Xuan Trieu, who works as a security guard in 66 Chua Lang street (Dong Da, Hanoi) was sweating as he carried a 19-liter water tank placed outside the door.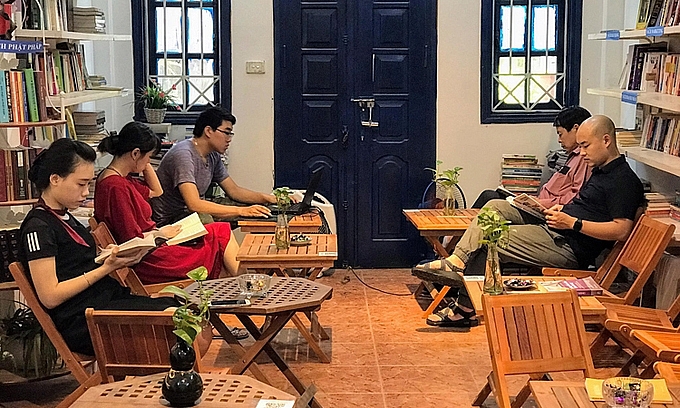 Free library space at '0 dong combination' at 66 Chua Lang, Dong Da, Ha Noi. Photo: Hai Hien
"In the hot sun, motorbike drivers, street vendors, or patients from the nearby hospitals come here and take a lot of water," said the 60-year-old man, who is just one of more than 30 people participating in the ''Zero-VND charity combination''. The initiator of the project is Ms. Nguyen Thi Thao (37 years old), owner of a cosmetics business.
The starting point for the combination was a free closet that was born more than one year ago from the idea of ​​environmental protection by employees in the company. With this project, people can bring clothes to donate and take things they need. There is a time when the number of clothes donated was too much to store although Ms. Thao has 3 shops to store donated clothes.
According to this woman, because of a large number of clothes donated, she mobilized more than 30 employees in the company to receive, sort out, and then arrange items in a closet for people in need to get it. In addition to 3 charity closets, the rest of the donated clothes were packed and sent to highland and difficult places.
Successfully with the cloth charity project, in November 2019, at Chua Lang store, Thao and her husband decided to set up a library in one of her stores at Chua Lang street, with a desire to create a free reading space for young people. This library is located on the second floor of a rented house, and the first floor is for the company's cosmetics business.
"We have to design and, build the shelves, make decoration, and then fill them with books. Finally, the 40 m2 room was turned into a true library,"
Thao shared that, from the initial 500 books, the library now has more than 1,000, covering many types of books from business, philosophy, Buddhism to parenting. The figure is increasing day by day when people from everywhere donated books to the library.
Knowing about the free library, one of Thao's friends supported the water dispenser and water pitcher. When coming to the library, readers can not only read books but also get free drinks, coffee, candies, fruits ...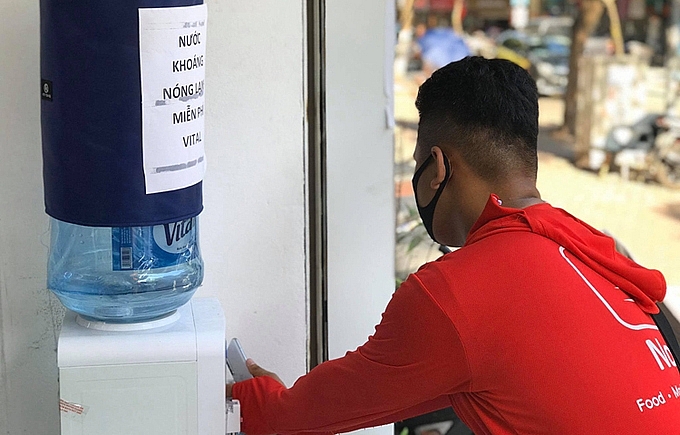 Many people come to get free water. Photo: Hai Hien
Since "zero-VND library" was implemented, Nguyen Duc Anh, a second-year student at Thuyloi University, has traveled nearly ten kilometers to come here to borrow books 2-3 times a week.
"I can find English and economic books at this library. It's not boring to sit here for a long time," the young student said.
According to this 20-year-old student, the most crowded library time is in the evening. In addition to studying, at this library, students like Duc Anh also have the opportunity to exchange knowledge with friends from everywhere. In the hot summer at midday, the library is also a resting place for motorbike drivers. They enter the library to drink or take advantage of a few dozen minutes to rest after hours of strenuous driving.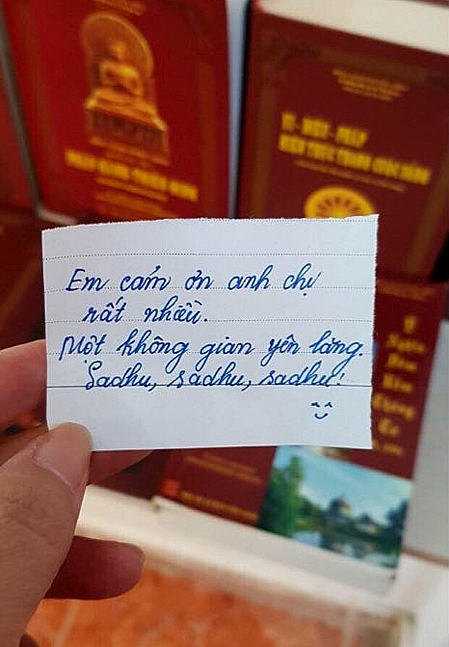 A thank-you note was written by a student to 'free library'. Photo: Thao Nguyen
"In the near future, we will find a place to open these 0-VND charity combinations, serving more people," said Nguyen Thi Thao, after Duc Anh shared that his friends really wanted to come to the library but it is a little bit inconvenient because of the long distance.
In addition to the library, free closet, and free water, she and her colleagues plan to open classes on business administration, free life skills for young people at the library soon.
This volunteering group is also building a website "connecting take and give" on a national scale. The purpose is to exchange unused items, which is convenient for people in remote provinces. As scheduled, this website will come into operation within more than a month.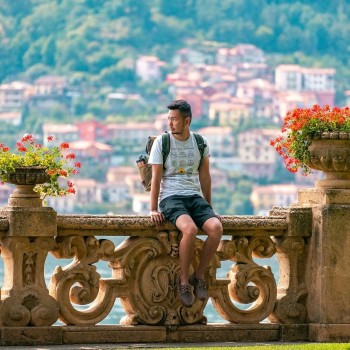 Travel
If you have the opportunity to visit Hoi An at the end of the year, these are some of the best recommendations for fun activities you can do from Peter R – a Thai travel blogger.