10 Best Movies To Enjoy in 2021
2021 is the year for many great movies, TV series and short documentaries that made their ways to the big screen. Here is a list of best movies so far this year for you to bing-watch at home.
Theaters have reopened, film festivals are back on the calendar, and jittery studios are still reshuffling release dates for all the blockbusters that were bumped last year.
Some of the best films this year have already given us stories about friends at odds, improper relationships, and a media industry falling on its own sword.
From biographical documentaries on flawed musicians and iconic actors to horror tales of the unfairly institutionalized and subversive love stories, 2021 has given us a potpourri of goodness from which to choose.
1. Saint Maud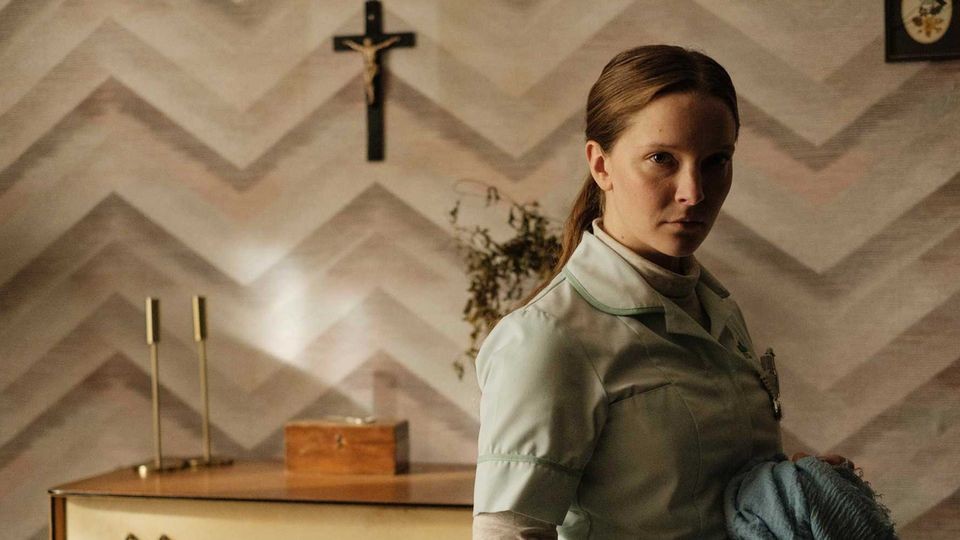 Photo: Empire Online
"Forgive my impatience, but I hope you will reveal your plan for me soon. I can't shake the feeling that you must have saved me for something greater than this." This is how Maud (Morfydd Clark), a home nurse living in the seashore town of Scarborough, talks to God. Her tone is intimate, practical, chatty, as though He's sitting in the next room. When things start to go wrong, however, her voice takes on a distinctly irritable tone. God isn't holding up His end of the bargain. "I can't help but feel an act of spite has occurred," Maud scolds God. Maud is a recent convert to Roman Catholicism, and glows with the evangelical zeal of her brand-new faith. She wants everyone to experience the bliss she's experienced. "Saint Maud," an eerie and disturbing first film from writer/director Rose Glass, shows Maud's first attempt to "save" another soul, and the cracks that open up underneath Maud's feet in the process. Is Maud touched by the divine? Or is she going mad? Is there a difference?
By keeping the film a character study—as opposed to a plot-driven story of an avenging angel/demon—"Saint Maud" is less about the religion, and more about Maud's existential loneliness (alone-ness, more like), her isolation, the dangers of being so cut off from humanity. The film has much in common with "Taxi Driver," "Carrie," and "First Reformed," and it has a similar mood of inevitability and dread. Newcomer Adam Bzowski's score—aligned with Maud's subjective experience—is deeply unnerving, as is the sound design by Paul Davies, which further traps us in Maud's point of view.
2. Together Together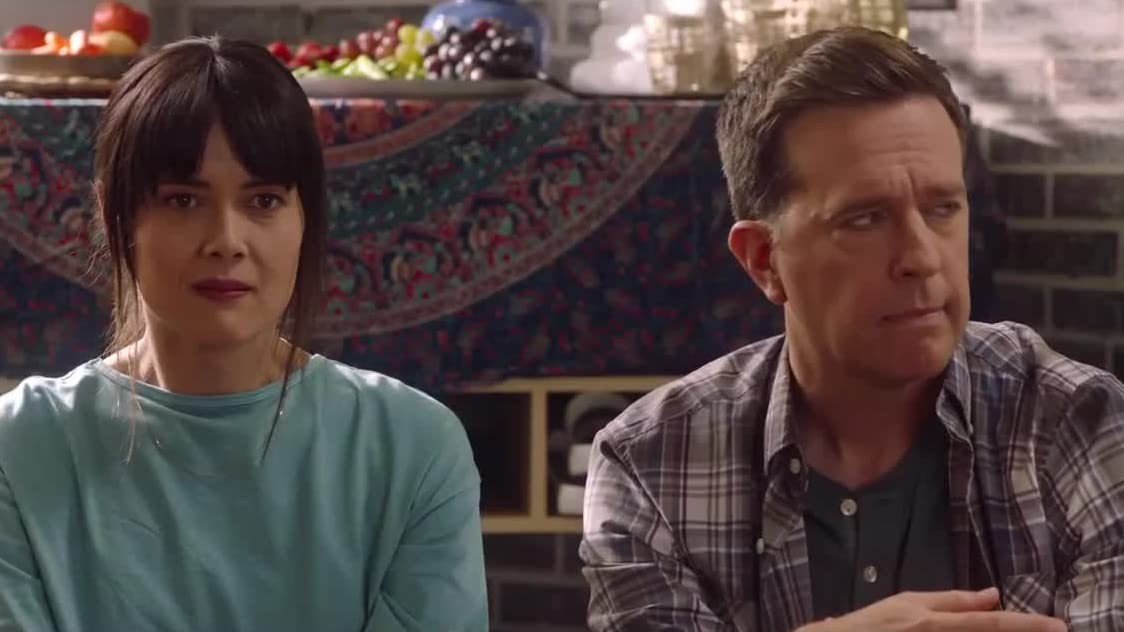 Photo: Imdb
"Together Together" is not just smart, it's sneaky-smart. You go into it thinking you know what you're getting into, and feeling impatient or dismissive as a result, because the movie conspicuously makes choices that seem intended to announce which boxes it's about to check off. Then it keeps confounding you—in a way that's understated rather than show-offy—until you have to accept it on its own terms. It's the perfect storytelling tactic for a movie about a surrogate mother and her patron, a divorced man 20 years her senior. The main characters don't fully appreciate each other until they quit trying to categorize their relationship and let it be whatever it's going to be, while trying not obsess over what'll happen once the baby is born.
The rope-a-dope strategy starts in the opening sequence. A middle-aged man named Matt (Ed Helms) interviews a young woman named Anna (Patti Harrison) in what initially seems like a speed date, then a job interview (it's both, in a way). The questions are cutesy yet invasive ("What's the worst thing you've ever done?"). The solo piano score, by Alex Somers, has that yacht-cutting-through-clear-water sound characteristic of hyper-verbal indie-film comedies about well-off suburbanites muddling through existential crises. The credits font is Windsor Light Condensed, used in all Woody Allen films since "Annie Hall." Between the the lead actors' age gap, and their self-aware yet sometimes stumbling comic banter, it seems as if "Together Together" is a try-hard that's aiming to give us the pleasures of a mid-period Woody Allen film without having to factor in, um, y'know, Woody Allen.
3. Who You Think I Am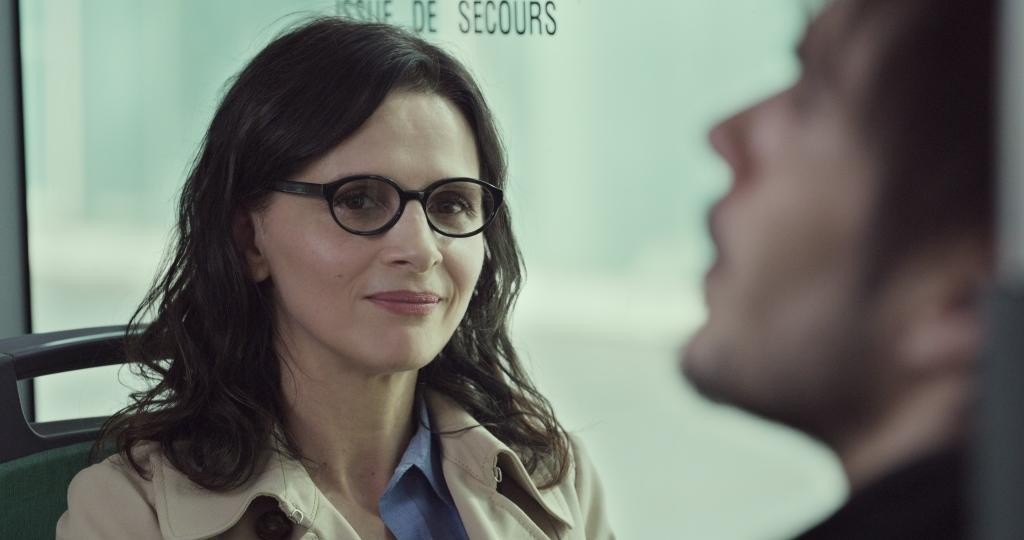 Photo: Diaphana Films
There's something peculiarly timely about this deliciously twisty, romantic thriller, with its themes of virtual isolation and physical separation. Freely adapted from a novel by Camille Laurens, Who You Think I Am boasts a kaleidoscopic performance by Juliette Binoche as a fiftysomething woman who has been rendered invisible by society (at one point a character literally looks at her without seeing her) but finds a new face for herself online. Pitched somewhere between the icy satire of late-period Claude Chabrol and the guilty thrills of Guillaume Canet's Tell No One, Safy Nebbou's mysterious tale of love and obsession will strike a chord with anyone who has worried about the random interactions of the internet while remaining inexorably drawn to the seductive glow of their iPhone.
Binoche is Claire, a disillusioned divorcee who recounts her story to therapist Dr Catherine Bormans (Nicole Garcia) while we watch in flashback. Having been "unfriended" by younger lover Ludo, Claire creates a fake online persona – an alluring 24-year-old named Clara with whom Ludo's assistant Alex (a ruffle-haired François Civil) promptly becomes infatuated. What starts as an attempt to spy on her ex soon blossoms into something more: a virtual relationship with Alex conducted with all the crackling energy of a long-distance affair. It's intense, erotic and overwhelming. But is Alex really the subject of Claire's affections? Or is it the thrill of becoming Clara that truly fires her passion?
4. Kuessipan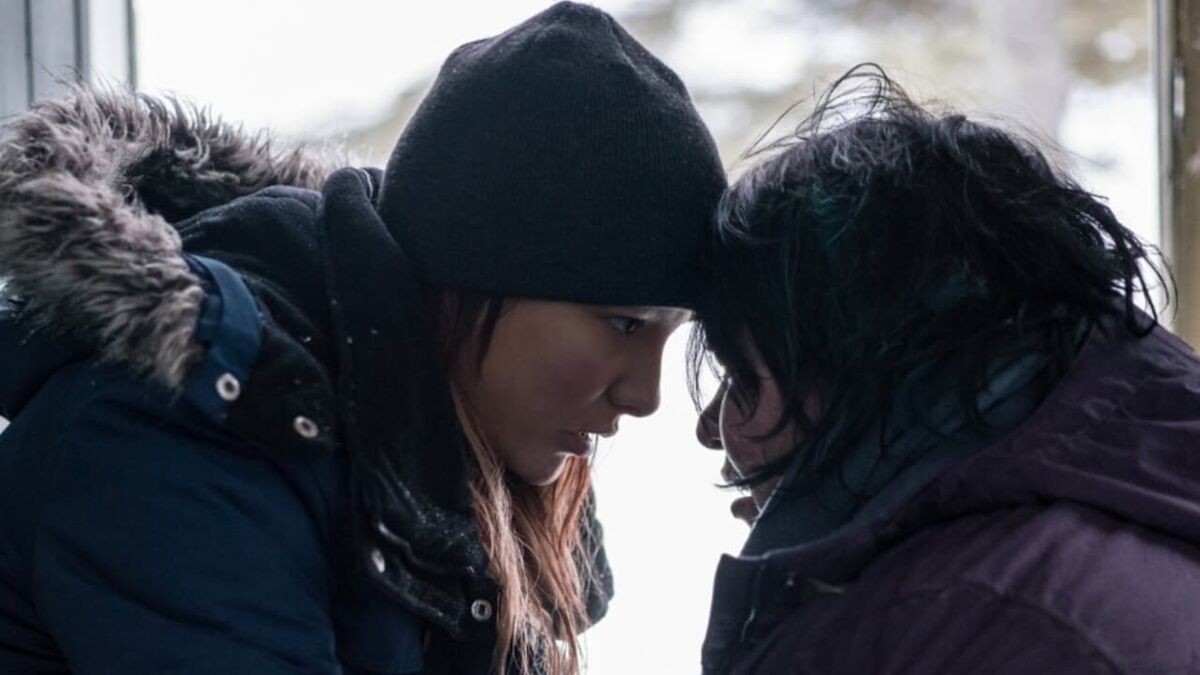 Photo: Letterboxd
Myriam Verreault's Kuessipan is one of the most captivating character dramas at the festival. Mikuan (a stunning lead performance from Sharon Ishpatao Fontaine) is such a compelling character because there's so much to her: witty, stubborn, loyal, sharply intelligent yet still a naïve and idealistic sixteen-year-old. Kuessipan's heart is in Mikuan's relationship with her best friend, Shaniss (Yamie Grégoire). The two of them grew up together in a Quebec Innu reserve; from a young age, they swore to always stick together. Mikuan's desire to leave the reserve to study in the city, her burgeoning relationship with a white boy, and the stress Shaniss is under as a new mother in an abusive relationship, test the two girls' bond more than ever before.
Kuessipan, based on a novel, retains many of the pitfalls of book adaptations, with its multiple sprawling narrative turns that distract from the story's core relationship. But Verreault's filmmaking is skillful and briskly paced, especially in its tightly edited first act. Her actresses command our attention both in quieter moments and in (sometimes overwrought) slips into melodrama. It's a coming-of-age story that stands out from the pack for its soulfulness.
5. CODA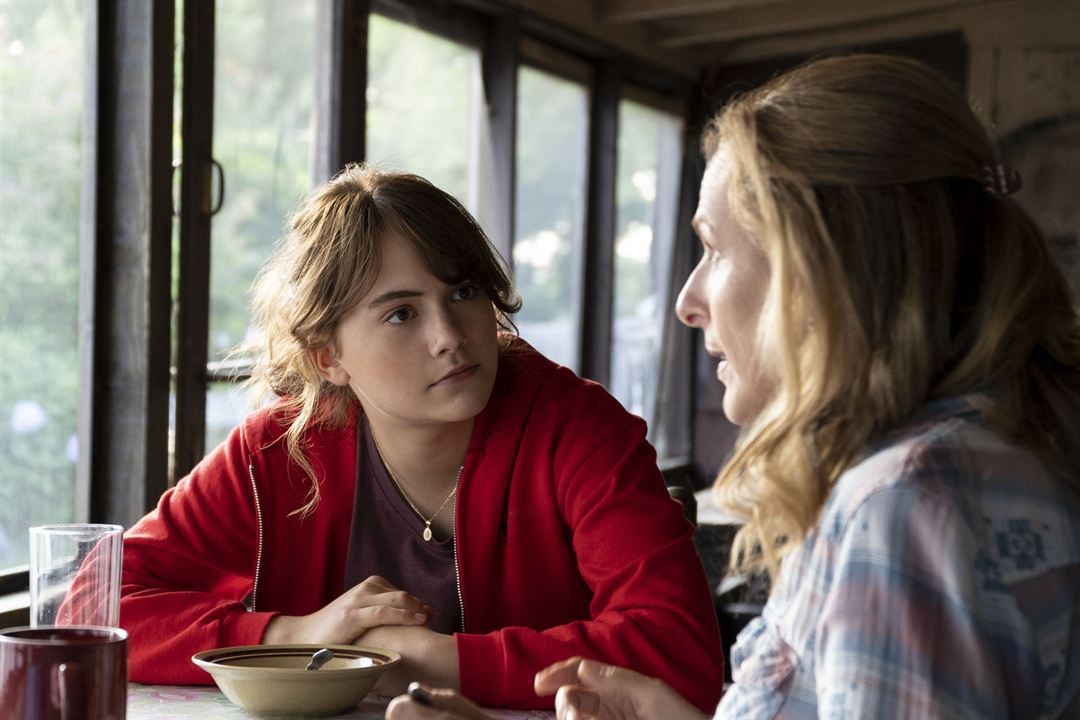 Photo: Apple TV
At first glance, you might think that writer/director Sian Heder's "CODA" is all about predictable beats you've seen countless times before. After all, it tells a pleasantly familiar coming-of-age tale, following a talented small-town girl from modest means with dreams to study music in the big city. There's an idealistic teacher, a winsome crush, moving rehearsal montages, a high-stakes audition, and naturally, a family reluctant about their offspring's ambitions. Again—and only at first glance—you might think you already know everything about this feel-good recipe.
Caring, boisterous, and adorned with the hugest of hearts, "CODA" will prove you wrong. It's not that Heder doesn't embrace the aforesaid conventions for all their comforting worth—she does. But by twisting the formula and placing this recognizable story inside a new, perhaps even groundbreaking setting with such loving, acutely observed specificity, she pulls off nothing short of a heartwarming miracle with her film, the title of which is an acronym: Child of Deaf Adult. Played by the exceptional Emilia Jones (who is blessed with Grade-A pipes), the gifted young girl in question here happens to be one, navigating the intricacies of her identity, passions, and familial expectations, trying to reconcile them without hurting anyone's feelings, her own included.
6. Acasa, My Home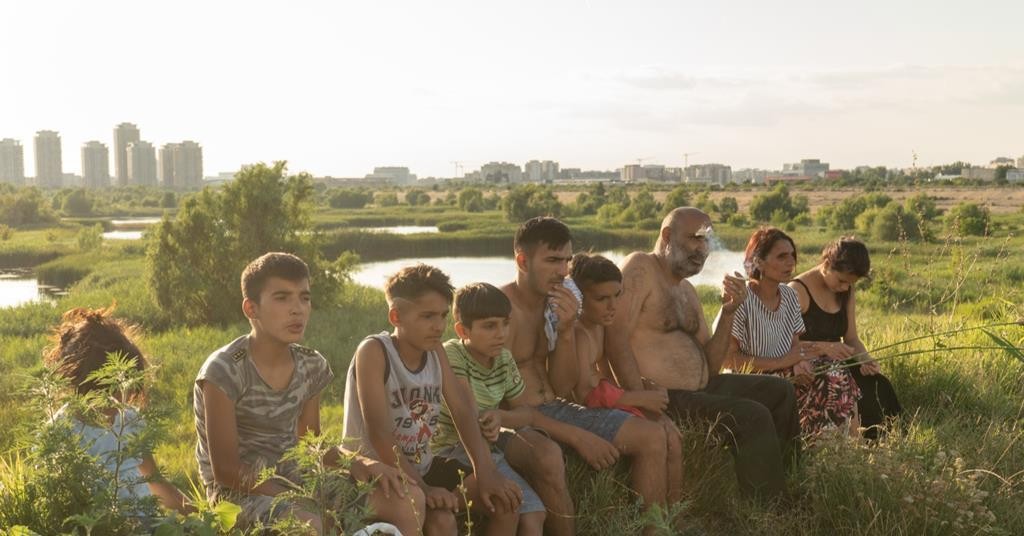 Photo: Screen Daily
If it weren't for the high-rise buildings within eyeshot, you could swear that the opening sequence of the acutely compassionate and probing "Acasa, My Home" was filmed in deep wilderness. During that initial scene, our gaze floats over the sun-dappled surface of a muddy marsh, following a teenaged boy as he swims in murky waters that somehow seem idyllic and catches fish with his bare hands, away from the metropolitan area he seems to be right outside of. Soon enough, he is joined by a number of young boys, whose cheery sounds we hear in a cacophony before their faces appear on camera and watch the older brother dexterously catch a wild water bird. When the poor terrified winged creature manages to escape and run for dear life, the boys go straight back to their carefree afternoon, rolling around in mud, giggling away and wresting amid tall reeds.
The drone camera then poignantly peels away from this joyous tableau to slowly reveal Bucharest from atop, juxtaposing the bustling capital against the habitat of the youngsters. They are all a part of the Romanian Enache family, an off-the-grid clan that has been residing on a deserted reservoir by the outskirts of Bucharest (named the Bucharest Delta) for nearly two decades. Considering it's a tribe of eleven—the parents Gica and Niculina and their nine children—it's appropriate to think of the Enaches as a small village that operates as a single unit in the earlier moments of filmmaker and investigative journalist Radu Ciorniciuc's impressive debut documentary. It's a patriarchal band by all accounts where Gica authoritatively calls the shots. Still, all of its members serve a clear purpose in their shared unconventional life. Living in extreme poverty in a self-made shack alongside all sorts of animals—pigs, chickens and dogs among them—every action is a matter of survival for the Enache family in the absence of access to the basics of urban conveniences.
7. In the Heights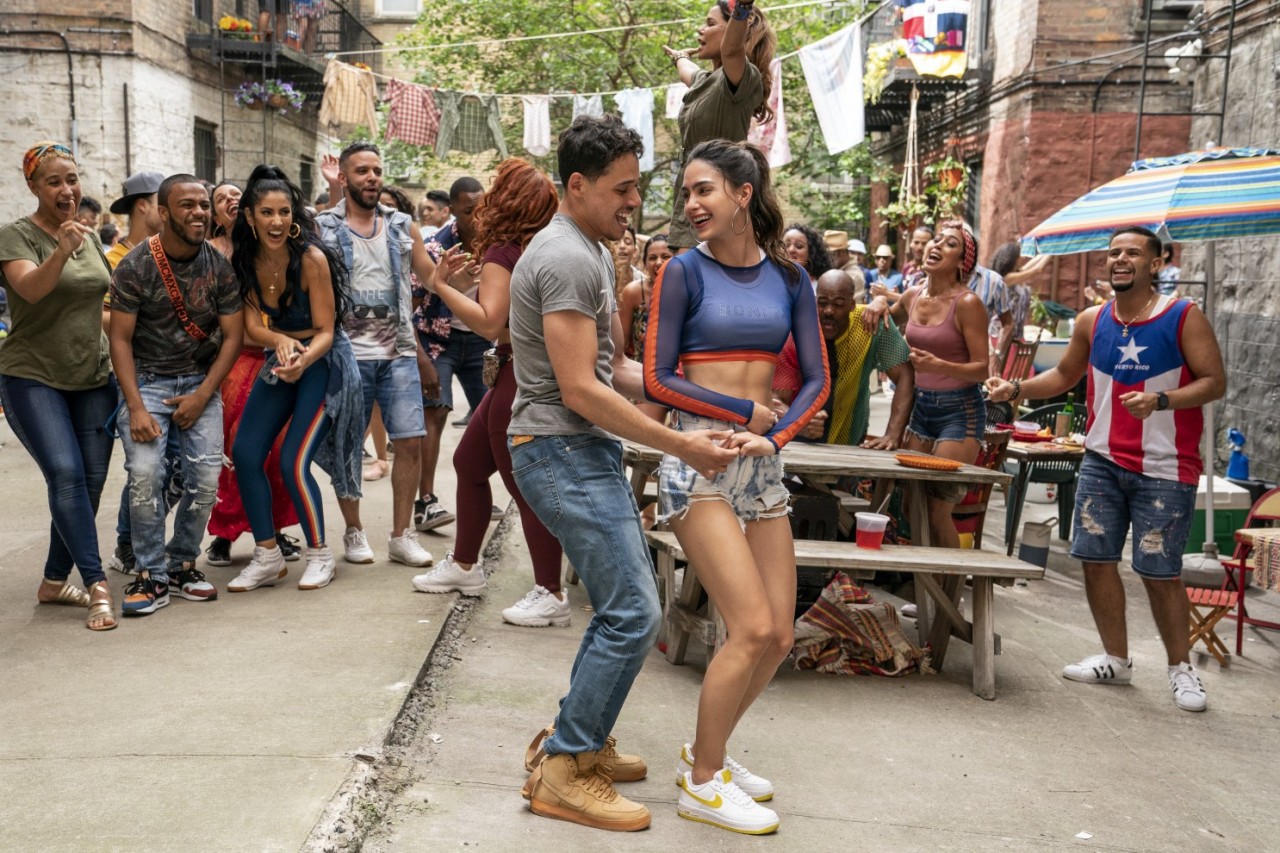 Photo: Warner Bros. Picture
Jubilant, unapologetically massive, and bursting with a cozy, melancholic sense of communal belonging, "In The Heights" is the biggest-screen-you-can-find Hollywood event that we the movie lovers have been craving since the early days of the pandemic, when the health crisis cut off one of our most cherished public lifelines. A dazzling New York movie that honors the diverse Latinx communities of Upper Manhattan like its boisterous source—the multi-award-winning stage musical that put Lin-Manuel Miranda on the showbiz map before his fame exploded with "Hamilton"—this exuberant screen adaptation (with at least one delightful "Hamilton" Easter Egg) is ready to welcome you back into your neighborhood cinema with open arms, daring to light up that dark room in ways much bigger and brighter than you might remember.
Yes, it's simply an overwhelming experience, to float weightlessly during the nearly 145-minute running time of "In The Heights." And don't let that number scare you off—the whole thing passes breezily like a New York minute, dancing its way through one typically humid and sweaty summer of the urban island's Washington Heights, pitched on the brink of a soul-killing blackout. Sitting on a picturesque tropical beach and telling his tale to a company of adorable kids early on in the film (a smart, recurring narrative anchor that resolves to a satisfying conclusion), "The streets were made of music," says the movie's heart and soul Usnavi de la Vega. Here, he is played by your new favorite leading man Anthony Ramos, who revives Miranda's Broadway role in an irresistibly likable, instantly star-making performance after holding a number of memorable parts in the likes of "Monsters and Men," "White Girl," and "A Star is Born."
8. Woodstock 99: Peace, Love, and Rage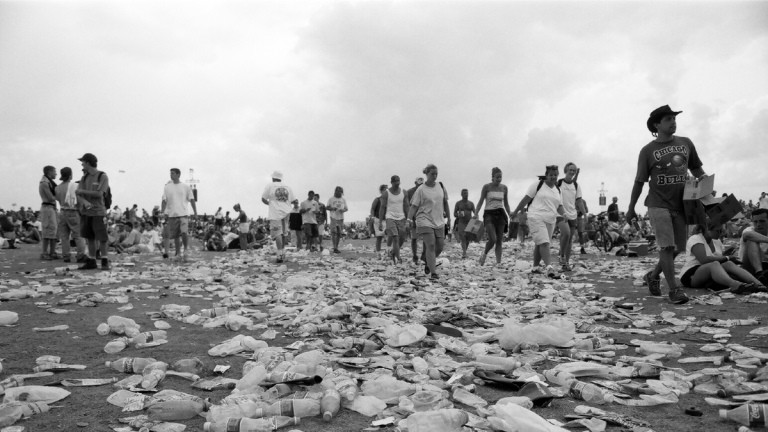 Photo: HBO
That ain't teenage spirit you're smelling. HBO's Music Box documentary Woodstock 99: Peace, Love, and Rage reeks of righteous condemnation, judicial indiscretion, and conspiratorial obfuscation. But it's okay. This is a disaster film masquerading as a documentary, and the found footage makes it all pay off. Director Garrett Price personally opens the film in the voiceover, explaining how the 1999 celebration itself was written to be a comedy, but "played out much more like a horror film."
Music festivals have come to represent generations. The original Woodstock: an Aquarian Exposition: 3 Days of Peace & Music concert in the summer of 1969 brought half a million people together with the artists who spoke for and to them in a communal love bond. The organizers lost money, the capacity was underestimated, but the audience came together to share what they had to make the weekend legendary. In December that year, the Rolling Stones concert at Altamont was marred by the pool cues and knives of the security team, the Hells Angels. It was deemed the end of the '60s.
9. The World to Come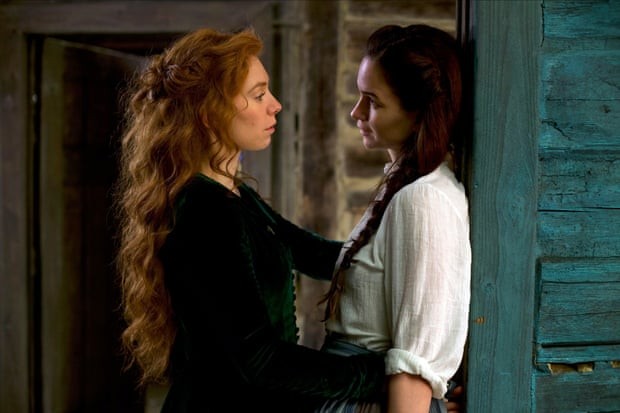 'Tingling intimacy': Vanessa Kirby and Katherine Waterston in The World to Come. Photograph: Bleecker Street Media/Vlad Cioplea/Allstar
"I have become my grief." So writes Abigail (Katherine Waterston) in the journal that was intended as a ledger for the quotidian details of 1850s US frontier farm life, but turns into a poetic account of her inner turmoil – Emily Dickinson-infused moments of anguish as she stoically chisels ice from the potatoes for lunch. Then one day a wagon rolls past bearing the new tenants to the neighbouring smallholding. The husband barely registers, but the wife, Tallie (Vanessa Kirby), is magnetic: tawny curls, curious eyes seeking out Abigail's and holding them in a moment of tingling intimacy. Love at first sight is a frivolity not afforded to women who are chosen by their husbands for their "good sense, efficient habits and handy ways". Still, there's something between them, something that Abigail, for all her eloquence, can't quite find a way to name.
This is a singularly subdued kind of storytelling. Passions run deep, but there's a reticence in the film-making that makes them feel like a whispered secret in a church pew rather than a grand, soul-baring declaration. As such, Fastvold's film won't be for everyone: it's closer in tone to the gentle, slow-burning intimacy of First Cow than to the savage sadness of Brokeback Mountain. But there's a satisfying literary intelligence at work. Co-writers Jim Shepard and Ron Hansen are both novelists, and The World to Come reflects that in its absorbing emotional layers and tender reverence for the written word.
10. The Mad Woman's Ball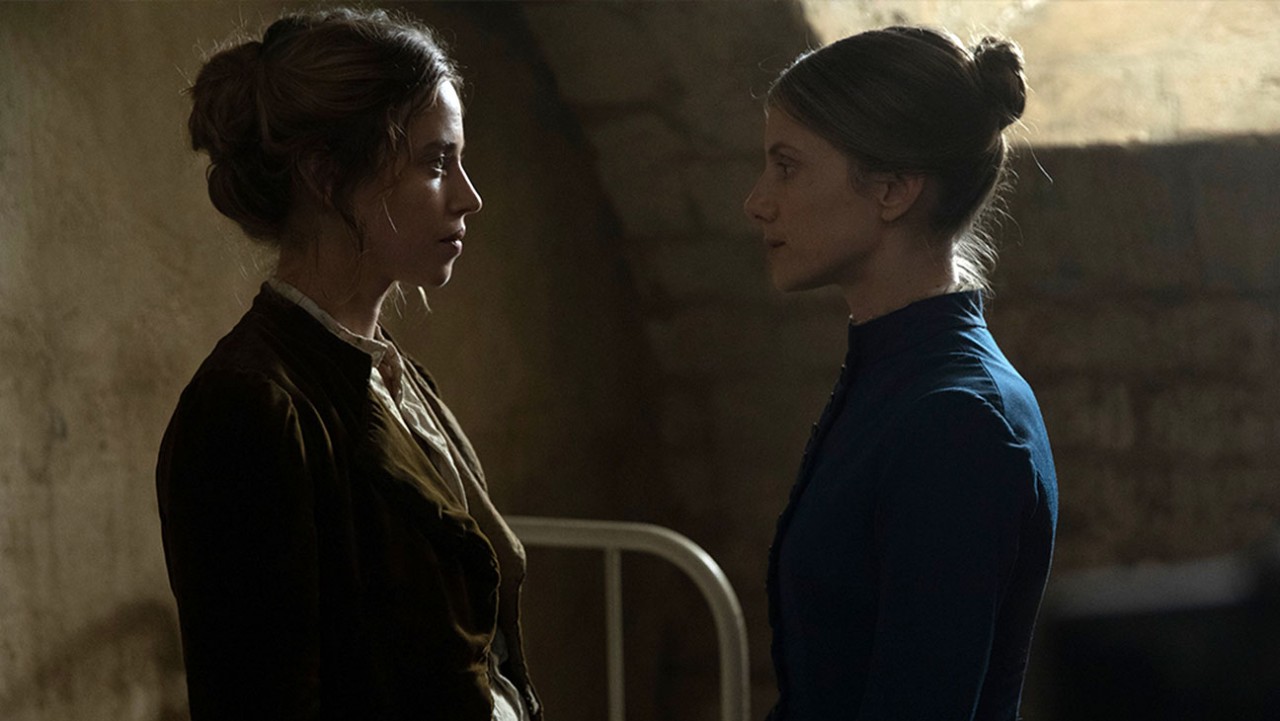 Photo: TIFF
There's a famous 1887 painting by André Brouillet called "A Clinical Lesson at the Salpêtrière." In it, a room full of men watch a strange demonstration going on at the front of the room. A man stands beside a table covered in medical instruments. A woman in a loosened corset, her breasts nearly exposed, swoons into the arms of a man. Her left hand clenches in a claw. This disturbing tableau depicts neurologist Jean-Martin Charcot, celebrated for what was considered his groundbreaking treatment of the mentally ill at the Pitié-Salpêtrière asylum in Paris. He would often give demonstrations of his methodology, using actual patients. This painting is recreated in Mélanie Laurent's "The Mad Women's Ball," a compelling and vivid adaptation of Victoria Mas' novel about two women trapped—in different ways—behind the gates of the Salpêtrière during Charcot's reign.
"The Mad Women's Ball" is part psychodrama and part melodrama, and it wears those mantles proudly and confidently. Each scene throbs with urgency and emotion. Nothing is unimportant. At the same time, the film is highly controlled, with a taut assured script. Laurent, who also did the adaptation, deftly loops together two separate narratives, running side by side at top speed until they intersect.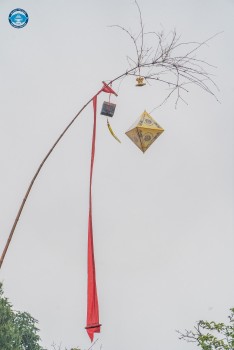 Viet's Home
In the past, the Neu pole (a tall bamboo pole with red garment strips used to ward off evil spirits during the lunar New Year) lowering ceremony at the royal palace of the Nguyen Dynasty was performed to mark the end of the New Year holiday and prepare to enter a new working year.