10th Vietnam – India People's Friendship Festival: Precious cultural exchange opportunity
Sandeep Kaur, Indian delegate participating in the 10th Vietnam – India People's Friendship Festival
Vietnam – India People's Friendship Festival which had been held in different cities or provinces, rotating in each country over 12 years attracted a large number of participants to cultivate the in - depth friendship between Vietnam and India.
I am so lucky to have a chance to come to Vietnam and learn about Vietnamese culture, as well as introducing Indian culture to Vietnam. I think this event contribute vastly to reinforcing connection strongly connect between people in two countries.
Participating in the Festival, I and my Vietnamese friends have chance to take part in cultural exchange activities. The Festival is our opportunity to explore the country, people and culture via various performances. We are happy to play our role in strengthening the relationship with Vietnam, a country that shares lots of cultural similarities with India.
I believe that the Vietnam – India relation will further develop in the future and I hope that more of this kind of events will be held in both countries to bring opportunities to improve Vietnamese and Indian friendship.
Naresh Bansal, lawyer of Punjab and Haryana Court Chandigarh, India
Vietnam and India has a 2000 years - old traditional relation and this relation has been upgraded to close friendship, based on cultural similarity. The people – to – people ties relation between Vietnam and India have been growing greatly as many events were held in two countries. Vietnam – India People's Friendship Festival is a remarkable activity. After being held for 10 times, the Festival's activities have been constantly renovated to meet with the demands of people of two countries.
Vietnam has long been a close friend and comprehensive strategic partner of India. Two countries have been making attempts to boost the traditional friendly relations and the 10 Festivals have demonstrated this effort. These events help promote the images of Vietnam and India which help foster mutual understanding. The increase of understanding pulls two countries closer and creates unlimited opportunities for cooperation.
Ha Minh Hue, Vice chairman of Vietnam – India Friendship Association
People – to – people diplomacy differed from other forms of diplomacy that it can influence allsocial class. India has different political parties which has various views, therefore, the festival is the only event that deeply and widely impact the relation of two countries. Along with government – to – government and parliamentary diplomacy, people-to-people diplomacy like this event will cultivate the friendship between Vietnam and India.
Indian participants in this Festival include people from different political parties, youth organizations and peace and friendship organizations in various localities. However, regardless of which political parties they are from, they all lend unwavering supports to Vietnam As a result, the Festival played a vital role in fostering Vietnam-India friendship.
We hope that more young Vietnamese and Indians will actively take part in the coming Festival as they are the future of two countries.
Amanpreet, Indian delegate
Even though I've only arrived in Vietnam for two days, the visit to Ha Noi and Ninh Binh province for the first time brings me a sense of familiarity especially with the presence of Buddhism in in Vietnam.
I am happy to come to Vietnam this time and jointly perform with my Vietnamese friends on the stageIt is a precious opportunity which I would not have had without this Festival. From my points of view, the Festival is an important element to bring together Indian and Vietnamese culture, promote understands between two nations, especially the young generation.
( translated by Van Nguyen )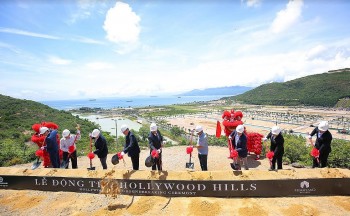 Economy
On October 2, at Hai Giang peninsula (Quy Nhon city, Binh Dinh), Hung Thinh Corporation held the groundbreaking ceremony of Hollywood Hills by YOO Inspired by Starck – a subdivision at MerryLand Quy Nhon. The event marks the first time that the world's No.1 ranked design and branded residence company YOO Inspired by Starck is officially present in Vietnam, with a collection of villas designed by creative director, Philippe Starck.