12 Best Netflix Original Series To Watch Right Now
Netflix has come with the best shows and movies this year, and here is 12 of those most excellent shows that you can watch right now.
Netflix has something for everyone, but there's plenty of rubbish. Our guide to the best TV on Netflix UK is updated weekly to help you avoid the mediocre ones and find the best things to watch. In recent years, Netflix's original programming has become the dominant part of its library, and in that time, it's produced a truly extraordinary number of shows.
1. Bojack Horseman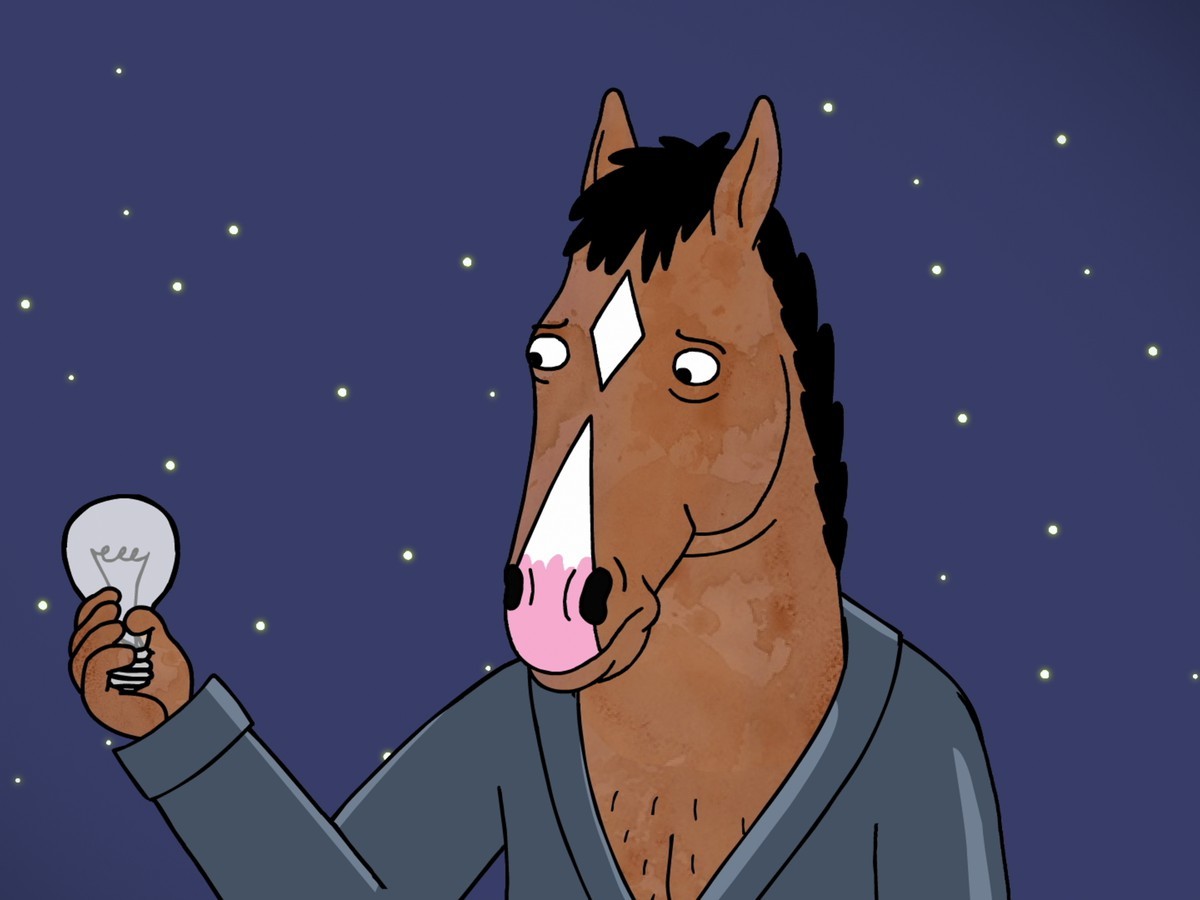 Photo: Netflix
Imdb score: 8.7/10
A Netflix original about a former sitcom star attempting a comeback while also dealing with addiction and depression, BoJack Horseman followed an anthropomorphic horse who continually tried to dull the pain of his previous bad behavior with something worse. As the show grew in scope and fleshed out a large cast of characters, it explored all kinds of ideas and stories, but the two most persistent ones were directly tied to its main character: addiction and the way celebrity fosters and protects toxicity. With its finale, the show finally locks BoJack up (for breaking and entering after a near-fatal bender), following him on a break from his 14-month sentence, which was granted so he can attend his friend and former agent Princess Carolyn's wedding.
BoJack Horseman is often overwhelmingly focused on its characters' interiority — to the point that it had to remind the audience in stark, horrific terms that its protagonist's selfish actions had real and devastating effects on the people around him. (One of the main ideas behind its fifth season was a cautionary tale about identifying with characters like BoJack too much.) In reminding viewers of its very large cast of characters and the ways almost all of them have been hurt or used up by BoJack — a few to their last breath — season 6 of the show is about as damning as you can get.
In the end, it was always a messy idea to marry a story about mental health and addiction to a story about a powerful, abusive celebrity. Power muddies the waters, demanding a specific response when BoJack ultimately wants to contemplate more universal ones. What do you do when you let your demons get the best of you, when you've done things that are unforgivable? Can you find redemption? What do you do when you've done awful things, and the only answer you know for sure is that life's a bitch, and you keep living?
2. The Crown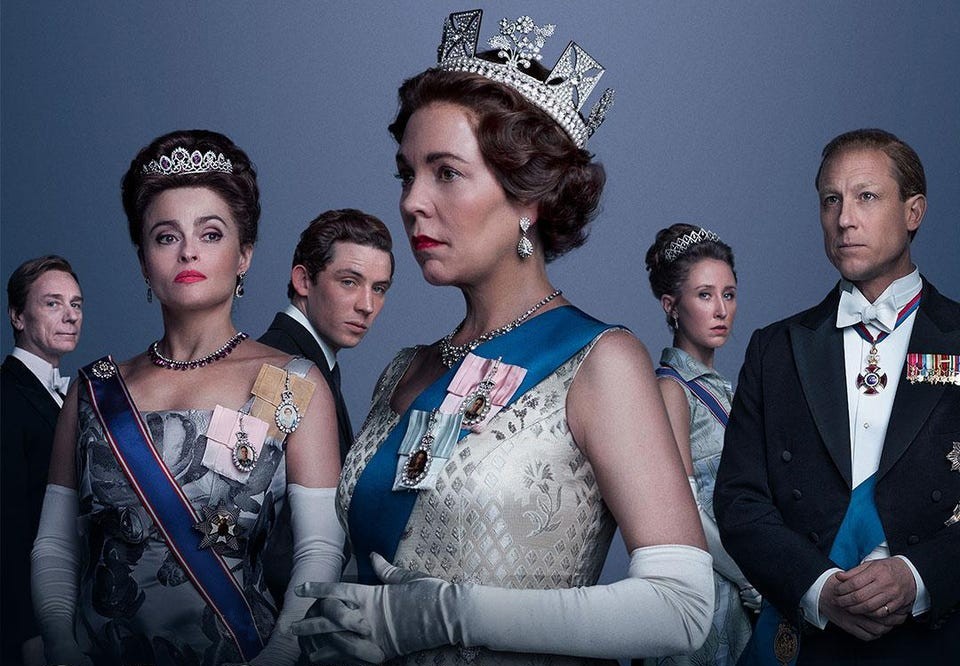 Photo: Netflix
Imdb score: 8.6/10
The Crown is a historical drama streaming television series about the reign of Queen Elizabeth II, created and principally written by Peter Morgan, and produced by Left Bank Pictures and Sony Pictures Television for Netflix. Morgan developed it from his drama film The Queen (2006) and especially his stage play The Audience (2013). The first season covers the period from Elizabeth's marriage to Philip, Duke of Edinburgh in 1947 to the disintegration of her sister Princess Margaret's engagement to Group Captain Peter Townsend in 1955. The second season covers the period from the Suez Crisis in 1956 to the retirement of Prime Minister Harold Macmillan in 1963 and the birth of Prince Edward in 1964. The third season spans 1964 to 1977, includes Harold Wilson's two periods as prime minister, and introduces Camilla Shand. The fourth season spans 1979 to the early 1990s and includes Margaret Thatcher's tenure as prime minister and Prince Charles's marriage to Lady Diana Spencer. The fifth and sixth seasons, which will close the series, will cover the Queen's reign into the 21st century.
The Crown was praised by critics for its acting, directing, writing, cinematography, and production values, although its historical inaccuracies have received some criticism, particularly within the fourth season. Nonetheless, it received accolades at the 23rd Screen Actors Guild Awards, Foy won Best Actress in the lead role and Best Actor for John Lithgow as Winston Churchill, and has secured a total of sixty three nominations for its first four seasons at the Primetime Emmy Awards, including four for Outstanding Drama Series. The series has also twice won the Golden Globe Award for Best Television Series - Drama, at the 74th and 78th ceremonies, with additional acting wins for Foy, Colman, Corrin, O'Connor and Anderson.
3. Derry Girls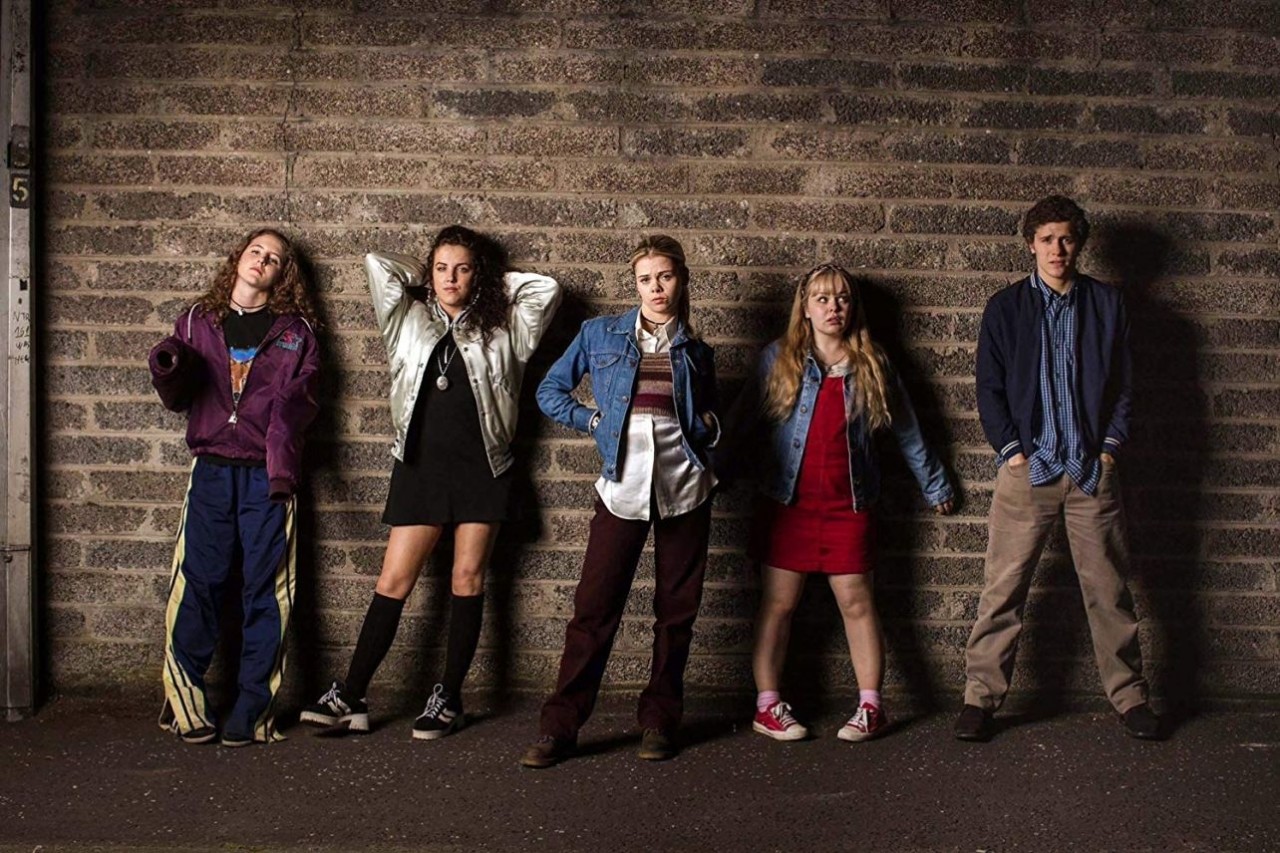 Photo: Netflix
Imdb: 8.4/10
Derry Girls is a sitcom created and written by Northern Irish writer Lisa McGee and produced by British production company Hat Trick Productions. It is set in Derry, Northern Ireland, during The Troubles in the 1990s. The first series was broadcast in January and February 2018 on Channel 4. The second series was shown in March and April 2019. A third series was commissioned for 2020, but postponed due to the COVID-19 pandemic.
Erin (Saoirse-Monica Jackson), her cousin Orla (Louisa Harland), their friends Clare (Nicola Coughlan) and Michelle (Jamie-Lee O'Donnell), and Michelle's English cousin James (Dylan Llewellyn) navigate their teen years during the end of The Troubles in Derry, where they all attend a Catholic girls' secondary school.
Erin lives with her father Gerry and mother Mary, her baby sister Anna, Mary's younger sister Sarah, Sarah's daughter Orla, and her maternal grandfather, Joe. James is Michelle's cousin; his mother Cathy left Derry for England to have an abortion but gave birth to him and raised him in London. She sends him back to Derry to live with Michelle and her mother Deirdre when she is going through a divorce.
Derry Girls is reckless, joyful and celebratory, whether they're explaining why they almost burned down a chip shop, or why they definitely did not kill a nun. Partly, that's because its jokes come thick and fast. Each episode unspools into madness by the time we get to the ad break; the second half is an attempt to somehow put the toothpaste back into the tube.
4. GLOW
Imdb score: 8/10
GLOW is an American comedy-drama streaming television series created by Liz Flahive and Carly Mensch for Netflix. The series revolves around a fictionalization of the characters and gimmicks of the 1980s syndicated women's professional wrestling circuit Gorgeous Ladies of Wrestling (or GLOW) founded by David McLane.
The first season consists of 10 episodes and was released on June 23, 2017. On August 10, 2017, Netflix renewed the series for a second season of 10 episodes, which was released on June 29, 2018. The series was renewed on August 20, 2018, for a third season, which was released on August 9, 2019. On September 20, 2019, the series was renewed for a fourth and final season. However, in October 2020, that decision was reversed by Netflix, and the final season was canceled due to the COVID-19 pandemic causing a production shutdown.
In Los Angeles in 1985, Ruth Wilder, a struggling actress, auditions along with many other women in a fledgling professional wrestling promotion called the Gorgeous Ladies of Wrestling (GLOW). Traditionally minded in her approach to acting and highly idealistic, she clashes with GLOW's director Sam Sylvia due to his cynical demeanor and often unconventional work style. Ruth discovers early on that Sylvia has employed her former best friend, retired soap opera actress Debbie Eagan to star in the show. Ruth and Debbie had fallen out with one another after Ruth had an affair with Debbie's husband, Mark, whom Debbie then divorced. The tension between the two women promises either to make or break the developing show. The series follows the personal and professional lives of the fictional show's numerous cast and crew as they navigate the 1980s in Southern California and Southern Nevada.
5. Bloodline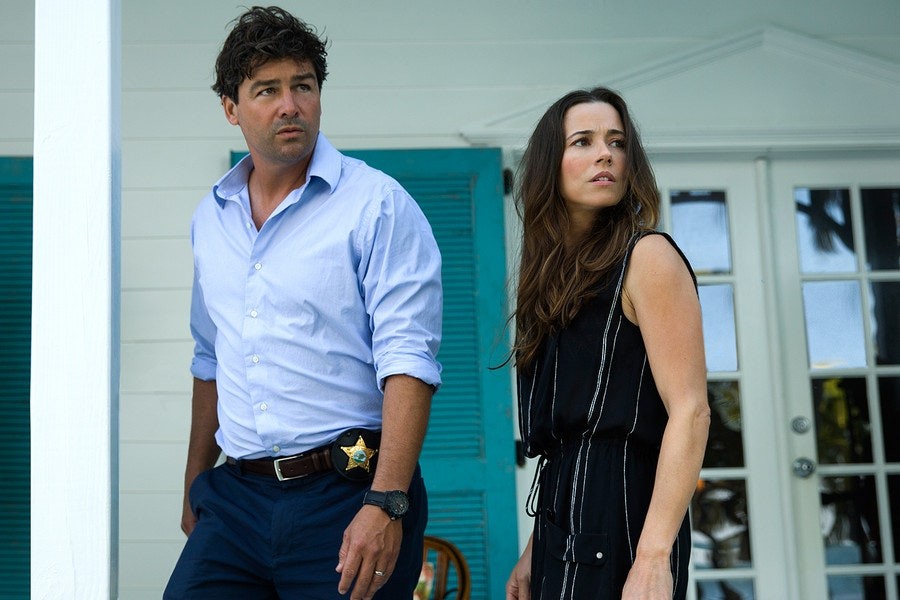 Photo: Netflix
Imdb score: 7.9/10
Everything would appear to be grand for the Rayburn family in Bloodline (Netflix). Patriarch Robert (Sam Shepard) and his wife, Sally (Sissy Spacek, serious cast this), run a little hotel in an idyllic spot on the Florida Keys. Three of their four grown-up kids live nearby with their own relationships and families, and they take part in an extended clan life: get-togethers, volleyball, tug-of-war on the beach, good stuff like that. There are issues, sure – a bit too much drinking at lunchtime; the odd rocky patch in a marriage. But the Rayburns are respected pillars of the local community, to the extent that a new pier in the area is named after them.
Then prodigal son Danny (Ben Mendelsohn) comes back and casts a shadow over everything. A big, black-sheep-shaped shadow. Is he really the bad guy, though? Or the victim? Or both? Families tend to be more complicated – and more interesting – than monochrome ruminants. Even golden boy John (Kyle Chandler), a cop, might not be so golden. Danny's arrival opens old wounds and rubs salt – and sand – into them.
Bloodline, created by the people who made Damages, is an involving family drama, human and familiar, strongly performed by its serious cast. If you have a family, it can't help but make you think of them.
There's the other kind of blood about the place, too – the sort that gets spilled and then spilled again in revenge. There are bodies, and burning boats, and loads more to come, no doubt. If it can continue to blend the two – family and crime – as successfully as the opening episode suggests, then Bloodline may be one more nail in the coffin of Netflix resistance.
6. Mindhunter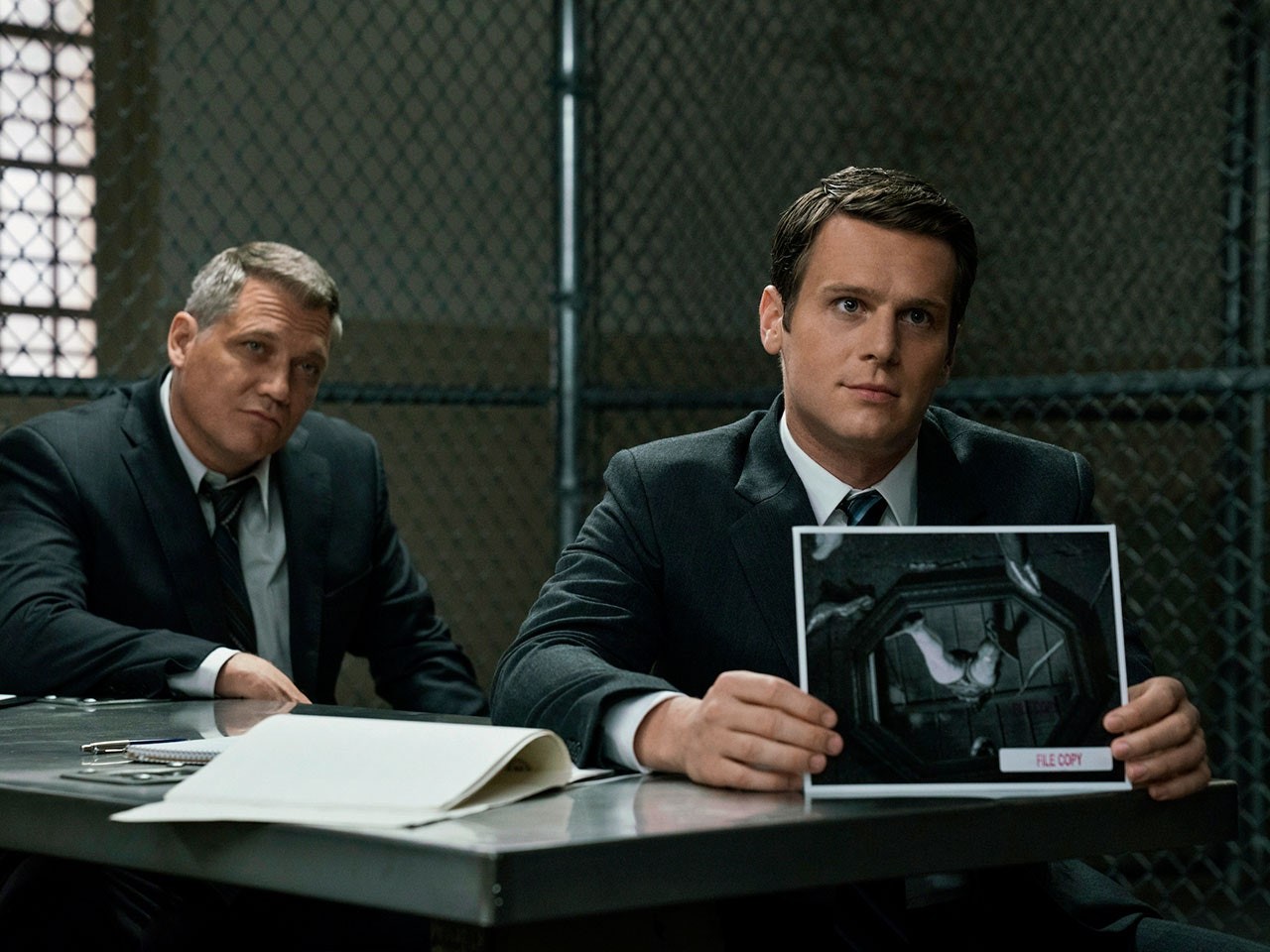 Photo: Netflix
Imdb score: 8.6/10
Mindhunter is an American psychological crime thriller television series created by Joe Penhall, based on the 1995 true-crime book Mindhunter: Inside the FBI's Elite Serial Crime Unit written by John E. Douglas and Mark Olshaker. The executive producers include Penhall, Charlize Theron, and David Fincher, the latter of whom has served as the series's most frequent director and de facto showrunner, overseeing much of the scriptwriting and production processes. The series stars Jonathan Groff, Holt McCallany, and Anna Torv, and it follows the founding of the Behavioral Science Unit in the FBI in the late 1970s and the beginning of criminal profiling.
The first season of ten episodes debuted worldwide on Netflix on October 13, 2017. The second season was released by Netflix on August 16, 2019. In January 2020, Netflix announced that the potential for a third season was on indefinite hold as Fincher wanted to pursue other projects but may "revisit [the series] in the future".
Mindhunter revolves around FBI agents Holden Ford (Jonathan Groff) and Bill Tench (Holt McCallany), along with psychologist Wendy Carr (Anna Torv), who operate the FBI's Behavioral Science Unit within the Training Division at the FBI Academy in Quantico, Virginia. Together, they launched a research project to interview imprisoned serial killers to understand their psychology with the hope of applying this knowledge to solve ongoing cases.
The first season takes place from 1977 to 1980, in the early days of criminal psychology and criminal profiling at the Federal Bureau of Investigation. Cameron Britton has a recurring role in this season as notorious serial killer Edmund Kemper, who is the first to assist Ford and Tench in understanding how a serial killer's mind works. Other notable serial killers featured in the first season include Montie Rissell played by Sam Strike, Jerry Brudos played by Happy Anderson, Richard Speck played by Jack Erdie, and Dennis Rader also known as BTK, played by Sonny Valicenti.
The second season takes place between 1980 and 1981, with Ford and Tench investigating the Atlanta murders of 1979 to 1981, which included at least 28 deaths, mostly children. This is based on the real case of Wayne Williams, who was charged and convicted for the murder of two adult men but was never tried for the killing of the children and adolescents, causing mass outrage and questions over Williams's guilt as the children's cases went cold. The second season also features other infamous murderers, such as David Berkowitz, also known as Son of Sam, played by Oliver Cooper, William Pierce Jr. played by Michael Filipowich, Elmer Wayne Henley Jr. played by Robert Aramayo, and Charles Manson, played by Damon Herriman.
7. Sense8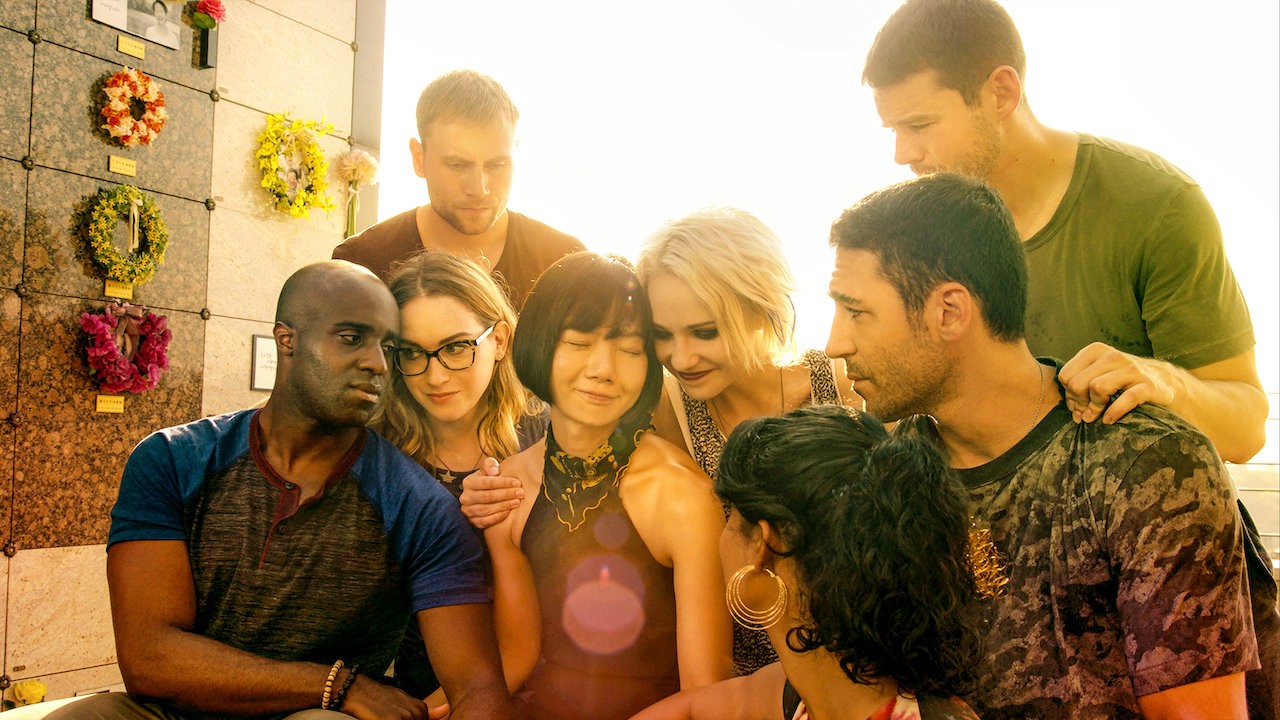 Photo: Netflix
Imdb score: 8.3/10
Sense8 is an American science fiction drama streaming television series created by Lana and Lilly Wachowski and J. Michael Straczynski for Netflix. The production companies behind Sense8 included the Wachowskis' Anarchos Productions (replaced by Lana and her wife's Venus Castina Productions in the second season), Straczynski's Studio JMS, and Georgeville Television, with Unpronounceable Productions having been set up specifically for the show.
The show's first season introduced a multinational ensemble cast, with Aml Ameen, Doona Bae, Jamie Clayton, Tina Desai, Tuppence Middleton, Max Riemelt, Miguel Ángel Silvestre, and Brian J. Smith portraying eight strangers from different parts of the world who suddenly discover that they are "sensates": human beings who are mentally and emotionally linked. Freema Agyeman, Terrence Mann, Anupam Kher, Naveen Andrews, and Daryl Hannah also star. In the second season Toby Onwumere replaces Ameen. The show explores issues related to identity, sexuality, gender, and politics that its creators felt had been rarely addressed on television. Its central theme is an embrace of empathy across difference.
The second season began with a two-hour Christmas special in December 2016, with the remaining 10 episodes released in May 2017. However, the following month Netflix announced that they had cancelled the series, which had ended with a cliffhanger in expectation of a third season, then under negotiation. In response to criticism of the cancellation, especially with an unresolved story, Netflix produced a two-and-a-half-hour series finale that was released on June 8, 2018. The season was overall met with positive critical reception and received a Primetime Emmy Award nomination for Outstanding Cinematography for a Single-Camera Series (One Hour), and two nominations by the GLAAD Media Awards for Outstanding Drama Series and Outstanding TV Movie or Limited Series for the season proper and series finale, respectively.
8. American Vandal
Photo: Netflix
Imdb: 8.2/10
Season 1 follows amateur documentarians Sam Ecklund (Griffin Gluck) and Peter Maldonado (Tyler Alvarez) attempting to exonerate high school burnout and known dick-drawer Dylan Maxwell (Jimmy Tatro) who was expelled from school for allegedly spray-painting dicks on every car in the teacher's parking lot.
Unlike the aspirational teens of Gossip Girl and Riverdale who look like 25-year-olds and float through hallways in heels and designer handbags (no backpacks?), the cast of American Vandal actually look and sound like high schoolers. Their names sound like real high schooler names, down to their habit of referring to people by both their first and last: Alex Trimboli, Pat Micklewaite, Nick Songergoth, Sarah Pearson, and Ming Zhan are all people who could be in any yearbook.
Although Kevin McClain (Travis Tope), season 2's primary suspect, lacks the boyish lovability of Tatro's Maxwell, McClain is still immediately familiar without descending into parody. He's the atheist boy in high school who wears a flat cap and says words like "exquisite," who puts on a rubber horse head mask to DJ middle school parties. Who doesn't know that kid?
High schools have history: One thing American Vandal captures so effortlessly is the collective shared knowledge that exists among a student body, transcending cliques and "coolness." Everyone knows Alex Trimboli is a little b—h who lied about getting a handjob from Sarah Pearson. Everyone has an opinion on the Way Back Boys, Dylan Maxwell's group of stoner friends who make inane prank videos for YouTube. Everyone went to Nana's party. With a few Snapchat videos, American Vandal welcomes the audience into a biosphere that feels not just plausible, but entirely lived-in and familiar.
The crimes were equally grounded and plausible: American Vandal is not a murder mystery. It's a show about crimes that could have happened in any suburb, crimes that would be more discussed in group-chats that the national news.
9. The Queen's Gambit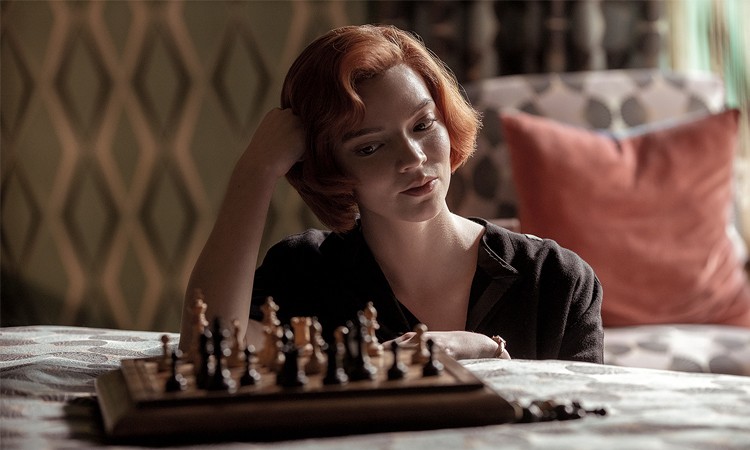 Photo: Netflix
Imdb score: 8.6/10
The Queen's Gambit is a 2020 American coming-of-age period drama streaming television miniseries based on Walter Tevis's 1983 novel of the same name. The title refers to the "Queen's Gambit", a chess opening. It was written and directed by Scott Frank, who created it with Allan Scott. Beginning in the mid-1950s and proceeding into the 1960s, the story follows the life of Beth Harmon (Anya Taylor-Joy), an orphaned chess prodigy on her rise to the top of the chess world while struggling with drug and alcohol dependency.
Netflix released The Queen's Gambit on October 23, 2020. After four weeks it had become Netflix's most-watched scripted miniseries, making it Netflix's top show in 63 countries. The series received critical acclaim, with particular praise directed towards Taylor-Joy's performance, the cinematography, and production values. It also received a positive response from the chess community, and data suggests that it has increased public interest in the game.
The Queen's Gambit received numerous accolades; it won eleven Primetime Emmy Awards, including Outstanding Limited or Anthology Series. The series also won two Golden Globe Awards: Best Limited Series or Television Film and Best Actress – Miniseries or Television Film for Taylor-Joy. She also won the Screen Actors Guild Award for Outstanding Performance by a Female Actor in a Miniseries or Television Movie.
10. Alias Grace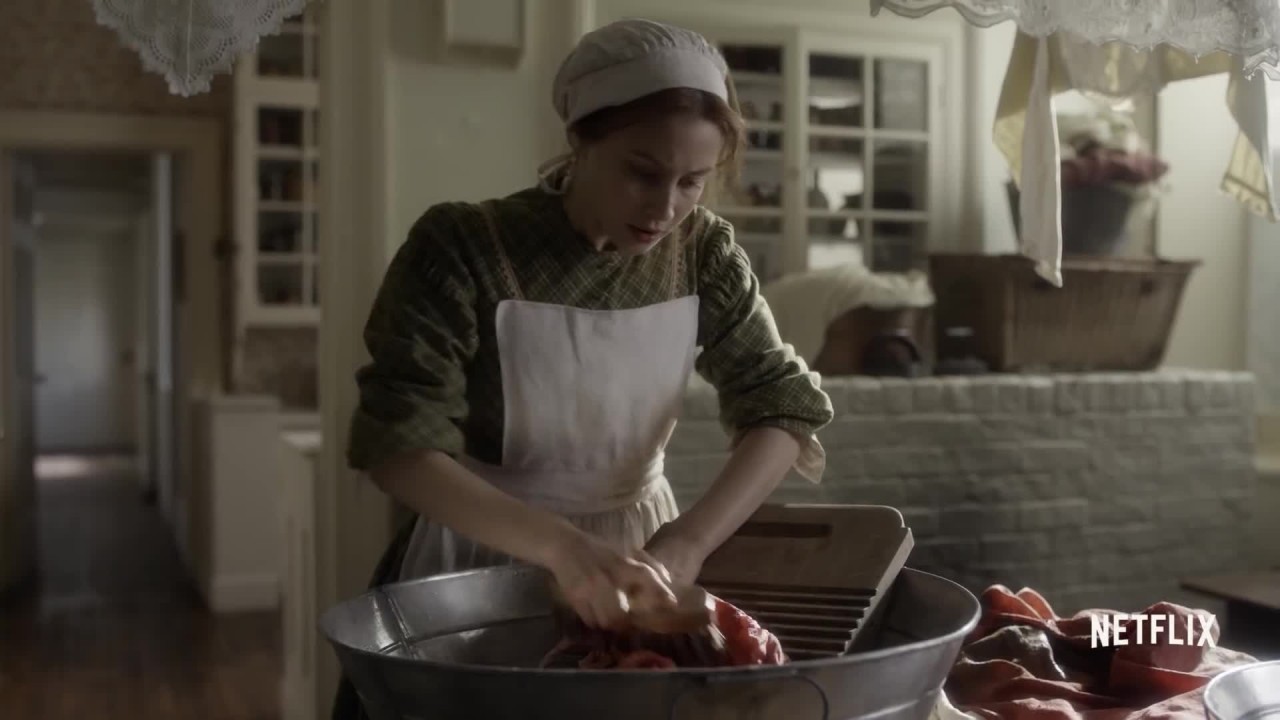 Photo: Netflix
Imdb score: 7.7/10
On Netflix, Alias Grace is tagged "cerebral". That is part promise, part warning, according to taste, but cerebral this adaptation of Margaret Atwood's extraordinary, slippery, sinuous 1996 novel certainly is.
The plot is based on a real Canadian murder case. In 1843, 16-year-old Irish immigrant Grace Marks and James McDermott, her fellow servant in the household of Thomas Kinnear, were convicted of murdering Kinnear and his housekeeper-lover Nancy Montgomery. McDermott was hanged and Marks was sentenced to life imprisonment.
And those, really, are all the facts we have. The rest of the book is about the question of Grace's guilt or innocence, and this miniseries faithfully follows Atwood's construction and deconstruction of layers of possibility. Simon Jordan (played by Edward Holcroft, as softly yet compellingly as he played Alex Turner in 2015's London Spy) is the doctor set to work to probe Grace's mind and uncover the truth.
The elusiveness of the truth – and the anti-immigrant sentiment and class distinctions that permeate the story – resonate in the age of fake news, and especially at a time when the weight we give to women's stories is under particular consideration. Grace's version of events is modified by her lawyer, perverted by the gutter press, ignored by asylum doctors and distorted by her own desire to amuse, protect and perhaps to avenge herself on a world in which she has, from childhood, been exposed to the worst that the men who run it have to offer. Grace is written in and out of her own story, obscured by clouds of rumour, fear and lust, turned inside out by grief – can anything real remain?
11. The Haunting of Hill House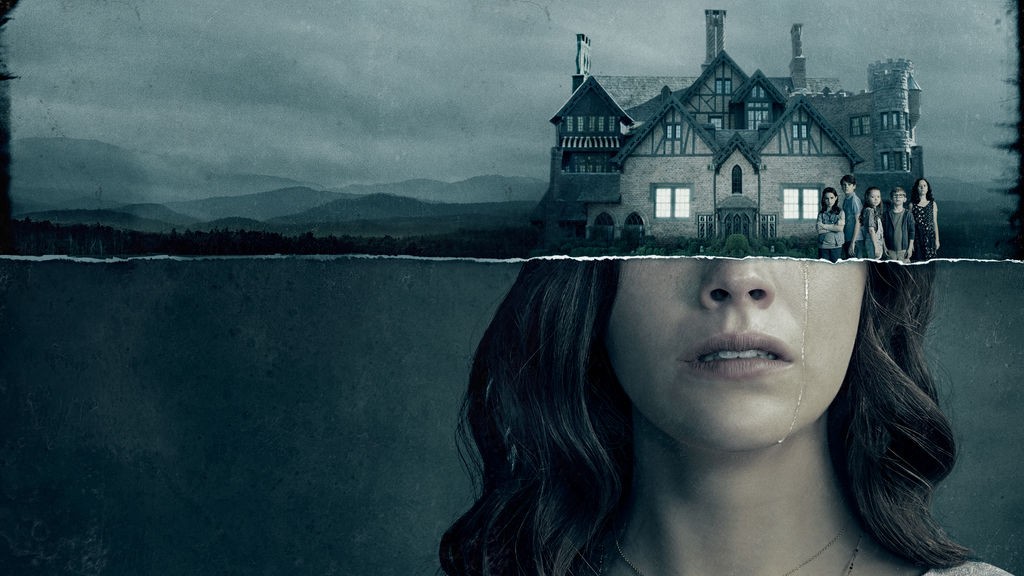 Photo: Netflix
Imdb score: 8.6/10
The Haunting of Hill House is an American supernatural horror drama television series created and directed by Mike Flanagan, produced by Amblin Television and Paramount Television, for Netflix, and serves as the first entry in The Haunting anthology series. It is loosely based on the 1959 novel of the same name by Shirley Jackson. The plot alternates between two timelines, following five adult siblings whose paranormal experiences at Hill House continue to haunt them in the present day, and flashbacks depicting events leading up to the eventful night in 1992 when the family fled from the mansion. The ensemble cast features Michiel Huisman, Elizabeth Reaser, Oliver Jackson-Cohen, Kate Siegel, and Victoria Pedretti as the adult counterparts of the siblings, with Carla Gugino and Henry Thomas as parents Olivia and Hugh Crain, and Timothy Hutton appearing as an older version of Hugh.
The series premiered on Netflix on October 12, 2018. The Haunting of Hill House received critical acclaim, particularly for its acting, directing, and production values, with many calling it an "effective ghost story." A follow-up series by Flanagan titled The Haunting of Bly Manor, with most of the same crew and some of the same cast but a different story and characters, was released on October 9, 2020.
In the summer of 1992, Hugh and Olivia Crain and their five children—Steven, Shirley, Theodora (Theo), Luke, and Eleanor (Nell)—move into Hill House to renovate the mansion in order to sell it and build their own house, designed by Olivia. However, due to unexpected repairs, they have to stay longer, and they begin to experience increasing paranormal phenomena, resulting in a tragic loss and the family fleeing from the house. Twenty-six years later, the Crain siblings and their estranged father reunite after another tragedy strikes them again, and they are forced to confront how their time in Hill House has affected each of them.
12. The OA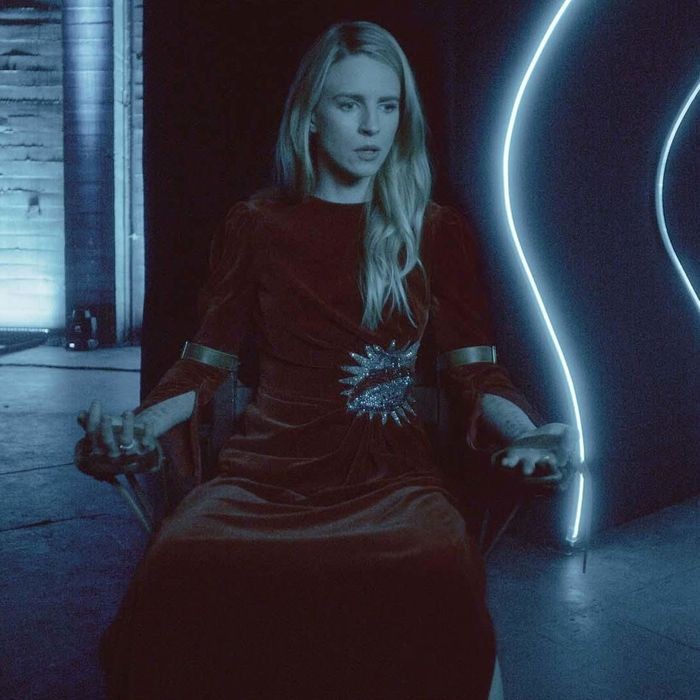 Photo: Netflix
Imdb score: 7.8/10
The OA is an American mystery drama television series with science fiction, supernatural, and fantasy elements. The OA debuted on Netflix on December 16, 2016. Created and executive produced by Brit Marling and Zal Batmanglij, the series is their third collaboration. The series consists of two seasons of eight episodes each, nearly all directed by Batmanglij, and is produced by Plan B Entertainment and Anonymous Content. In the series, Marling stars as a young woman named Prairie Johnson who resurfaces after having been missing for seven years. Prairie now calls herself "the OA" and can see, despite having been blind before her disappearance.
On February 8, 2017, Netflix renewed the series for a second season, dubbed "Part II", that was released on March 22, 2019. Although The OA was planned by its creators to be a five-part story told in five seasons, on August 5, 2019, Netflix canceled the series after two seasons, leaving the show with a cliffhanger ending. The OA received generally favorable critical reception, averaging 77% for Part I and 92% for Part II on Rotten Tomatoes. The series' directing, visuals and acting were often singled out, as was its social impact.
The series is about Prairie Johnson, an adopted young woman who resurfaces after having been missing for seven years. Upon her return, Prairie calls herself "the OA" (for "original angel"), has scars on her back, and can see, despite having been blind when she disappeared. The OA refuses to tell the FBI and her adoptive parents where she has been and how her eyesight was restored, and instead quickly assembles a team of five locals (four high school students and a teacher) to whom she reveals that information, also explaining her life story. Finally, she asks for their help to save the other missing people whom she claims she can rescue by opening a portal to another dimension.
The second season follows the OA as she traverses to another dimension and ends up in San Francisco to continue her search for her former captor Hap and her fellow captives. Prairie crosses paths with private eye Karim Washington and assists in his investigation of the surreal disappearance of a missing girl that involves an abandoned house with a supernatural history and an online puzzle game. Meanwhile, in the original dimension, a series of unfortunate events propels the OA's five companions to embark on a road trip across America to assist the OA on her journey.
Top 7 Best Vietnamese Films on Netflix

Vietnam's film industry has recently received multiple international awards from Busan Film Festivals, Asian Film Festivals, or Vegas Movie Awards. If you are struggling to ...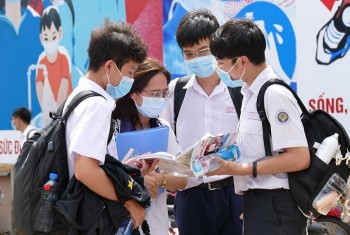 National
About 75 million vaccine doses have been administered nationwide, with nearly 22 million people getting their second shot.