12 Russian Dishes You Should Try Once
Whilst modern Russia is seeing their classic plates reinvented, there are still traditional Russian dishes you simply must try.
Russian cuisine is all about hearty, sustaining food that can warm you up on even the coldest winter night. Making up over a seventh of the earth's entire land mass, the sheer size of the country and persity of what moves and grooves within means that there's so much more to the Russia's cuisine than borshch (a soup usually containing beet juice as a foundation), potatoes and vodka. Here's our roundup of 12 Russian dishes you have to try.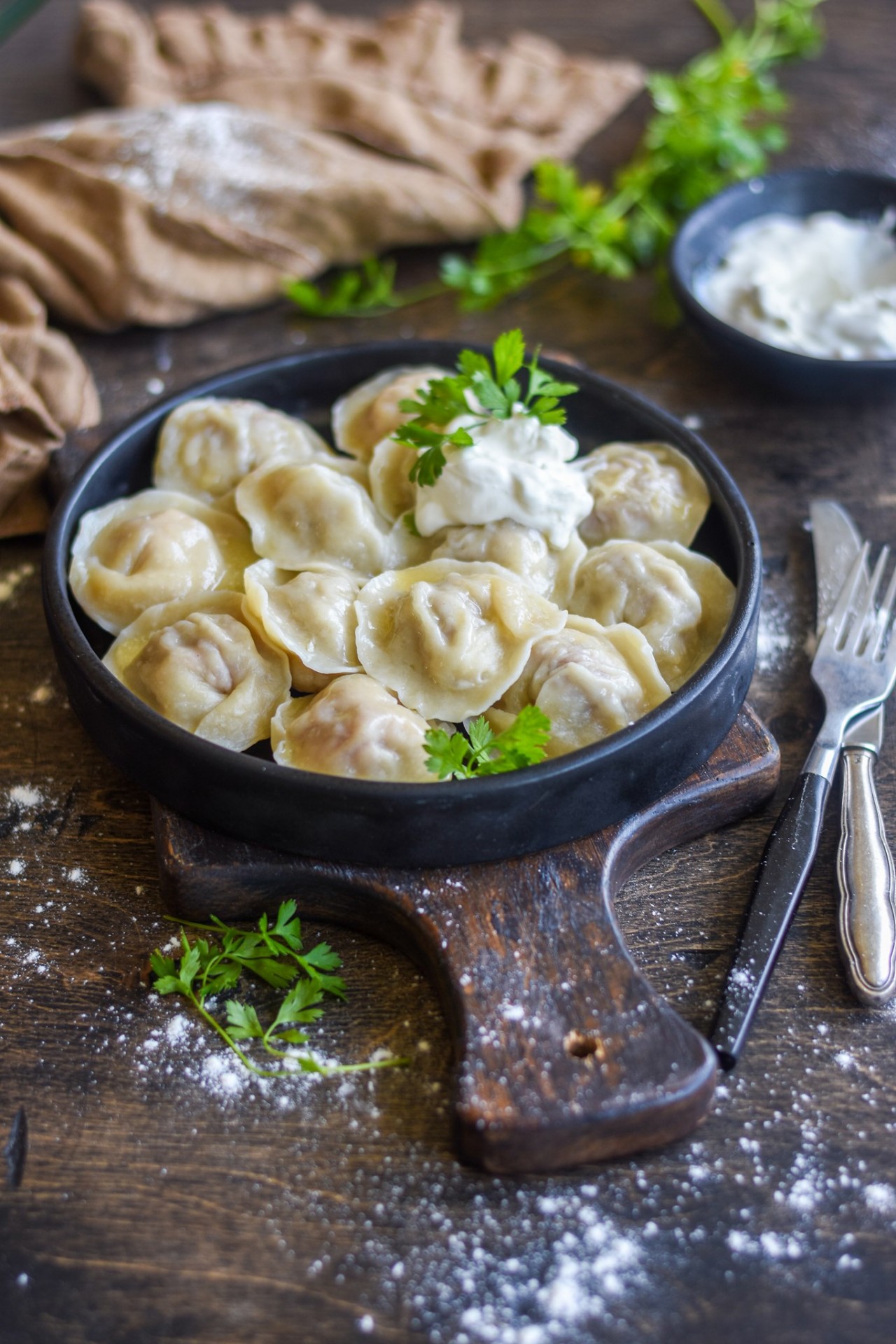 Russian Pelmeni (Meat Dumplings).
1. PELMENI (VEGAN/MEAT DUMPLINGS)
Nearly every country has a meat filled dumpling on it's menu – think Japanese gyozas and Italian tortellini – and Russia is no exception. This Siberian speciality is stuffed with ground beef, pork or lamb and boiled in broth and usually served with a little butter or sour cream.
If you're vegetarian then Vareniki, which are a larger, flatter versions of these dumplings filled with potatoes or berries, are a great alternative. A word of warning; these dumplings are addictive and the ideal late night snack after a night of too much vodka.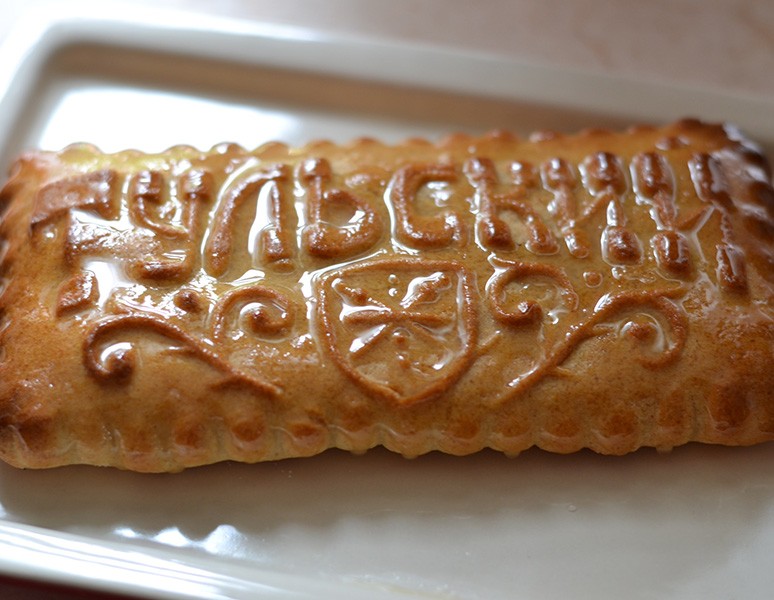 Pryaniki is a sweet bread or cookie flavored with honey and spices; it's often described as "Russian gingerbread".
2. TULA PRYANIK (GINGERBREAD)
If you have a sweet tooth you can't come to Russia without sampling Tula Pryanik – a type of imprinted Russian gingerbread decorated with sugary drawings. Dating back to the 17th Century and originating from the city of Tula, it's probably the most famous Russian sweet of all.
Although today the recipe for Tula Pryanik is widely known, back in the day there were lots of Tula Pryanik bakers and each had a secret recipe – incredibly long, complicated and closely guarded. These were exclusively passed to heirs, and survive in families to this day. There are various prints found on Tula gingerbread including holiday and personal greetings and also historical displays – gingerbread lasts for ages so it's also the ideal souvenir.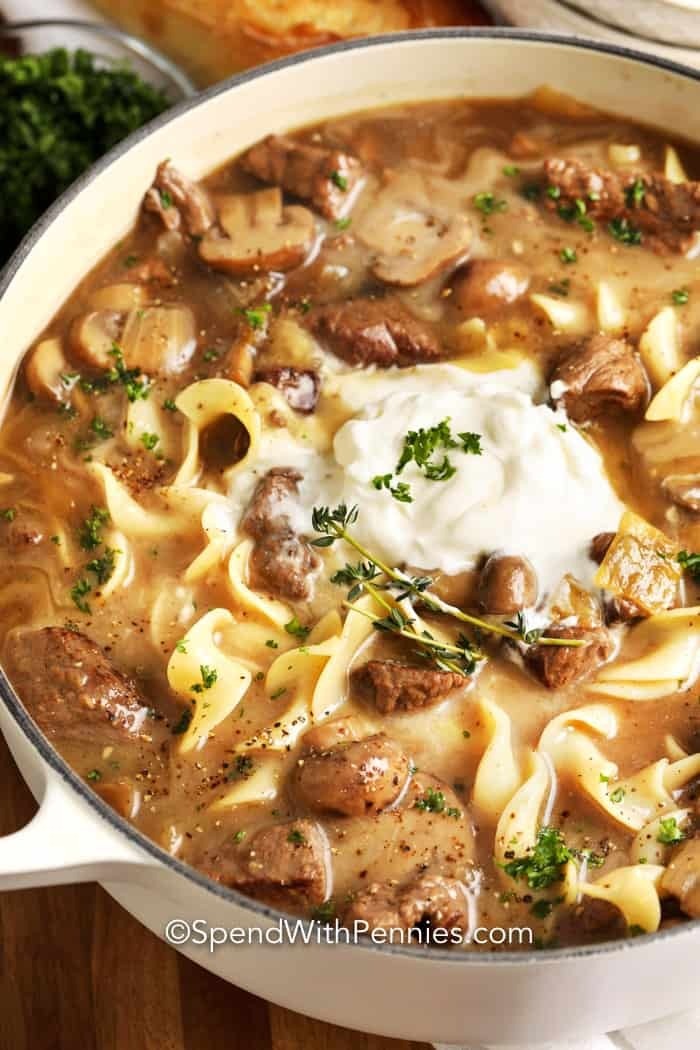 Creamy Beef Stroganoff Soup.
3. BEEF STROGANOFF SOUP
Sautéed pieces of beef served in a sauce with smetana to make a piquant, creamy sauce – we couldn't write a list on Russian foods without including the one and only beef stroganoff. Created by a French chef for a cooking contest in 1891 (or so the story goes) and then named after Count Pavel Alexandrovich Stroganov, this dish is known across the world. Back in its heyday in the 1970's it was the dish to be served at dinner parties and restaurants alike. Although it's somewhat lost its popularity, it wouldn't be a trip to Russia without sampling the dish.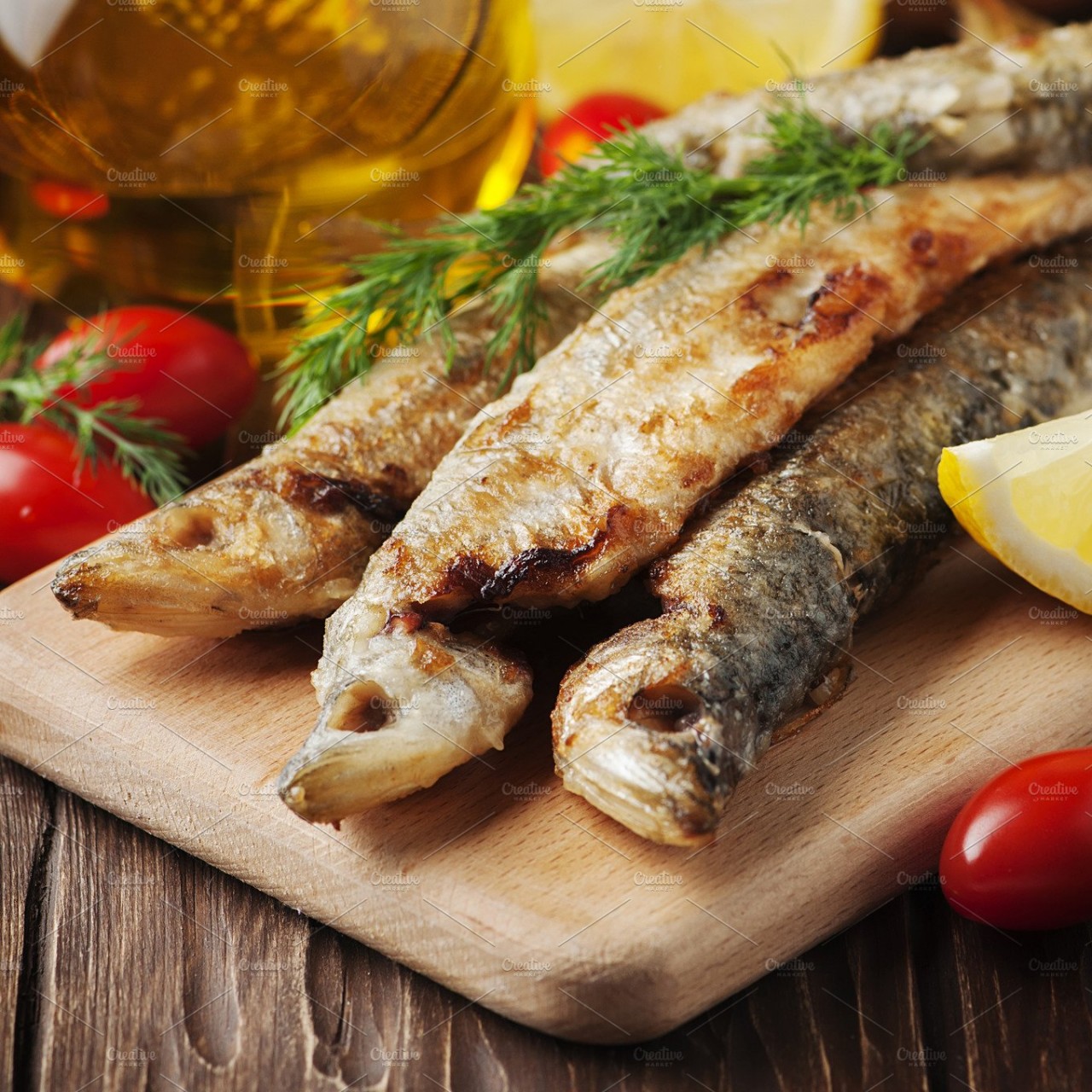 Often referred to by its English name, "smelt" is a flat, slightly translucent fish.
4. SMELT
If you're in St. Petersburg in spring then you're in luck – it's smelt season. Smelt are slender little fishes that swim in the coastal waters of Europe and thrive in the Baltic sea. In St. Petersburg, smelt is the local delicacy and from March through April you'll find vendors all over the city selling these little fishes, lightly fried.
How to find them? Simply follow the smell of fresh cucumbers; curiously smelt smell like them (bit of a tongue twister, that). Every year in May, St. Petersburg holds a smelt festival where all the locals (and tourists) can enjoy their favourite fish.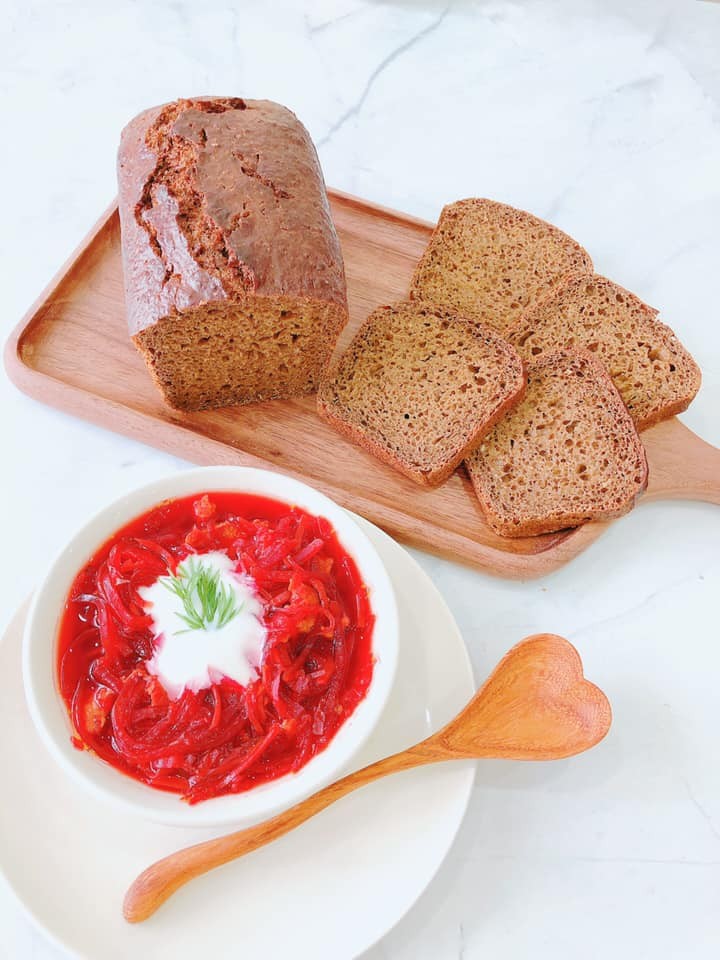 The reddish-purple soup "borshch" is well-known as a trademark of Russian and Ukrainian culinary traditions.
5. BORSHCH
Russia has seemingly endless varieties of soup. However the most famous export is Borshch, an attractive ruby soup famous throughout the country and whole of Eastern Europe. The heritage of this soup is somewhat debated, and it may not even be a Russian invention – the Ukrainians claim it as theirs, too.
Nonetheless, Borshch is synonymous with Russian cuisine and you'd be a fool not to taste the real deal when you're in the country. Vibrant in colour from the naturally fermented beetroot, earthy and slightly sour in taste, the soup is perfectly balanced with a dollop of thick sour cream and a sprinkle of fresh dill.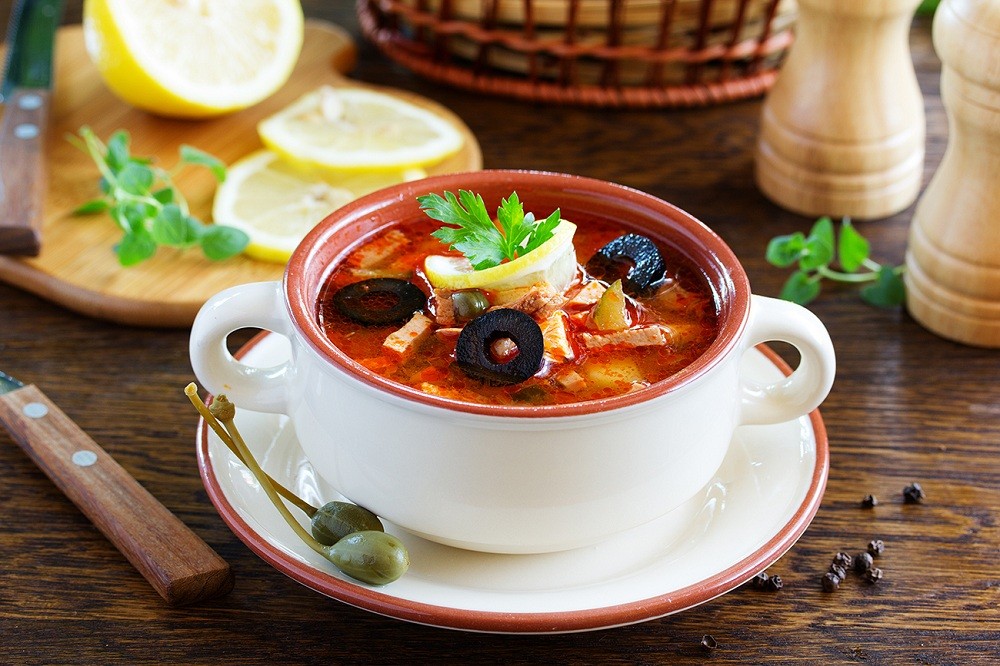 Solyanka (also spelled soljanka) is a Russian soup that dates back to the 15th century.
If broth is your thing then you've also got to try Solyanka – a thick spicy and sour soup made from usually made from salty cured meats, pickles, cabbage, capers and olives. Full of salty goodness, it's considered the ultimate hangover cure in Russia.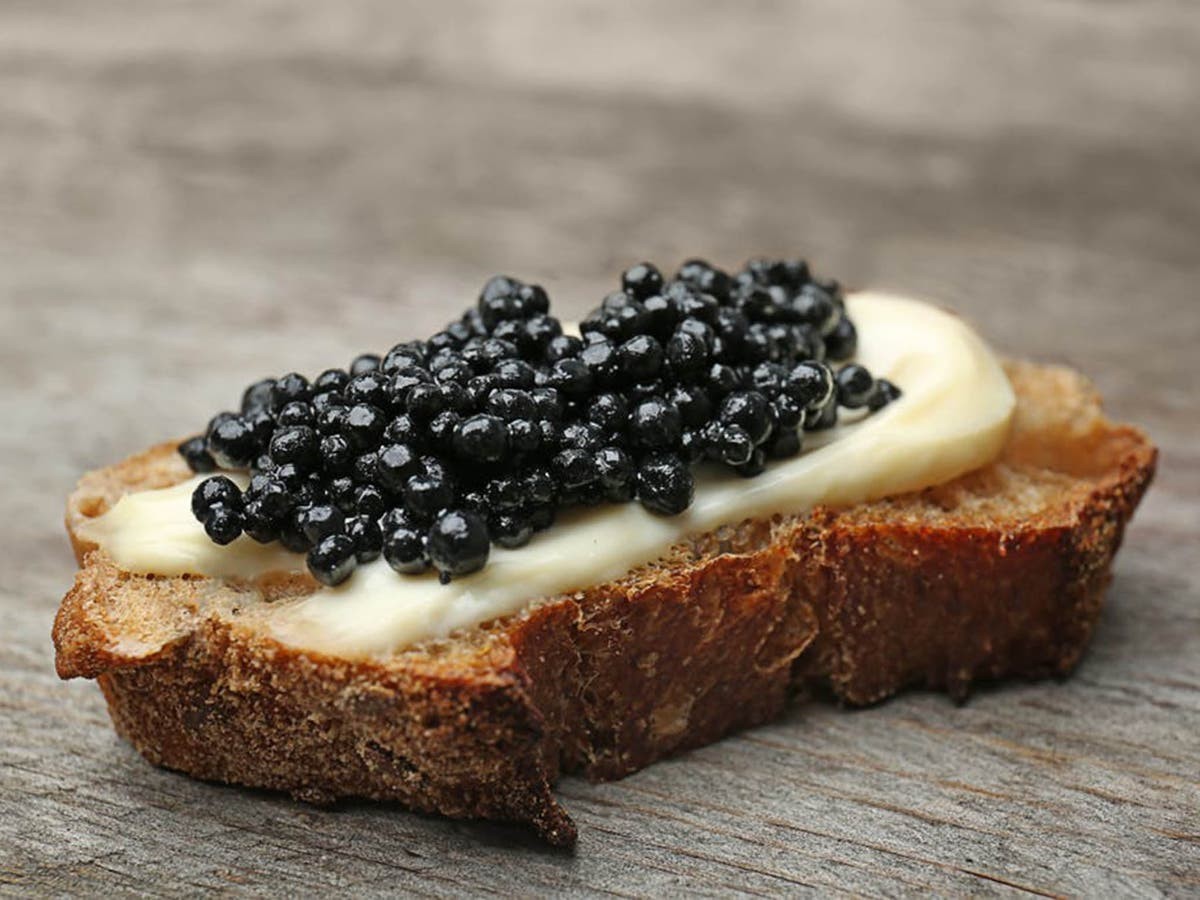 Russian Caviar is one of the most valuable natural delicacies in the modern world. It is often called and considered the Black Gold and it really is so!
6. IKRA (CAVIAR)
Russia has many culinary delicacies, but one stands out above the rest – and that is, of course, is caviar. From black to red, orange to yellow, these little fishy balls come in many different colours and varieties. Just as you wouldn't leave France without sipping a glass of top French wine, you wouldn't leave Russia without sampling caviar – Beluga, Sevruga and Ossetra being the most famous.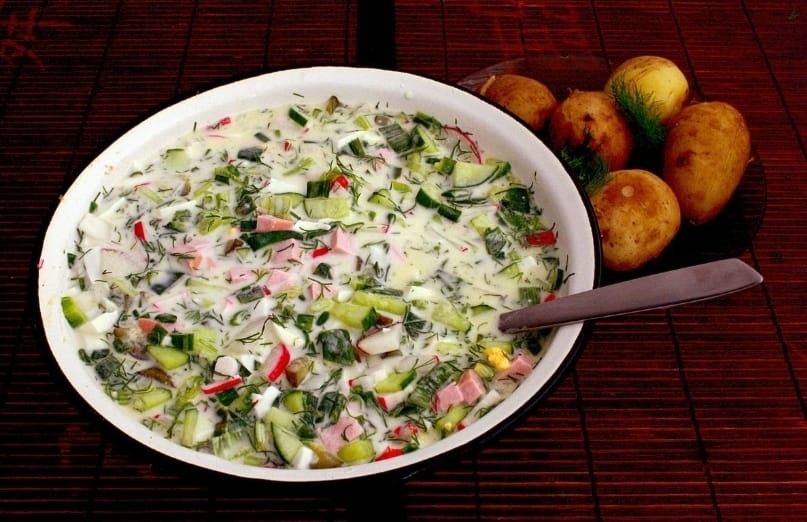 Okroshka is a cold soup that originated in the Volga region. It's a mix of raw vegetables, boiled potatoes, eggs, and a cooked meat such as beef, veal, sausages, or ham with kvass, which is a non-alcoholic beverage made from fermented black or rye bread.
7. OKROSHKA
If you visit in the summer, no doubt you'll see Okroshka on most Russian menus. Okroshka is a cold soup made from seasonal raw summer vegetables like radishes, cucumbers, spring onions and potatoes, combined with eggs and dill, all brought together with a yogurt base. Tangy, salty, and with a combination of smooth and crunchy textures, it's super refreshing; ideal for warm weather not so often associated with the country.
Russian "Blini" pancakes.
8. BLINI
Thicker than a crepe, but no less delicious, most will be familiar with blinis as the base of a Christmas canape or two, but they're so much more versatile than that. You can fill them with meat, eat them with cheese or go traditional and enjoy with smoked salmon, caviar or smetana; a thick sour cream and Russia's national condiment – served with practically everything.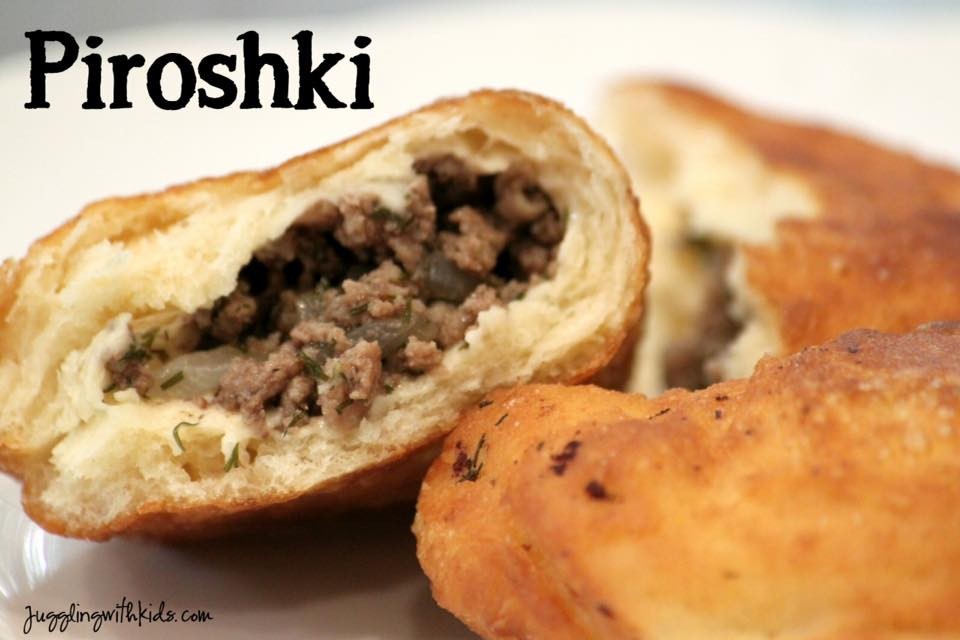 Piroshki - Russian pastries filled with finely chopped meat or vegetables.
9. PIROSHKI (FRIED ROLLS)
Soft and fluffy, these fried Russian rolls, or 'mini pies' are just the thing for a snack on the go. Made from yeast leavened dough, they are stuffed with meat and rice, then fried until golden. Sold in most bakeries and on street stalls, they're easy to come by and even easier to eat.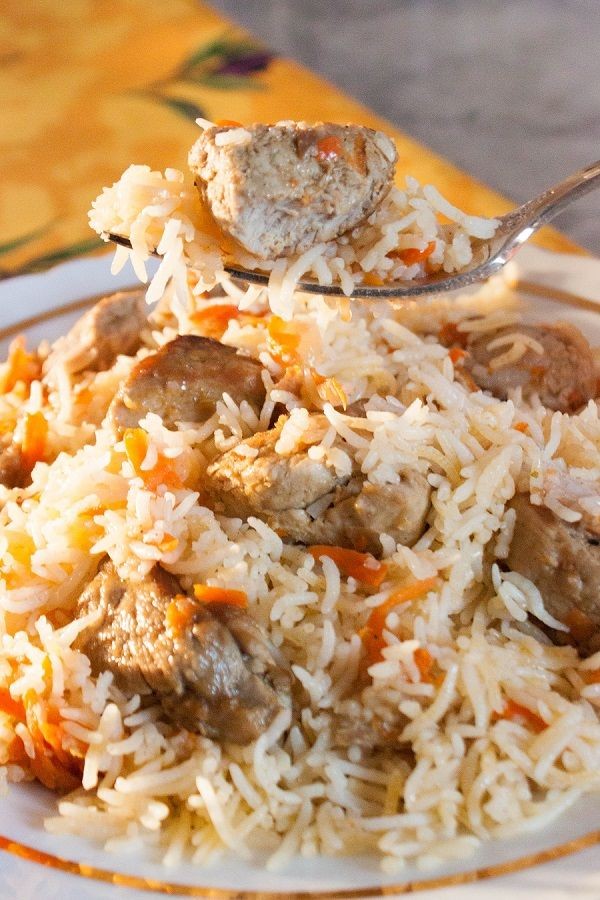 Plov is a rice pilaf with meat, carrots, onions and spices. It's delicious, with juicy and tender bits of meat, fluffy and flavorful rice, vegetables and spices.
10. PLOV (RICE PILAF)
This is a one pot chicken (usually) and rice dish packed with spices and is ubiquitous in most Russian households. This hearty rice mix is actually from Uzbekistan, part of the former Soviet Union, but has been a mainstay of Russian kitchens for generations. Warming with aromatic flavours and tender chunks of meat, a pile of plov will make you forget the freezing Russian temperatures quicker than you can say 'pass me that comedy fur hat'.
Olivier Salad or Russian Potato Salad (also spelt Olivie/Olivye), a traditional salad in Russia and many other European.
11.SALAD OLIVIER
Salad Olivier. No, not the creative name of Jamie Oliver's latest little one, but the great Russian potato salad. Hearty and comforting, it's a deliciously creamy mixture of diced potatoes, pickles, cooked vegetables such as carrots and cooked meat. Sometimes bologna is added; a more modern edition.
Olivier salad as we know it today is nothing like the original version, because it was called game bird mayonnaise, made with gourmet ingredients such as black caviar, capers, hen, and crayfish tails.
Over time, the salad evolved and most of the gourmet ingredients have been replaced with more common ones such as peas, chicken, ham, and pickles. Today, the variations are endless, but most Russian chefs agree on one thing: adding carrots to the Olivier is a heresy. It's eaten through Russia and is a staple dish for New Year's Eve and other celebratory occasions.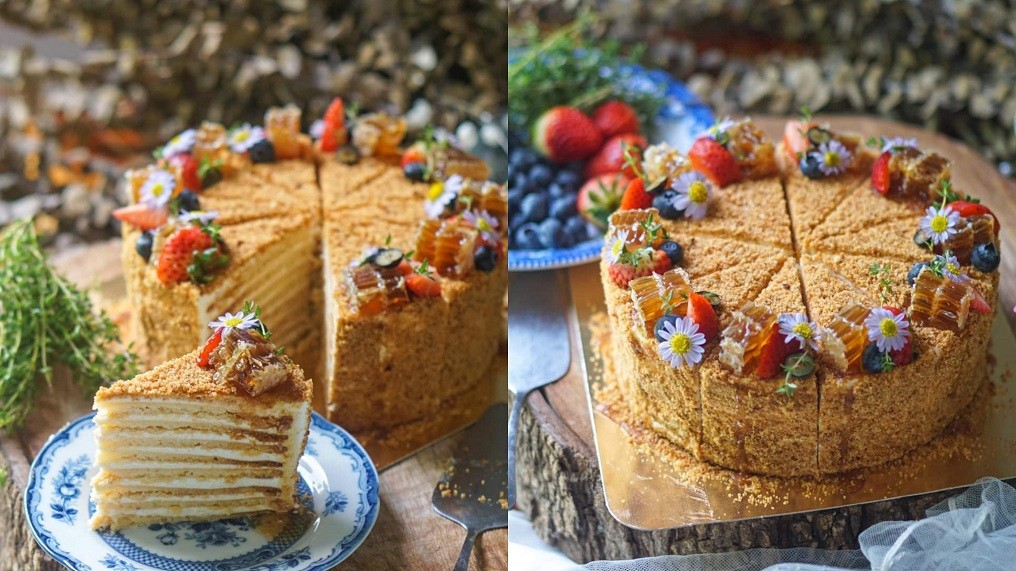 Medovik cake - Russian Honey Cake.
12. MEDOVIK (LAYER CAKE)
To round off our list, like any good meal, something sweet. Medovik is a soft and utterly scrumptious Russian honey cake, made up of crispy and thin cake layers that are separated by a thick cream cheese frosting. The end result is an eye-catching dessert that is sure to impress.
Honey cake hails straight from Russia. Medovik, which translates to "honey" in Russian, is a popular dessert that is reserved for only the most special of occasions.
It has a history that dates back to the 1820's and was created by a personal chef for the wife of Russia's Czar Alexander I – or so legend has it. This cake would have any Bake Off contestant in a sweat – with layers of sweet honey biscuit and tangy cream topped with crunchy walnuts – it's a real showstopper.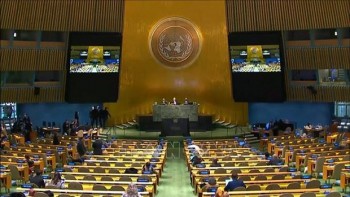 National
Vietnamese Ambassador Dang Hoang Giang underlined the historic significance of the 1982 United Nations Convention on the Law of the Sea (UNCLOS) to all humankind, while representing more than 40 member states of the UNCLOS Group of Friends at a meeting in New York on December 8.