14 Americans repatriated from quarantined ship off Japan, test positive for coronavirus
Fourteen people who had tested positive for the new coronavirus (COVID-19) were among more than 300 US citizens evacuated by plane from a quarantined ship in Japan, the US State Department said Monday (Feb 17).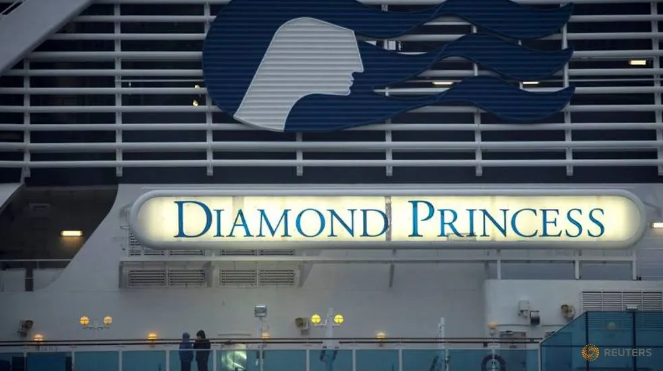 Passengers wearing protective face masks are seen on the cruise ship Diamond Princess, as the vessel's passengers continue to be tested for coronavirus, at Daikoku Pier Cruise Terminal in Yokohama, south of Tokyo, Japan February 16, 2020. REUTERS/Athit Perawongmetha
The passengers had already disembarked from the Diamond Princess and were preparing to return to the United States on chartered aircraft when US officials were informed 14 of them who had been tested days earlier were positive for COVID-19, it said in a joint statement with the Department of Health and Human Services (HHS).
After consultation with HHS, the State Department decided to allow them onboard, but isolated them from the other passengers.
"These individuals were moved in the most expeditious and safe manner to a specialized containment area on the evacuation aircraft to isolate them in accordance with standard protocols," it said.
"During the flights, these individuals will continue to be isolated from the other passengers."
All passengers were being closely monitored throughout the flights.
"Any who become symptomatic will be moved to the specialized containment area, where they will be treated," the statement said.
A plane carrying American passengers touched down at Travis Air Force Base in northern California just before 2:30 a.m., local time. Another flight was headed to Lackland Air Force Base in Texas.
Japan's Defense Minister Taro Kono had tweeted earlier that Japanese troops helped transport 340 U.S. passengers on 14 buses from Yokohama port to Tokyo's Haneda airport. About 380 Americans were on the cruise ship.
More than 600 people are already in quarantine in the United States, evacuated earlier from the virus epicentre in the Chinese city of Wuhan, the Centers for Disease Control and Prevention said on Friday.
The Diamond Princess was placed in a 14-day quarantine in early February after a former passenger tested positive for the COVID-19 virus.
US authorities announced on the weekend they would offer American passengers the option to leave the ship and fly home, where they will face another 14-day isolation period. Several other governments also have announced plans to remove their citizens from the ship.
Australia also said it plans to charter a flight for more than 200 city residents on the ship. Canada announced a similar decision, and on Sunday Italy said it wants to quickly get its roughly 35 citizens off the ship.
DECLINING TO LEAVE
Late on Sunday and into the early hours of Monday, Americans who opted to leave were brought off the ship in groups. They passed through a makeshift passport control but underwent no health checks, American passenger Sarah Arana told AFP.
They boarded buses driven by personnel in head-to-toe protective suits and were told that the more than a dozen vehicles would travel in a convoy.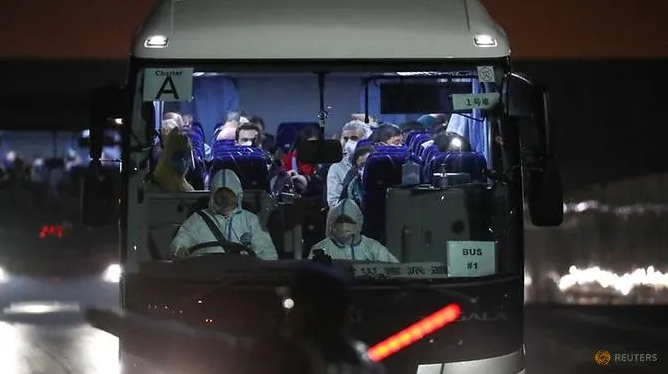 Buses believed to carry the US passengers of the cruise ship Diamond Princess, where dozens of passengers were tested positive for coronavirus, leave the Daikoku Pier Cruise Terminal in Yokohama, south of Tokyo, Japan, Feb 17, 2020. (Photo: REUTERS/Athit Perawongmetha)
Other Americans on board declined the evacuation, despite being warned they will still have to wait two weeks and test negative for the virus before being allowed back to the United States.
"My health is fine. And my two-week quarantine is almost over. Why would I want to be put on a bus and a plane with other people they think may be infected when I have spent nearly two weeks isolated from those people?" tweeted Matt Smith, an American lawyer on the ship with his wife.
He described a fellow American passenger standing on her balcony chanting "USA, USA" as buses arrived to collect them.
"Of course, in contravention of the rules of quarantine, she's not wearing a face mask, and she's talking with a passenger on the adjacent balcony ... And you wanted me to get on a bus with her?"
Japan has not been able to test all those on board the ship due to limited supplies of testing kits, facilities and manpower, which are also needed by authorities tracking the spread of the virus on land./.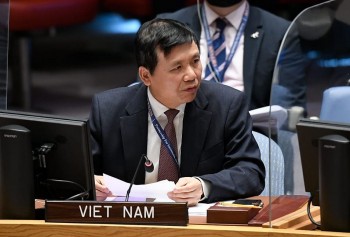 National
Vietnam welcomed the declaration of a unilateral ceasefire by the Central African Republic government at the United Nations Security Council (UNSC) meeting on October 18 on the situation in the Central African Republic.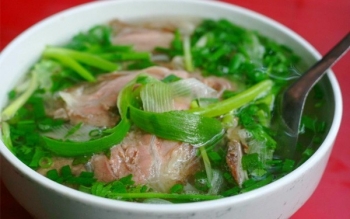 Handbook
A winter chill settles over Hanoi. Sitting in a small corner in the chilling weather, there is nothing better than enjoying a bowl of hot dish to beat the cold and warm up your body.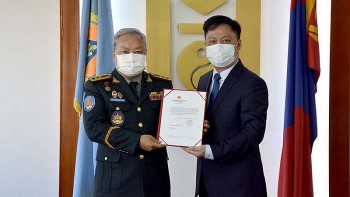 Friendship
The Vietnamese Government has donated 50,000 USD to Mongolia to assist the country in responding to the Covid-19 pandemic.