15 Best Classic Movies Of All Time
Classic movies are the icons of Hollywood and movie industries anywhere in the world, and they were well-crafted and directed. Here is the 15 best classic movies that were ever made, and will stay with time.
The greatest movies of all time endure for all kinds of reasons – they offer plots that twist and turn, give us characters that we fall in love with, depict experiences that change us, and thrill us with incredible filmmaking craft. The best films – from classic movies that have stood the test of time, to contemporary works that changed the game – offer heartwarming comfort, iconic scares, big laughs, and pulse-pounding suspense, becoming firm audience favourites and garnering critical acclaim.
Here is the 15 best classic movies that were ever made.
1. Stand By Me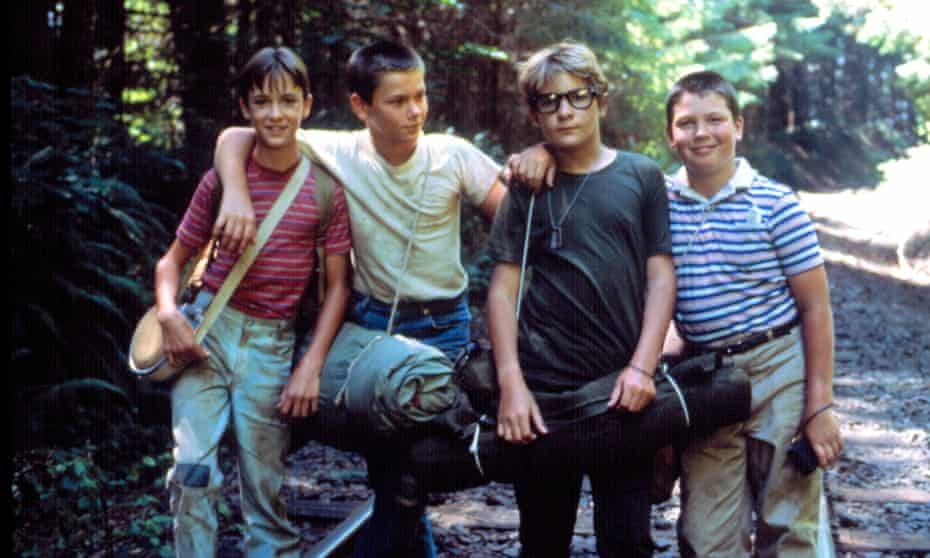 Photo: Columbia Pictures
Imdb score: 8.1/10
Stand by Me is a 1986 American coming-of-age film directed by Rob Reiner. It is based on Stephen King's 1982 novella The Body, and the title derives from the Ben E. King song. Wil Wheaton, River Phoenix, Corey Feldman, and Jerry O'Connell star as four boys who, in 1959, go on a hike to find the dead body of a missing boy and confront a bully, played by Kiefer Sutherland.
The film was nominated for an Academy Award for Best Adapted Screenplay and two Golden Globe Awards: one for Best Drama Motion Picture and one for Best Director.
The film was adapted from the Stephen King novella The Body. Bruce A. Evans sent a copy of The Body to Karen Gideon, the wife of his friend and writing partner Raynold Gideon, on August 29, 1983 as a gift for her birthday. Both Gideon and Evans quickly became fans of the novella and shortly thereafter contacted King's agent, Kirby McCauley, seeking to negotiate film rights; McCauley replied that King's terms were $100,000 and 10% of the gross profits. Although the money was not an issue, the share of gross profits was considered excessive, especially considering that no stars could be featured to help sell the movie. In response, Evans and Gideon pursued an established director, Adrian Lyne, to help sell the project.
2. 'It Happened One Night'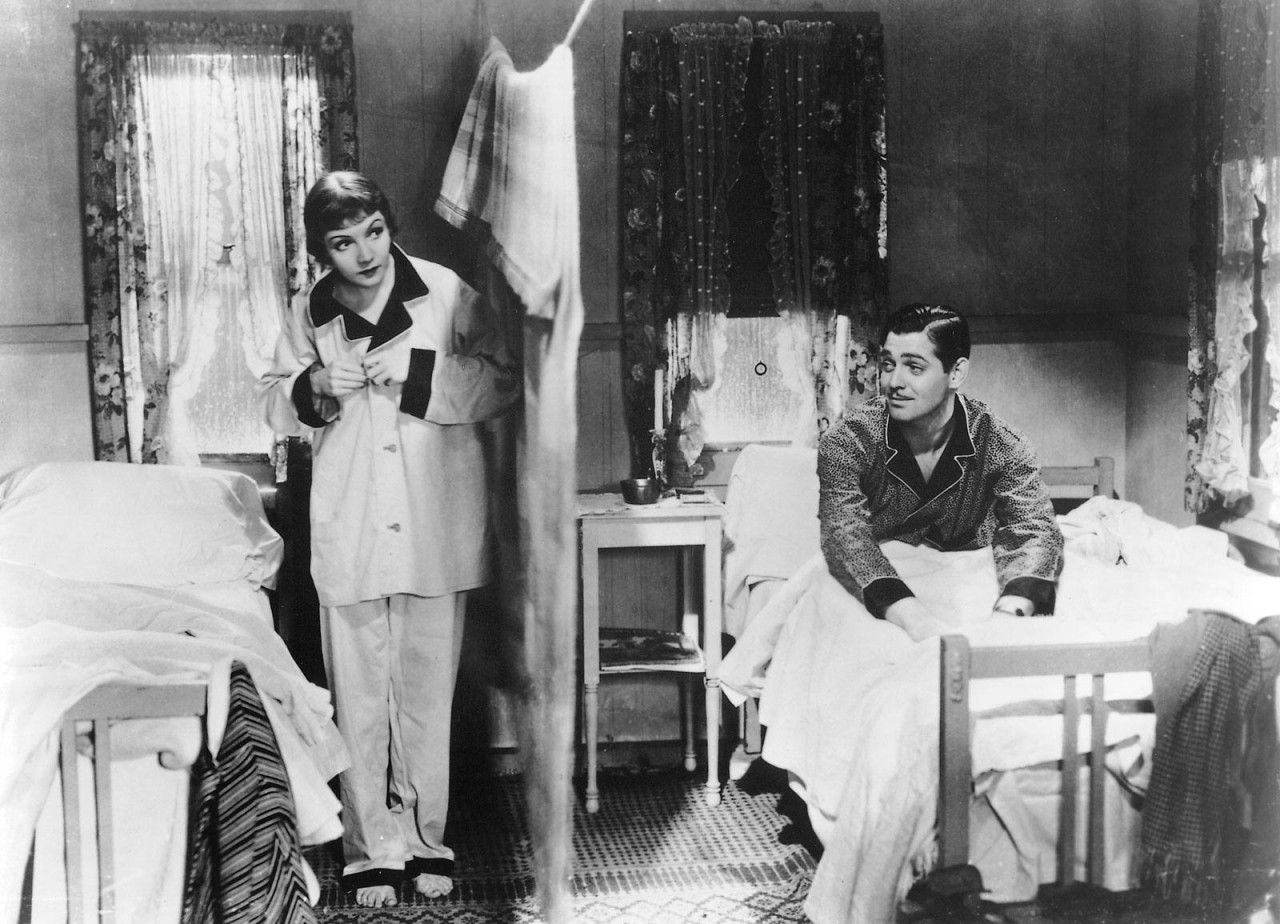 Photo: Roger Ebert
Imdb score: 8.1/10
The story is that of a spoiled heiress, Ellen Andrews (Claudette Colbert) rebelling against her mogul dad (Walter Connolly) and marrying a celebrity aviator King Westley (Jameson Thomas)—only to spend most of the film trying to reunite with him and discovering she's really in love with a wisecracking reporter named Peter Warne (Clark Gable). Ellie is both clueless and stubborn, conceited and playful—there's a streak of wit and resilience about her that makes Peter see her as both a scoop and a catch. He offers her help in getting to Westley in exchange for her story. By the end of the film Ellie elopes again. This time it's from, not towards Westley.
For all the freshness of Robert Riskin's screenplay (adapted from a short story by Samuel Hopkins Adams), the Gable/Colbert dynamics of constant reproach and attraction owes a lot to "Much Ado About Nothing's" pair of Benedick and Beatrice. (It will also get successfully replayed between Gable and Vivien Leigh in "Gone With the Wind", another story of a spoiled heiress being wooed by a rugged and gallant smartass not giving a damn.) The movie extends attraction of wits into attraction of bodies and remains still sexy as hell: the Walls of Jericho scene, with an old blanket serving as an all-too-wobbly chaperon, is shot as luridly as anything in Joseph Von Sternberg high-end pervy extravaganzas of the same era.
3. 'Gone With The Wind'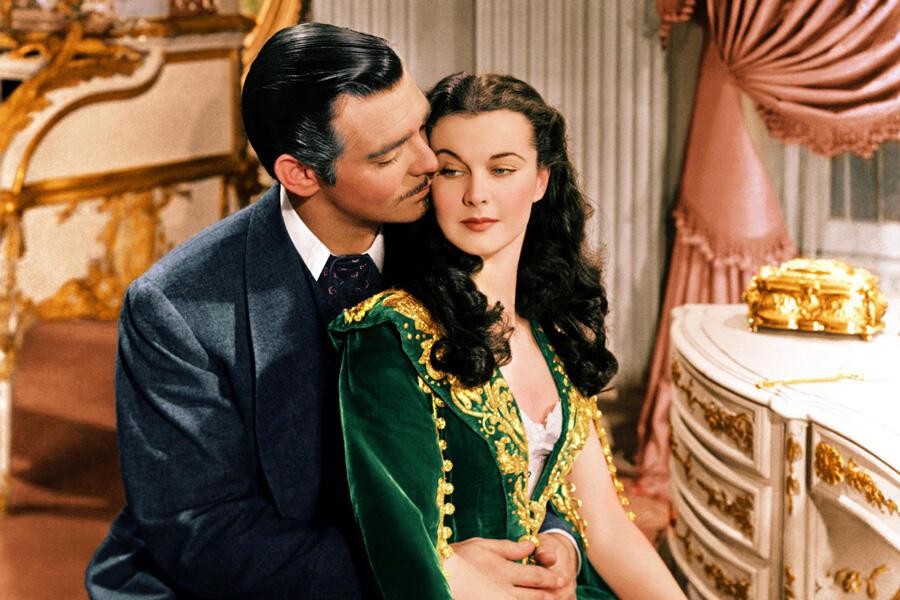 Photo: Getty Images
Imdb score: 8.1/10
"Gone With the Wind" presents a sentimental view of the Civil War, in which the "Old South" takes the place of Camelot and the war was fought not so much to defeat the Confederacy and free the slaves as to give Miss Scarlett O'Hara her comeuppance. But we've known that for years; the tainted nostalgia comes with the territory. Yet as "GWTW" approaches its 60th anniversary, it is still a towering landmark of film, quite simply because it tells a good story, and tells it wonderfully well.
For the story it wanted to tell, it was the right film at the right time. Scarlett O'Hara is not a creature of the 1860s but of the 1930s: a free-spirited, willful modern woman. The way was prepared for her by the flappers of Fitzgerald's jazz age, by the bold movie actresses of the period, and by the economic reality of the Depression, which for the first time put lots of women to work outside their homes.
As an example of filmmaking craft, "GWTW" is still astonishing. Several directors worked on the film; George Cukor incurred Clark Gable's dislike and was replaced by Victor Fleming, who collapsed from nervous exhaustion and was relieved by Sam Wood and Cameron Menzies. The real auteur was the producer, David O. Selznick, the Steven Spielberg of his day, who understood that the key to mass appeal was the linking of melodrama with state-of-the-art production values. Some of the individual shots in "GWTW" still have the power to leave us breathless, including the burning of Atlanta, the flight to Tara and the "street of dying men" shot, as Scarlett wanders into the street and the camera pulls back until the whole Confederacy seems to lie broken and bleeding as far as the eye can see.
4. 'Casablanca'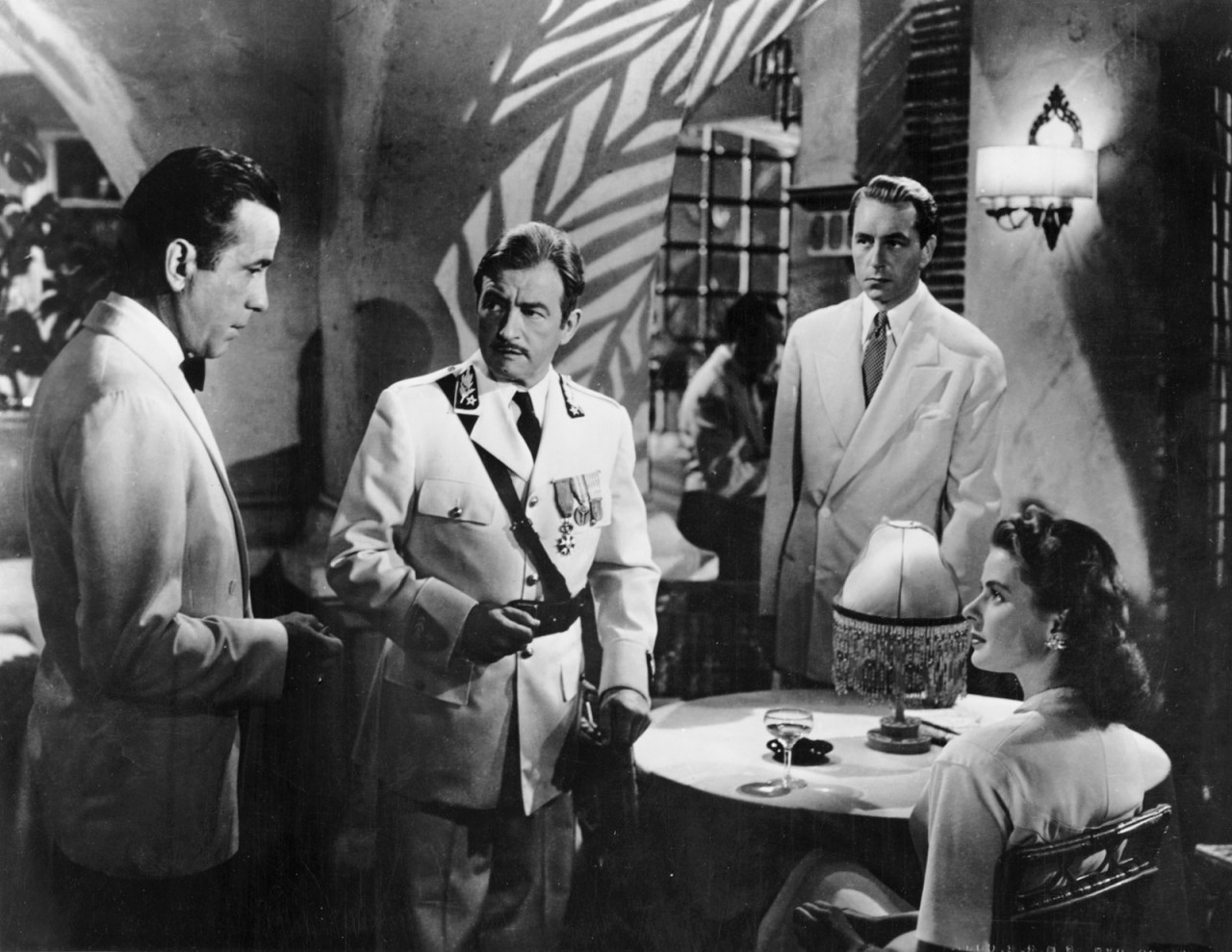 Photo: © 1942 Warner Brothers, Inc.; photograph from a private collection
Imdb score: 8.5/10
If we identify strongly with the characters in some movies, then it is no mystery that "Casablanca" is one of the most popular films ever made. It is about a man and a woman who are in love, and who sacrifice love for a higher purpose. This is immensely appealing; the viewer is not only able to imagine winning the love of Humphrey Bogart or Ingrid Bergman, but unselfishly renouncing it, as a contribution to the great cause of defeating the Nazis.
No one making "Casablanca" thought they were making a great movie. It was simply another Warner Bros. release. It was an "A list" picture, to be sure (Bogart, Bergman and Paul Henreid were stars, and no better cast of supporting actors could have been assembled on the Warners lot than Peter Lorre, Sidney Greenstreet, Claude Rains and Dooley Wilson). But it was made on a tight budget and released with small expectations. Everyone involved in the film had been, and would be, in dozens of other films made under similar circumstances, and the greatness of "Casablanca" was largely the result of happy chance.
5. 'The Wizard of Oz' (1939)
'Dorothy goes from wishing to explore all the shades of the rainbow to gratefully embracing black and white, from exciting new friends to old stalwarts.' Photograph: Allstar/MGM/Sportsphoto Ltd
Imdb score: 8/10
The Wizard of Oz will, beyond question, be accorded recognition as a milestone in motion picture history. It scintillates with artistry, yet it possesses such an abundance of qualities which predict broad audience success that there can be no question of its being headed for spectacular playing time and grosses.
The MGM picture will undoubtedly reflect great credit on the motion picture industry at large. It is a creation entirely out of the usual order, brilliantly inventive and arrestingly beautiful and dramatically compelling to the eye, the ear and the emotions. Somehow in its lavish creation, producer Mervyn LeRoy has captured a spirit of earthy drama of a strong moral flavor, and combined this with outright fantasy and with striking effect.
The production is remarkable in every department. Its cast is superb, its music delightfully tuneful, its settings as remarkably effective as they are unusual. Costuming, special effects and photography add embellishing touches which further clinch the picture's claims to highly significant achievement.
6. 'Breakfast At Tiffany's'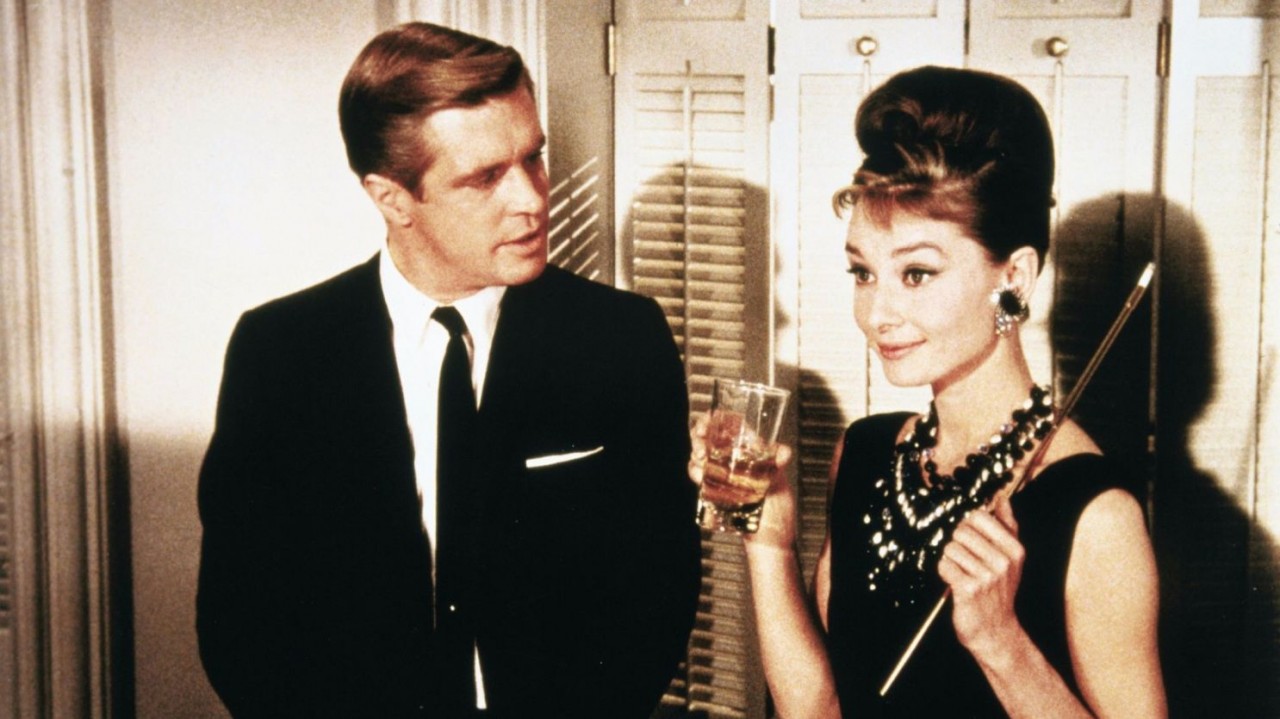 Photo: Paramount Pictures
Imdb score: 7.6/10
An unusual love story, glamorous, sophisticated, with more than a touch of the bizarre. Breakfast at Tiffany's looks like a box office favorite. The Martin Jurow-Richard Shepherd production for Paramount has good names to add to its appeal, including an appealing performance by Audrey Hepburn. Blake Edwards directed.
The film bears only a slight resemblance to the Truman Capote novelette on which it is based. Capote's work was a minor tragedy. The screenplay by George Axelrod turned the story into a romantic comedy. It has suggestions of grimmer moments, but they are played now only for contrast for what is, eventually, a happy ending. It will be disappointing to admirers of the Capote work, but they are few in number compared to those who will be attracted to and enjoy the film.
Miss Hepburn plays the central figure, a woman like many others in Manhattan, who dresses well and dines well, living chiefly on the "ladies room" change given her by her escort. If the escort of the evening thinks a $50 "tip" pays for something later, this is not how Miss Hepburn plays it. She is, the picture makes clear, immoral but virtuous. Her values undergo a change from her exposure to George Peppard, a young writer, who convinces her responsibility is less confining than her studied irresponsibility.
Edwards' direction is smart; he has a way with fashionable comedy. Axelrod's treatment of the Capote story is convincing in the changes it has made although some of his devices are disappointing, being overly familiar. The script is not altogether neat. No justification or explanation is ever made of why Peppard is being kept by a wealthy lady, except that he is a writer and writers, presumably, get involved in things like that.
7. 'The Philadelphia Story'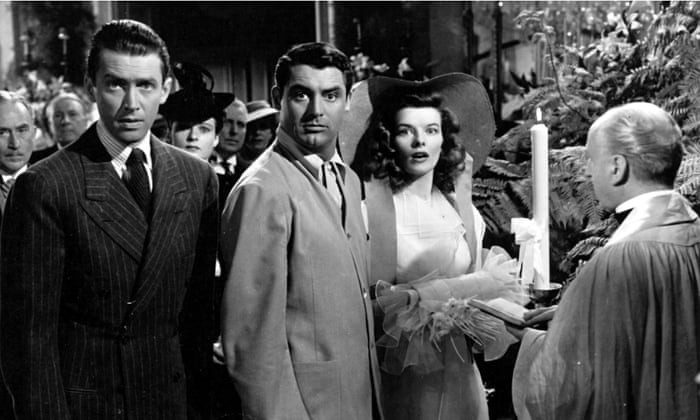 Highly imitable but utterly unique … James Stewart, Cary Grant and Katharine Hepburn in The Philadelphia Story. Photograph: Ronald Grant Archive
Imdb score: 7.9/10
However stagily preposterous, George Cukor's 1940 movie The Philadelphia Story, is also utterly beguiling, funny and romantic; it is based on the same stage play, by Philip Barry, as the 1956 musical High Society. This is the most famous example of the intriguing and now defunct prewar genre of "comedy of remarriage", the subject of an equally interesting study by film theorist Stanley Cavell called Pursuits Of Happiness. It features three stars from the studio era who are the aristocrats, or deities, of the Hollywood golden age: Cary Grant, Katharine Hepburn and James Stewart. Part of the fascination in watching this movie again is savouring those three extraordinary voices, highly imitable but entirely unique. Hepburn is the statuesque heiress Tracy Lord, acrimoniously divorced from her first husband, CK Dexter Haven (Grant), and now preparing to remarry; Haven, quite clearly still in love, gets prickly journalist Macaulay Connor (Stewart) and his photographer, Elizabeth Imbrie (Ruth Hussey), to gate-crash the ceremony posing as cousins. Amiable chaos ensues. The fun and wit rise like champagne bubbles, but there is a deceptive strength in the writing and performances. (People talk about the alpha-male faceoff of De Niro and Pacino in Heat. But how about the Stewart/Grant post-party confrontation here? Or the Stewart/Hepburn romantic clash that follows that?) It is an effortlessly classy piece of work.
8. 'West Side Story' (1961)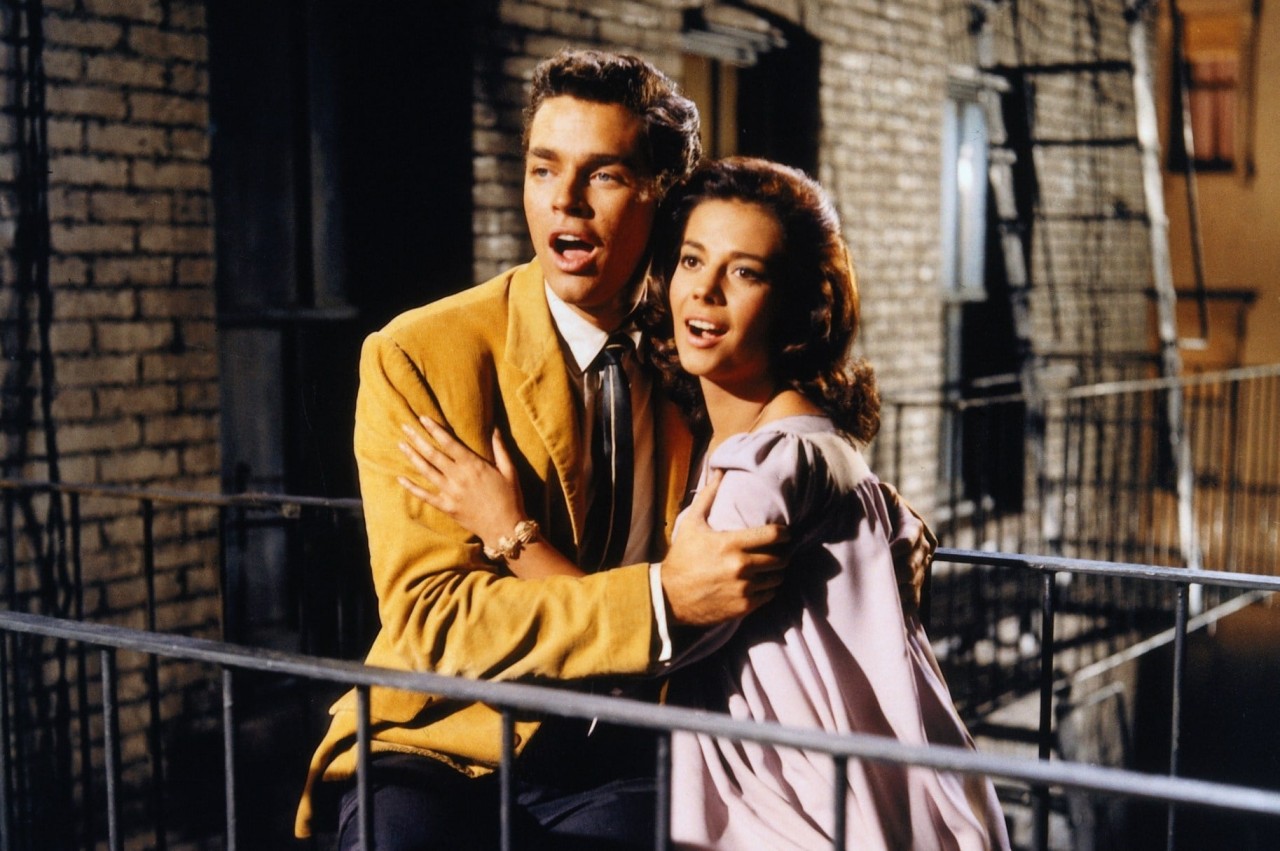 Photo: United Artists
Imdb score: 7.5/10
West Side Story is a 1961 American musical romantic drama film directed by Robert Wise and Jerome Robbins. With a screenplay by Ernest Lehman, the film is an adaptation of the 1957 Broadway musical of the same name, which in turn was inspired by Shakespeare's play Romeo and Juliet. It stars Natalie Wood, Richard Beymer, Russ Tamblyn, Rita Moreno, and George Chakiris, and was photographed by Daniel L. Fapp in Super Panavision 70. The music was by Leonard Bernstein, with lyrics by Stephen Sondheim.
Released on October 18, 1961, through United Artists, the film received high praise from critics and viewers, and became the highest-grossing film of 1961. It was nominated for 11 Academy Awards and won 10, including Best Picture (in addition to a special award for Robbins), becoming the record holder for the most wins for a musical. West Side Story is regarded as one of the greatest musical films of all time. The film has been deemed "culturally significant" by the United States Library of Congress and was selected for the National Film Registry in 1997. A new film adaptation of the same name by Steven Spielberg is set to be released on December 10, 2021.
9. 'Rebecca' (1940)
Photo: CAPA
Imdb score: 8.1/10
In its essence, Rebecca is another entry in the Wuthering Heights school of dour, somber, psychological drama, steeped in ultra-British atmosphere. Though overlong as it was presented before the preview audience last night, it is beautifully done.
To his screen translation of Daphne du Maurier's popular novel, David O. Selznick has again given the touch of his production mastery, investing its every phase with the finest of cast, direction, scripting, setting and photography. As such, it is an artistic masterpiece, but the gloom with which it is pervaded, its slow pace and its deeply foreign note make its box office prospects a definite question.
Following in the steps of Gone With the Wind and Intermezzo, each of which raised a new feminine personality to the heights, Rebecca marks another similar credit to Selznick, this time raising the standard of Joan Fontaine who, given a great opportunity, responds with a brilliant performance and steps into the forerank of Hollywood's capable dramatic actresses.
As a psychological study, the picture is a brilliant effort in its delineation of the tremendous power which the personality of a woman dead continues to exert over the living. Faithfully preserving the theme and atmosphere of the du Maurier story, it portrays the apparently insuperable barriers which are encountered by the girl who attempts to follow in the footsteps of the deceased Rebecca as the new wife of the man who had permitted Rebecca completely to dominate his home, fighting a seemingly hopeless battle until the dramatic denouement which forever removes the ghostly influence.
10. 'Citizen Kane'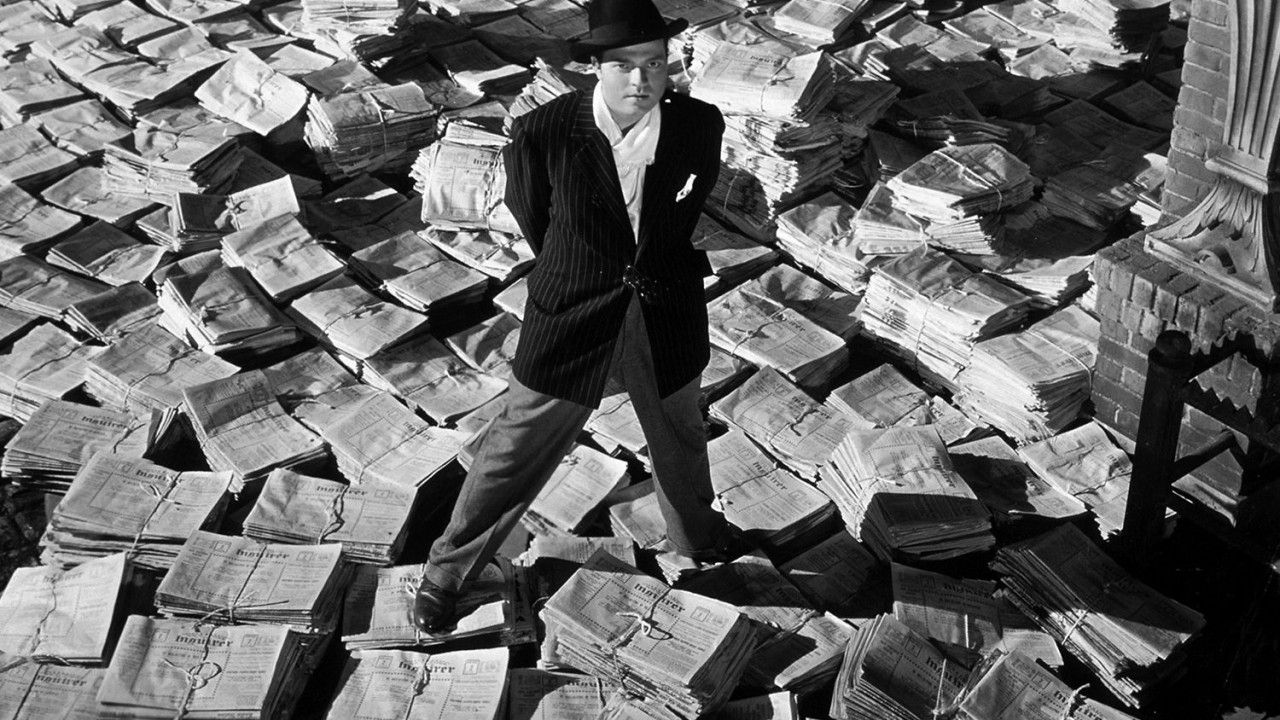 Photo: Getty Images
Imdb score: 8.3/10
Citizen Kane is a 1941 American drama film produced and directed by Orson Welles. He also co-wrote the screenplay with Herman J. Mankiewicz. The picture was Welles's first feature film. Considered by many critics and experts to be the greatest film ever made, Citizen Kane was voted number 1 in five consecutive British Film Institute Sight & Sound polls of critics, and it topped the American Film Institute's 100 Years ... 100 Movies list in 1998, as well as its 2007 update. Nominated for Academy Awards in nine categories, it won an Academy Award for Best Writing (Original Screenplay) by Mankiewicz and Welles. Citizen Kane is praised for Gregg Toland's cinematography, Robert Wise's editing, Bernard Herrmann's music, and its narrative structure, all of which have been considered innovative and precedent-setting.
The quasi-biographical film examines the life and legacy of Charles Foster Kane, played by Welles, a composite character based on American media barons William Randolph Hearst and Joseph Pulitzer, Chicago tycoons Samuel Insull and Harold McCormick, as well as aspects of the screenwriters' own lives. Upon its release, Hearst prohibited the film from being mentioned in his newspapers.
After the Broadway success of Welles's Mercury Theatre and the controversial 1938 radio broadcast "The War of the Worlds" on The Mercury Theatre on the Air, Welles was courted by Hollywood. He signed a contract with RKO Pictures in 1939. Although it was unusual for an untried director, he was given freedom to develop his own story, to use his own cast and crew, and to have final cut privilege. Following two abortive attempts to get a project off the ground, he wrote the screenplay for Citizen Kane, collaborating with Herman J. Mankiewicz. Principal photography took place in 1940 and the film was released in 1941.
11. 'Titanic'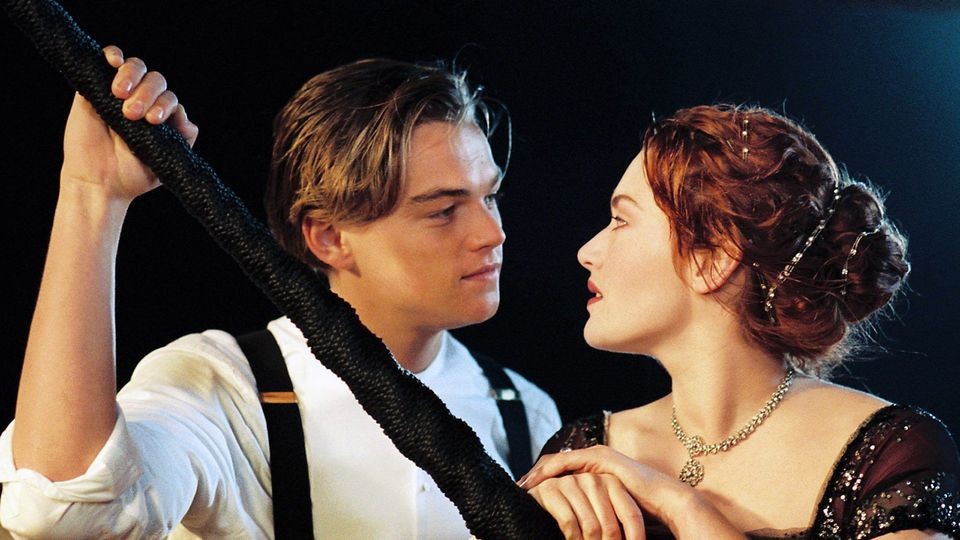 Photo: 20th Century Fox
Imdb score: 7.8/10
Titanic is a 1997 American epic romance and disaster film directed, written, produced, and co-edited by James Cameron. Incorporating both historical and fictionalized aspects, it is based on accounts of the sinking of the RMS Titanic, and stars Leonardo DiCaprio and Kate Winslet as members of different social classes who fall in love aboard the ship during its ill-fated maiden voyage.
Cameron's inspiration for the film came from his fascination with shipwrecks; he felt a love story interspersed with the human loss would be essential to convey the emotional impact of the disaster. Production began in 1995, when Cameron shot footage of the actual Titanic wreck. The modern scenes on the research vessel were shot on board the Akademik Mstislav Keldysh, which Cameron had used as a base when filming the wreck. Scale models, computer-generated imagery, and a reconstruction of the Titanic built at Baja Studios were used to re-create the sinking. The film was co-financed by Paramount Pictures and 20th Century Fox; the former handled distribution in North America while the latter released the film internationally. It was the most expensive film ever made at the time, with a production budget of $200 million.
Upon its release on December 19, 1997, Titanic achieved significant critical and commercial success, and later received numerous accolades. Nominated for 14 Academy Awards, it tied All About Eve (1950) for the most Oscar nominations, and won 11, including the awards for Best Picture and Best Director, tying Ben-Hur (1959) for the most Oscars won by a single film. With an initial worldwide gross of over $1.84 billion, Titanic was the first film to reach the billion-dollar mark. It remained the highest-grossing film of all time until Cameron's Avatar surpassed it in 2010. A 3D version of Titanic, released on April 4, 2012, to commemorate the centennial of the sinking, earned it an additional $343.6 million worldwide, pushing the film's worldwide total to $2.195 billion and making it the second film to gross more than $2 billion worldwide (after Avatar). In 2017, the film was re-released for its 20th anniversary and was selected for preservation in the United States National Film Registry.
12. 'Good Will Hunting'
Photo: Alamy
Imdb score: 8.3/10
Matt Damon and Ben Affleck have been A-listers for decades, and they've done practically everything Hollywood could ask them to do. Private Ryan and Tom Ripley and Loki and Linus Caldwell and Jason Bourne and LaBoeuf and Colin Sullivan and Mark Watney and Carroll Shelby. O'Bannion and Holden McNeil and Bartleby and Shannon and Sheriff Bryce Hammond and Ned Alleyn and Rafe McCawley and Jack Ryan and Larry Gigli and Doug MacRay and Nick Dunne and Christian Wolff and Redfly and Bruce Wayne. Damon and Affleck boast careers that have sprawled across all genres, that have made them millions and garnered them constant media coverage, that have secured their status as top-tier producers and directors, and that can all be traced back to one film: 1997's "Good Will Hunting."
Will and Chuckie. Two kids from Southie, Boston. "Good Will Hunting" isn't an autobiographical story. Damon and Affleck both grew up fairly well off and involved in the arts. They weren't, as far as we know, brawling with rival neighborhood gangs or crashing Harvard bars. But the childhood friends who became actors together were the magic that made "Good Will Hunting" work: their chemistry, their camaraderie, their bond. Their script was passed by director Kevin Smith to the now-convicted-and-imprisoned Harvey Weinstein. Beloved indie director Gus Van Sant came on to direct. Robin Williams, already tearing up the '90s with "Aladdin" and "The Birdcage," joined the cast. Singer-songwriter Elliott Smith contributed six lovely, wistful songs to the soundtrack. The film was phenomenally successful, making more than $220 million on a budget of $10 million. At the 70th Academy Awards, with the nine nominations for "Good Will Hunting" up against the 11 for "Titanic," Williams went home as the Best Supporting Actor and Damon and Affleck as authors of the Best Original Screenplay.
13. 'It's a Wonderful Life'
Photo: RKO Radio Pictures
Imdb score: 8.6/10
It's a Wonderful Life is a 1946 American Christmas family fantasy drama film produced and directed by Frank Capra, based on the short story and booklet The Greatest Gift, which Philip Van Doren Stern self-published in 1943 and is in turn loosely based on the 1843 Charles Dickens novella A Christmas Carol. The film stars James Stewart as George Bailey, a man who has given up his personal dreams, in order to help others in his community, and whose suicide attempt on Christmas Eve brings about the intervention of his guardian angel, Clarence Odbody (Henry Travers). Clarence shows George how he, George, has touched the lives of others and how different life would be for his wife Mary and his community of Bedford Falls if he had not been born.
Theatrically, the film's break-even point was $6.3 million, about twice the production cost, a figure it did not come close to achieving on its initial release. Because of the film's disappointing sales, Capra was seen by some studios as having lost his ability to produce popular, financially successful films. Although It's a Wonderful Life initially received mixed reviews and was unsuccessful at the box office, it became a classic Christmas film after it was put into the public domain, which allowed it to be broadcast without licensing or royalty fees.
It's a Wonderful Life is considered one of the greatest films of all time. It was nominated for five Academy Awards, including Best Picture, and has been recognized by the American Film Institute as one of the 100 best American films ever made. It was No. 11 on the American Film Institute's 1998 greatest movie list, No. 20 on its 2007 greatest movie list, and No. 1 on its list of the most inspirational American films of all time. Capra revealed that it was his favorite among the films he directed and that he screened it for his family every Christmas season. It was also Jimmy Stewart's favorite film. In 1990, the film was designated as "culturally, historically or aesthetically significant" and added to the National Film Registry of the Library of Congress.
14. 'The Third Man'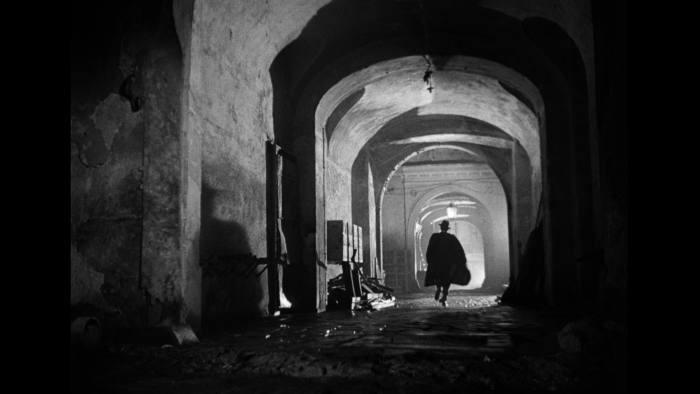 Photo: Financial Times
Imdb score: 8.1/10
From the moment the first audiences saw the opening image of Anton Karas's zither filling the screen with the nerve-jangling Harry Lime Theme (before, indeed, they had heard the word "zither"), they knew that with the second collaboration between director Carol Reed and author Graham Greene they were in for something special. At its end they recognised they'd seen a near-perfect work, what we now call a noir classic. The title rapidly entered the language and took on new meanings as the careers of Greene as wartime intelligence agent and Kim Philby as cold war traitor became linked.
The story features an evil, charismatic anti-hero who fakes his own death and makes his home in a Viennese sewer, and ends with its dull, perplexed leading man being silently snubbed by the beautiful, unsmiling heroine in a deserted cemetery. This new print does full justice to Robert Krasker's dazzling, Oscar-winning black-and-white photography and its exhilaratingly forlorn postwar Vienna, and it's accompanied by two excellent documentaries, one about the making of the movie and its afterlife, the other about the career of Greene, then at the height of his power as both a novelist and screenwriter.
15. 'The Godfather' (1972)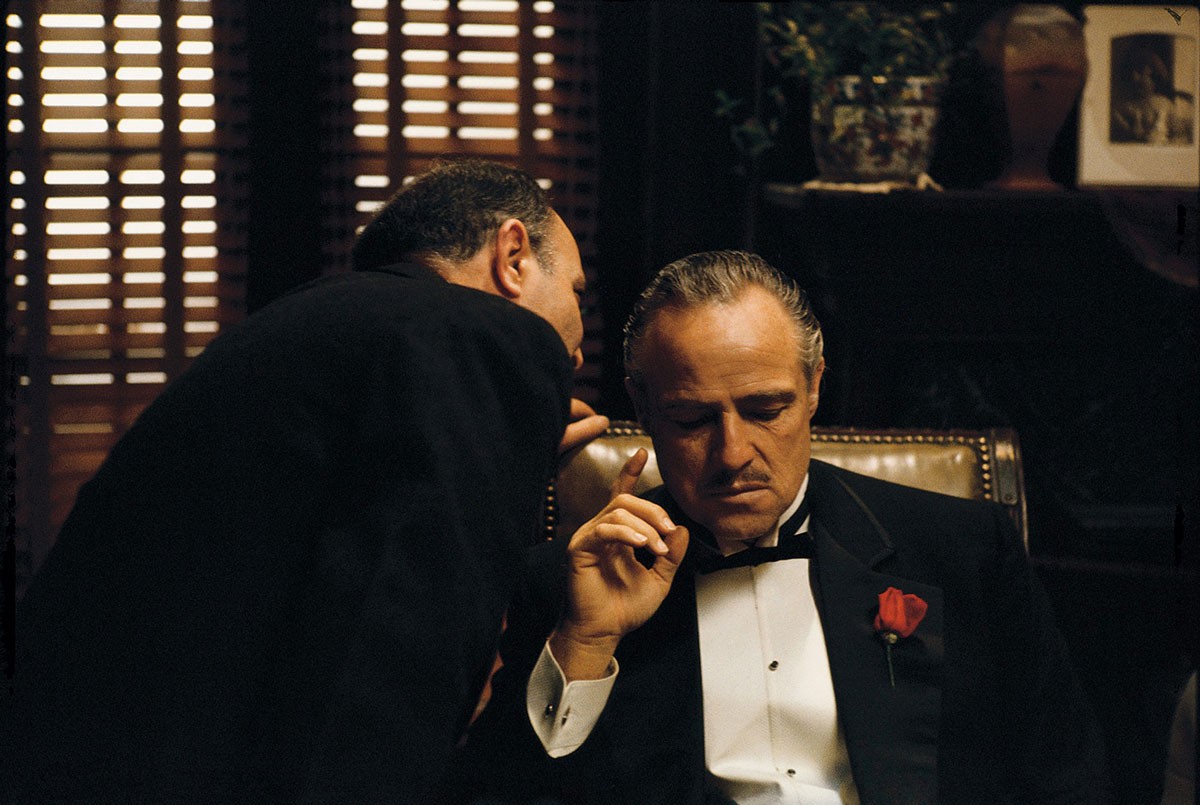 Photo: Getty Images
Imdb score: 9.3/10
The Godfather is an American film series that consists of three crime films directed by Francis Ford Coppola inspired by the 1969 novel of the same name by Italian American author Mario Puzo. The films follow the trials of the fictional Italian American mafia Corleone family whose patriarch, Vito Corleone, rises to be a major figure in American organized crime. His youngest son, Michael Corleone, becomes his successor. The films were distributed by Paramount Pictures and released in 1972, 1974, and 1990. The series achieved success at the box office, with the films earning between $430 and $512 million worldwide. The Godfather and The Godfather Part II are both seen by many as two of the greatest films of all time. The series is heavily awarded, winning 9 out of 28 total Academy Award nominations.
The Godfather was released on March 15, 1972. The feature-length film was directed by Francis Ford Coppola and based upon Mario Puzo's novel of the same name. The plot begins with Don Vito Corleone declining an offer to join in the narcotics business with notorious drug lord Virgil Sollozzo, which leads to an assassination attempt. Meanwhile, Vito's oldest son Sonny takes over the family and Michael strikes back for the assassination attempt by killing Sollozzo and a corrupted police captain, forcing Michael to go to Sicily in hiding. While in Sicily, Michael travels around the country and meets a woman he marries but who is killed in a car bombing. Michael returns to America after the news of his brother Sonny's murder. Vito then turns over the reins of the family to Michael. Michael plans to move the family business to Las Vegas; but before the move, his father dies, and he plots the killing of the heads of the five families on the day of his nephew's baptism. Other subplots include Vito's daughter's abusive marriage, Johnny Fontane's success in Hollywood and Vito's second son Fredo's role in the family business in Las Vegas.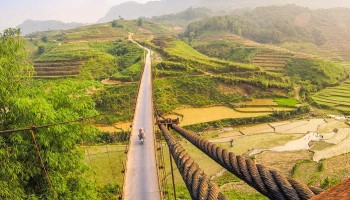 Travel
Visitors rate the 7 most amazing roads in Vietnam, weaving through mountains, jungles, and beaches, according to Lonely Planet magazine.