160 tonnes of shrimp exports leave port to EU, US and Japan
A batch of 160 tonnes of frozen shrimp products from the Minh Phu Seafood Group left port for the US, Europe and Japan Tuesday, in the Mekong Delta province of Hau Giang.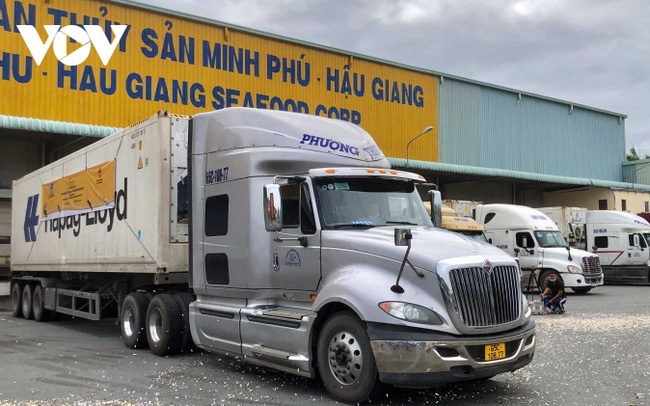 160 tonnes of shrimp exports leave port to EU, US and Japan. Photo: VOV
On January 5, Minh Phu Seafood held a ceremony to mark the export of the first batch of shrimp this year. The event was attended by the representative of the Ministry of Agriculture and Rural Development (MARD) and leaders of Hau Giang Province.
Eight containers with about 160 tons of shrimps will be exported to the EU, the US, and Japan, which are fastidious markets with export price 4-5 percent higher than the Asian market.
Upon addressing the event, Deputy Minister of Agriculture and Rural Development Phung Duc Tien requested that local firms strengthen co-operation efforts to expand shrimp export markets.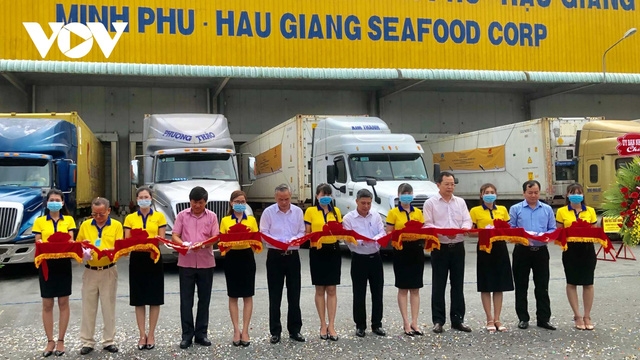 160 tonnes of shrimp exports leave port to EU, US and Japan. Photo: VOV
Despite facing numerous difficulties caused by the novel coronavirus (COVID-19) epidemic and natural disasters, last year saw the national seafood sector gross US$8.4 billion in export turnover, with total output reaching 8.4 million tonnes, therefore representing an increase of 1.8%.
Most notably, Minh Phu Seafood Corporation also shipped 22,400 tonnes of processed shrimp worth US$240 million to demanding markets, including the US, Europe, Japan, the Republic of Korea, Australia, and Canada, thereby contributing to the sector's overall revenue of US$580 million.
Moving into this year, Deputy Minister Tien has asked relevant units, localities, business communities, and shrimp farmers to regularly assess market developments in an effort to devise suitable production plans, diversify markets, and comply with the regulations implemented by foreign importers. This will serve to ensure origin traceability whilst increasing the proportion of value-added products and managing the quality of raw materials sources in an effective manner.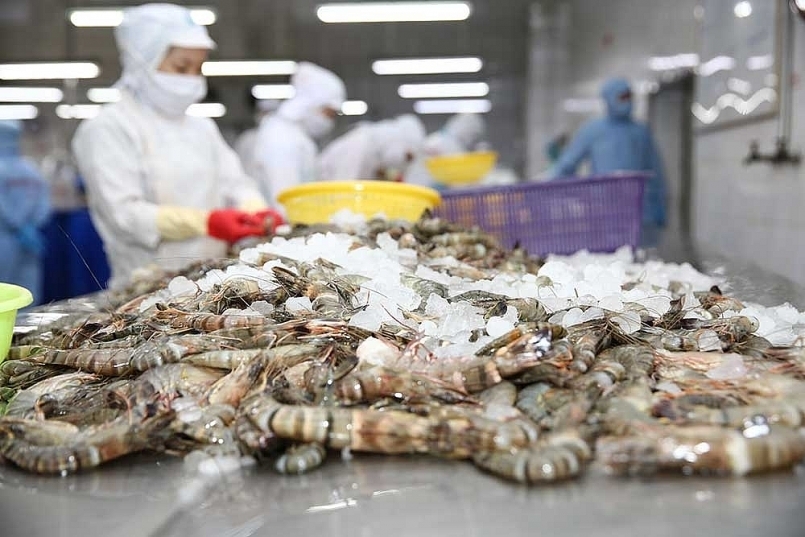 In 2020, Vietnam's shrimp exports reached about US$3.85%
Dong Van Thanh, chairman of Hau Giang province's People's Committee, described the export of the first batch of shrimp of the year as a positive sign, adding that it opens up bright prospects for aquatic exports ahead. Most notably, the recent enforcement of the EU-Vietnam Free Trade Agreement (EVFTA) provides fresh impetus for the penetration of local shrimp into the demanding market due to substantial tariff reduction.
Currently, large seafood processing factories in the region have received many export contracts from foreign partners. In 2020, the export value of Vietnamese shrimp products reached about US$3.85 billion. In 2021, the export target of this item is to surpass $4 billion.
VOV, SGGP
Economy
Vietnam has a fast-increasing semiconductor ecosystem and possibilities to improve its position in the global supply chain. In the joint announcement of the US-Vietnam Comprehensive Strategic Partnership, the two countries acknowledged Vietnam's significant potential to become a key nation in the semiconductor industry, adding they "are supportive of the rapid growth of the semiconductor ecosystem in Vietnam."
September 22, 2023 | 09:22