20 Vietnamese students in South Korea test positive for COVID-19
The mass infection occurred at Ajou Motor College in Boryeong, a South Chungcheong Province city about 200 kilometers south of Seoul.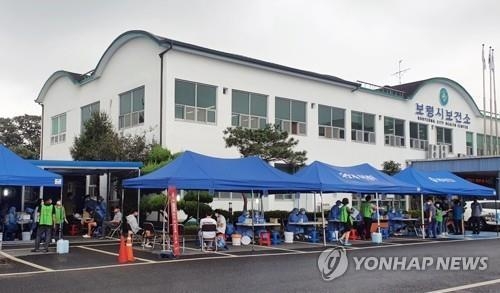 Twenty Vietnamese students living in dormitory of Ajou Motor College in Boryeong, South Korea have been diagnosed with COVID-19. Source: Yonhap News
Twenty Vietnamese students living in a college dormitory in a central South Korean city have been tested positive for the novel coronavirus (COVID-19), local officials said on December 16, reporting a rare coronavirus cluster of foreign nationals here.
According to Yonhap, the Ajou Motor College reported its first confirmed case on December 14, when a Vietnamese student residing in its dormitory tested positive for the coronavirus.
Municipal health authorities then conducted coronavirus tests on everyone suspected of having come into contact with the first patient ― 67 foreign dormitory residents (59 from Vietnam, seven from Uzbekistan and one from Thailand), 64 Korean dormitory residents and 31 school personnel.
Through the tests, 19 Vietnamese students have been confirmed to be infected, the local officials said, noting authorities are to administer coronavirus tests to all 300 other dormitory residents Wednesday.
The municipal authorities are investigating the patients' travel and infection routes, suspecting that the group infection may have occurred due to close contact in enclosed dormitory rooms.
Vietnamese citizens were advised to keep a close watch and follow instructions of local agencies to prevent the illness.
In case of emergency, it is recommended to contact the hotline of the Vietnamese Embassy in the Republic of Korea (RoK) +82 10-3622-6618.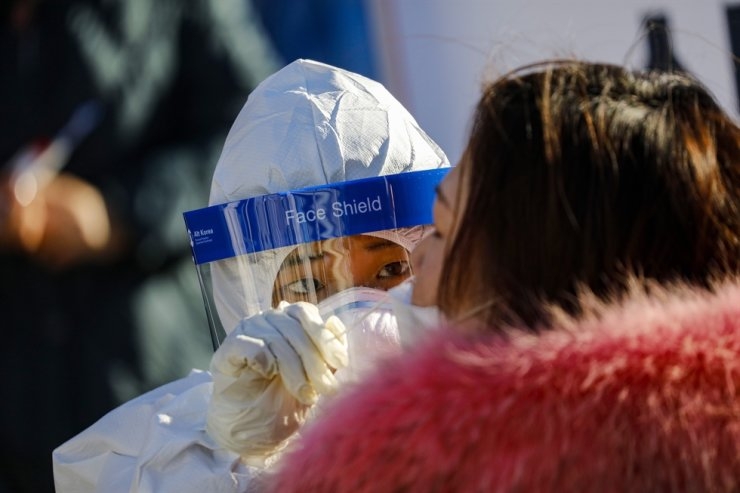 A woman receives a COVID-19 test at a makeshift testing site in central Seoul on Dec. 14. Korea Times photo by Shim Hyun-chul
In recent weeks, a string of clusters of coronavirus infections have erupted at elderly nursing homes, churches, educational institutions and other multiuse facilities throughout South Korea, as the nation has reported around 1,000 new cases every day.
South Korea has been cautious in adopting Level 3 as the move will cause economic damage to shop owners and self-employed people.
Health authorities acknowledged that the current social distancing, the second highest, has failed to flatten the virus curve and hinted it will not hesitate to adopt Level 3 when necessary.
Level 3 can be adopted when locally transmitted cases surge to between 800 and 1,000 or the daily tally doubles from the previous day.
Under the highest level, any gatherings of 10 or more people will be banned, which is stricter than the current ceiling of 49.
Schools will be fully shut down, and companies are required to have nonessential employees work from home.
The number of seriously or critically ill COVID-19 patients reached 226, up 21 from the previous day.
The Korea Disease Control and Prevention Agency (KDCA) reported 12 additional deaths, raising the total to 612. On Tuesday, the country reported 13 deaths, a record high.
The fatality rate reached 1.35 percent.
The number of people released from quarantine after making full recoveries came to 388, raising the total to 32,947. This indicates around 72.5 percent of local patients have been cured.
South Korea carried out 3,488,769 COVID-19 tests so far, including 47,549 the previous day.
The ratio of people testing positive reached 2.27 percent, compared to 1.99 percent a day earlier, when 44,181 tests were carried out./.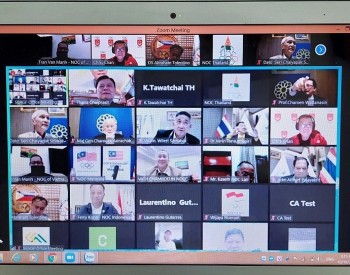 National
Vietnam News Today (October 19): Vietnam records 3,159 new local Covid cases; Vietnam ratifies ASEAN Trade in Services Agreement; SEA Games 31 likely to be held in Vietnam in May 2022; Goethe-Institut's science film festival goes virtual from October 18.
Friendship
PeaceTrees continued UXO-clearing efforts in the central province of Quang Tri in spite of severe storm warnings.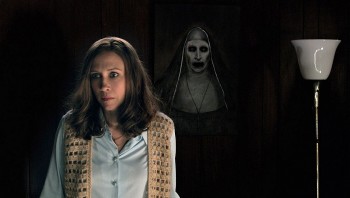 Handbook
Halloween is coming, and nothing is better than some good and spooky horror films. Here is a list of carefully selected 20 horror movies on Netflix that you can stream right now.