3 spiritual travel itineraries in the South of Vietnam
These itineraries offer chances to learn Zen Buddhism, explore the ancient Long An pagodas, immersed in nature, listen to Dong Nai sermons,...
The beginning of the new year is the perfect time to visit temples and pagodas to pray for luck and happiness. In addition, the pilgrimages help visitors learn cultural values, ancient architecture... These three itineraries below are VNT's recommendations for your perfect new year experience.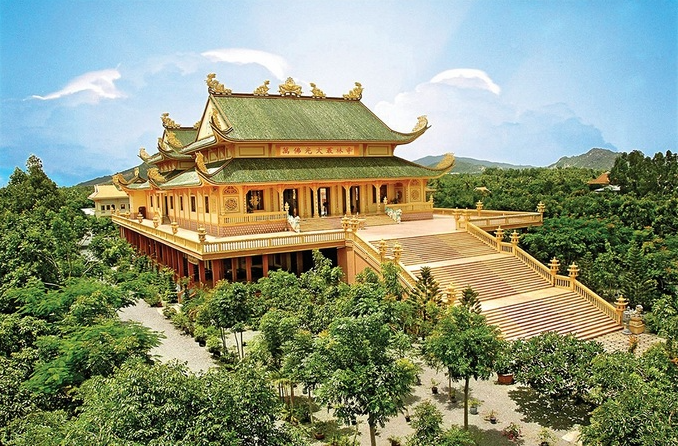 Van Phat Quang pagoda has received 6 records from the Vietnam Record Book Center. (Photo: VN Express)
Learn Zen Buddhism, listen to sermons in Vung Tau
On the first spring tour, visitors should discover Van Phat Quang Pagoda, which holds many national records; learn about Truc Lam Zen at Thuong Chieu Monastery initiated by Zen master Thich Thanh Tu in the years 1973 - 1974. The journey also brings visitors to Pho Da Son to learn about the aspirations of Avalokiteśvara Bodhisattva, the lineage history, and development of the Lotus Sutra.
On this journey, tourists can visit some famous temples such as Thich Ca Phat Dai, Pho Da Son, Niet Ban Tinh Xa, Van Thong Pagoda, Dai Tong Lam Pagoda, Thuong Chieu Monastery.
Thich Ca Phat Dai (Platform of Shakyamuni Buddha) is a notable Theravada Buddhist temple in the coastal city of Vung Tau in southern Vietnam. It lies to the northwest of the Big mountain and was built between 1961 and 1963 when it was opened. Pho Da Pagoda is located at 340 Phan Chu Trinh St. It was founded and built by Venerable Thich Ton Thang in 1927 and was restored in 1937, 1945, and 1983. This is a place where many Buddhist monks and nuns have been trained. Presently, the pagoda is also the location of the School of Basic Buddhism Study.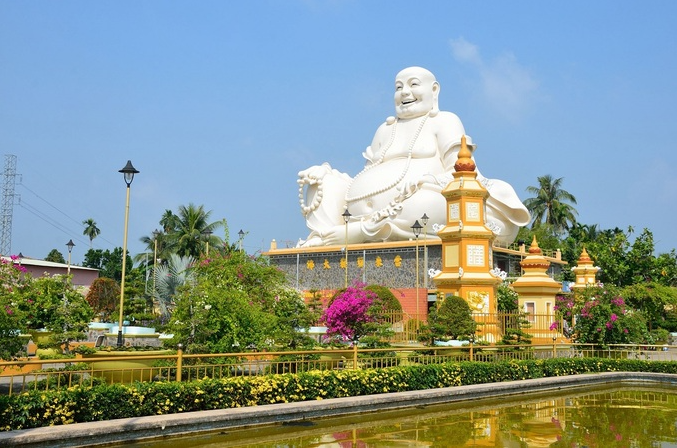 Vinh Trang Pagoda is ranked as a national historical-cultural relic in 1984. (Photo: Viettravel)
Explore the ancient pagodas of Long An - Tien Giang
In the second journey, visitors can discover the unique architectural features, learn about the Buddha's profound philosophy through the discourse from monks and nuns practicing in the ancient temples of Long An - Tien Giang. Long An - Tien Giang is a land of history and culture in the South of Vietnam. In which, Vinh Trang pagoda, the largest Buddhist temple in Tien Giang province, has a mix of Asian and European architecture.
During the journey, you will visit many famous temples such as Phap Bao Pagoda with its main hall of 5 Buddha relics; Pho Duc pagoda which has a modern style but still exudes a solemn look; Buddhist Temple - Buddhist intermediate school to train the young generation, inherit the teaching career in Tien Giang. In addition, Buu Lam Co Tu - the second oldest pagoda in Tien Giang, is considered one of the four family houses of Linji school; Linh Phong pagoda - an ancient nun temple built in the nineteenth century. Finally, there is Phuoc Bao pagoda - one of 6 Vassa sites.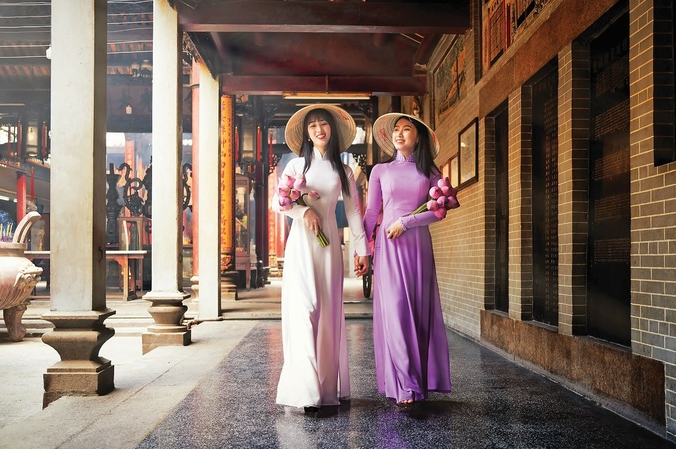 In Dong Nai, the architectural complex of the pagoda is mainly based on natural caves. (Photo: Viettravel)
Immersed in nature, listen to the sermon of Dong Nai
In Dong Nai, the architectural complex of the pagoda is mainly based on natural caves. During the pilgrimage, you will visit Chua Chan Mountain, enjoy the natural scenery, immense green forest about 800 meters high. Some of the impressive sites in the journey are Buu Quang Pagoda, Quang Dao Pagoda, Buu Phap Pagoda, Nghia Phuong Pagoda, and Long Tho Pagoda. This is a unique landscape complex of Vietnam's Southeast.
On the journey, Tri Duc Zen Monastery appears behind the rows of lush green rubber trees that can help visitors get rid of their stressful lives. Here, visitors will admire the calligraphy book Bat Nha Tam Kinh of 110cm long, 80cm wide, 6cm thick placed in an oval wooden box. In addition, they also have opportunities to listen to the monks sharing about the Buddhist meditation path, instructing proper meditation method, helping the mind and body become peaceful and regain balance in life.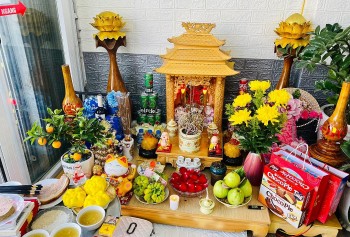 Handbook
Learn more about an ancient Vietnamese tradition that may bring you good fortune!