3 super-cold COVID-19 vaccine storages ready to operate in Vietnam
Three freezer units with temperatures kept at minus 86 to minus 46 degrees Celcius have been set up in HCMC, Da Nang and Hanoi. The trio can simultaneously accommodate up to three million doses of COVID-19 vaccines.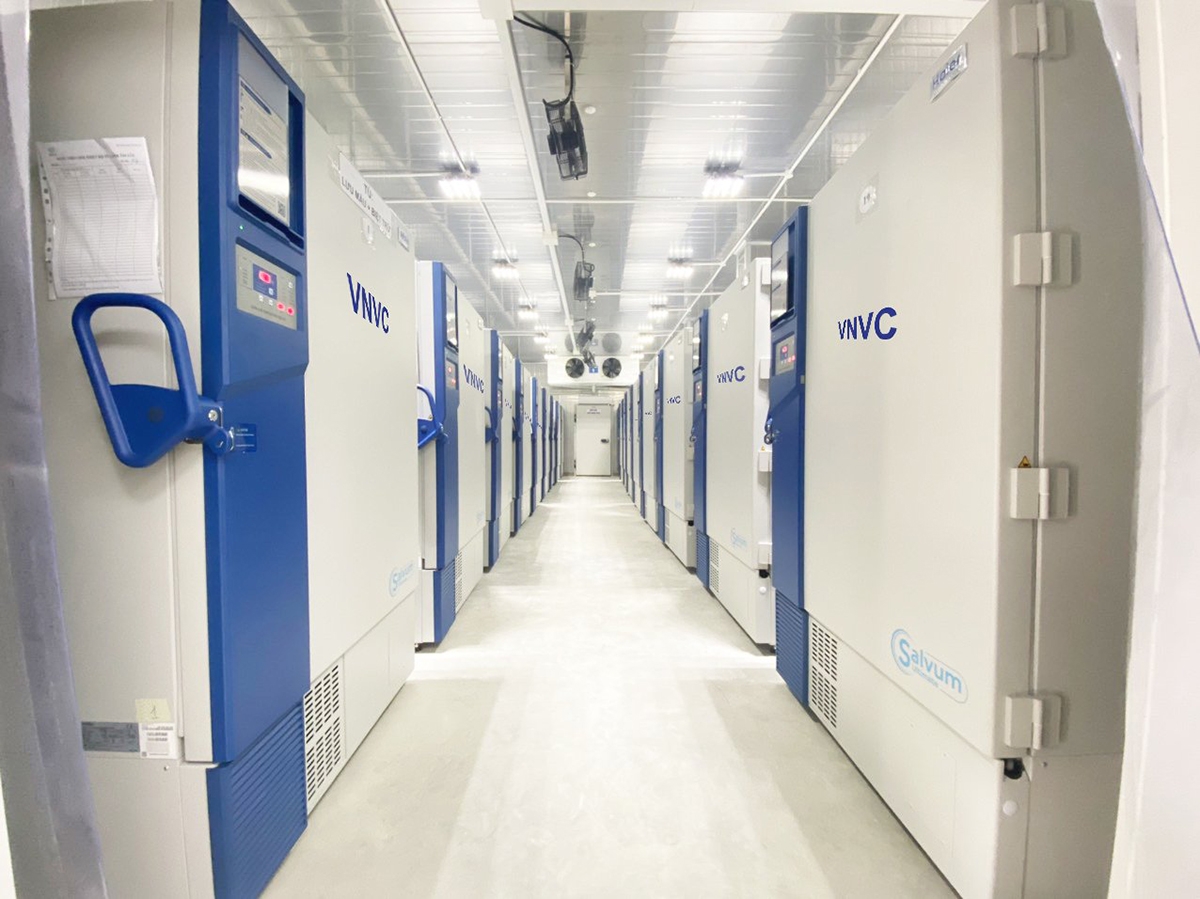 Ultra-cold storage units operated by Vietnam Vaccine JSC (VNVC). (Photo courtesy of VNVC)
Vietnam Vaccine JSC (VNVC), importer of Covid-19 vaccines to Vietnam, was licensed in January to operate the three super cold facilities to store COVID-19 imported COVID-19 vaccines once they arrive. Each freezer features one defrosting room kept at minus 8 degrees Celsius to make sure vaccines are safely thawed before inoculation.
Tran Thi Trung Trinh - quality control director at VNVC, told VNE that the company started to import a large number of equipment and built an ultra-cold storage system in mid-2020, knowing that there might be difficulty in transporting, storing and preserving certain COVID-19 vaccines. In late 2020, VNVC has completed the special cold chain system.
VNVC's super-cold storage system is equipped with a GSM alarm system, a wireless security product and remote device control. The system uses cold gas and cascade refrigeration, which involves two or more vapor-compression cycles with different refrigerants.
All cold and ultra-cold storage facilities are equipped with high-tech on-site and remote temperature monitoring systems, according to VNE.
"We're proud to be the first unit in Vietnam qualified enough to import, store, supply and distribute a wide range of COVID-19 vaccines for inoculation. The most decent manpower are deployed to operate the super-cold storage system in line with specific requirements", Trinh said.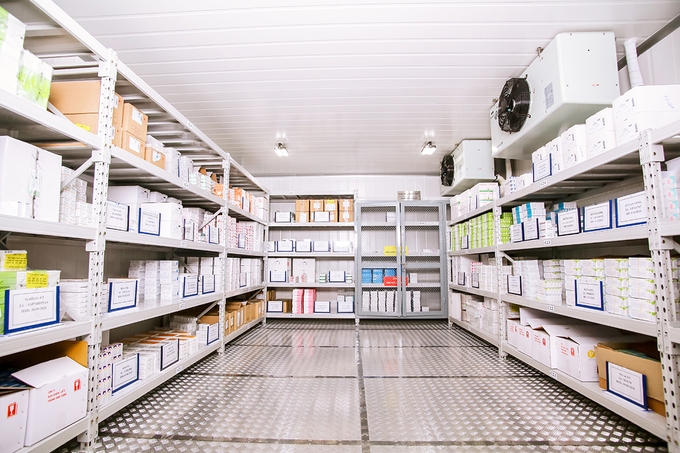 The cold storage system would keep the vaccine's effectiveness and safety level intact (Photo: VNE)
Storing and transporting process at VNVC meets GSP standards and GDP standards of the Ministry of Health. All transporting and storage equipment have been fully assessed ahead of usage.
"We have has all the personnel and needed facilities ready to serve up to 4 million doses of vaccines each month", Bui Kim Khanh, VNVC System Director said.
VNVC has also put into use its technology platforms, including upgrading, expanding its websites, mobile apps, telephone switchboard system. Staff were given intensive training.
The Health Ministry last week had approved the import of 204,000 doses of the Oxford/AstraZeneca Covid-19 vaccine within this month to stem the spread of the coronavirus.
It would mark the first batch of 30 million vaccine doses Vietnam had previously ordered from Swedish-British developers AstraZeneca and Oxford University.
The nation has also negotiated with Covax, a global mechanism for developing, manufacturing and procuring Covid-19 vaccine candidates that help member countries access vaccines as they become available, to secure 30 million vaccine doses this year to cover 70 percent of its 98-million population.
It is also stepping up negotiations with the U.S.'s Pfizer and Moderna, along with other vaccine manufacturers in Russia and some other countries to ensure a total 150 million vaccine doses for 2021.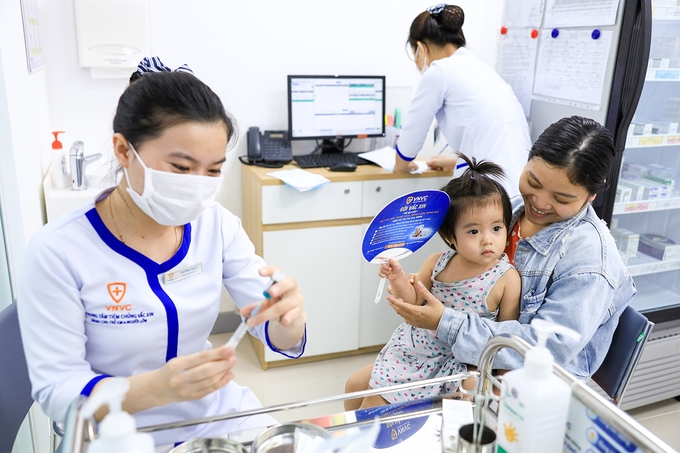 VNVC is ready to innoculate citizens once the vaccine arrives (Photo: VNE)
Vietnam has four domestic Covid-19 vaccines under development by Nanogen Pharmaceutical Biotechnology JSC, the Institute of Vaccines and Medical Biologicals, Vaccine and Biological Production Company No. 1 and the Center for Research and Production of Vaccines and Biologicals.
There are about 11 Covid-19 vaccines currently approved by the European Drug Administration (EMA), Food and Drug Administration (FDA) and emergency licensing countries, with 237 other vaccines under study.
Most vaccines require storage at 2-8 degrees Celsius but others like those produced by Pfizer-BioNTech and Moderna need to be stored and transported at temperatures lower than minus 80 degrees Celsius to minus 20 degrees Celsius, making the implementation of vaccination in many countries difficult.
Vietnam is still busy handling the ongoing community outbreak that broke out on Jan. 28 that has since infected 791 in 13 cities and provinces. The epicenter of northern Hai Duong Province has so far accounted for as many as 611.