Two Chinese fined in Hai Duong for breaching Covid-19 preventive regulations
The authorities in Covid-19 hotspot Hai Duong Province on Sunday fined two Chinese VND7.5 million ($326) each for breaching the regulations on Covid-19 prevention and control.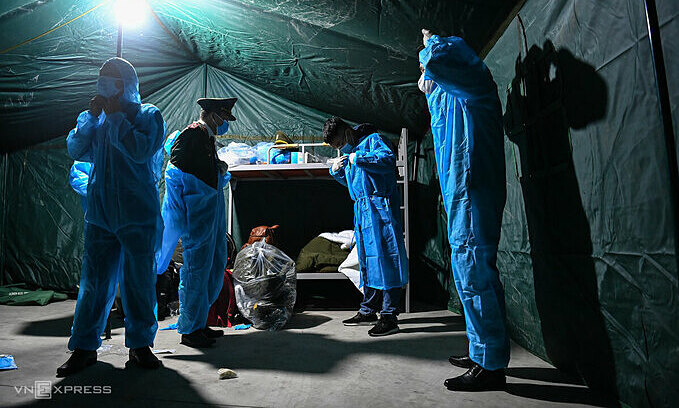 Police officers put on medical protective clothes in Hai Duong Province, February 16, 2021. Photo by VnExpress/Giang Huy.
Huang Weiming, 51, and Huang Cheng Lan, 48, who work for Vietnam Baodi Technology Company in the Cao An Industrial Park in Cam Giang District, were found riding on a street last Saturday despite a lockdown since February 5 amid a surge in infections.
Authorities have called on the public to only leave home to buy necessities like food and medicines or for emergencies.
The duo admitted to local authorities they had been out for "unnecessary" reasons, Lao Dong newspaper reported.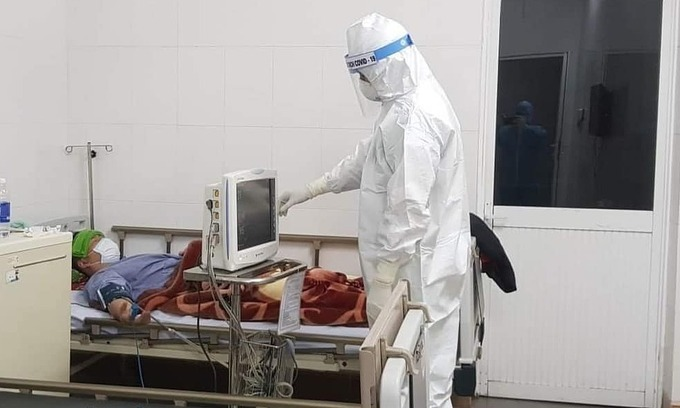 A Covid-19 patient in Hai Duong Province. Photo courtesy of Ministry of Health.
Authorities in Hai Duong have installed surveillance cameras on major streets in some high-risk areas to help the police verify public compliance with pandemic prevention measures.
All of Hai Duong entered social distancing starting February 16, around half a month since a new wave of Covid-19 outbreaks swept through the province.
Nguyen Viet Hai, chief of office of Hai Duong Party Committee, said the province would undergo social distancing for 15 days starting February 16 as per a government directive on Covid-19 prevention.
The social distancing directive, the same applied nationwide in April last year to stem the spread of Covid-19, calls for people not to go outside except for getting food, medicine or other emergencies; requires a minimum social distance of two meters and bans gatherings of more than two outside of hospitals, offices, schools and public spaces.
Traffic through the province, home to more than two million people, would also be limited during the period, with only vehicles with essential purposes allowed to enter Hai Duong, which is more than an hour drive from Hanoi.
Thousands of families in Hai Duong, the epicenter of a new Covid-19 wave in Vietnam since late last month, remain quarantined. The province's Chi Linh Town and Cam Giang District are still under lockdown to extinguish local coronavirus outbreaks.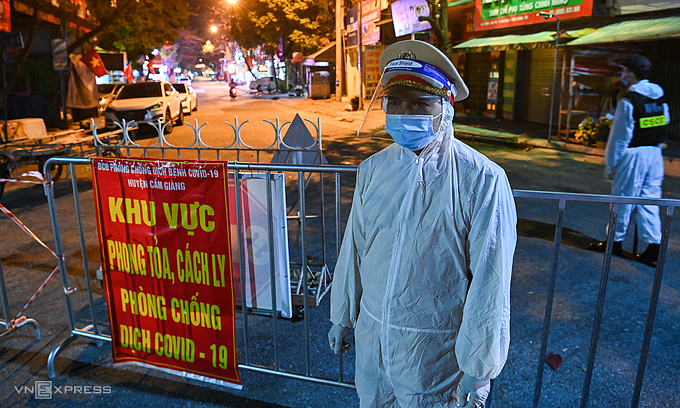 A medical staff stands guard at a Covid-19 checkpoint in Cam Giang District, Hai Duong Province, February 15 2021. Photo by VnExpress/Giang Huy.
Fifteen more domestic Covid-19 cases were confirmed Sunday evening in Hai Duong, Vietnam's current coronavirus epicenter, raising the northern province's tally to 611, according to Vnexpress.
Of the patients tagged 2369 to 2383, 14 cases are from Kim Lien Commune, Kim Thanh District, and one from Nam Tan Commune, Nam Sach District.
All of them had been quarantined before being found positive for the coronavirus, and are being treated at the field hospitals in Hai Duong.
From Jan. 28 to Feb. 21, Vietnam has confirmed 791 community transmissions in 13 localities, of which Hai Duong is the biggest hotspot with 611 cases, followed by Quang Ninh (60), HCMC (36), and Hanoi (35).
The nation's tally has gone up to 2,383 to date. On Sunday, 90 patients in Hai Duong and three in the Central Highlands province of Gia Lai have reportedly recovered, raising the number of recoveries to 1,720. The death toll remains at 35.
Most of the active cases are in stable conditions, in which 163 have tested negative for the virus at least once.
The total number of people in quarantine is over 123,000, of which 600 in hospital and the rest is either in quarantine centers or at home.
On Sunday, HCMC Health Department has requested hospitals and clinics to test all of their medical staff for Covid-19 before March 10.
Covid-19 has infected over 111 million people globally and took the lives of more than 2.4 million.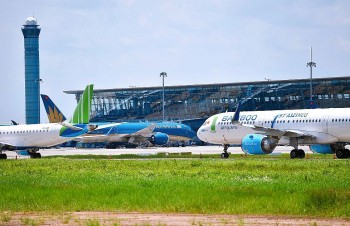 Economy
Vietnam Business & Weather Briefing (August 9): Vietnam's economic growth is expected to reach 7.5% in 2022, new securities accounts hit a near two-year low in July.