Foreign Tourists Visit Hanoi Reaches 3.2 Million
Since the reopening of its door to tourists on March 15, 2022, Hanoi has carried out concerted measures, with major cultural and tourism events, held to increase the attractiveness of the city's tourism.
The number of tourists to the capital city of Hanoi hit 18.9 million in the first nine months of 2023, up 36.5% year-on-year, VNA citied the municipal Department of Tourism.
Of the figure, foreign tourist arrivals reached 3.2 million, marking a four-fold increase compared to the same period of last year and surpassing this year's target of 3 million, while the number of domestic visitors rose by 20.2% year on year to 15.7 million.
Total tourism revenue was estimated at VND 69.3 trillion (USD 2.88 billion), up 66.9% year-on-year.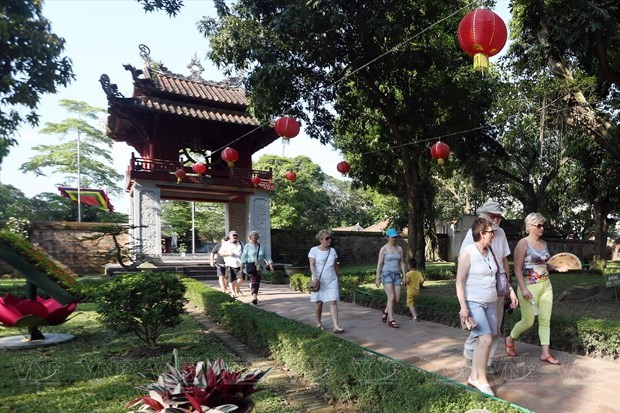 Temple of Literature - an attractive destination for foreign tourists. Photo: VNA
Hanoi has consistently received high praise from international tourism organizations, ranking among the most attractive destinations in the world. On September 6, Hanoi was once again recognized as the top city destination in Asia for 2023. In order to quickly match the pre-pandemic level (in 2019, Hanoi welcomed nearly 29 million visitors, including 7 million foreigners), the city still has much work to do.
However, experts recommended the capital city to continue renewing its tourism products to attract more domestic and foreign visitors.
At a seminar on main solutions to accelerate recovery and effective and sustainable tourism development recently held by the municipal Department of Tourism, participants advised the city to develop more products that meet tourists' needs.
Some proposed building those related to autumn such as Fototour to capture the beauty of the more than 1,000-year-old city in this season.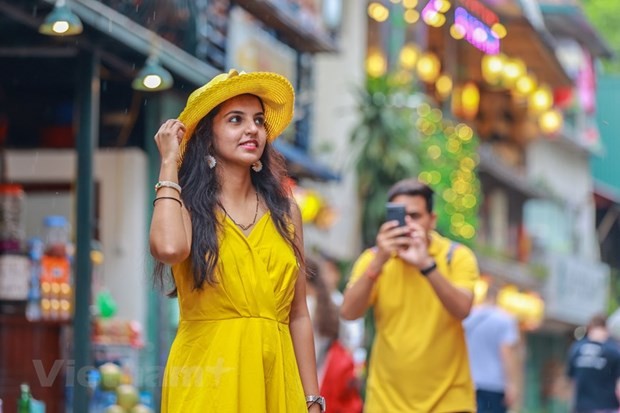 Foreign visitors to Hanoi. Photo: VNA
Many assessed that Hanoi only has "evening" tourism, not "night-time" tourism. General Director of Hanoi Tourism Investment JSC Nhu Thi Ngan said that most night activities in Hanoi end before 12:00 am. Only at weekends, bars and restaurants in downtown Hoan Kiem district are allowed to open until 2:00 am.
Therefore, Ngan recommended the city have a more "open" approach and have its own policy on this issue.
Director of the Department of Tourism Dang Huong Giang said the sector has launched various types of tourism that align with the strengths of each area, such as sport tourism in the outlying district of Soc Son, community-based tourism with a focus on health care in Ba Vi and Soc Son districts, and hot air balloon tourism in Tay Ho and Long Bien districts and Son Tay township.
It has improved tourism destination infrastructure, including transport connectivity between tourist destinations and the city's road network.
It is also diversifying communication methods across digital platforms to attract visitors to the city with the consistent messages "Hanoi - Come to Love" and "Hanoi - A Safe, Friendly, Quality and Attractive Tourism Destination."
It noted that there are 3,765 tourism accommodation establishments across Hanoi at present, including 603 hotels rated one - five stars with 25,550 rooms. With such a number of accommodation facilities, the capital is completely able to meet travel demand expected to surge in the time ahead.