39 UK lorry victims: Man charged with human trafficking offences
A 23-year-old man has been charged with human trafficking offences in connection with the deaths of 39 Vietnamese nationals whose bodies were found in a refrigeration truck in Britain, AFP reported on Nov 24.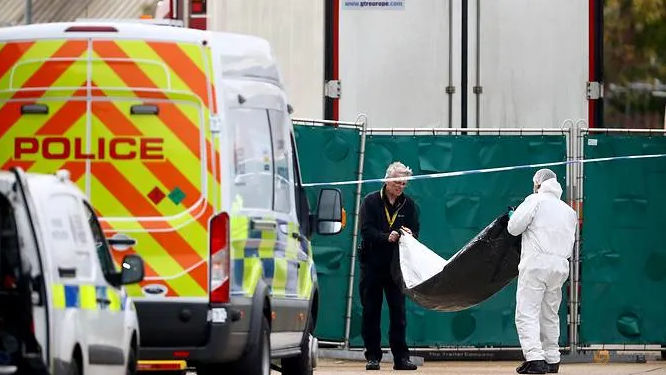 Police are seen at the scene where bodies were discovered in a lorry container, in Grays, Essex, Britain on Oct 23, 2019. Photo: Reuters/Hannah McKay
Christopher Kennedy, from County Armagh in Northern Ireland, is due to appear at Chelmsford Magistrates' Court in Essex, southeast England, on Monday (Nov 25), police said.
He has been charged with conspiracy to arrange or facilitate the travel of people with a view to exploitation, and conspiracy to facilitate the commission of a breach of British immigration law.
Kennedy was arrested early Friday on the M40 motorway.
The bodies of eight women and 31 men were found in a refrigeration trailer on an industrial estate east of London in Essex, on Oct.
The trailer had earlier arrived on a cargo ferry from the Belgian port of Zeebrugge.
Maurice Robinson, a 25-year-old lorry driver from Northern Ireland, has appeared in court charged with 39 counts of manslaughter, conspiracy to traffic people, conspiracy to assist unlawful immigration and money laundering.
He is expected to appear at the Old Bailey on Monday.
Another man from Northern Ireland, 22-year-old Eamonn Harrison, was charged with 39 counts of manslaughter, along with human trafficking and immigration offences, after being arrested in Ireland last week. Essex Police have started extradition proceedings to bring him to the UK.
The case was adjourned until Dec 12.
Three other people have also been arrested, questioned and released on bail as part of the investigation.
Essex Police detectives last month said they wanted to speak to two brothers Ronan Hughes, 40, and his brother Christopher, 34 - also from Northern Ireland - about the case and urged them to hand themselves in.
39 bodies were discovered in a refrigerated lorry trailer at Waterglade Industrial Park in Grays, Essex county, northeast of London, on October 23.
Earlier this month Essex Police, assisted by Vietnamese officials, confirmed the 31 men and eight women were all Vietnamese nationals. The youngest two were just 15 years old and the oldest was 44.
According to Independent, the Dutch government confirmed on Friday that one of the teenagers had previously stayed at one of its asylum centres.
The country's Central Agency for the Reception of Asylum Seekers told local media the youngster had run away from a shelter for vulnerable migrants.
Assistant chief constable Tim Smith, who is leading the investigation, said: "We are working with national and international partners to get answers for the friends and family of those who died and bring all those responsible to justice."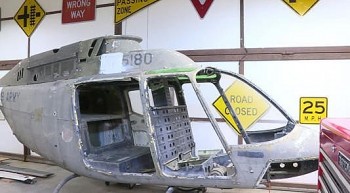 World
A piece of military history related to Vietnam is coming to life with a special project in a small Barton County townm in the US