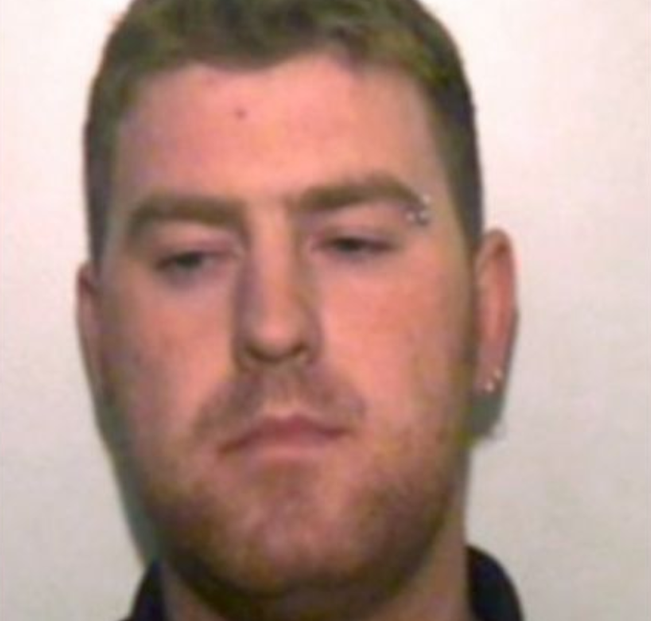 Haulier Ronan Hughes. (Photo: Essex Police)
Ronan Hughes became the second man to plead guilty over the case, which shocked the UK and Vietnam late last year.
Appearing at a full Old Bailey courtroom in London, Hughes stood in the dock facing the judge as the names of the 31 men and boys and eight women were read out. He admitted each charge in a process that took more than 10 minutes, according to VN Express.
He was extradited to the UK from Ireland and appeared before Southend Magistrates' Court in the east of London by video-link from a police station on June 24 (local time). According to Việt Nam News, in April, police in Essex confirmed the 40-year-old was detailed after detectives executed an arrest warrant at a house in County Monaghan, Ireland. Ronan Hughes has been charged with 39 offences of manslaughter and a number of immigration offences. He was remanded in custody and is due to appear at Dublin's High Court.
On April 8, 25-year-old lorry driver Maurice Robinson from Craigavon in Northern Ireland pleaded guilty to 39 counts of manslaughter at the Old Bailey. Robinson was driving the truck when the bodies were found. He had previously pleaded guilty to conspiracy to assist unlawful immigration and acquiring criminal property at the same court on November 25 last year.
Meanwhile, another suspect, Eamonn Harrison, pleaded not guilty to 39 counts of manslaughter. Four other men will stand trial at the Old Bailey in connection with this investigation on Monday 5 October, Vietnam Plus stated.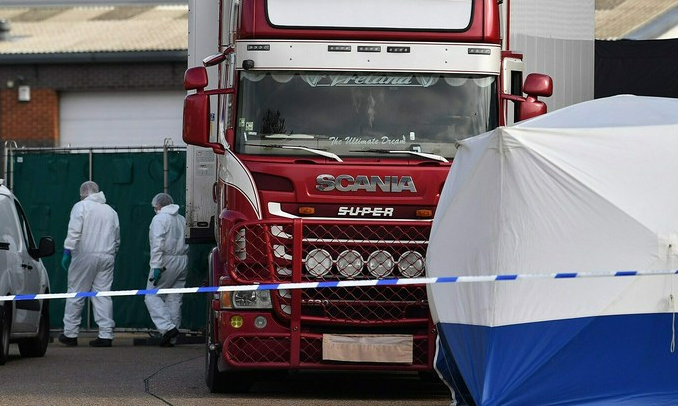 Police officers in forensic suits at the scene of a truck found to be containing 39 bodies in Grays, England, October 2019. (Photo: AFP)
Assistant Chief Constable Tim Smith, head of the Kent and Essex Serious Crime Directorate, said: "Our investigation into these matters is ongoing, and we would urge members of the public and the media not to speculate as everyone involved has the right to a fair judicial process.
"This investigation is one of the largest in Essex Police history and we are working tirelessly to piece together the events leading up to the 23 October 2019 for the sake of the victims and their loved ones.
"We have worked closely with the National Crime Agency and Crown Prosecution Service as well as police and prosecutors in the Republic of Ireland, Northern Ireland, France, Belgium, the Netherlands, Bulgaria, Germany and Vietnam.
"We are immensely grateful for the ongoing support for the investigation, and the victims and their families continue to be at the forefront of our thoughts." quoted by Việt Nam News.
On 23 October 2019, the bodies of 39 Vietnamese including 29 men, 2 boys, and 8 women, were found in the trailer of an articulated refrigerator lorry in Essex, United Kingdom. The trailer had been shipped from the port of Zeebrugge, Belgium, to Purfleet, Essex, UK, and the lorry cab and its driver are believed to be originated from northern Ireland.
Investigations are being led by Essex Police, and involve the national authorities of the UK, Belgium, Ireland, and Vietnam. Five men, including two lorry drivers who transported the trailer, were charged with manslaughter and other offences, and several other people have been arrested.
Valerie Mai