6 Beautiful Green Camping Spots in Cao Bang
Recently known as a famous tourist destination, the land of Cao Bang with its cool climate and unspoiled nature has many interesting spots for visitors to explore.
Camping has become a very popular activity recently, especially for families and groups of friends. If you do not want to try any of the popular and crowded camping sites near Hanoi, let's pack your backpack and go to Cao Bang to discover completely new enchanting beautiful spaces of this land.
Thung Mountain (Perforated/God's Face Mountain)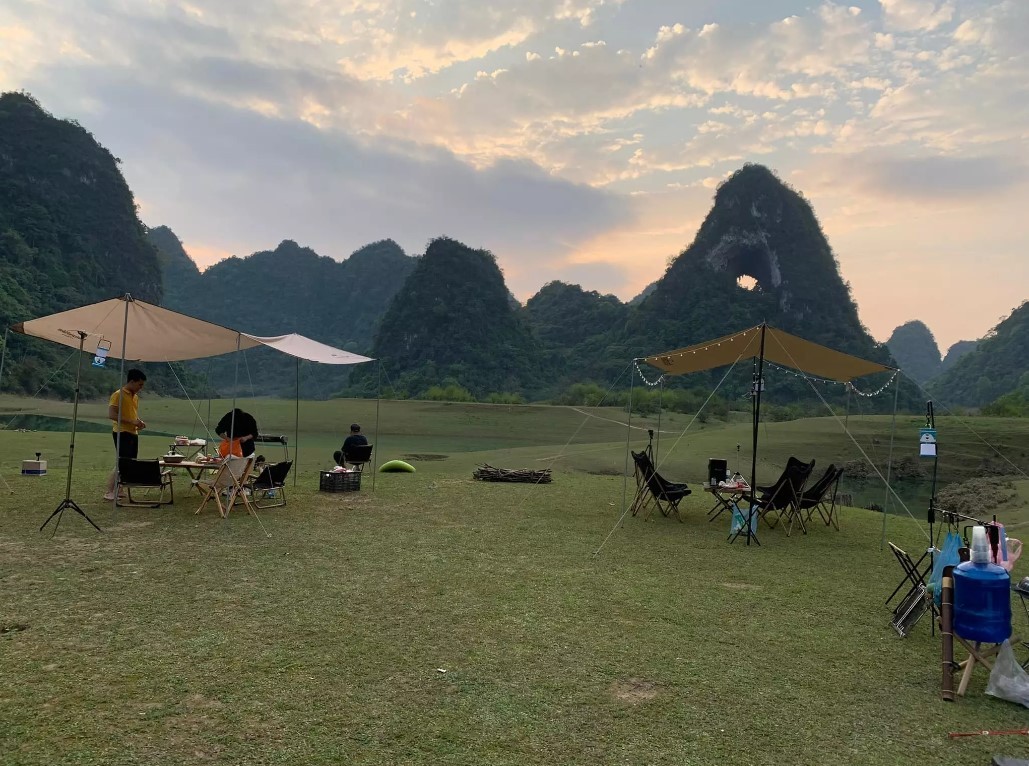 In the middle of the mountain, there is a huge hole, with the diameter of the widest place up to about 35m.
Thung Mountain is a stunning place found in Cao Bang. This place has a vast green grassland and the Nam Cha waterfall flowing all year round. The highlight is that the mountain is located in the middle of this space. In the middle of the mountain, there is a huge hole, with the diameter of the widest place up to about 35m. This can be seen as a unique and extremely rare feature in the limestone mountain system in Vietnam as well as in the world.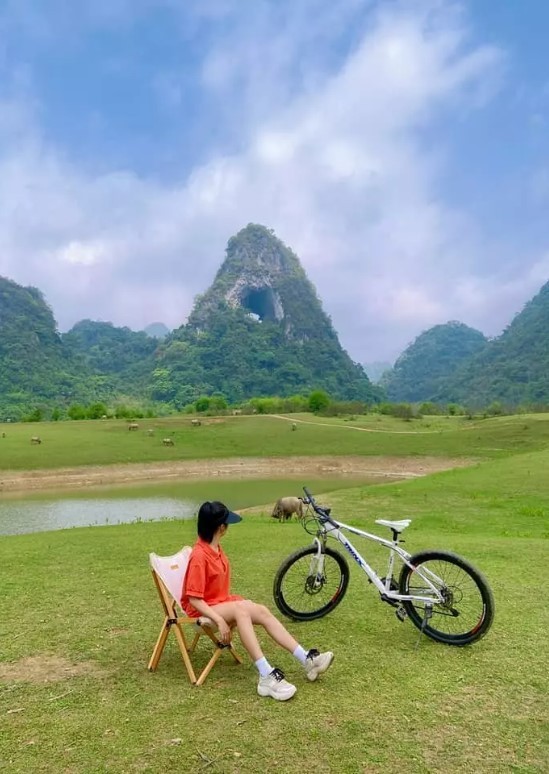 This place has a vast green grassland.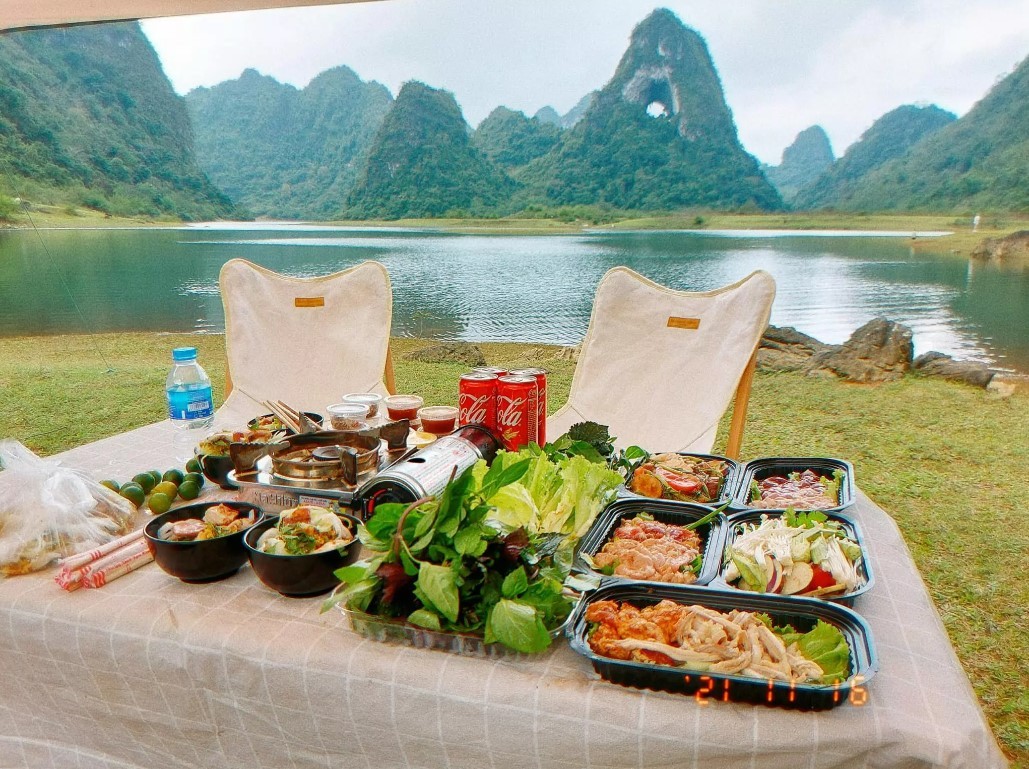 BBQ in Thung Mountain.
Thung Mountain is situated in Trung Khanh district, 40km from Cao Bang city. Visitors can get here by car. The mountain has many different names such as Thung Mountain (Perforated Mountain), God's Eye Mountain, or Phja Piot. When the water rises from March to May, or from September to November, small green lakes are formed in this area. Tourists can go rafting, try SUP (stand up paddleboard) and bathe in the water. In the dry season from December to February, the green lawn will "appear" with herds of buffaloes and horses grazing. Visitors can organize camping activities namely cooking, cycling, etc.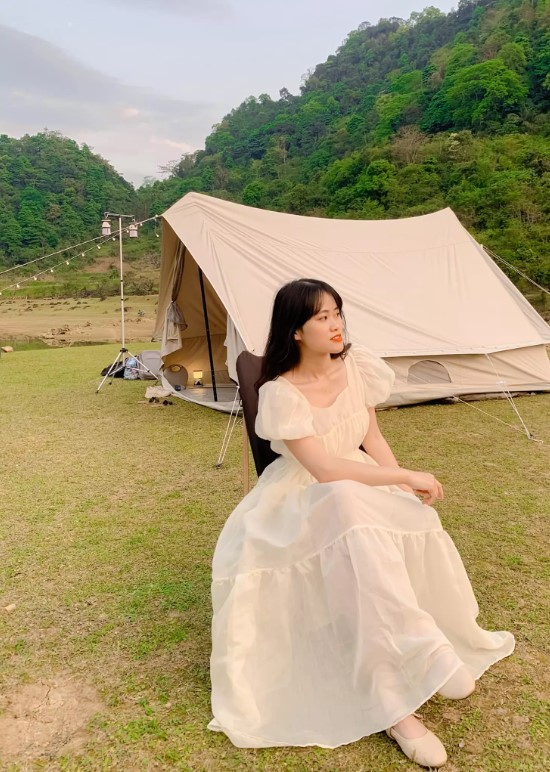 Bring your pretty clothes to take beautiful photos.
Thang Hen Lake
Thang Hen Lake is located in Quoc Toan commune, Tra Linh district. It is known as one of the outstanding and attractive eco-tourism destinations with its blue lake and beautiful caves. Around the lake, there are cat-eared peaks standing between the old forests, bringing unique views that visitors cannot miss.
Entrance ticket is VND 30,000/pax. Recently at Thang Hen Lake, there are more camping sites and accompanying services for visitors to have a perfect experience. Besides, visitors can also take a boat to admire the lake or visit the village and learn more about the local culture here.
Co La Waterfall
Co La Waterfall is located in Chi Vien commune, Trung Khanh district. Coming here, visitors will be fascinated with the wild beauty of this place. The clear blue water flows slowly through many alluvial grounds and rocky rapids, surrounded by green forests. Visitors can paddle along the Quay Son river, immerse themselves in the green scenery mixed with golden rice fields hidden at the foot of the mountain, and enjoy the cool fresh air.
Kolia Farm
Kolia Farm is an eco-tourism area located in Phia Den commune, Nguyen Binh, about 2 hours traveling from the city center. This place has green tea hills, and extremely fresh air, suitable for relaxing on holidays or weekends. May-June is the time when hydrangeas on the farm bloom. Visitors coming here will feel the majesty of the Northeast mountains and forests, especially in the early morning when the fog will cover the mountains creating an extremely wonderful scene.
Phan Thanh Pine Hill - Nguyen Binh
This is a primeval pine forest that is hundreds of years old. With a cool atmosphere all year round, Phan Thanh pine hill is likened to a miniature Dalat in Cao Bang. Pine hill is located right next to the national highway, convenient for traveling with flat lawns interspersed with a few dreamy purple flowers.
Kem Coong
This place is located in Hong Nam commune, Hoa An district. With a cool stream flowing through a cliff, this is where you can both camp and bathe. The water level is low so children can play freely without danger. Setting up a tent between the cliffs and a cool stream, leisurely drinking a cup of tea and breathing in the clear air will be a pleasant experience that visitors should not miss.
In addition to the above locations, Cao Bang still has a series of other camping sites such as Bai Tinh in Thanh Long commune, Ha Quang district; Po Lom in Quang Trong commune, Thach An district; Vinh Quy Pine Hill in Vinh Quy Commune, Ha Lang... Depending on the location and topography of each place, you will have different interesting experiences.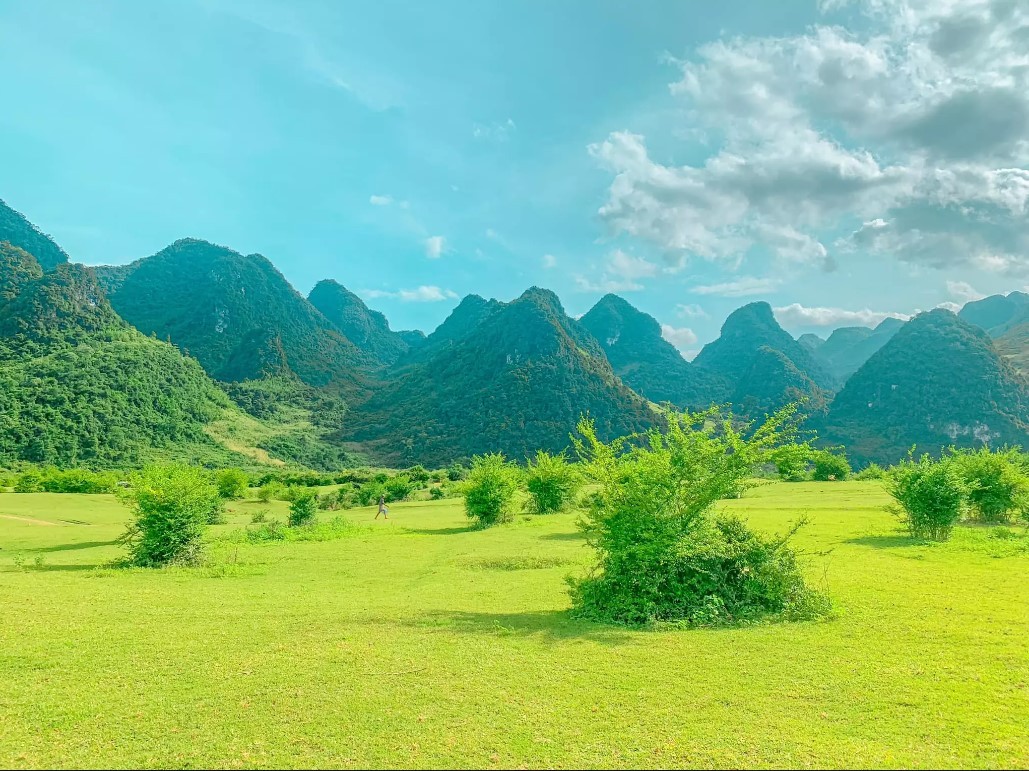 Bai Tinh.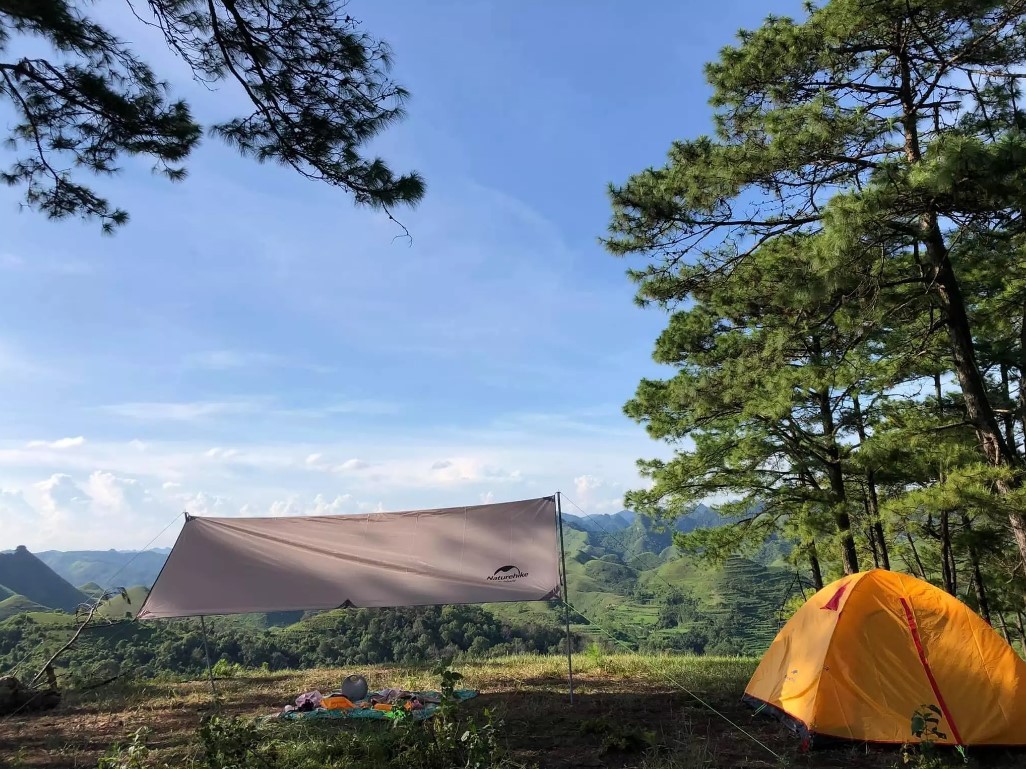 VInh Quy Pine Hill.
Coming to Cao Bang, visitors will not only have beautiful check-in photos, but will certainly be "filled" with a sense of peace, relaxation, and relief from the daily hustle and bustle.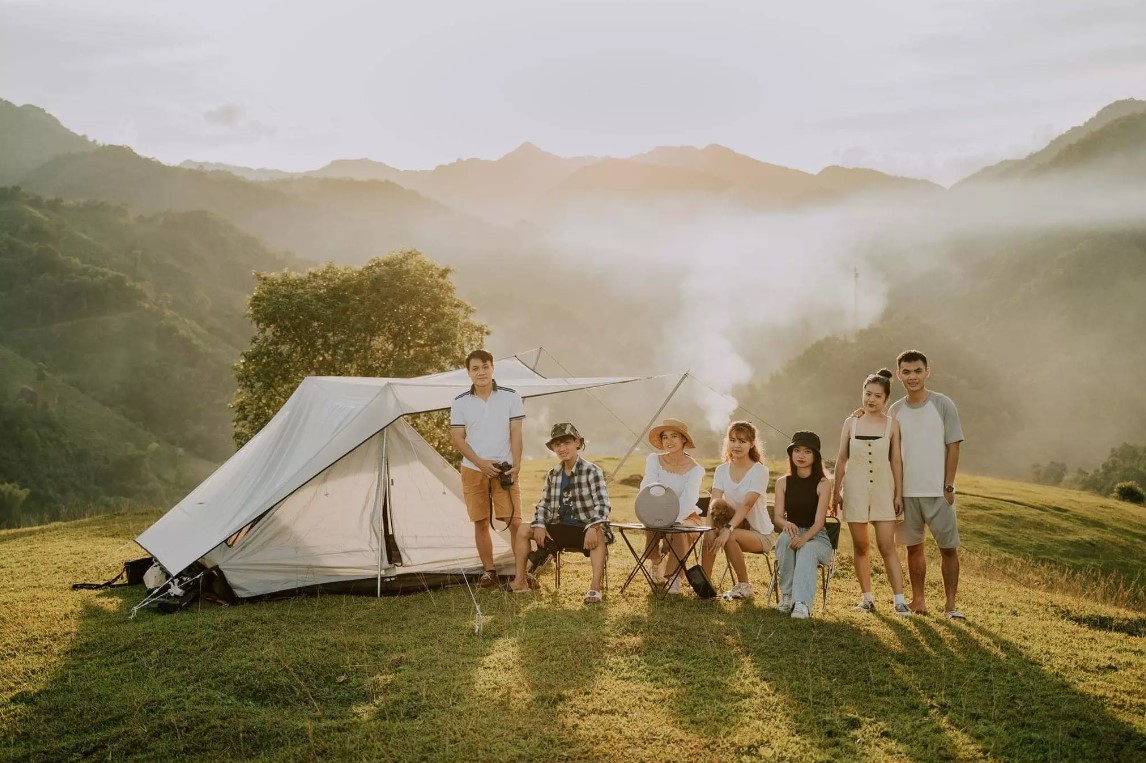 Camping in Po Lom.