6 Flavorful Indonesian Foods You can Make at Home
Put these dishes on your Indonesia bucket list; you won't have trouble finding them when you're finally able to travel now.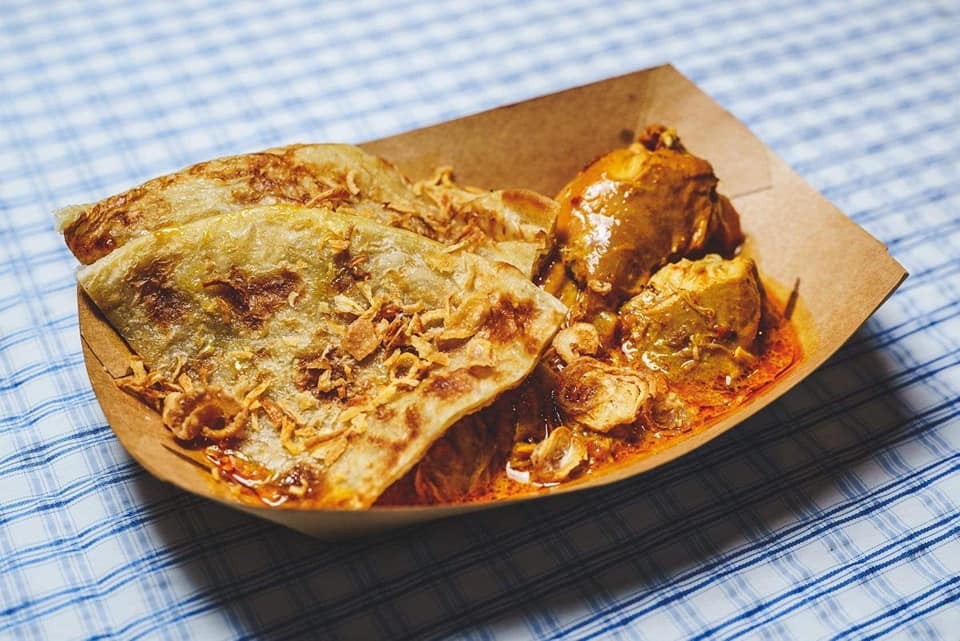 Roti Canai & Chicken Rendang, or Rendang Ayam. Source: Tek Tek
Indonesia, the colourful archipelago, is home to perse ethnic groups. Indonesia is where most cultures have made sate their own by creating different variations of this crowd pleasing dish. Where they differ is the spices used, its complimenting sauces and even the way it is skewered.
Below are some of the Indonesian dishes you can make good use of your cooking skills and "travel" to Indonesia by recreating them.
Nasi Goreng
Considered Indonesia's national dish, this take on Asian fried rice is often made with sweet, thick soy sauce called kecap (pronounced ketchup) and garnished with acar, pickled cucumber and carrots. To add an element of fun to the experience, diners can try nasi gila (or "crazy rice") and see how many different kinds of meat they can find buried among the grains -- yes, those are hot dog slices.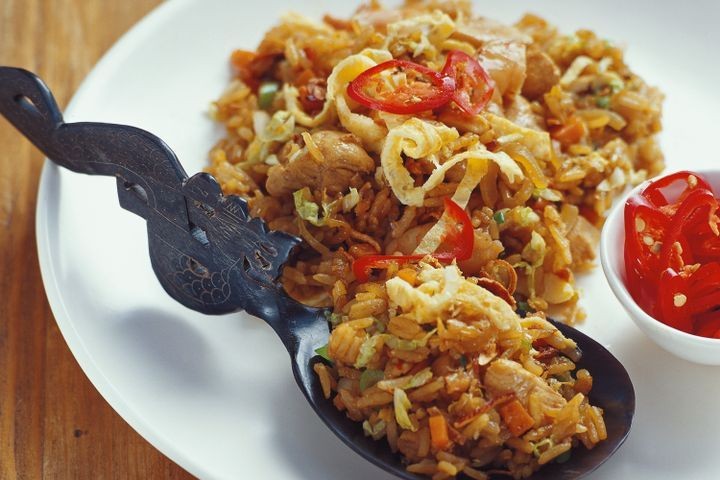 Nasi Goreng. Source: taste.com.au
Ingredients
300 g of long-grain rice, cooked and then cooled overnight
3 tablespoons of vegetable oil
4 large eggs, beaten
1 tablespoon of sweet soy sauce
1 tablespoon of soy sauce
A pinch of salt
Pieces of finely-chopped proteins, like chicken breast, meat, shrimps, or anything you prefer
200 g finely-cut shallots
20 g finely-chopped garlic
20 g of finely-chopped spring onions (or you can substitute it with leek or chives)
3 red chilies, finely chopped
Instruction
Stir-fry all the spices in vegetable oil until fragrant. Then add the beaten eggs and a pinch of salt, and stir well. Before the eggs get cooked, quickly add the proteins and the rice that was cooled overnight.
Stir again for a while. When the flavors start to combine with each other, add the soy sauce and sweet soy sauce, and stir well. Your Nasi Goreng is ready to be served.
Rendang
This dish is basically made of slow-cooked, braised pieces of beef that are caramelized in coconut milk and a rich mixture of spices. Rendang is traditionally served by Indonesians to honor guests at festive occasions such as wedding celebrations and Eid-al-Fitr (a canonical festival of Islam, marks the end of Ramadan, the Muslim holy month of fasting). The tradition still exists, but now you can find Rendang at almost every Minang restaurant in Indonesia.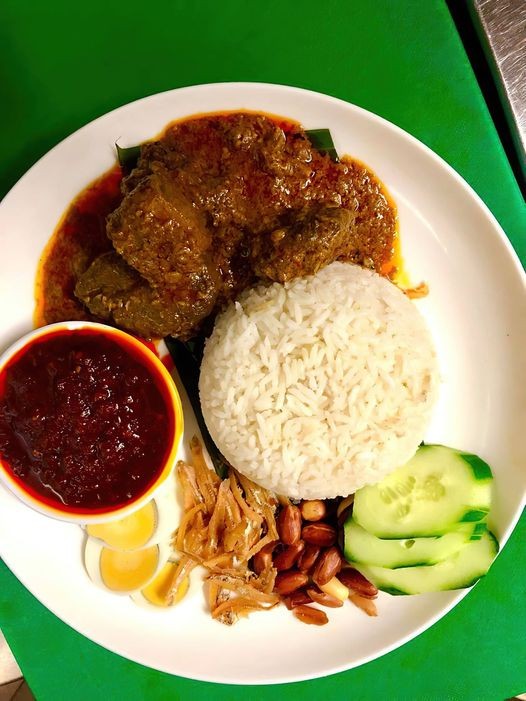 Nasi Lemak (fragrant rice cooked in coconut milk and pandan leaf) and Beef Rendang. Source: Makiucha - Ẩm thực Malaysia cho người Việt - Truly Malaysian Cuisine
Ingredients
1 kg of beef
3 cups of coconut milk
3 stalks of lemongrass
4 kaffir lime leaves
For curry paste
200 grams of galangal, cut into small pieces
4 large cloves of garlic, finely chopped
100 grams of shallot, finely chopped
100 grams of red chilies, finely chopped
2 tablespoons of coriander seeds
¼ teaspoon of turmeric powder
2.5 cm piece of fresh ginger
Two pinches of salt
1 tablespoon of coconut sugar
Two tablespoons of coconut oil
Instruction
Prepare all the ingredients. Cut the beef into 4-cm squares that are about ½ cm thick.
Blend all the curry paste ingredients together until smooth.
Sauté the curry paste with coconut oil until fragrant and then pour coconut milk into the wok. Bash the lemongrass stalks and add to the wok. Stir well and then add the beef.
Cook over medium heat and bring the coconut milk to a boil before reducing the heat to a simmer.
Add a little water every once in a while whenever the stew is about to dry. Cook until the meat is tender and the color turns dark brown (estimately 3 hours).
Bakso
Bakso is brothy meatballs that are usually served with noodles, chili paste, and spring onions. There are many ways to prepare Bakso, but all the variations include meatballs and broth. Originating from the Hokkien word bak-so, which means "fluffy meat" or "minced meat", this dish has its root in Chinese cuisine.
Many regions of Indonesia give their own twist to Bakso, for example, Bandung make 'bakso cuanki' (meatballs made with starch flour) and Malang make 'bakso bakar' (grilled meatball dish with broth).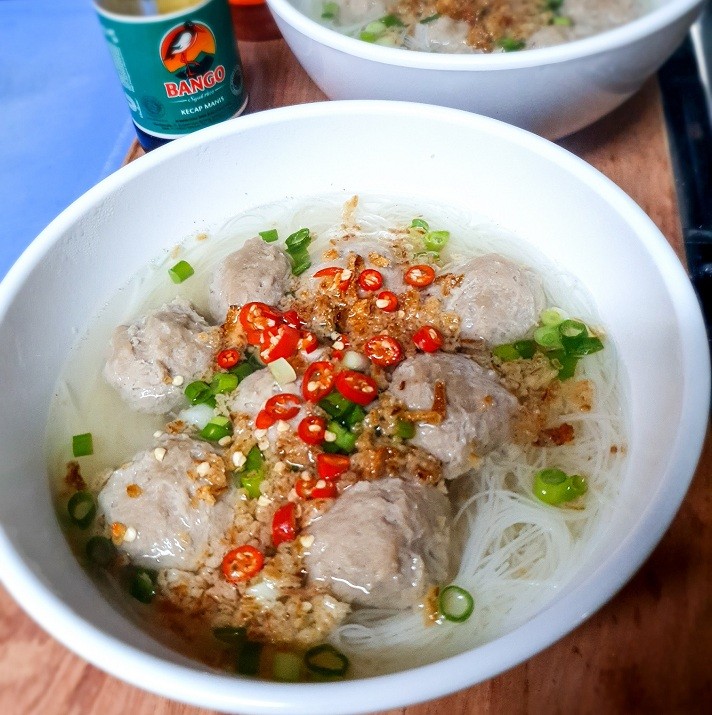 With this kinda weather, Bakso is just a perfect dish to give you an extra warmth, specially if you have it with lots of chili. Its also perfect company for stir-fry or on its own as snackies with your favorite sweet chili or savoury dipping. Source: Bali Food Truck
Ingredients
5 pounds of beef bones
1 knob of ginger, peeled
4 cloves of garlic, smashed
2-inch piece of cinnamon
3 cardamom pods, pounded
3 cloves
6 black peppercorns
18 meatballs
3 cups of egg noodles, cooked
1/2 cup crisp-fried shallots
Instruction
Put the bones in a pot and add some water. Bring to a boil and take off any scum that rises.
Add the ginger, garlic, cinnamon, cardamom, cloves, and peppercorns to the broth.
Simmer for at least two hours, then strain the broth and pour back into the pot without the bones and aromatics.
Heat the broth and bring to a simmer, then add the meatballs. Divide the noodles among three bowls.
When everything is ready, pour the hot broth and meatballs directly into the bowls. Top each bowl of meatballs with crisp-fried shallots.
Martabak
The sweet version looks more like a pancake filled with gooey chocolate, peanuts or cheese, while the savory one is made from crispy pulled pastry like filo that is flattened in a wok as egg and minced meats are rapidly folded in. Served with pickled cucumber and a sweet and sour vinegar.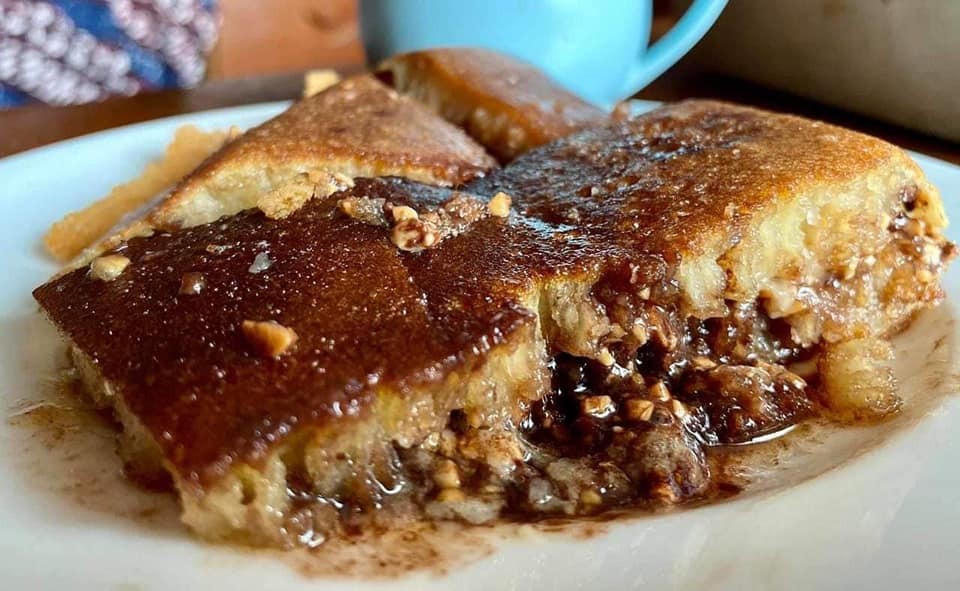 Martabak (peanut chocolate pancake). Source:Tek Tek
Ingredients
250 g minced beef
1 medium onion, peeled and sliced
1 small leek, halved lengthwise and sliced
1 spring onion, finely sliced
3 eggs
1 tablespoon of curry powder
1/2 teaspoon of cumin powder
Salt and white pepper
For the dough
100 g plain flour
25 g tapioca flour
250 ml cold water
1/2 teaspoon of salt
Instruction
Filling: Sauté onion in vegetable oil for a couple of seconds. Add the meat and stir-fry until it changes color. Then put in leek and continue sautéing for 2 or 3 minutes before adding curry powder, cumin, salt, and pepper. Mix all the spices and cook for 3 minutes. Remove from heat. Put the fillings in a bowl and add the eggs and spring onion. Mix well.
Dough: Mix all the ingredients in a bowl until they blend completely without any lumps. Then pour 2-3 tablespoon of the batter into a pre-heated, non-stick frying pan. Make sure the dough covers the whole surface of the pan. Remove when it's done.
Martabak: Put 2 teaspoons of filling onto the center of the dough, take the skin and fold in from side to side to completely cover the filling in an envelope fashion. Fry until it turns golden brown on one side and then turns it over to cook the other side.
Satay (Sate)
Sate, juicy slices of marinated meat on thin bamboo skewers grilled to perfection on a charcoal open fire and accompanied by a delectably savoury sauce - it is no wonder that this dish is one of former President Barack Obama's childhood favourites. Sate (or more commonly known as Satay) is undoubtedly one of Indonesia's most famous dishes. It is also one of those dishes that most South East Asian countries claim as their own. However historically, it can be traced back to Java as the place where the Indian kebab, imported by Muslim traders, first took on a distinctly more eastern flavour.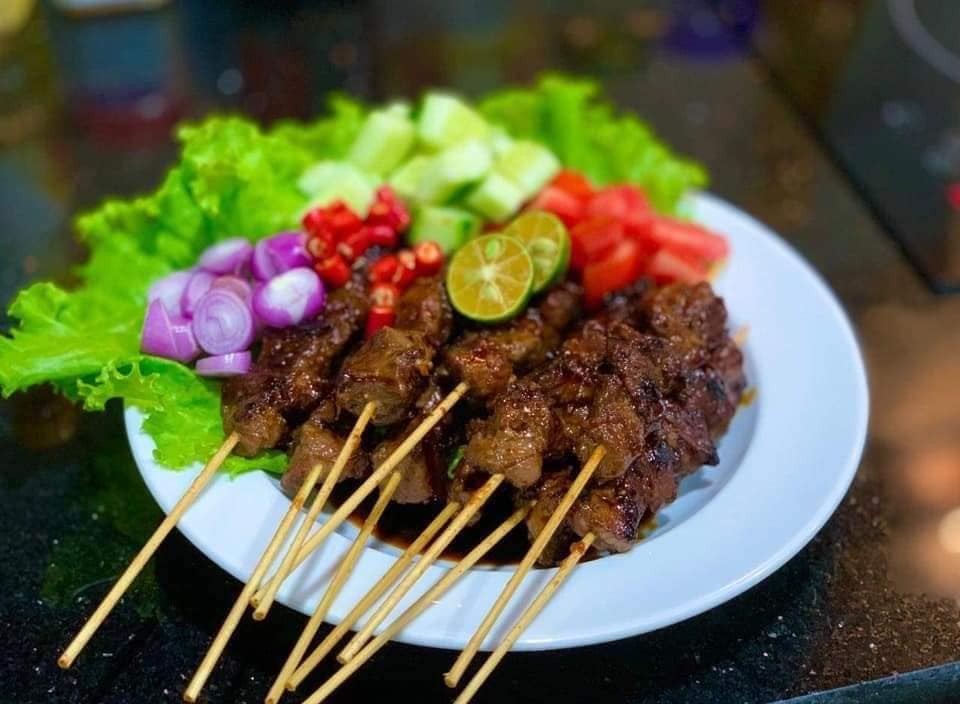 Sate Padang, a grilled beef skewer served with a distinctive spicy Minang sauce. Source: Tek Tek
These tasty meat skewers cook up over coals so hot they need fans to waft the smoke away. Whether it's chicken, goat, mutton or rabbit, the scrappy morsels get marinated in turmeric, barbecued and then bathed in a hearty dose of peanut sauce.
Other nations now lay claim to sate, but Indonesians consider it a national dish conceived by street vendors and popularized by Arab traders. Each vendor seeks distinction, but "sate madura" -- served with rice cakes (ketupat) and diced cucumber and onion -- is distinguished by its boat-shaped street carts.
Sate Ragusa serves legendary satay that dates to the 1950s. Its signature spaghetti ice cream is a perfect dish to cleanse the palate after a meal.
The last recipe is Sate Ayam, a grilled chicken skewer served with peanut sauce.
Ingredients
1 pound of chicken thighs, finely chopped into pieces
¾ teaspoon of salt
A pinch of ground white pepper
A tablespoon of sunflower seed oil
24 wooden skewers
For the peanut sauce
1 cup of water
5 tablespoons of peanut butter
2 tablespoons of sweet soy sauce
A tablespoon of palm sugar
2 cloves of garlic, minced
½ teaspoon of salt
A tablespoon of lime juice
Instruction
Mix the chicken thighs, 3/4 teaspoon of salt, white pepper, and sunflower seed oil in a large bowl, then cover and refrigerate for 1-2 hours.
Make preparations to grill and soak the wooden skewers in water so they don't burn during cooking.
Blend water, peanut butter, sweet soy sauce, brown sugar, garlic, and 1/2 teaspoon salt in a small saucepan and bring to a boil. Stir well. Remove from heat and add some lime juice.
Thread the marinated chicken onto the skewers and put three pieces of meat per stick. Put the well-blended peanut sauce in a small bowl and set aside. Brush the sauce over the chicken.
Heat a grill pan or a large skillet and put the chicken skewers in batches on the pan or the skillet. Cook until the chicken meat turns brown, approximately 1 to 2 minutes per side.
Gado Gado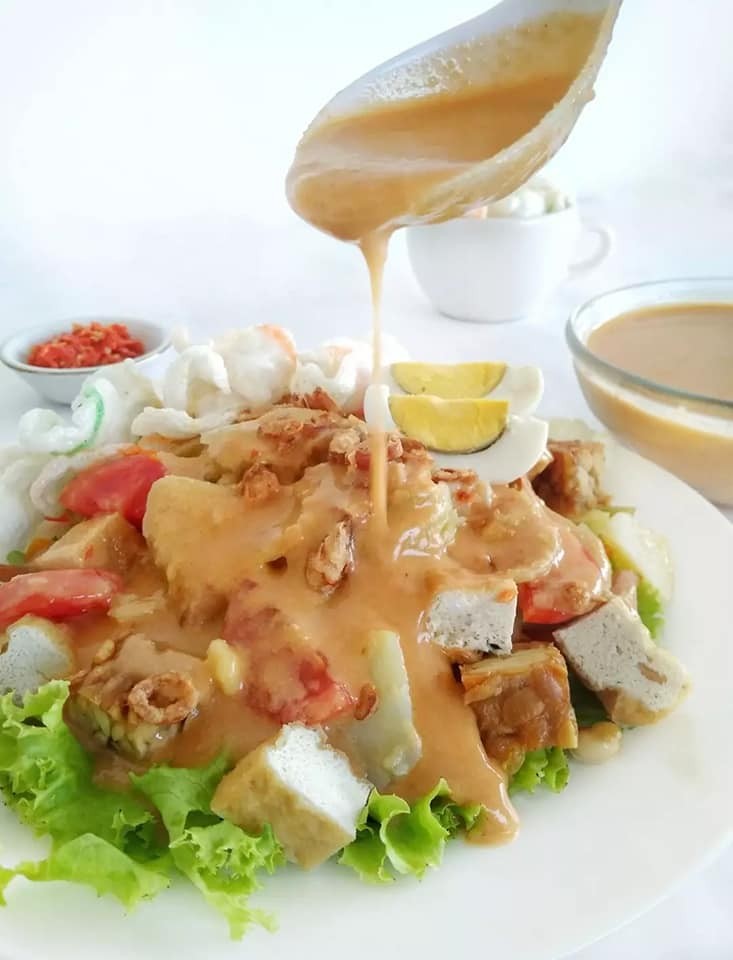 Source: Hanna Jung
A favorite mix of taste and healthy ingredients. Literally "mix-mix," the term gado-gado is often used to describe situations that are all mixed up.
As a food, however, it's one of Indonesia's best-known dishes, essentially a vegetable salad bathed in the country's classic peanut sauce. At its base are boiled long beans, spinach, potato, corn, egg and bean sprouts coupled with cucumber, tofu and tempe.
Gado-gado gets sweeter as you travel eastward through Indonesia -- but Jakartans swear by the cashew sauce at Gado-Gado Boplo.
This version uses sweet potato instead of carrots, swaps the red cabbage for extra green beans, and includes an optional egg, serves with spicy peanut sauce.
Ingredients
For the rice
1 cup short grain brown rice, rinsed
1 ¾ cup water
1 pinch sea salt (optional)
For the vegetables
200 grams sweet potato, rinsed and chopped into 1/4-inch slices
1 tablespoon of avocado oil
220 grams green beans, stems removed
1/2 medium red bell pepper, thinly sliced
3/4 cup bean sprouts (or use more bell pepper)
For the peanut sauce
1/4 cup natural salted peanut butter
1 tablespoon of tamari (or soy sauce if not gluten free)
1-2 tablespoons of fresh lime juice
1-2 tablespoons of maple syrup
2-3 teaspoons of chili garlic sauce (to taste)
1-4 tablespoons of hot water
For serving
Fresh chopped cilantro
2-3 tablespoons of roasted salted peanuts (optional)
Hard-boiled egg* (optional)
Instructions
In a large saucepan, bring water and brown rice to a boil, then add a pinch of salt, swirl to combine, cover, and reduce heat to simmer. Cook for 20-30 minutes until water is absorbed and rice is tender and fully cooked. Drain off any excess liquid at the end if there is any. Set rice aside and cover to keep warm.
In the meantime, preheat oven to 204 degrees C and line a baking sheet with parchment paper. Add sliced sweet potato and drizzle with avocado oil. Bake for 20-25 minutes. When ready, rounds should be tender and slightly golden brown. Set aside.
Steam your green beans in a steamer basket or in the microwave for 3-4 minutes. Alternatively, add to boiling hot water for 1 minute, then transfer to ice water to stop the cooking process. Drain and set aside.
Prepare the peanut sauce by adding all ingredients except water to a small mixing bowl and whisking. Add hot water 1 tablespoon (15 ml) at a time until desired consistency is reached — it should be pourable.
Taste and adjust seasonings as needed, adding more chili garlic sauce for heat, maple syrup for sweetness, or lime juice for acidity.
To assemble, divide brown rice between 3 dishes and top with roasted sweet potato, steamed green beans, sliced red pepper, bean sprouts, cilantro, and a hard-boiled egg (optional). Serve with spicy peanut sauce and salted roasted peanuts (optional). For extra heat, sriracha or extra chili garlic sauce make great additions.