Vietnamse Cuisine: How to Make 7 Great Autumn Dishes
Autumn is not only considered the most beautiful season of the year, but also famous for delicious snacks, symbolizing the exquisite Hanoian cuisine
Fall in love with autumn! It's the perfect time of year for hearty dishes, grilled favourites, and other quick and easy warming dinners.
Cha com (Vietnamese com sausage)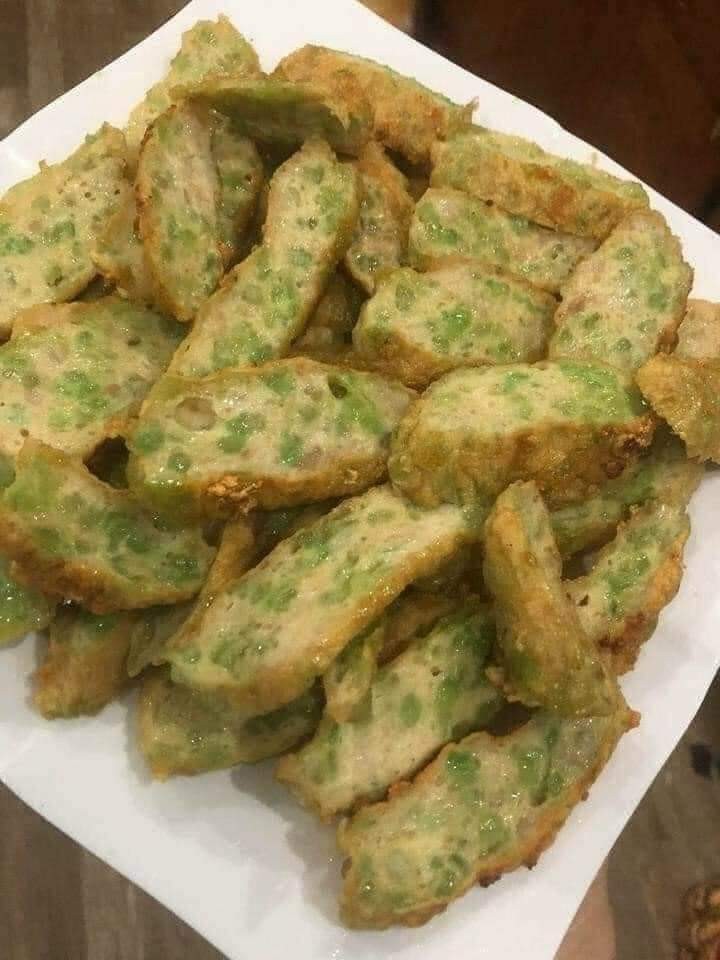 Cha Com, Vietnamese pork sausage with green rice.
Hanoi in the autumn season is associated with the flavor of young green rice or "Com" (cốm) and the typical dishes made from it such as fresh rice, sticky rice, cake, sweet soup, or fried grounded pork with Com.
Unlike other kinds of cha like cha ruoi (nereididae sandworm omelette), cha ca (charcoal grilled fish) and cha muc (fried patties with squid eggs) which are mainly composed of seafood ingredients and little fish, cha com is mainly made of com and has the subtle scent of new rice. Other ingredients for the dish include lean pork and pork paste.
Com is divided into two kinds: com in early autumn and com in the middle of autumn. The grain of the first kind is thin and soft, suitable for vegetarian dishes or being eaten with bananas. The second is a bit thicker and a little hard, suitable for cooking pudding and cha com.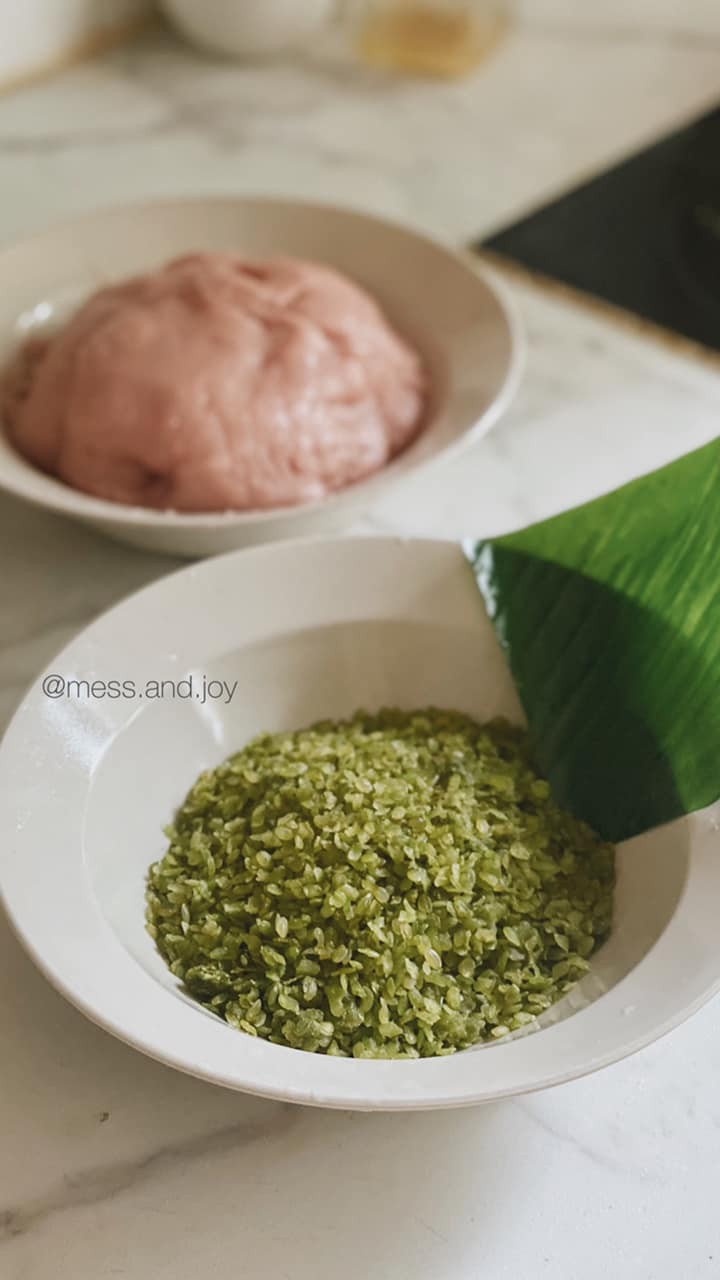 Selecting the appropriate kind of com is important to the quality of the dish. If the cook chooses the wrong kind of com, the dish will become either too crushed or tough. Photo: @mess.and.joy
Ingredients
- 200 gr minced lean shoulder pork
- 200 gr giò sống (raw sausage)
- 150 gr flat green rice
- 1 chicken egg
- Cooking oil, fish sauce, seasoning (to taste)
Instruction
- Prepare the green rice. If you use dry green rice, after you buy them, wash them thoroughly. Then soak them with warm water for about 3-5 minutes and then drain.
- Crack the egg into the bowl, add the green rice and mix well.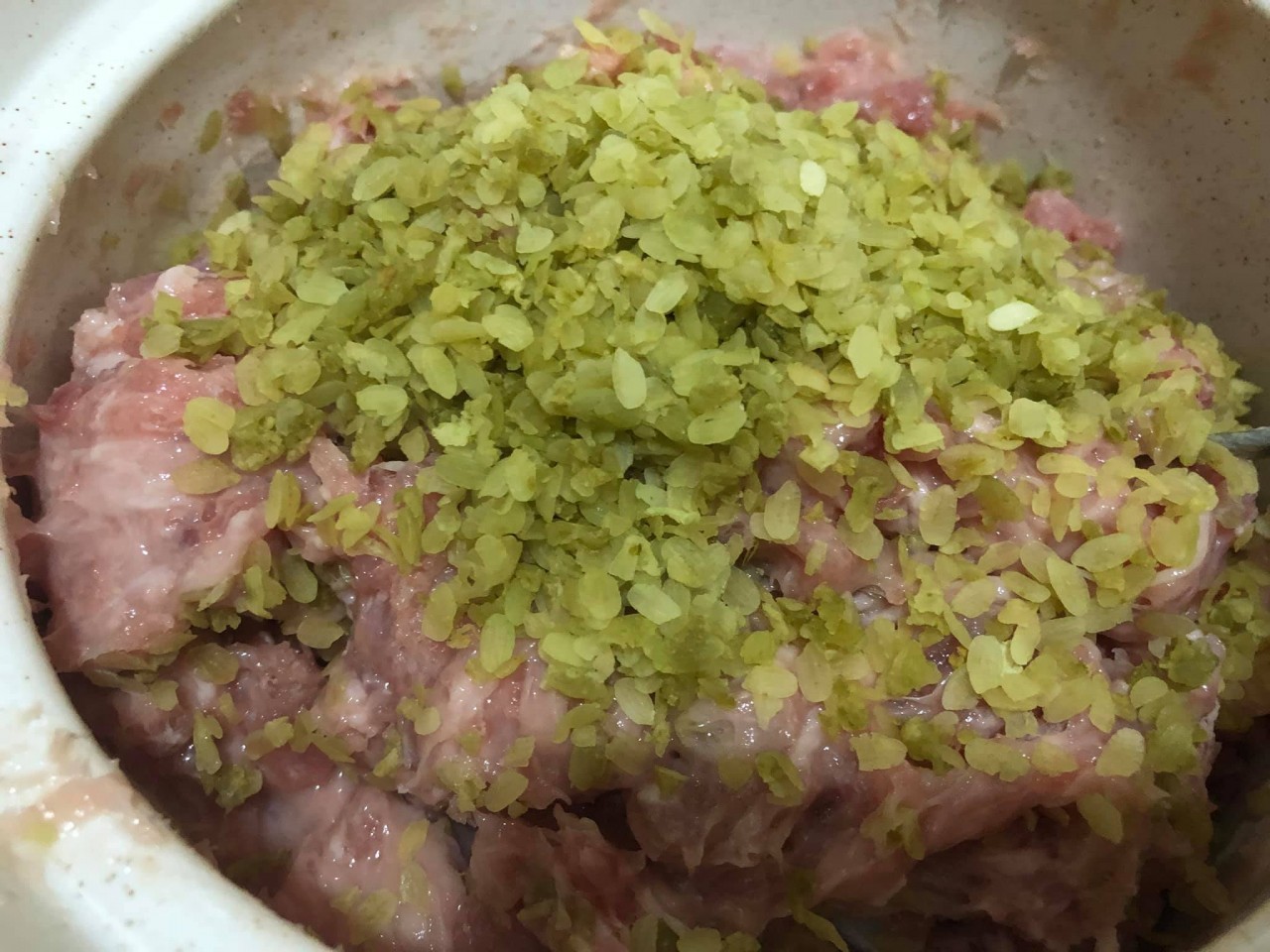 Photo: Vinh Quyen
- Mix minced pork and raw sausage with 1 tablespoon fish sauce. Add the mixed green rice + eggs and continue to mix well. The meat to mix with com should be lean shoulder pork, which contains fat, so the taste will not become too dry or the dish overly reduce on being fried.
- The mixture will then be added with salt, seasoning and delicious fish sauce. It will be left to absorb all the spices for less than ten minutes.
To preserve the original scent of com, no onion or garlic is added.
- After that, the mixture is kneaded into small pieces and steamed from 15 to 20 minutes.
- Finally, cha com is fried until it becomes light brown on both sides. According to experienced cooks, instead of being placed on the plates, pieces of cha com should be arranged on lotus leaves to absorb the subtle scent of the lotus, the symbolic flower of Hanoi's autumn.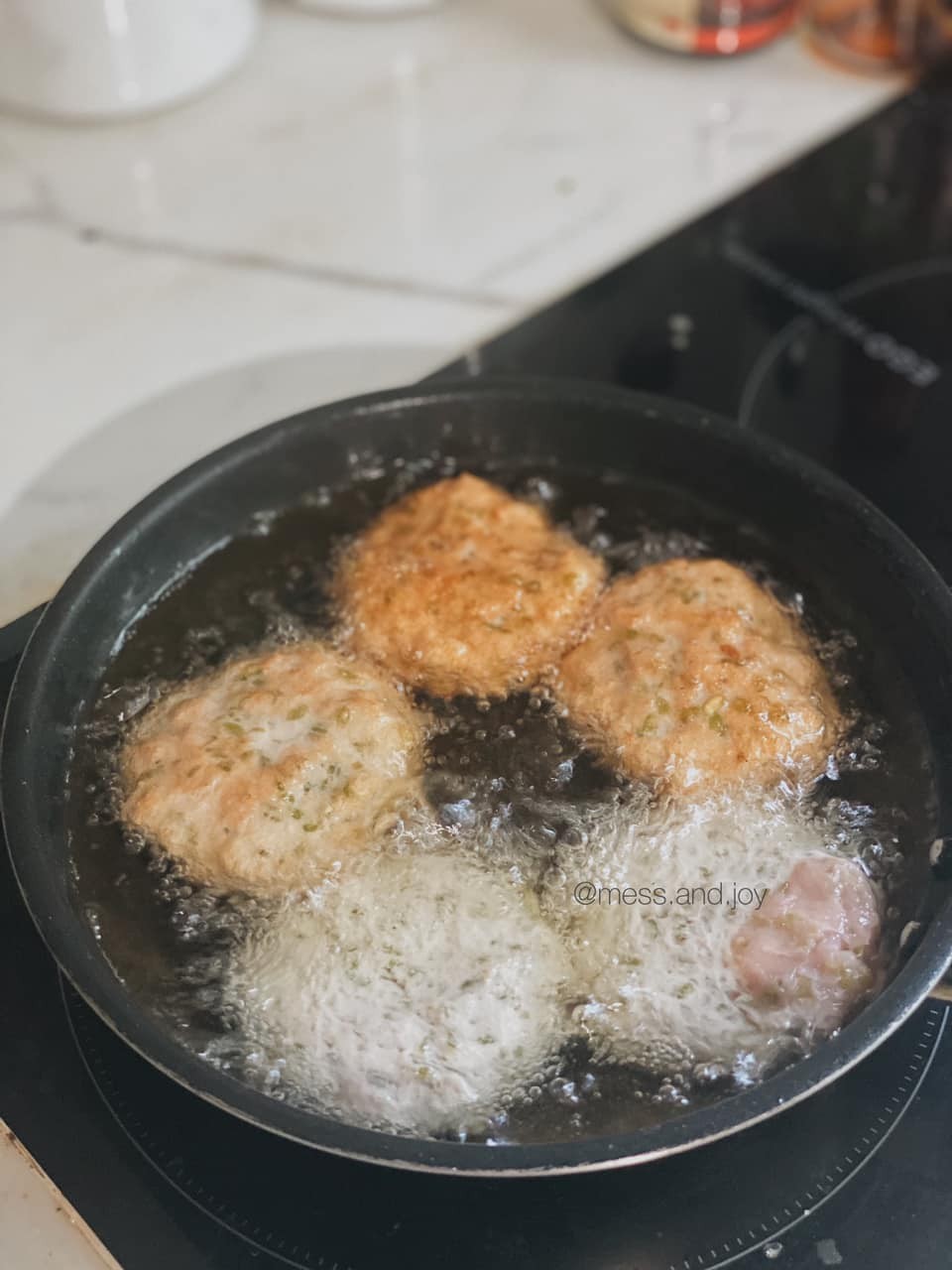 Photo: @mess.and.joy
The dish is best when the skin is crisp, the com inside soft and the fragrance of the grain mixed with lotus. It can be dipped into chilli or fish sauce to be eaten with cooked rice or rice noodles.
As the com season lasts only three months. The dish can be frozen in the refrigerator in large quantities for long-term use so cha com is available all year round. The sausage, together with bun dau mam tom (fermented shrimp paste with fried tofu and rice vermicelli) has become one of Hanoi's most popular street foods.
Che bi ro (Sweet pumpkin coconut soup)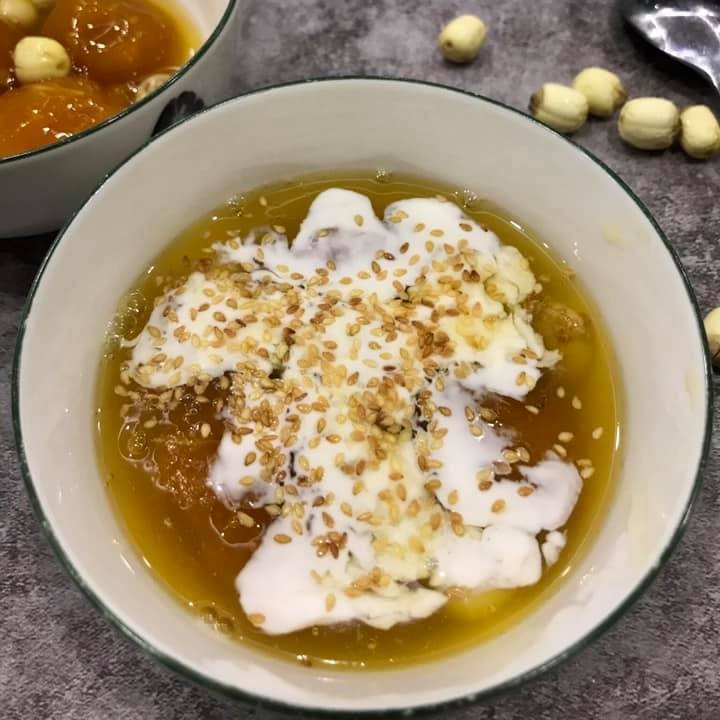 Sweet pumpkin coconut soup.
This tasty soup provides a variety of vitamins, and is sweet due to the addition of palm sugar block and creamy from coconut milk or cream. Plus, it's easy to make and the leftovers taste even better the next day.
Ingredients
- 300 gr pumpkin
You can substitute pumpkin with kabocha squash or butternut squash. Then adjust the duration of cooking according to the tenderness of the pumpkin.
- Roasted peanuts, lightly pounded (or roasted sesame) to taste
- 200 ml coconut milk/cream
- Palm sugar, white sugar or rock sugar to taste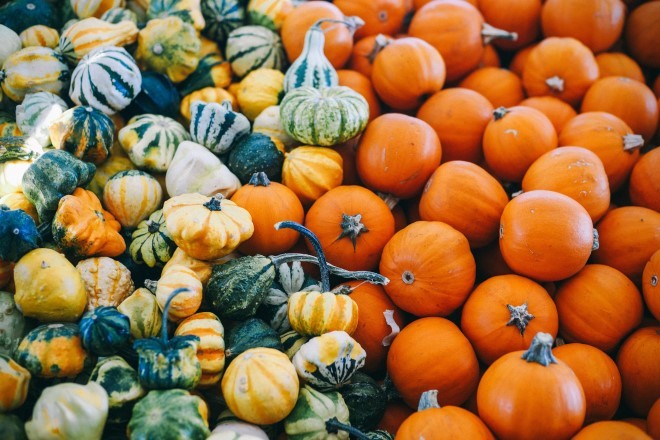 You can substitute pumpkin with kabocha squash or butternut squash.
Instruction
- Peel and chop the pumpkin, boil or steam it for 20 minutes or until the pumpkin is tender, then take it out and leave to cool.
You can mash the pumpkin or cut into bite-size pieces, about one-inch cubes.
- Pour enough water to use in the pot, add sugar, and then bring the pumpkin pieces to a boil. Cover the pot with the lid. Cook for 20 minutes or until the pumpkin is tender.
- Serve the soup in a bowl, garnish it with roasted peanuts or sesame (optional) and coconut cream. The dish can be served hot or cold.
Tram nhoi thit (Pork-stuffed canarium)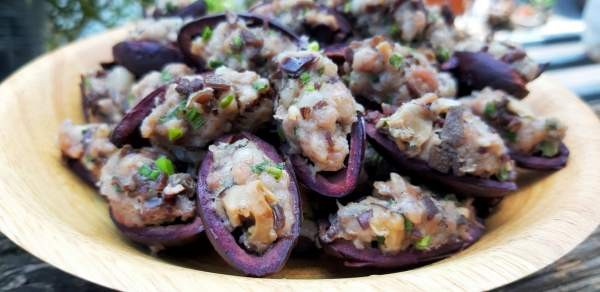 Pork-stuffed black canarium.
Canarium fruit (Canarium odontophyllum) is a small friut. There are two common types of canariums in Cao Bang: Black canarium and white canarium.
When ripe, white canarium fruits will change their color from bright green to light yellow and fall from the tree on their own. Black canarium, on the other hand, will change from light green to purple, then dark purple. The fruits won't fall if people don't hit the branches with a rod.
Traditionally, canariu is prepared by soaking in warm water for about 15 minutes and then cook, as part of a meal or as a savoury snack or side dish.
The canarium season usually starts from the end of June to the end of September of the lunar calendar, right in the middle of autumn. At this time, many dishes from the canarium fruit are made.
The canarium is both fragrant and delicious, and is used to store, cook soup or make sticky rice.
Black canarium's flavor is nuttier and more flavorful than white canarium, therefore is used more often. The fruit has several sub-types.
Canarium fruit with meat filling is a very delicious dish that you should try to cook, and maybe you will become addicted!
This fruit has a light green color and becomes dark purple or black as it ripes. The outer skin is glossy black colour while the flesh is yellow with an elongated seed.
Ingredients
- 400 gr black canarium
- 300 gr minced pork
- 100 gr mushroom
- 1 egg yolk
- Washed and chopped scallion
- Spices (salt, pepper, fish sauce)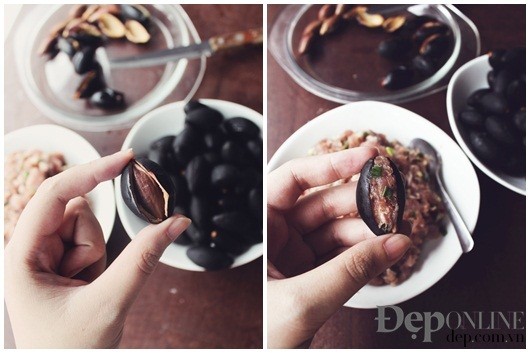 Source: Dep Online
Instruction
- Mushrooms washed, scraped clean, chopped.
- Canarium is washed, soaked in salt water for about 15 minutes to remove the dirt. The fruit is hard and inedible when ripe and must be soaked in warm water (around 30 degrees Celsius) until soft. Cut the fruits along the stem to remove only the seeds, not the flesh.
- Mix the meat, chopped scallions and mushrooms along with a little salt, pepper, and fish sauce. Marinate the meat for 15-20 minutes.
- Stuff the meat into the sliced canarium and arrange on a plate.
- Put the meat-stuffed canarium in the steamer for about 15 minutes, when it is cooked, take it out, sprinkle some pepper and eat it with hot rice and fish sauce.
Suon xao chua ngot (Sweet and sour ribs)
With an eye-catching look and distinctive fragrance, sweet and sour ribs are a favorite dish of many people in chilly weekends.
Vietnamese Sweet and Sour Pork Ribs
Ingredients
- 500 gr young ribs (choose small ribs with bright color. It is better to choose ones containing cartilage)
- 1 egg
- 4 teaspoons of fish sauce
- 1 teaspoon of salt
- 5 teaspoons of vinegar
- 5 teaspoon of sugar
- 4 teaspoon chili sauce
- 3-4 garlic cloves
- 4-5 red onions
- 4-5 spring onion stalks (cut the white part to marinate ribs).
Instruction
- Wash the ribs. Boil a pot of water and put ribs, a little salt, and crushed ginger inside. Then, take them out and wash them again.
- Use a mortar and a pestle to pound the salt, garlic, purple onion, and the white part of the scallion.
- Marinate the ribs with a pinch of salt, egg whites, onions and garlic.
- Prepare sweet and sour sauce. Put sugar, fish sauce, vinegar, and chilli sauce in a bowl and mix well. Depending on your taste, you can add or subtract spices, seasoning to taste. You can also add a little ketchup for a more beautiful, eye-catching color.
- Put the pot on the stove, add a little oil. When the oil is hot, put the marinated ribs in and fry until golden, then pour the sauce into the pan, stir well.
- Stir the ribs until the sauce thickens, then turn off the heat. Place the cooked ribs on a plate and enjoy with hot rice.
Banh troi Tau (Floating cakes in Ginger Syrup)
Floating cakes in ginger syrup (bánh trôi Tàu in Vietnamese) is not a specialty that unique to Hanoi, but is surely more delicious and flavorful when eaten in Hanoi on autumn days.
With simple ingredients, such as sticky rice, green beans, black sesame, shredded coconut, and ginger syrup, the dish has long been the favorite dish of many Vietnamese.
The cake is smooth, flexible, and quickly dissolves in the mouth. Diners should enjoy slowly to feel the sweetness of green beans and black sesame. Put a teaspoon of cake and a spoonful of sugar water in your mouth. Your throat will be hot, as the heat mingles with the sweetness of sugar water that stays in your stomach to dispel the chill of autumn.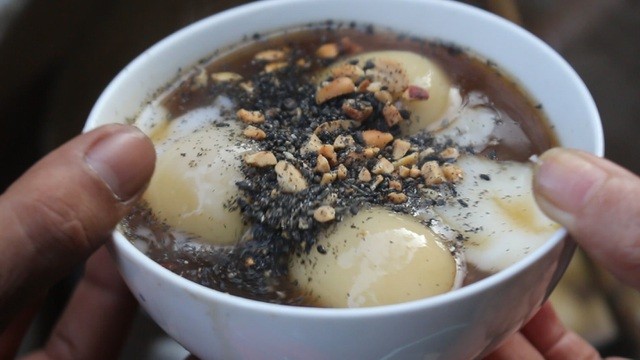 The balls flooded with ginger-flavored sugar water are perfect for cold days.
Ingredients
- 200 gr of glutinous rice flour
- 10 gr of plain rice flour
- Warm water
- A pinch of salt
- 15 gr of sugar
- 50 gr of peanuts
- 50 gr of black sesame
- 2 teaspoons cooking oil
- Brown sugar, yellow sugar, 1 piece of old ginger for sugar water
Instruction
- Roasted peanuts and sesame, peeled (only the peanuts), pureed and smooth.
If you like mung bean, you need to cook the mung bean until it is very soft, and then mash or process finely in a food processor. After that, you mix it with sugar, coconut milk, and coconut to create the mung bean paste. Divide the paste and form into small balls.
- Put pureed peanuts, sesame and sugar into the pan, stir-fry over low heat until the sugar is completely dissolved, then add the oil and stir well.
- The mixture is now a bit wet, you roll it into small equal balls. So the filling is done.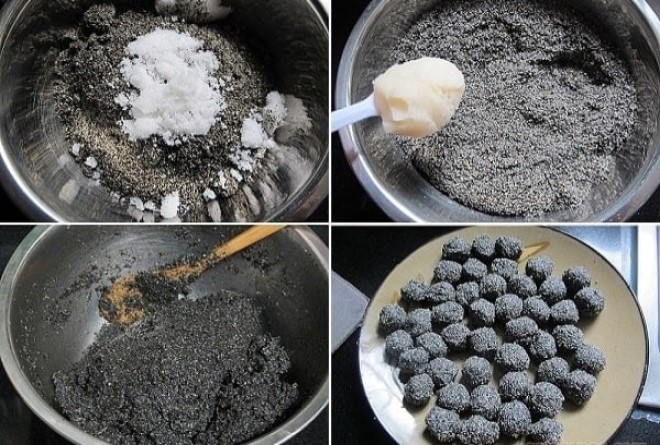 Roast sesame, and then mash or process finely in a food processor. After that, you mix it with sugar and oil to create the paste. Divide the paste and form into small balls.
- Put glutinous rice flour, glutinous rice flour, salt in a bowl and mix well.
- Slowly add warm water little by little to knead the dough. Knead the dough until smooth, flexible, the dough is not too dry, then stop. Cover for about 20 minutes.
- After 20 minutes, break the dough into parts and round into each ball evenly, flatten the dough so that it fits the cake.
- Put the filling in the center of the dough, wrap it tightly, shape it evenly, and then press some black sesame seeds on top of the cake. Continue until you run out of ingredients
- Put the cakes in a pot of boiling water. Boil until the cakes is cooked, then take it out.
What makes the difference in each shop is the taste of sugar water. In order for the sugar to be delicious, fragrant and unmistakable, you can choose old ginger, cooked with molasses sugar to have honey color. The juice is not too sweet, but the spicy taste of ginger will drown out the cold of winter.
- Peel the ginger then slice it.
- Put the two types of sugar in s pot of water, stir well, turn on the stove until the water boils, then add the ginger.
- Put the cakes into the pot of sugar water, cook for about 5 minutes, then turn off the stove.
- Scoop the cake into a bowl, sprinkle some shredded coconut and coconut milk on top and enjoy.
Thit xien nuong (Vietnamese Grilled Pork Skewers)
With weather being cool, autumn is an ideal season to enjoy grilled meats and vegetables.
Those preferring veggies can find a wide selection of skewered veggies like yardlong beans, eggplants, bitter melon, Chinese cabbage, mushrooms, cucumbers and carrots which are skillfully sliced.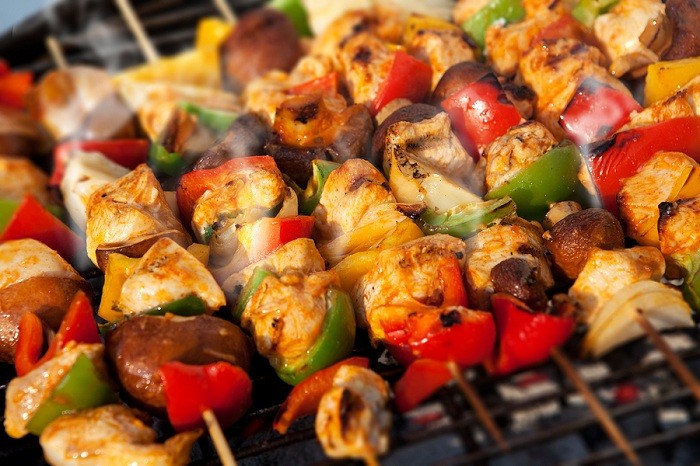 Chunks of meat are coated with spices, oil, and chili powder and skewered on bamboo sticks and grilled. Source: sapagrouptours.com
Ingredients
- 500 gr lean shoulder pork
- 2 bell peppers
- Plain milk
-BBQ sauce
- Five-spice lblend powder package
- Onion
- Oyster sauce
- Spices
Instruction
- Mince the onion and garlic
- Wash the meat and cut it into bite-sized pieces. Marinate meat with onions, garlic, five spices powder, sugar, salt, and BBQ sauce. It is recommended to marinate the meat in the refrigerator for 4-6 hours for the meat to infuse the flavors.
Note: The meat is cut into moderate pieces, not too thick or too thin.
- Wash bell peppers, remove seeds, cut into squares like pieces of meat.
- Use skewers of meat and bell peppers alternately. Skewer not too tightly so that the meat cooks evenly.
- Put the meat in the oven at a temperature of 200-230 degrees Celsius for 20-25 minutes.
- After the meat is cooked, put the meat on a plate, eat with vegetables and sauces as you like.
Lau hoa qua nhiet doi (Tropical fruits hotpot)
Autumn is the season of smoky hot pots. Besides the "familiar" hotpot dishes such as Thai hotpot, seafood hotpot, fish sauce hotpot or vegetable hotpot fruit hotpot is also included in the list of hot pot dishes to eat in the fall.
The cold dry weather of this season makes us want to eat something strange, warm but also very cool, at this time fruit hotpot is the number one choice.
Ingredients
Pork broth
Dragon fruit, kiwi, strawberry, pear
Beef, fresh shrimp, squid
Fresh or canned pear juice
Dried red apple
Spinach, herbs, enoki mushrooms, shiitake mushrooms and tofu
Instruction
Wash vegetables, cut into bite-sized pieces. Mushrooms washed in salt water. Dried red apples soaked in water until soft.
Clean seafood, cut into bite-sized pieces and then put on a plate.
Fresh fruits are washed, peeled and cut into bite-sized pieces, then placed on a plate.
Put the pork broth and pear juice in the pot. Turn on the stove to bring the water to a boil and then skim off the foam.
Put red apple and one-third of the prepared fruit into the pot.
Cook for about 5 minutes, then transfer the broth to the mini pot and enjoy the hotpot.