7 Places to Visit in Vietnam as Recommended by Indian Magazine
According to India's Luxebook magazine, Hanoi, Ho Chi Minh City, Phu Quoc, Ha Long Bay, Sa Pa, Hue, and Da Nang are 7 destinations that tourists should not miss when coming to Vietnam.
On 6 March, India's Luxebook magazine published an article highlighting Vietnam's robust tourism. It painted Vietnam as a diverse and unforgettable destination with dynamic cities, natural beauty, and some of the best food in the world.
While most tourists flock to popular spots like Ho Chi Minh City or Hanoi, the highlands, rivers, rice terraces, and paddy fields provide culturally rich experiences.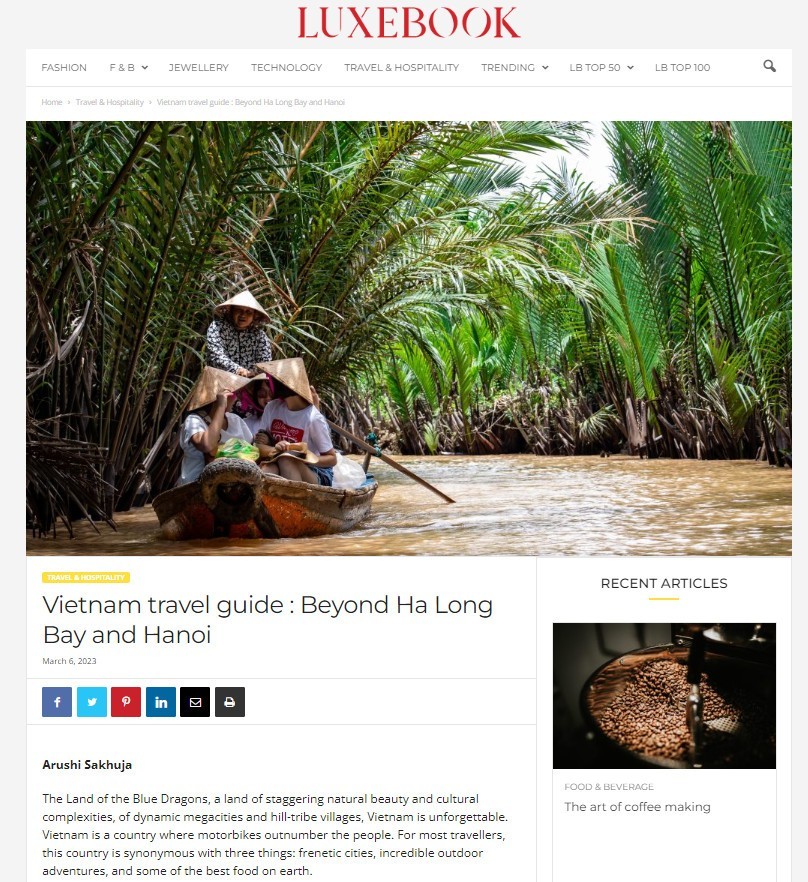 A screenshot of the article on Luxebook.
Here are 7 destinations worth visiting as recommended by Luxebook:
Hanoi
Hanoi is the second largest city in Vietnam. Being a city of great historical significance, Hanoi offers ample architecture to explore in the Old Quarter, including St. Joseph's Cathedral, Bach Ma Temple, Dong Xuan Market, Long Bien Bridge, and Hoan Kiem Lake. The city also boasts countless temples, galleries, and French colonial architecture.
Tourists are advised to walk along the train street and blend in at Phung Hung Mural Street which has around 20 murals depicting scenes from everyday Vietnamese life. Besides, tourists should check out the iconic Long Bien Bridge and Hoan Kiem Lake in the heart of Hanoi.
Ca phe (coffee), Hanoi's beverage of choice, is a must-try. The signature classic Vietnamese coffee is a drip brew diluted with condensed milk and ice. Hanoi's signature ca phe trung (egg coffee) is also worth trying.
Hanoi is home to a variety of delicacies, including bun cha (grilled pork and noodles), banh cuon (steamed rice-flour pancakes with ground pork and mushrooms) and pho cuon (beef and fresh herbs rolled in a rice noodle sheet). At sunset, tourists can enjoy a fresh beer at the "beer crossroads" of Ta Hien and Luong Ngoc Quyen streets.
Ho Chi Minh City
As the largest city in Vietnam, Ho Chi Minh City is somewhat of a dichotomy — it is the burgeoning economic center of Vietnam with glittering skyscrapers and an energetic working vibe, but it also upholds a lot of historical values with its memorials and buildings as influenced by French architecture.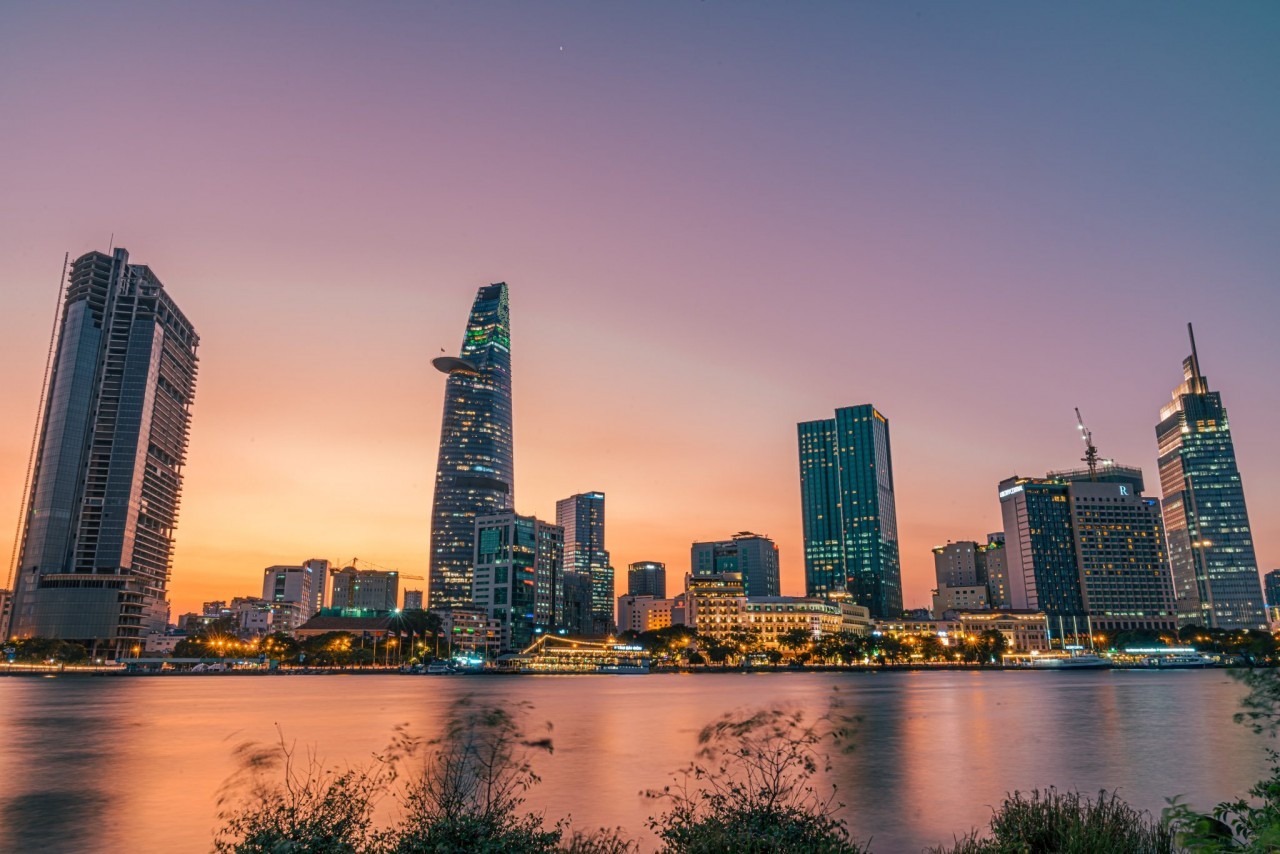 Ho Chi Minh City is among the most popular places to visit in Vietnam (Photo: Unsplash).
Ho Chi Minh City is also known for its food, from the city's abundant street carts to gourmet restaurants. Bamboo Bar, Doozy, Kumquat Tree Speakeasy Bar, Ne Cocktail Bar, The Haflington, and Tung Dining have been listed among the World's 50 Best for 2023.
Dong Khoi Street is lined with a variety of shops and galleries, while the famous Ben Thanh Market offers the best Southeast Asian street-market shopping. Another reason to visit Ho Chi Minh City is the Mekong Delta, hilly central highlands, and dazzling beaches of the southern coast.
Phu Quoc
For those seeking a perfect beach having palm trees swaying in the wind, a pristine forest as a backdrop, and a few bars to enjoy cocktails while watching the sea, Bai Sao (Starfish Beach) is a great choice.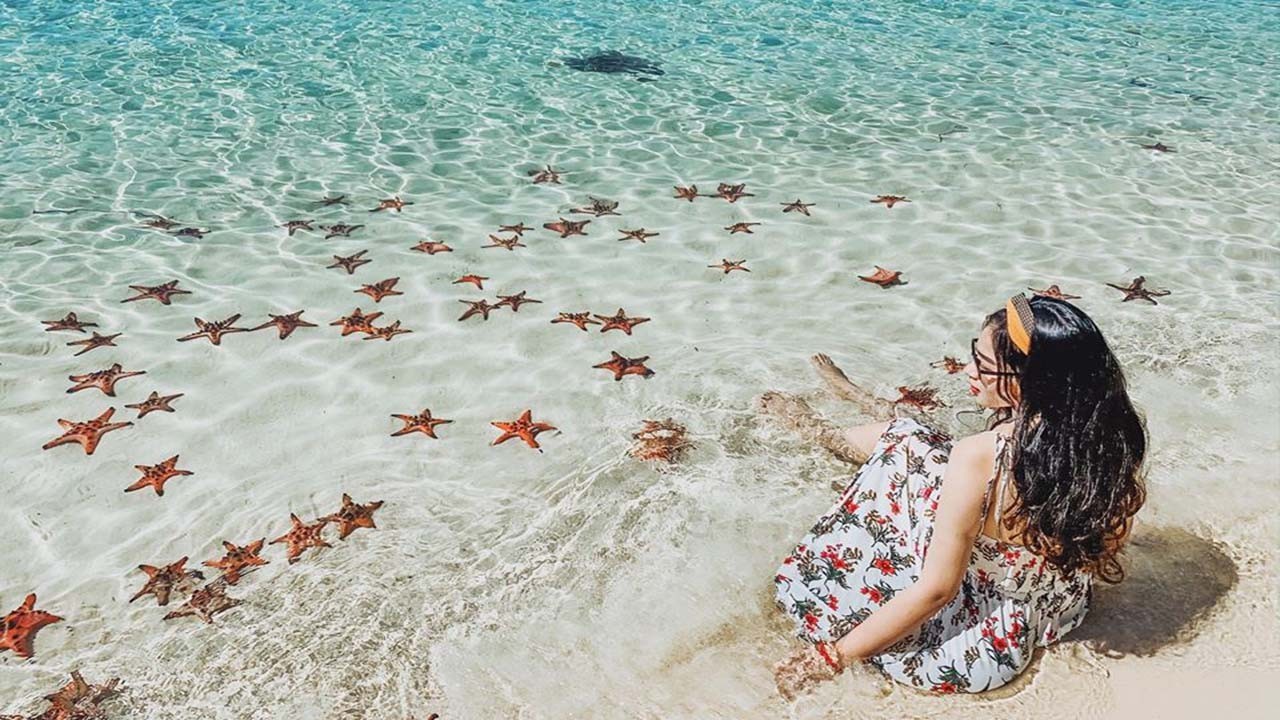 June to October is the time when Bai Sao has more starfish than in other months (Photo: Mekong).
Bai Sao is about 28km from Duong Dong town and is considered the most well-known beach in Phu Quoc. The reason it is called Bai Sao is that here in the past, thousands of starfish floated on the white sand at sunset. They moved on the shore as well as underwater. That's why the people here took the name Bai Sao - Starfish Beach to name it as a special symbol of this island.
According to local tour guides, the best time to travel is from June to October, which is also the time when Bai Sao has more starfish than in other months.
Ha Long Bay
Ha Long Bay is a popular destination with more than 2,000 limestone islands and islets that emerge from the waters off the coast.
This UNESCO World Heritage Site is a must-see for those who are fond of azure waters and white sand beaches.
Cat Ba Island is a great place for tourists to go hiking and take one of the cave tours. Make sure to have experiences like sailing here to have the best of it.
Sapa
Sa Pa, 320km north of Hanoi, captivates tourists with its magnificent rice terraces. The rice here has been cultivated the way it is for centuries and the wild nature is picturesque. The highest peak here is Fansipan, also known as the 'Roof of Indochina'. Sa Pa is home to numerous ethnic minorities with unique cultural values.
Sapa boasts a wide range of ethnic dishes (Photo: Pexels).
In terms of cuisine, there is an abundance of ethnic dishes made from various types of meat such as beef, pork, buffalo, and goat. Sa Pa is also known for its fresh salmon.
If you reach Sapa during the ripe rice season, you will understand its real charm. The best time for visitors is September to October.
Hue
For those interested in history and passionate about Vietnamese cuisine, Hue is a destination not to be missed. The best time to visit Hue is between February and April. Located about 130 km north of Hoi An, Hue is the former capital of Vietnam. It preserves many architectural works, temples, and mausoleums of the Nguyen Dynasty.
Hue has an interesting mix of regional dishes such as com hen, banh xeo, banh khoai, nem lui, banh ep or bun bo. And if you wish to do a little shopping, Dong Ba market offers everything from daily household items to Hue commodities and specialties, such as dried lotus, Phu Cam conical hats (Non La) and other handicrafts.
Danang
Danang is Vietnam's third-largest city and is also home to some of the country's best beaches. Fans of water sports can pay a visit to My Khe beach, and those who prefer some privacy can explore the untouched Tien Sa beach in the north of Son Tra peninsula. The ideal time to arrive in Da Nang is from February to April.
For food lovers, a trip to the Han Market is a must to indulge in the local food paradise such as mi quang (Vietnamese turmeric noodles), banh xeo (crispy pancake), bun thit nuong (dry noodles with grilled pork) or nem cuon (Vietnamese spring rolls).
In addition to the above 7 places, Luxebook also lists a number of tourist attractions in Vietnam such as Notre Dame Cathedral (Ho Chi Minh City), Phong Nha Ke Bang National Park, Lan Ha Bay, Temple of Literature, and Mekong Delta.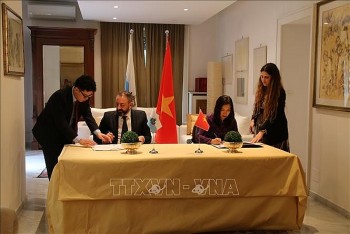 Friendship
The two countries will continue promoting cooperation to enhance growing ties between the two countries based on the good friendship since they established diplomatic relations in 2007.