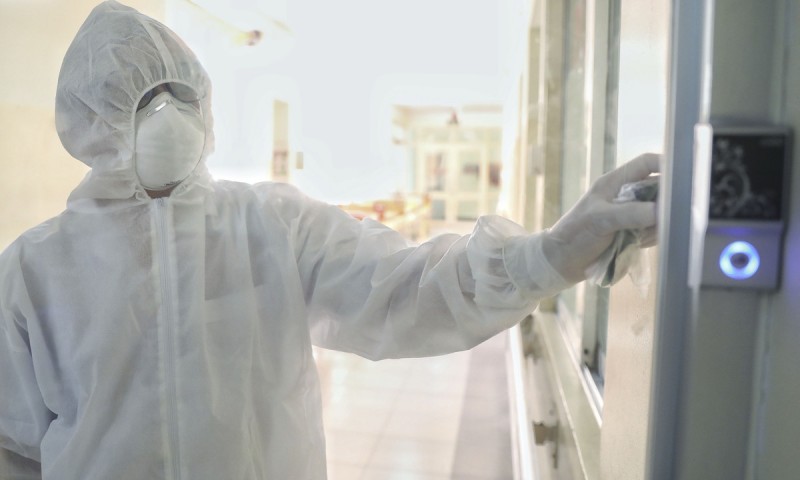 The COVID-19 epidemic is developing in a complex manner. (Photo source: VNE)
The COVID-19 epidemic is developing in a complex manner with a high rate of infection. The disease is spread from person to person via the respiratory tract, through saliva drops and throat secretions when coughing, sneezing, or by contact with objects containing viruses. So far, no specific treatment and preventive vaccines have been available.
In addition to personal hygiene measures to prevent and control COVID-19, hygiene and disinfection at home are essential. Accordingly, in order to clean and disinfect the environment to prevent Covid-19 epidemic, families need to follow the 7 below guidelines of the Department of Environmental Management, Ministry of Health:
1. Disinfect with regular detergent such as multi-purpose cleaning spray or mixed toilet cleaning solution (containing about 5% sodium hypochlorite) in a ratio of 10ml of cleaning solution to 1 liter of water, or a solution containing 0.05% active chlorine. Dilute enough solution to use during the day.
2. Prioritize disinfection by cleaning. Use rubber gloves and masks when cleaning and disinfecting.
3. Surfaces must be cleaned with soap and water before disinfection.
4. Disinfect at least 01 time/day for floors, walls, tables, chairs, and toilets.
5. Disinfect at least 02 times/day for locations that have frequent contact such as door knob, stair handrail, elevator button, electric switch, computer keyboard, remote control, shared phone. Turn off light switches before disinfecting.
6. Arrange enough garbage bins with lids, put them in convenient places.
7. Collect waste daily according to regulations.
The COVID-19 outbreak began in Wuhan, Hubei province, China in December 2019. Currently, the disease has spread to 195 countries and territories; more than 370,000 people have been infected, more than 16,000 people died, and more than 100,000 people have recovered from the disease.
By March 23, in Vietnam, the total number of recorded cases was 123, of which 17 were cured. Out of 17 recovered patients, 16 were discharged; the 18th patient had 3 negative tests with no cough or fever and was transferred from the Ninh Binh General Hospital to Thai Binh General Hospital for health monitoring.
The remaining 106 patients are currently being isolated and treated at 15 health facilities nationwide, of which 2 patients are being treated at the district health center (British patient No. 73 is currently treated in Thanh Mien medical center, Hai Duong province and patient No. 123 is isolated and treated at Binh Dai medical center, Ben Tre province).
By this time, 3 health workers in Vietnam have also been infected with COVID-19.
Candy Lee
https://thoidai.com.vn/bo-y-te-huong-dan-7-cach-ve-sinh-khu-khuan-tai-gia-dinh-phong-covid-19-103253.html