74-year-old man helps Saigonese cope with floods by clearing canals, with video
During heavy rains and high tides, a 74-year-old man in HCM City often picks up trash and clears sewer pipes. One day, when trying to collect garbage, he was swept away by water and almost lost his life.
Vuong Van Kinh, 74, for the last 10 years, has been picking up trash and clearing several canals in Hiep Binh Chanh ward in Thu Duc District in the eastern part of HCM City. Thu Duc district now belongs to Thu Duc City, formed by merging three districts – 2, 9, and Thu Duc.
"In the past, the area would become heavily flooded every ninth month of the lunar year. People had to travel on junks. I put my motorbike and my son into junk and drove them to the road where we can use a motorbike," he recalled.
The flooding season lasted until the middle of the first month of the lunar year. People had to celebrate Tet when the water flooded to their knees, and their houses and belongings were damaged. When the local authorities decided to build an embankment and sluices to prevent high tides, Kinh volunteered to join the people's dyke management team. Despite his age, Kinh and his co-workers check high-tide prevention dykes and sluices.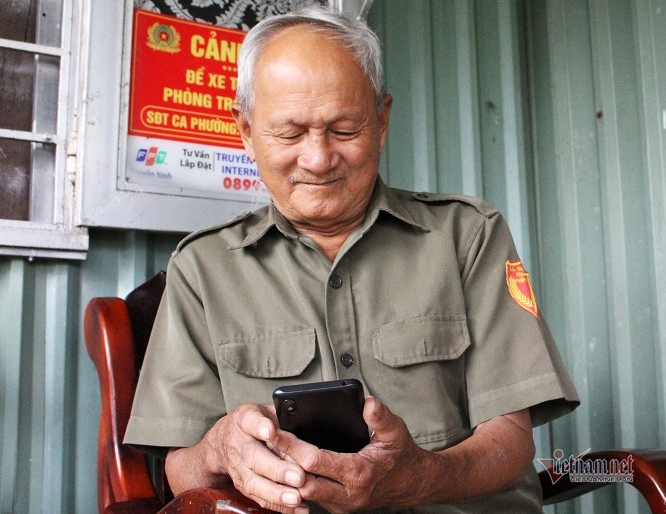 Photo: Vietnamnet
"At high tide, we close the sluice gate. My task is examining the sluices. If the water current gets stuck, I have to traffic it through. And if I see flooding, I have to pump water," he explained.
Kinh discovered that the residential quarters were inundated because sluices were being blocked by garbage, which prevented water drainage. He volunteered to immerse himself in the black water to pick up the waste and push the water through. He also meets with people and local officials and talks to them about the importance of not littering in canals.
Kinh, who has spent many years managing the dyke system, knows where and when sluices get stuck in heavy rains and high tide. He picks up garbage and clears the currents even during heavy rains or nighttime. The work seems simple but it is dangerous.
"If you don't have the experience, you can be in danger at any time. When the water rises, it is hazardous to wade down the manhole to pick up garbage," he said.
Photo: Vietnamnet
'Betting' with death
Kinh said local sluices have a very large diameter. When it rains heavily, the big volume of water going through the sluices creates a powerful suction force. If the sluices are not blocked by garbage, water will go down 10 or 15 minutes after heavy rains or high tides. However, water cannot drain if the sluices are covered in waste, so they need people like Kinh to come and clear the waste.
"To make the water go down quickly, I have to remove trash and clear the flow. I use a crowbar to pry the cover off and climb down to clean the manhole. This is dangerous work," he said.
Photo: NLD
Kinh, who has 10 years of experience, once nearly lost his life when doing this.
"As the water was muddy, I could not see the manhole well. I thought there was not much trash and I just needed to kick the grass into the manhole, so that the water would sweep the grass away. But when I did this, I was swept into the manhole as well," he said.
Luckily, he was able to cling to a tree and escape death. He learned a valuable lesson from the accident. To minimize the dangerous work, Kinh picks up trash and litter every day to prevent a build-up of trash collecting at the manholes.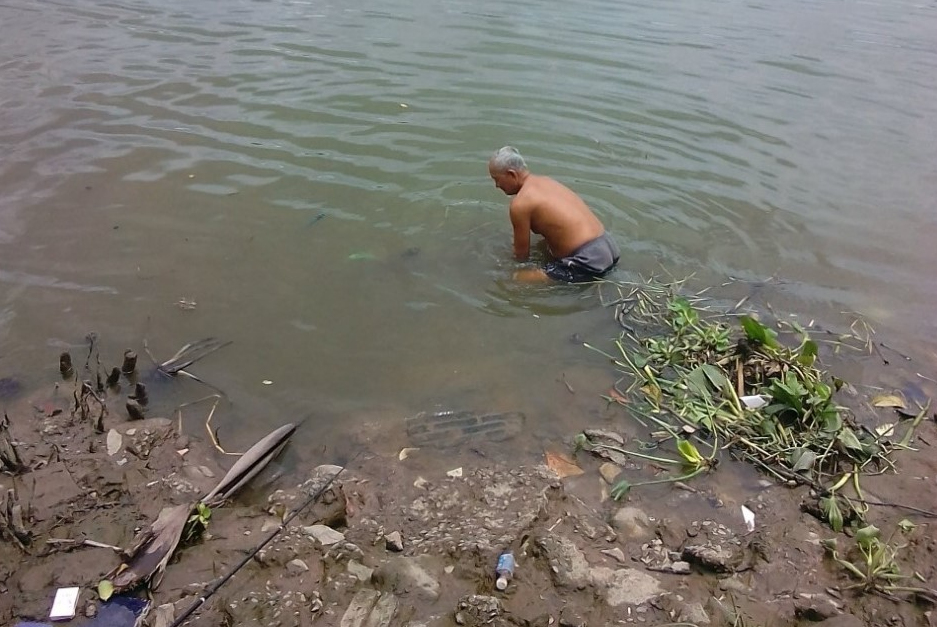 Photo: Vietnamnet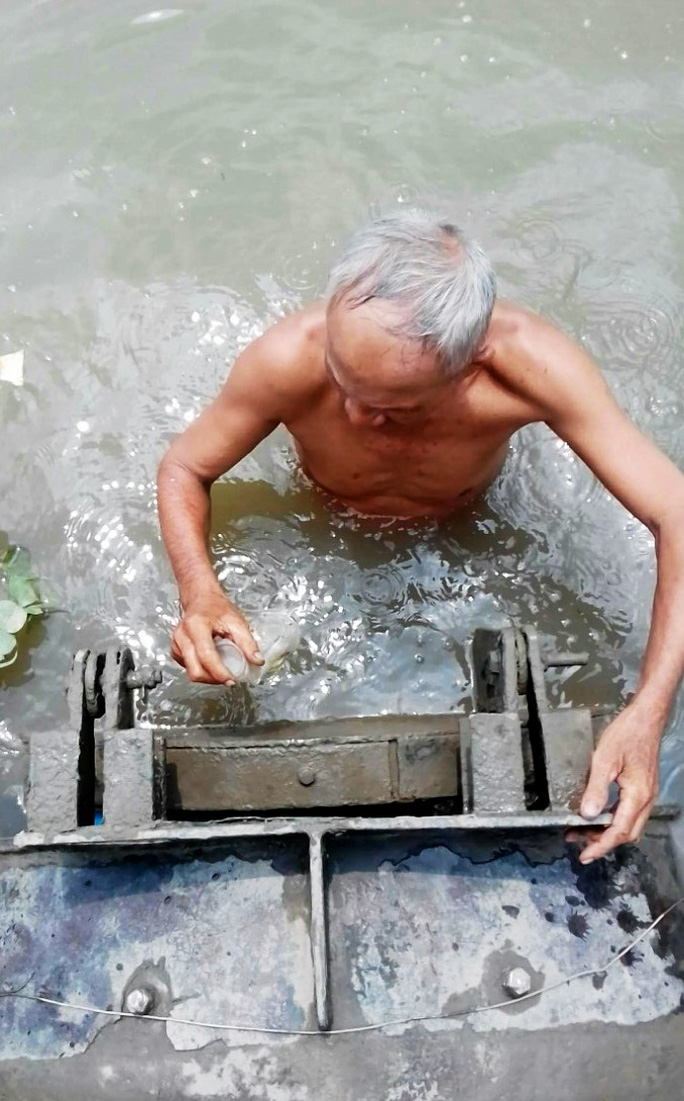 Photo: NLD