Impressive rooftop melon garden own by a Saigonese
Used to plant many trees on her rooftop, Ngoc Anh only really "success" with types of melons that she tried nearly two years ago.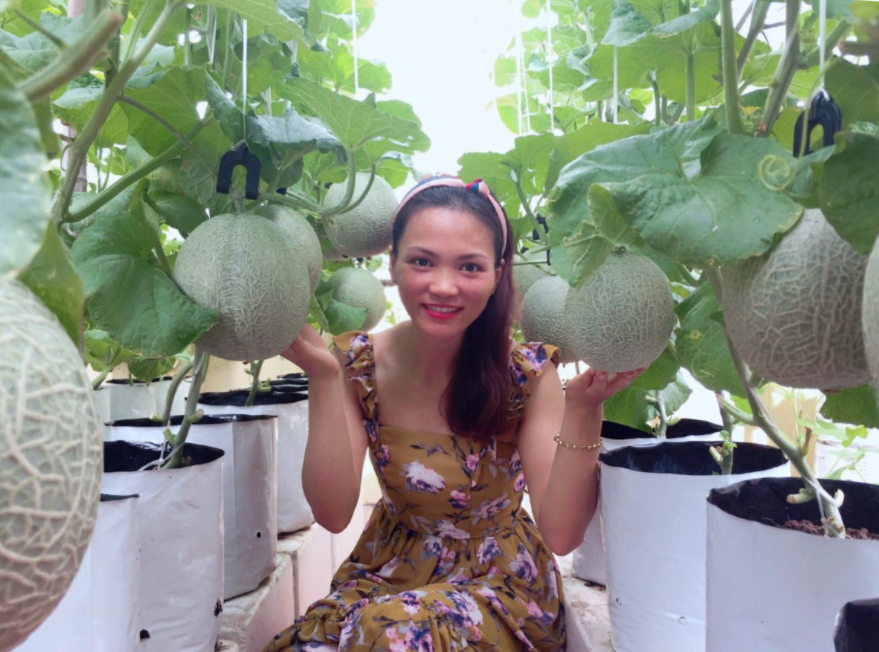 Vo Thi Ngoc Anh is an office worker in District 6, Ho Chi Minh city, who loves planting. She used to grow a variety of fruits and flowers on the rooftop of 50 square meters of the house where she lived. "My family and I like to eat melons, I used to buy them at the supermarket. Two years ago, I started to learn how to plant them, now I have grown over a dozen different types of melons," the 30-year-old Saigonese said. (Photo: VN Express)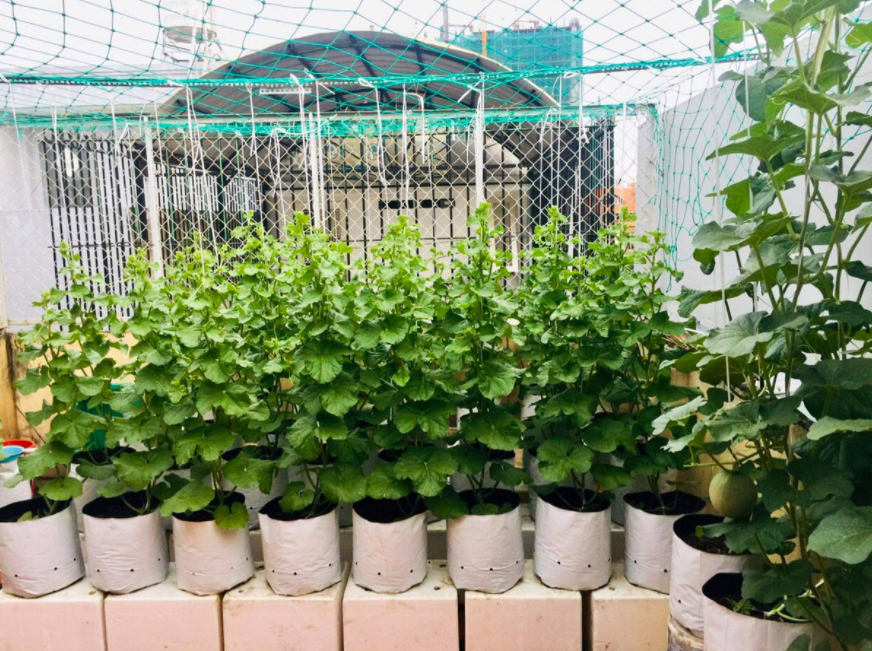 Initially, she chose to plant about 50 plants of a Vietnamese type of melon. However, it took more than two months for the first harvest, Anh thought she had to grow other varieties in rotation so that her family always had melon to eat. (Photo: VN Express)
When she started planting, the young girl had absolutely no knowledge of how to take care of this plant, so she had to read on the Internet, learn from the experiences of the brothers and sisters in the melon association on social networks. Ngoc Anh invested in an automatic watering system, self-making iron rigs to place melon pots. She made organic fertilizers to add nutrients to melons. "From time to time, the plants will need different nutrients, but I think organic fertilizers always work. So every day, I add a little fertilizer so that the plant can absorb gradually ", Anh shared. (Photo: VN Express)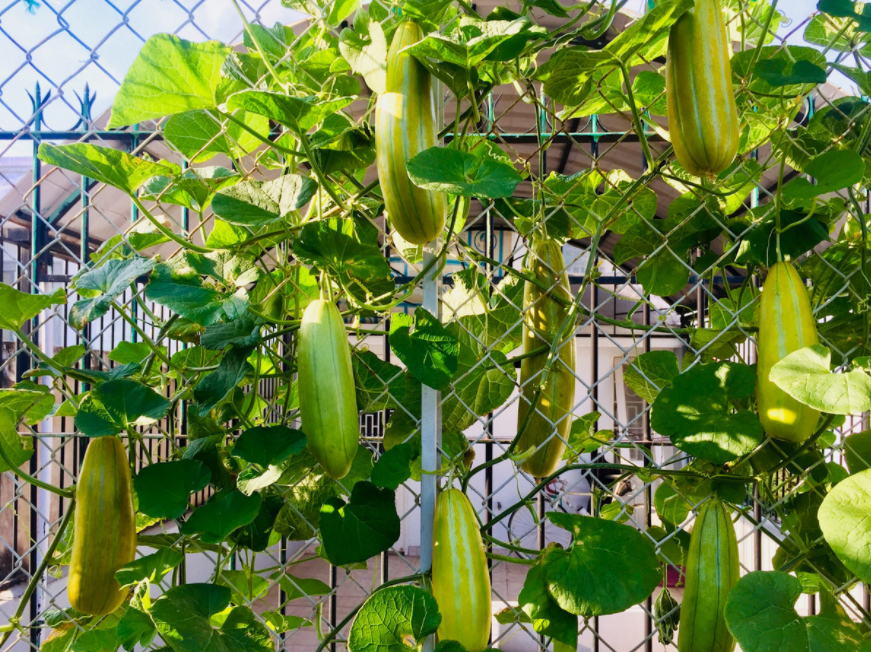 In order to grow healthy melons, the woman has to wake up at 5 am every day. The light is always on in the garden. Because of the variety of crops, she is always busy. Small trees need to be rooted, pruned leaves, larger plants need to be budged, pollinated, fruit wrapped ... At weekends she will clean the garden, mix soil for sowing new seeds. (Photo: VN Express)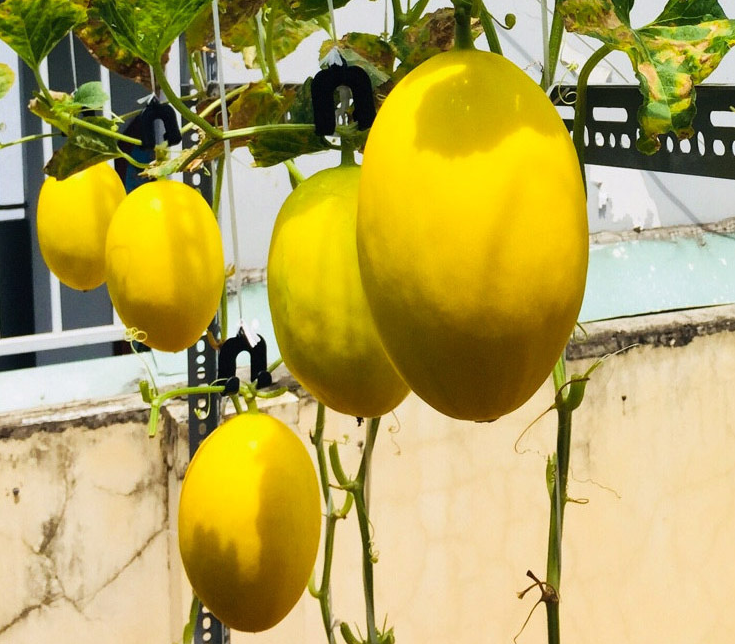 After the first two crops successfully planted, on the third crop, Ngoc Anh received "bitterness". Her healthy Huynh Long melon trees were chiseled by flies. After discovering and hearing from experienced people, for nearly a week, every noon, Anh drove home from work to scrape off the flies and applied lime on the tree in the hope of healing the crop, but she could only save a few trees. "I am subjective that the garden is located in the townhouse and on the 4th-floor rooftop so it will be free of pests and insects. After that incident, I started to place flies trap in the garden", Anh shared. (Photo: VN Express)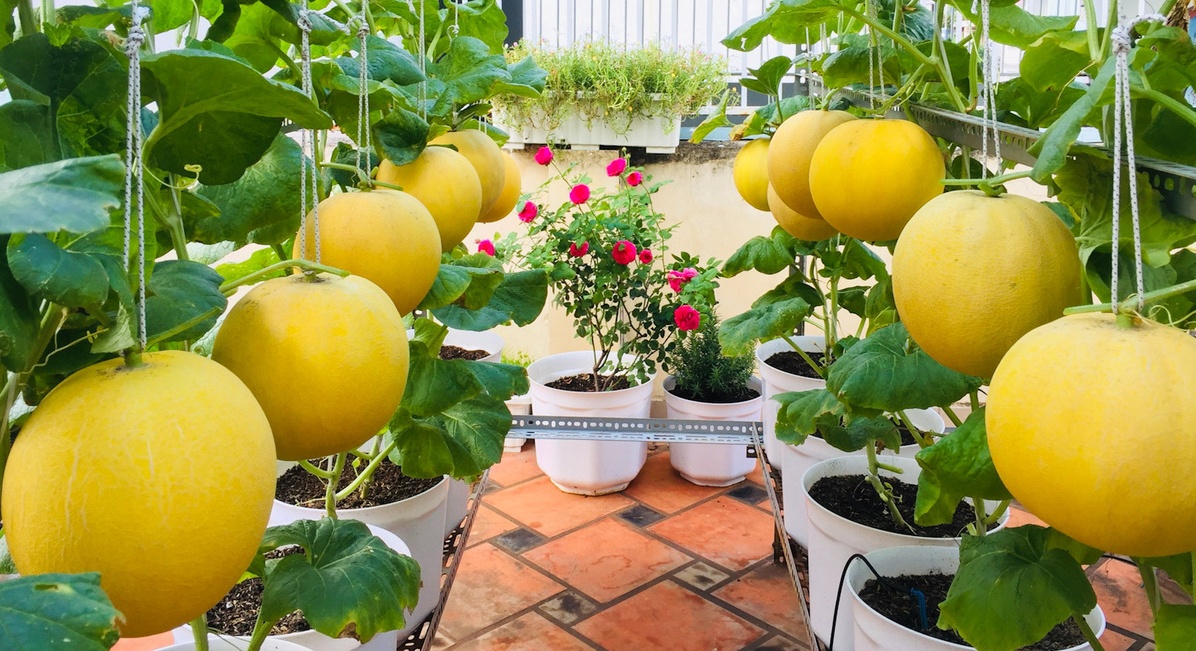 In last year's Kim Long melon crop, Ngoc Anh harvested nearly 80 fruits on the 26th of Lunar December. After giving some of them as presents to her friends and relatives in Saigon, she brought some to her hometown in Binh Dinh for her grandparents. "I said the melon was self-grown but my grandpa didn't believe it, after I showed the picture of my garden to my grandmother, she asked "What kind of melon is that? Why you hang your fruits up like that?" She shared that so far, she has often only seen melon trees lying on the ground." (Photo: VN Express)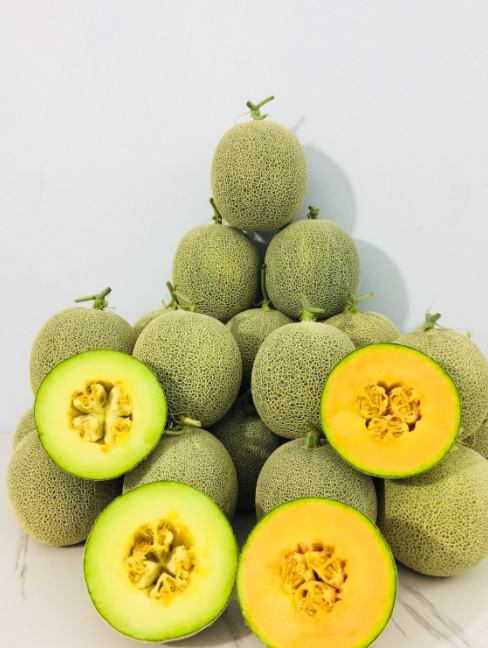 To have evenly large melons, Ngoc Anh has a secret that is to focus on collecting pollen for melons when the tree grows from 10 to 12 leaf axils, and only keeps one fruit on each tree. (Photo: VN Express)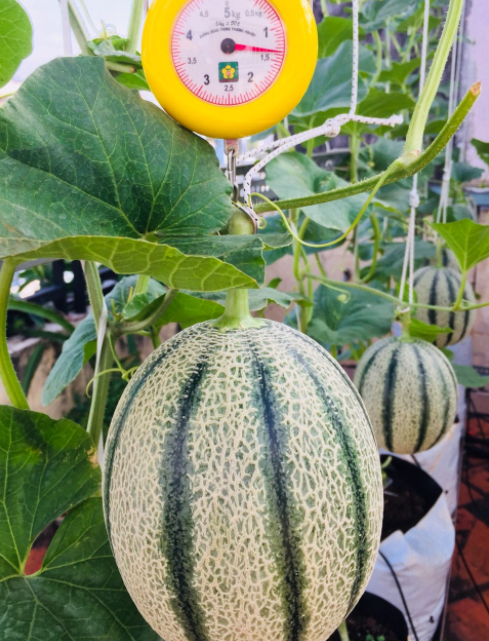 Most of the melon varieties that she has planted give quality fruits. The girl even bought a measure of sweetness test her melon. (Photo: VN Express)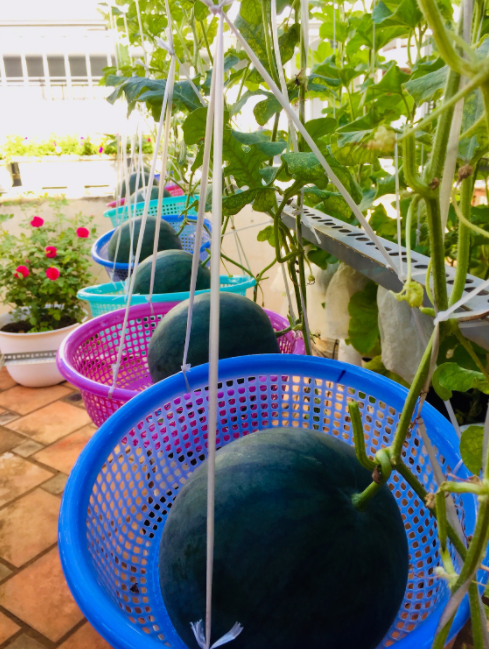 To save space, Ngoc Anh hangs watermelons instead of letting them lie on the ground as usual. (Photo: VN Express)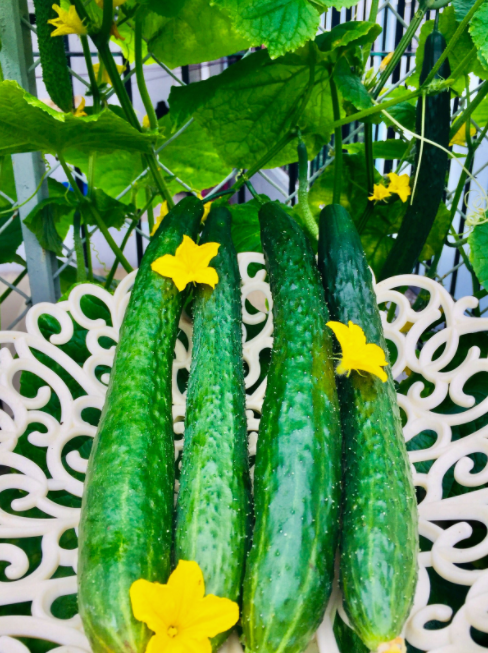 There was a time when she planted cucumbers. However, the plants gave too many fruits that she constantly had to bring them to her friends and colleagues. "People say they look like mutant melons", Ngoc Anh laughed and shared. (Photo: VN Express)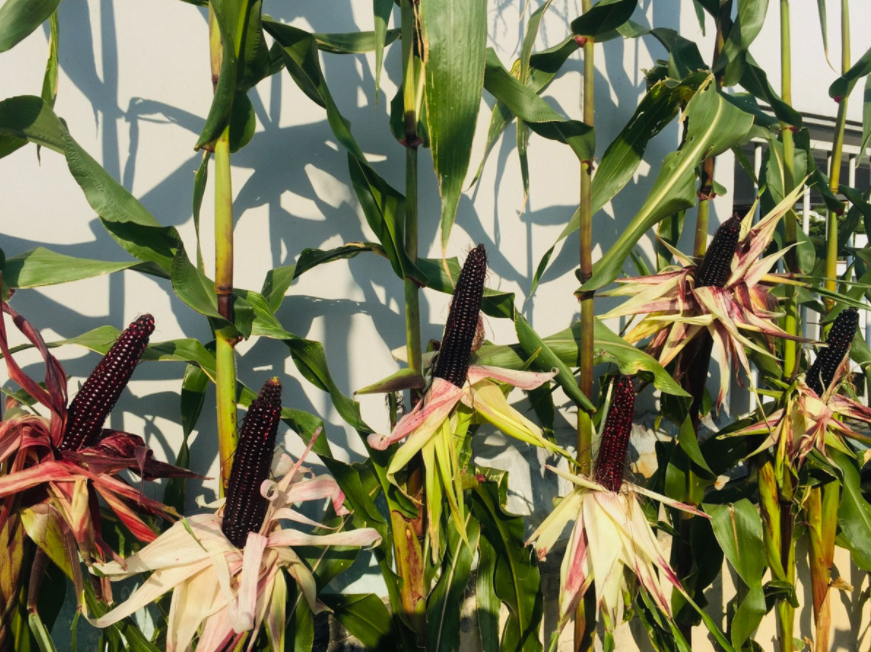 While focusing on growing melons, Ngoc Anh still grows many other kinds of plants on the terrace such as vegetables, bitter melon, gourd, squash ... Normally, all gardening work is done by Anh herself. (Photo: VN Express)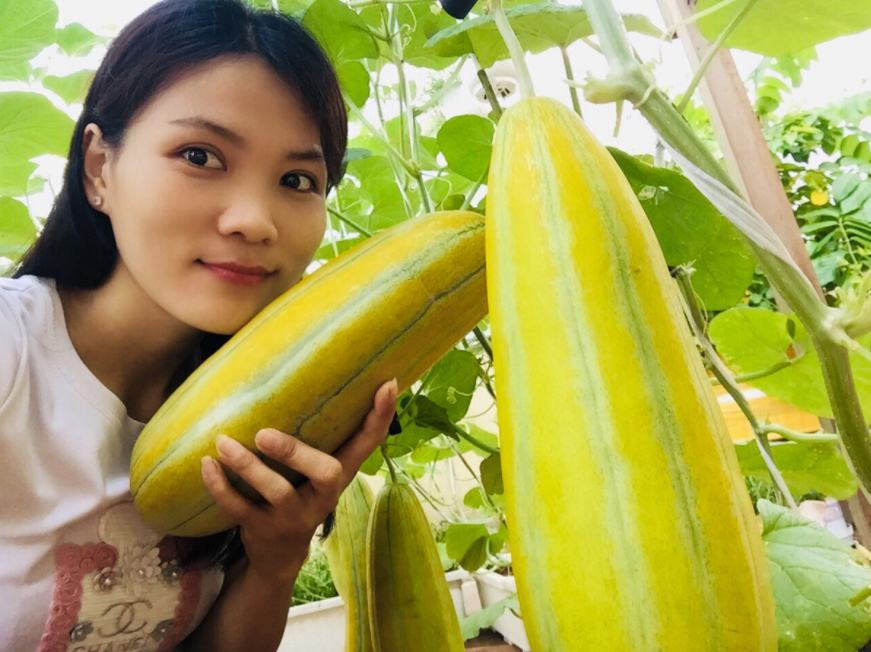 Many of Anh's friends asked her how to grow the plants "easily" but Anh said growing required a great deal of carefulness and understanding on how to take care of the plants. Growing took a lot of effort and time to get the result. "Personally, I find joy from taking care of plants, so sometimes at weekends I do not go out much," said the girl. (Photo: VN Express)
Lush green Vietnamese garden in Canada

To overcome the nostalgia for the home country, Nguyen Kim Thoa, 38, a Vietnamese expat in Ontario, Canada grows her own garden according to Vietnam's ...