Flood relief supplies from US friends handed over to Quang Ngai people
As many as 50 families of survivors of Explosive Ordnance accidents and Agent Orange of Quang Ngai Province welcomed flood relief supplies provided by the Quang Ngai Red Cross and Project RENEW's representatives in a handover ceremony that took place in Tinh Khe Commune, Son Tinh District – the location of the infamous My Lai massacre in 1968.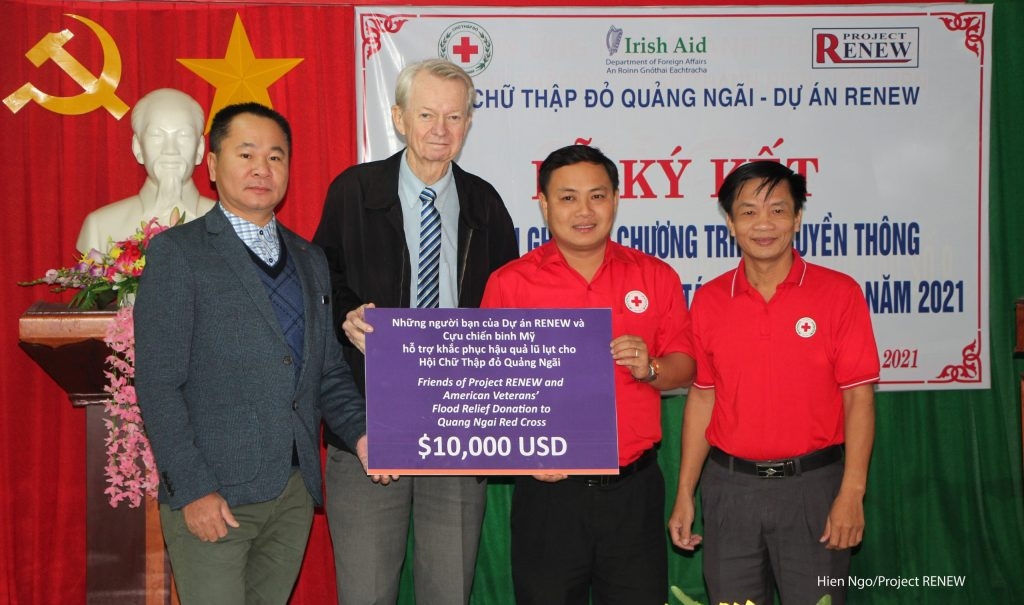 Project RENEW representatives hand over flood relief donation raised by Friends of Project RENEW to Quang Ngai Red Cross representatives. Source: Hien Ngo/Project RENEW
The handover of flood relief to the community in Quang Ngai Province on January 15 was made possible thanks to a fundraising campaign sponsored by Friends of Project RENEW, a non-profit organization based in Virginia, US Army veteran Ronald L. Haeberle, whose photographs brought the My Lai Massacre to the attention of the world, and Ron Carver, co-author of Waging Peace in Vietnam.
They spearheaded this fund drive, in collaboration with Robert Frank, president of Friends of Project RENEW, and Chuck Searcy, who co-founded Project RENEW in 2001 with Hoang Nam, now Vice Chairman of Quang Tri's provincial government.
"The people of Quang Ngai have a special place in the hearts of Americans of goodwill after the terrible tragedy that occurred here in March 1968," said Chuck Searcy, International Advisor to Project RENEW. "We hope that these small donations can help these families in Tinh Khe Commune – who still remain strong and resilient in the face of tragedy – to restore their normal lives after the flooding so they can enjoy the upcoming Lunar New Year festival."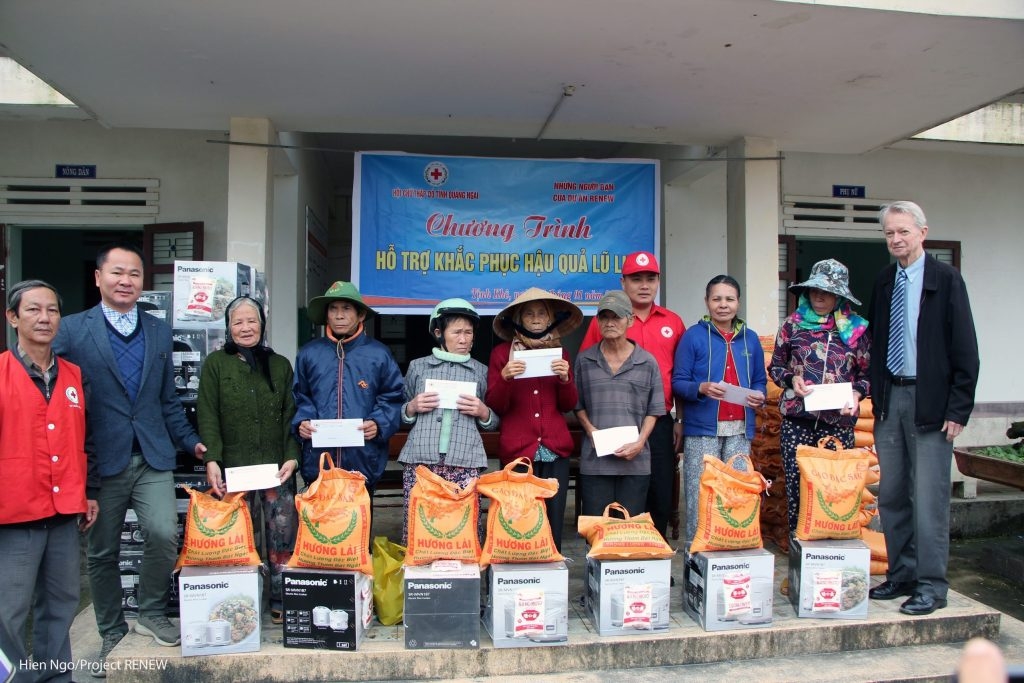 Project RENEW and Red Cross representatives pose for a photo with families affected by Typhoon Molave's heavy flooding, at a handover ceremony in Tinh Khe Commune, Son Tinh District. Source: Hien Ngo/Project RENEW
Project RENEW representatives and Quang Ngai Red Cross staff also visited Vo Bam Secondary School in Tinh Khe Commune to donate four new computer sets as part of the flood relief handover to Quang Ngai Province. As Typhoon Molave made its landfall on 28 October 2020, the roof of Vo Bam Secondary School classrooms was blown away by strong winds and torrential rains as a result of one of the strongest typhoons in the region in decades.
Earlier, on the same day, Project RENEW Coordination Manager Nguyen Hieu Trung and Quang Ngai Red Cross Vice President Nguyen Van Danh signed a Memorandum of Agreement on implementation of Explosive Ordnance Risk Education to reduce the impact of bombs and mines on local people in Ba To and Nghia Hanh Districts.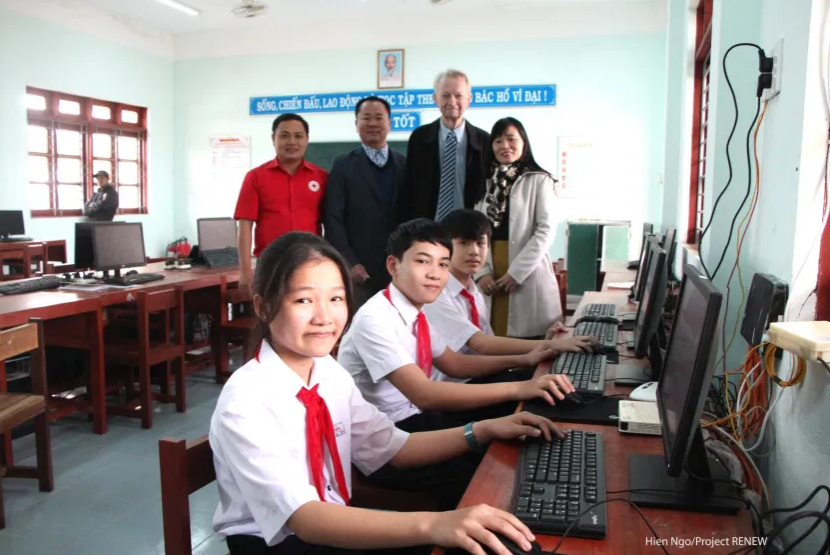 Vo Bam schoolchildren check out the new computers provided by Friends of Project RENEW. Source: Hien Ngo/Project RENEW
The signing triggered a new phase in the trusted partnership between Project RENEW and Quang Ngai Red Cross built over two years of replicating Project RENEW's risk education model, enabled by continued funding provided by Irish Aid.
In addition to reinforcing people's awareness of explosive ordnance, Project RENEW will provide physical rehabilitation to persons with disabilities to help them restore their mobility.
RENEW Project is the project with aim of reducing the number of deaths and injuries caused by cluster bombs and other munitions remaining in Quang Tri province in central Vietnam./.