A Collection of Mesmerising Photos Taken From Mua Cave In Ninh Binh
Mua Cave is a tourist destination that you can't miss when you visit Ninh Binh. Coming here, you will get a chance to immerse yourself in the mesmerizing natural scenery with mountains, rivers, and forests.
Mua Cave is also one of the most famous Instagram check-in spots that attract many young travelers every year.
Where is Mua Cave?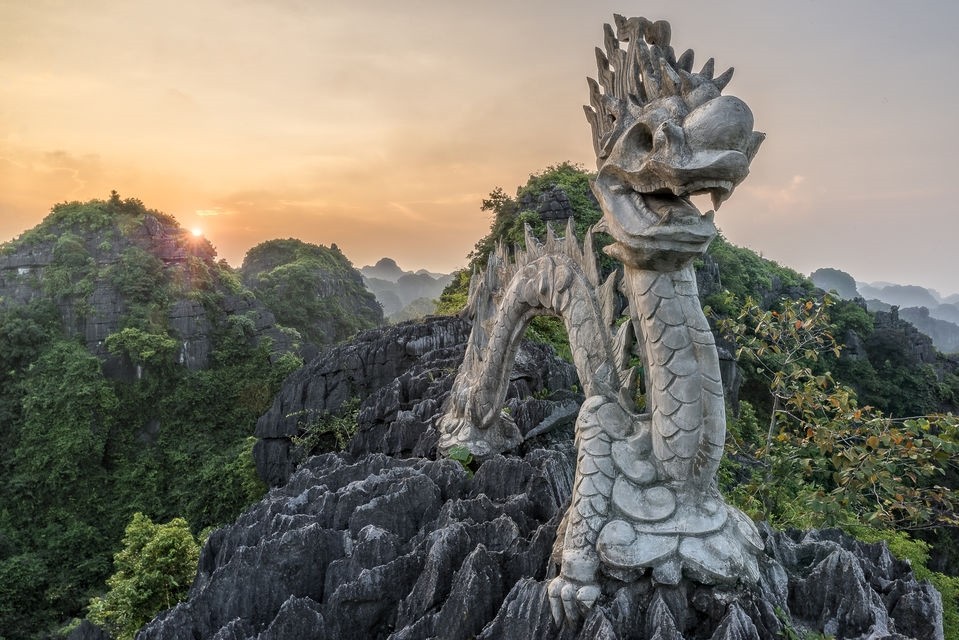 Photo: Cozybay Cruise
Mua Cave is located at the foot of Mua mountain, in the eco-tourism complex of Khe Dau Ha village, Ninh Xuan commune, Hoa Lu, Ninh Binh.
With Mua Cave, tourists can challenge their strength and stamina by climbing to the peak of the mountain with about 486 rock stairs. From the peak, they will get a panoramic view of the beauty of Tam Coc and the vast rice fields.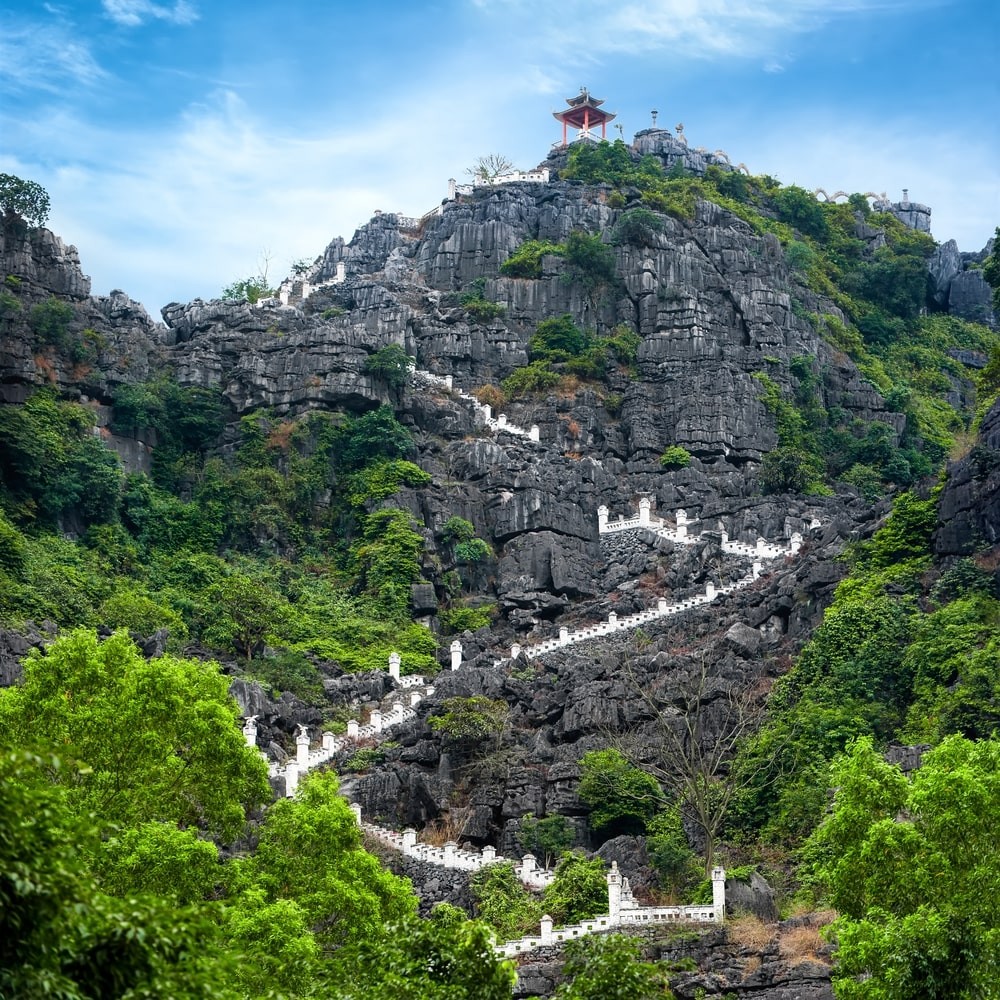 Photo: Cozybay Cruise
Mua Cave is easy to access from the city as it is just about 100 kilometers from Hanoi. The cave has an image like an upside-down bell with hundreds of steps leading to the top of the mountain with many delicate carvings from the Tran Dynasty.
The name of Mua cave was originated from an old-time story, when King Tran came to Hoa Lu capital, he stopped at Mua cave so there were often dancing performances by imperial maids, which is why people called the cave "Mua" (dancing) ).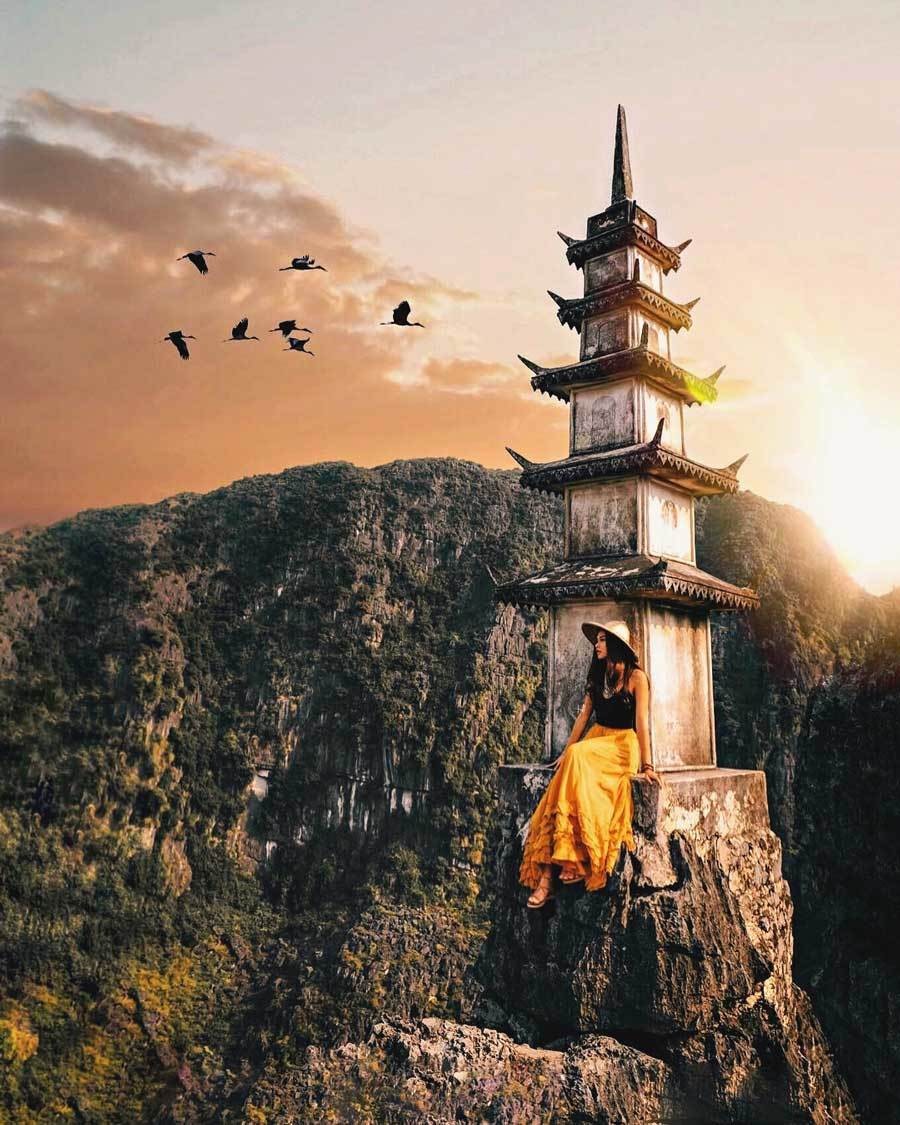 Photo: Vietnamnet
The road to Mua Cave is fairly simple. Only 100 kilometers from Hanoi, and you can choose to go either by bus or car. First, you need to get to Ninh Binh by bus or you can take a train from Hanoi city. The best way is to choose a tourist bus, being in contact with some travel agents in the Old quarter of Hanoi to find your own ticket. The next step, upon your arrival in Ninh Binh, you need to take a taxi to Mua Cave in case you arrange your trip by yourself.
A motorbike is an ideal choice for young people who enjoy new experiences and go backpacking and traveling with their group of friends. Coming to Ninh Binh's Mua Cave, you will be able to immerse yourself in the impressive and wild beauty of the place.
The Lying Dragon Mountain at Mua Caves Viewpoint. Photo: Cozybay Cruise
Admission Prices for Buy Cave
Currently, the ticket price to enter the Hang Mua tourist area is VND 100,000 (US$4.37)/ person, which has been announced on the website of the Department of Tourism of Ninh Binh province.
Train to Buy Cave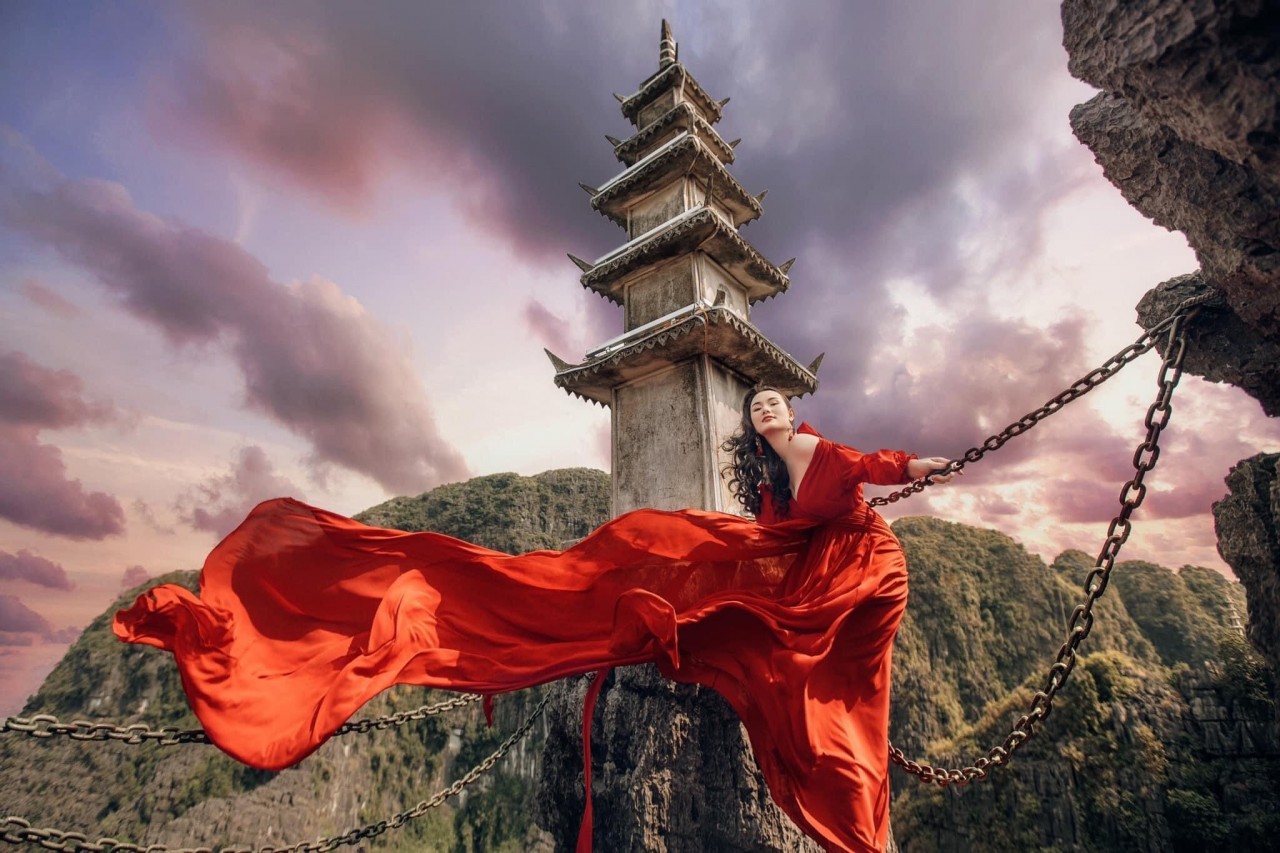 Photo: Vietnamnet
It can be said that you will have a chance to experience great moments if you choose the train route from Hanoi to Ninh Binh. When you are on the train, do not forget to look out the window, as you will witness a beautiful picture of Vietnam that is right in front of you.
Train to Mua Cave by morning train
In the morning the first train of the day usually starts from 6 - 6:15 am at Ha Noi station (120 Le Duan). After 2 hours it arrives in Ninh Binh at the station (N.01 Hoang Hoa Tham).
From Ninh Binh station you can take a taxi or hire a motorbike to reach Buy Cave Tour . Other tourist places are near Mua Cave which is convenient for getting around and paying a fee for transportation.
How far is Mua Cave from Trang An
From the Trang An signpost, tourists continue to turn left and go about 4km along road 419C to reach Mua Cave. The route is quite easy to find and follow since it can be seen on the maps.
The best time to visit Mua Cave
Photo: Bui Hong Anh
In the spring, tourists are recommended to see Mua Cave in the early morning to enjoy the fresh, clean air that the season brings to the land.
During the summer, tourists should visit Mua Cave in the afternoon, as the weather is at its best, making it easy to take the most beautiful Instagram check-in pictures. Remember to buy yourself a quality travel camera to help preserve your wonderful photos.
What to prepare before visiting Ninh Binh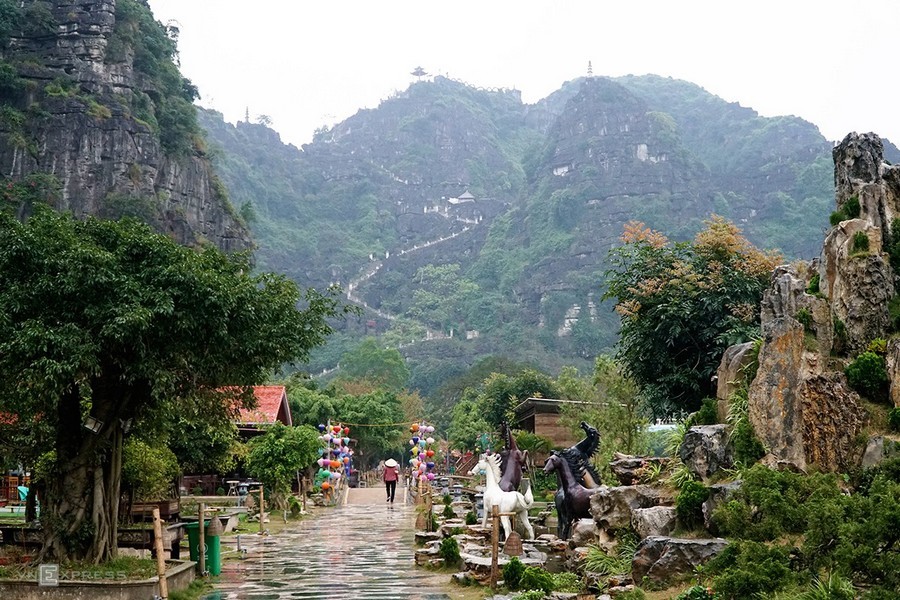 Photo: OneViVu
Coming to Mua Cave, you need to prepare an entrance ticket to visit which costs about VND 100,000 (US$4.37). You should also prepare for your health before the trip since the journey will involve a lot of climbing routes. It will be up to 468 steps before you can reach the top, but don't be discouraged as your effort will be worth it because of the mesmerizing beauty here.
Tourists are advised to wear something lightweight and comfortable and use sports shoes to climb the rock stairs. It is better to avoid high heels or bring too many personal belongings during the climb.
Buy Cave's Nearby Attraction
Photo: Mytour
Mua Cave is one of the most popular attractions that you can select for your trip to Ninh Binh. There are many other destinations you can also visit such as Hoa Lu Ancient Capital, Tam Coc, Bich Dong Pagoda, Thung Nham Bird Park, Thien Ha Galaxy, Trang An landscape complex, Bai Dinh pagoda complex, Phat Diem Church, Cuc Phuong National Park . All of them have their own appeal.
Among them, you can consider Tam Coc – Bich Dong, Thung Nham Bird Park, Hoa Lu Ancient Capital, Bai Dinh Pagoda, and Trang An Grottoes. They are the most popular tourist destinations and are near Mua Cave.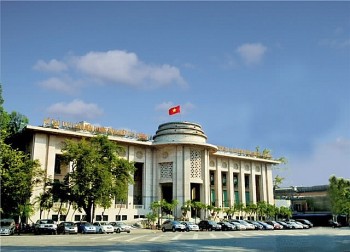 National
The State Bank of Vietnam (SBV) has used the bill issue channel again to net withdraw money out of the banking system for the first time since June 2020.