A peek into cold storage preserving thousands of Covid-19 vaccines in Vietnam
Over 800 million Covid-19 vaccines sourced via Covax arriving in Vietnam Thursday morning are being preserved at the cold storage of the National Institute of Hygiene and Epidemiology.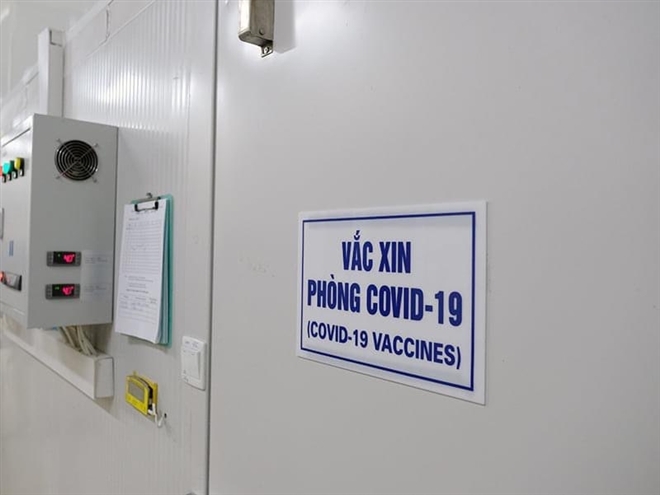 (Photo: VTC News)
A close-up at the room where the new 811,200 doses of AstraZeneca vaccine are being stored. The batch arrived at Noi Bai International Airport on April 1 morning and then was transferred to the National Institute of Hygiene and Epidemiology (NIHE) for preservation.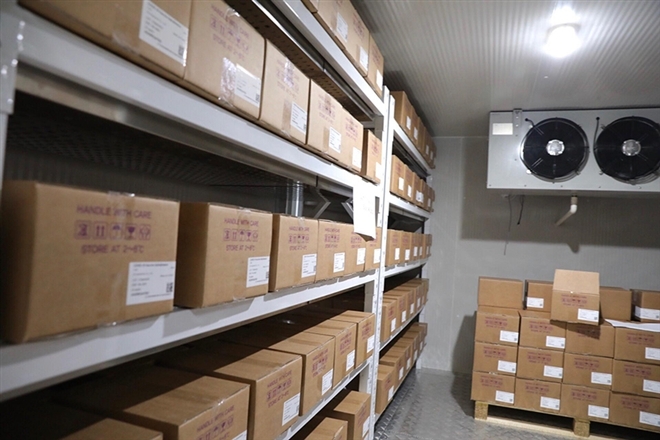 (Photo: VTC News)
The Ministry of Health will be in charge of coordinating the vaccines. However, it is yet to announce any plan to allocate the batch. Vaccine rollout to the majority of the Vietnamese population might take time, as reported by VTC News.
(Photo: VTC News)
The Ministry of Health, under the auspices of the World Health Organization (WHO) and United Nations International Children's Fund (UNICEF), is building and implementing its immunization plan, including medical training, recipients' health monitoring, as well as raising public awareness about the importance of immunization.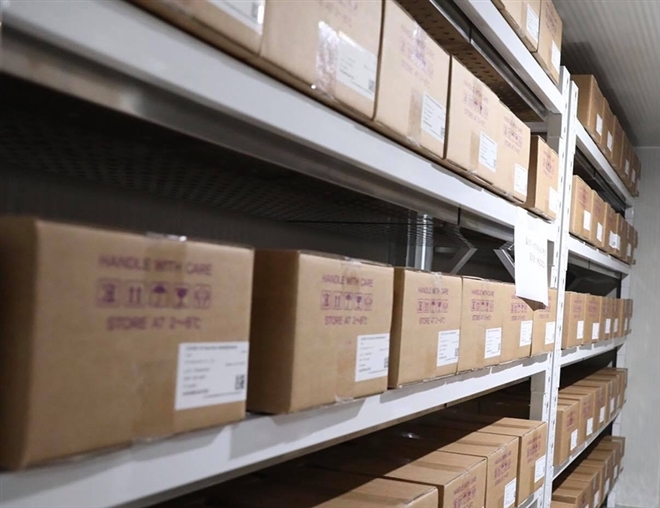 (Photo: VTC News)
The AstraZeneca - Oxford vaccine was granted emergency use authorization by WHO in early February. The candidate was later also greenlighted for use in Vietnam.
It was pronounced 90 percent effective in preventing nCoV contraction, with no serious side effects reported, Oxford university and its partner AstraZeneca said in late November.
It uses a harmless, weakened version of a common virus that causes a cold in chimpanzees, according to the Irish Examiner. The virus is genetically modified so that it is impossible for it to grow in humans. Scientists have transferred the genetic instructions for coronavirus's specific "spike protein" – which it needs to invade cells – to the vaccine.
When the vaccine enters cells inside the body, it uses this genetic code to produce the surface spike protein of the coronavirus. This induces an immune response, priming the immune system to attack coronavirus if it infects the body.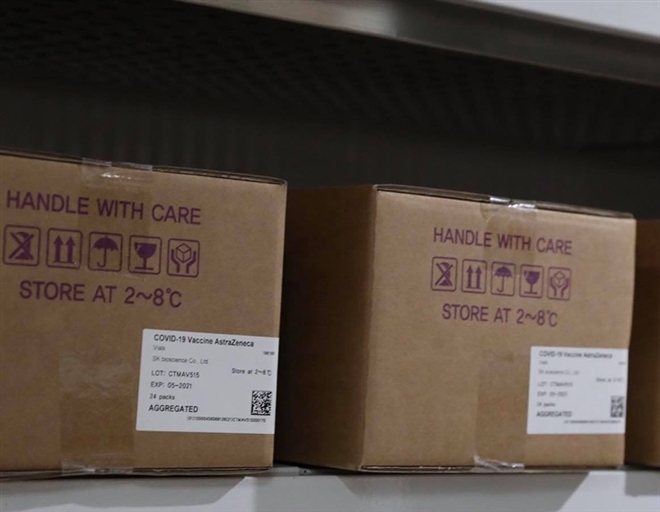 (Photo: VTC News)
The SK Bioscience in Korea is in charge of manufacturing the vaccine before delivering them to Vietnam.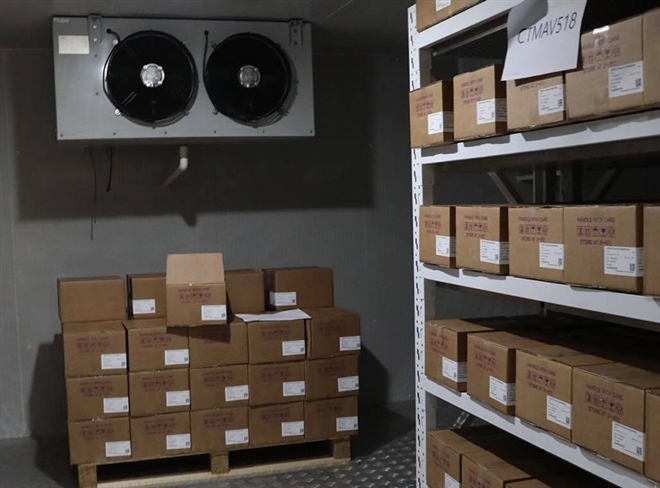 (Photo: VTC News)
All the doses are stored at airy and temperature-stable conditions, meeting with preservation standard.
(Photo: VTC News)
The UNICEF is working with the Vietnam Ministry of Health to plan for training and communicate ing campaign, as well as the purchase and provision of additional needles, syringes, safety boxes, and dedicated refrigerators for storing vaccines.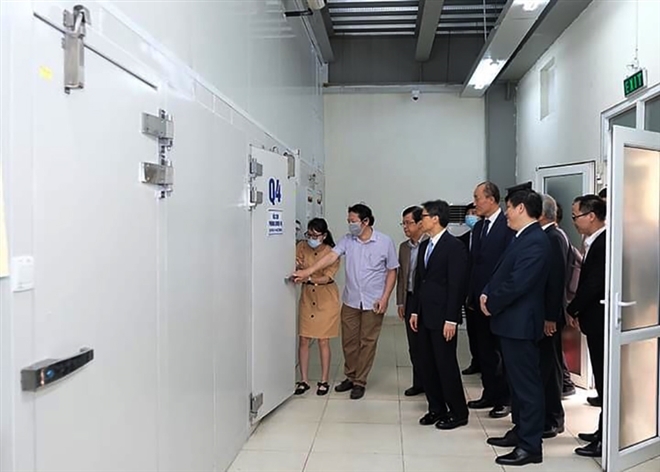 (Photo: VTC News)
The 811,200 doses of AstraZeneca vaccine thatarrived at Noi Bai International Airport Thursday morning is the first batch among the 30-million-dose allocation from the global vaccine access mechanism Covax. Over 3,3 million more doses are scheduled to land in Vietnam in May while the rest will arrive by late 2021, according to Zing News.
The 30 million doses, which are supplied by the United Nations International Children's Funds (UNICEF) via Covax, are deemed to cover 20 percent of the Vietnamese population, prioritizing frontline workers.
Vietnam is expecting 60 million doses of the UK's AstraZeneca vaccine, with 30 million sourced via Covax and another 30 million by order.
On February 24, the first 117,600 purchased doses arrived in the country and have been administered to nearly 50,000 prioritized recipients in the National Expanded Vaccination program.
On March 23, Vietnam greenlighted Russia's Sputnik V vaccine for emergency use.
Regarding domestically produced Covid-19 vaccines, the country is eyeing self-provision of vaccines in Quarter 3 this year, as soon as the homegrown Nanocovax finishes its third phase of human trials.
Vietnam's three other super-cold vaccine storage
In February, three freezer units with temperatures kept at minus 86 to minus 46 degrees Celcius have been set up in HCMC, Da Nang and Hanoi. The trio can simultaneously accommodate up to three million doses of COVID-19 vaccines.
Vietnam Vaccine JSC (VNVC), the importer of Covid-19 vaccines to Vietnam, was licensed in January to operate the three super cold facilities to store COVID-19 imported COVID-19 vaccines once they arrive. Each freezer features one defrosting room kept at minus 8 degrees Celsius to make sure vaccines are safely thawed before inoculation.
Ultra-cold storage units operated by Vietnam Vaccine JSC (VNVC). (Photo courtesy of VNVC)
Tran Thi Trung Trinh - quality control director at VNVC, told VNE that the company started to import a large amount of equipment and built an ultra-cold storage system in mid-2020, knowing that there might be difficulty in transporting, storing and preserving certain COVID-19 vaccines. In late 2020, VNVC has completed the special cold chain system.
VNVC's super-cold storage system is equipped with a GSM alarm system, a wireless security product and remote device control. The system uses cold gas and cascade refrigeration, which involves two or more vapor-compression cycles with different refrigerants.
The cold storage system would keep the vaccine's effectiveness and safety level intact (Photo: VNE)
All cold and ultra-cold storage facilities are equipped with high-tech on-site and remote temperature monitoring systems, according to VNE.
VNVC has also put into use its technology platforms, including upgrading, expanding its websites, mobile apps, telephone switchboard system. Staff were given intensive training.