A recoilless projectile safely removed from Quang Tri's residential area
The Norwegian People's Aid - Project RENEW (NPA-RENEW)'s Explosive Ordnance Disposal (EOD) team on March 19 removed an unexploded 82mm recoilless projectile from a residential area of An Don Ward, Quang Tri Town.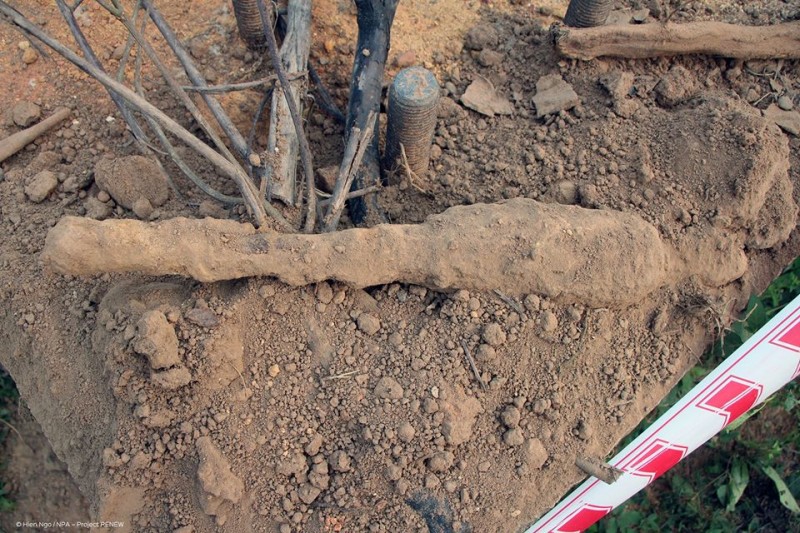 An unexploded 82mm recoilless projectile. Photo: Hien Ngo/NPA-Project RENEW
The EOD task was enabled after an elderly man reported the ordnance to a pair of NPA-RENEW's Non-Technical Survey (NTS) operators who were visiting An Don Ward for collecting information related to cluster munitions and other explosive ordnance from local residents. 78-year-old Phan Hoa, who was looking after five grandchildren at his home, said that the weapon was uncovered by a group of workers repairing the inter-village road. He then thanked the EOD team for their timely action to remove the projectile for safe disposal, expressing his worries that children during school closing time because of the COVID-19 might tamper with it.
Located along the Thach Han River, An Don Ward was subject to heavy bombardment and bloody ground fighting especially in the summer of 1972. Since the war ended in 1975, An Don Ward has sustained 32 casualties due to cluster munitions and other explosive ordnance. Most of the land has not been cleared yet.
After four days of work, NPA-RENEW NTS operators have interviewed 43 families for information related to cluster munitions and other unexploded ordnance. Their findings will constitute a baseline for NPA-RENEW to conduct Technical Survey to define contaminated areas that need clearance.
The NTS teams conduct desk studies and village meeting and collect valuable information from local residents that lead to exact sites of dangerous ordnance. This "evidence-based" approach is then followed by sweeps of the area using tested methodology that is specific to cluster bombs strikes. A pattern or "footprint" is determined quickly and followed by cleanup of the ordnance found and, ultimately, when all ordnance in the area has been destroyed, the team informs local residents that the area is now safe for normal activities.
This approach has proved to be faster, more efficient and very cost-effective, and a reliable assurance of safety for local people.
NPA Survey & Clearance Program implemented at Project RENEW is funded by the US Department of State and the DFID - UK Department for International Development, and a cooperation project between NPA and Quang Tri Province Department of Foreign Affairs.
Founded in 1939, NPA is one of Norway's largest non-government organizations and started its support in bomb and mine clearance in Vietnam in 2008. It has helped remove about 70,000 pieces of dangerous ordnance, helping to eliminate the risks of death and injury among local residents./.
Friendship
To mark the 50th anniversary of the establishment of diplomatic relations between India and Vietnam and on the eve of the 132nd birth anniversary of President Họ Chị Minh, Indo- Vietnam Solidarity Committee organized a national seminar on "Ho Chi Minh and India" on 14th May 2022 at National Library, India.