A rewind of Vietnam's resilient fight and win over COVID-19 pandemic
Since the invasion of the novel coronavirus, people's lives have been turned upside down as the pandemic spread to all corners of the globe. But despite global upheaval, Vietnam has been praised for the way it has handled this deadly plague.
The otherwise busy Ta Hien Street in Hanoi became quiet in March last year, when a nationwide lockdown order was imposed. (Photo: VNS)
As of January 22, the country has seen a total of 1,548 cases with just 35 proving fatal, while 1,411 have recovered. The country has undergone 52 days without a case of COVID-19 community transmission.
VNS takes a look back at the key events of the past 12 months since that very first case was recorded, and the tremendous efforts made by the authorities, medical staff and security forces, as well as the entire nation, to contain COVID-19,
The first wave
January 23, 2020: The first case of COVID-19 is reported after a 66-year-old Chinese man came from Wuhan to Viet Nam to visit his son. He and his son were then treated at Chợ Rẫy Hospital, HCM City.
Immediately afterward, on January 24, Vietnam suspended all flights from and to Wuhan despite the World Health Organization (WHO) saying there was no need for widespread travel bans at that point in time.
More flight suspensions followed in the days after that as more cases sprouted up until finally flights to China were completely stopped on February 1.
The nation's first case of community transmission was recorded on February 1 as well: a hotel employee in Nha Trang beach town who had been in contact with the two Chinese nationals.
The same day Prime Minister Nguyen Xuan Phuc announced there was an epidemic outbreak in Vietnam caused by the novel coronavirus, and ordered stricter border controls and visa restrictions, according to VNE.
From February 3 Vietnamese nationals returning from China had to go into quarantine for 14 days.
February 13, 2020: Son Loi Commune, Binh Xuyen District in Vinh Phuc Province is locked down after six cases were discovered there.
Son Loi was the first locality to undergo a 14-day lockdown to contain the coronavirus.
Through the month society tried to blockade itself against the disease with people rushing to buy masks and getting students and office workers study and work from home.
The Lunar New Year break for students, to have ended in early February, was extended to keep children at home.
By the end of February Vietnam had 16 Covid-19 cases in all.
March 6, 2020: Patient 17 tests positive for coronavirus after coming back from Europe, marking a second wave of COVID-19 cases.
Truc Bach street was under lockdown right after the confirmation of Patient 17 (Photo: VNS)
By the time she was diagnosed with COVID-19 she had been in contact with several family members and outsiders, including staff at a local hospital she visited after she had a fever.
To prevent infection from spreading in the community, authorities quickly performed contact tracing and isolated the woman's neighborhood.
But in the days that followed more cases were diagnosed across the nation, all through people who had entered Vietnam from other countries.
In Vietnam, some places were becoming hotspots, including a neighborhood in Phan Thiet in the south central Binh Thuan Province.
Before the epidemic had a chance to spiral out of control, Vietnam stopped issuing visas to foreigners on March 17, and closed its borders on March 21.
International flights were suspended from March 22, with the government only allowing repatriation flights to bring back Vietnamese from abroad.
March 18, 2020: Prime Minister Nguyen Xuan Phuc orders a halt to issuing new visas for foreigners to Việt Nam and limited flights from pandemic zones.
March 25, 2020: Vietnansuspends all international flights to contain the spread of COVID-19.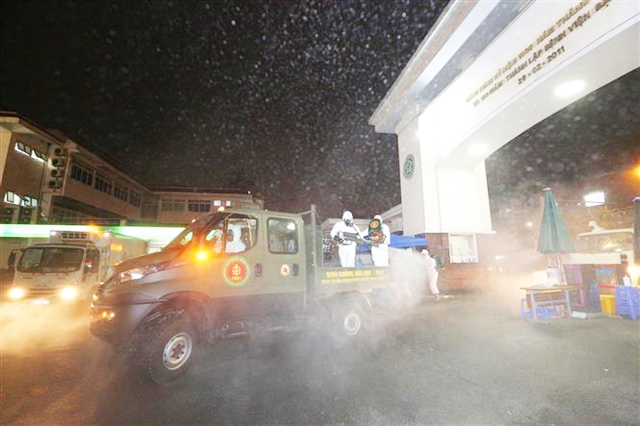 Soldiers of the Army Chemicals and Military Medicine Department spray disinfectant to sterilise the area around Bach Mai Hospital. (Photo: VNS)
March 28, 2020: Bach Mai hospital is locked down after many cases related to the hospital were reported. Bạch Mai hospital becomes the virus epicentre of Hanoi.
April 1, 2020: A social distancing order is implemented nationwide.
April 12, 2020: Bach Mai Hospital reopens after 14 days of quarantine.
April 23, 2020: The social distancing order is lifted in most areas of the country except for some high-risk zones.
Vietnam began to kick-start the economy, return people's lives to something like normalcy, resume public transport, and let students return to school though still highly vigilant against possible outbreaks.
The country enjoyed several Covid-free months and the economy began to look up.
May 27, 2020: British pilot Stephen Cameron, Vietnam's sickest COVID-19 case, shows signs of recovery.
July 11, 2020: Pilot Stephen Cameron flies back to the UK.
The second wave
July 25, 2020: The first COVID-19 case is reported in Đà Nẵng City.
The Da Nang Center for Disease Control immediately did contact tracing and started isolating people who had been in close contact with the man.
More cases were found all over the city, including particularly concerning outbreaks at three hospitals: the Da Nang C Hospital, the Da Nang General Hospital and the Da Nang Orthopedic and Physical Rehabilitation Hospital.
All three were placed under lockdown.
Within less than a month over 500 cases were then recorded in 14 cities and provinces other than Da Nang, with their origins however traced to the city.
To prevent the virus from spreading even further Da Nang began another 15 days of social distancing on July 28, and people were requested to stay at home except for emergencies.
The semi-lockdown was extended for two more weeks until September 5.
On July 31 Vietnam recorded its first coronavirus death: a 70-year-old man in Quang Nam Province who had kidney failure and myocardial infarction.
Since then 34 more deaths were recorded across the country, many of them being elderly patients with underlying conditions.
The final case of community transmission at the time was recorded on September 3, marking the end of the second wave of Covid-19.
August 4, 2020: Army disinfects Da Nang City's Son Tra District.
August 13, 2020: Domestic flights take stranded tourists back from Da Nang.
September 10, 2020: A baby is born to a mother with COVID-19.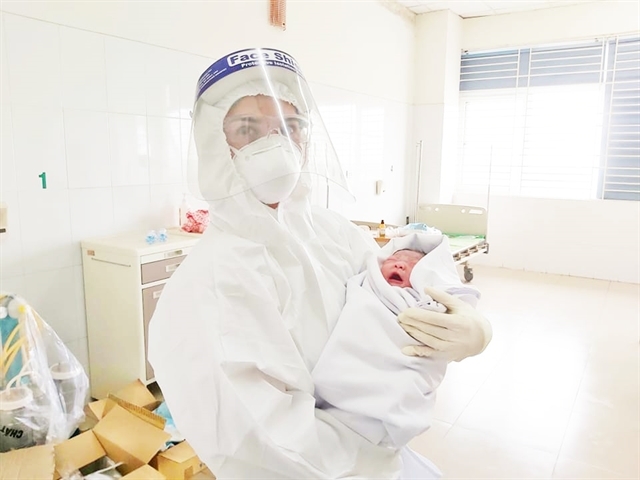 A nurse holds the infant born to a mother with COVID-19. (Photo courtesy of National Hospital for Tropical Diseases)
September 11, 2020: Đà Nẵng loosens social distancing orders.
November 30, 2020: HCM City announces the first case of COVID-19 after 100 days. A Vietnam Airlines flight attendant in HCMC contracted the novel coronavirus from a colleague returning from Romania after breaching quarantine protocols.
His infection was confirmed on November 29, but by then he had infected three others, breaking the country's streak of nearly three months without community transmission.
The man faces possible charges of "spreading dangerous infectious diseases in humans" which carries a jail term of up to 12 years.
It was the first time Vietnam threw the statute book at someone for flouting Covid-19 prevention regulations.
Following the fresh outbreak the government halted all inbound commercial flights from December 1. A few had been allowed to bring in certain categories of people like Vietnamese nationals and foreign experts and diplomats.
January 2, 2021: New highly more transmissible variant of coronavirus first reported in HCM City after a woman is repatriated from the UK.
The aftermath
Economic pains
The pandemic, arguably the biggest world-changing event of the 21st century, has had a massive impact on Vietnam, especially its economy and job market.
Its GDP growth in the first half of 2020 was only 1.81 percent, the lowest in a decade.
Some 1.2 million people are expected to file for unemployment benefits this year, with over 983,000 already doing so in the first 10 months, a 32.5 percent increase year-on-year from 2019. By the third quarter 31.8 million workers aged 15 or above either lost their jobs or had their working hours and incomes reduced, according to government data.
A study by the General Statistics Office of the first three quarters found 33.4 percent of surveyed businesses had to cut their workforce to deal with Covid-19 losses, and the figure could rise to 36.4 percent by the end of the year, it said.
The worst hit sectors have been aviation, tourism, hospitality, entertainment, and food and beverages.
The aviation and tourism industry saw their workforce shrink by 30.4 percent in the first nine months of the year, while the figures were 29.9 percent for hotels, 17.4 percent for sports and entertainment, and 15.4 percent for the food and beverage industry.
However, thanks to its stellar Covid-19 response so far, Vietnam is expected to have among the highest economic growth rates in the world this year -- 2.4 percent -- according to the International Monetary Fund.
Strong economic recovery is expected in 2021, with GDP growth projected to be 6.5 percent, the IMF added.
Made-in-Vietnam vaccine development
A domestically developed Covid-19 vaccine, Nanocovax, began human trials last week.
The first phase is expected to finish in February, the second in August and the final in February 2022.
Three other vaccines are also under development, with two expected to begin human trials early next year.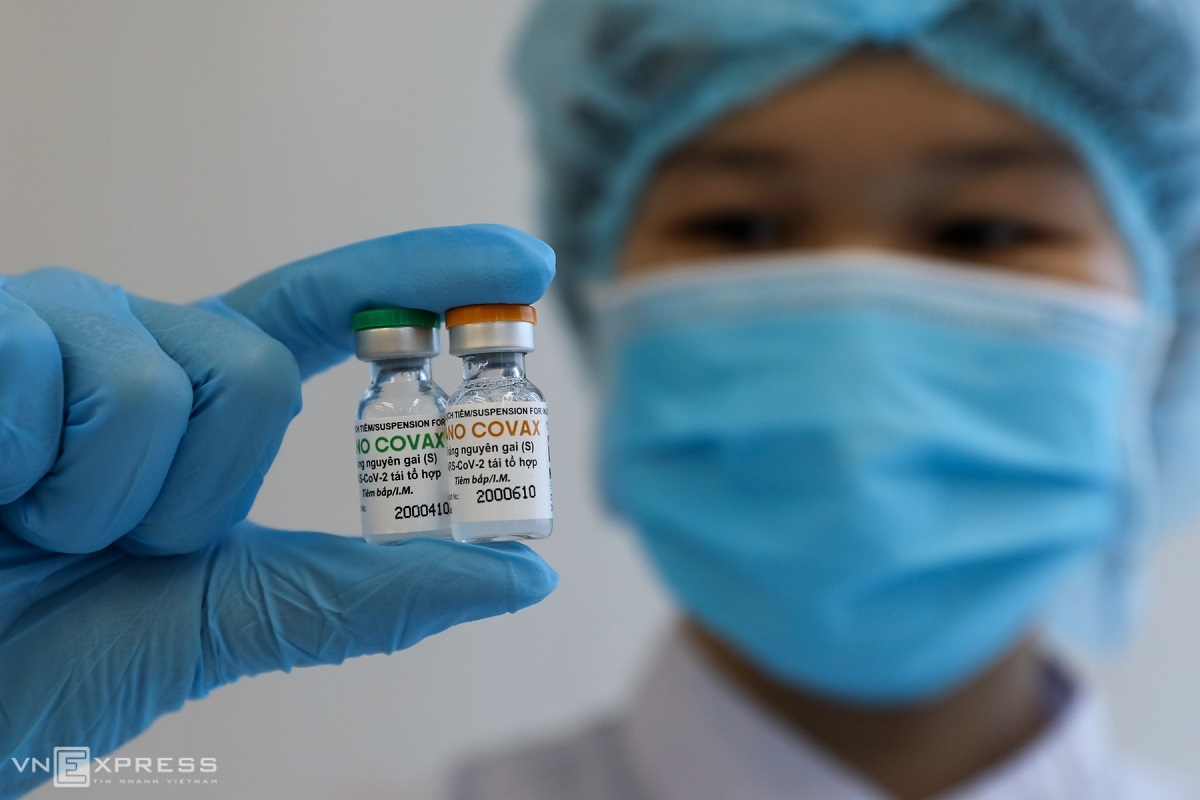 (Photo: VNE)
International recognition of Vietnam's COVID-19 containment success
The public has largely complied with and been supportive of the government's coronavirus prevention measures. Having experienced the SARS epidemic in 2003, Vietnamese knew not to mess around with a deadly contagion that has gone on to kill over 1.6 million people globally.
Most Vietnamese strongly supported the government's national social distancing order imposed in April to contain Covid-19, according to a report by the United Nations Development Program and the Mekong Development Research Institute.
Some 89 percent of respondents said they supported the government's target of saving lives even if it means the economy might take longer to recover. Globally, only 67 percent of people agreed the government should prioritize lives over the economy, the report said.
Numerous foreign think tanks and organizations have also hailed Vietnam for its exemplary Covid-19 containment efforts.
U.S. political news organization Politico said in May Vietnam responded best to the Covid-19 pandemic in terms of health and economic impacts, while Hong Kong's Deep Knowledge Group named Vietnam among the safest places to be during the pandemic.
The country's coronavirus success has been attributed to its early and proactive response, extensive, transparent public communication and rigorous, aggressive testing, contact tracing and quarantine measures.
Kidong Park, the WHO representative in Vietnam, said in August the country's effective Covid-19 management could be attributed to its significant progress in managing public health emergencies and a comprehensive approach towards the Covid-19 fight utilizing social unity and the government's leadership.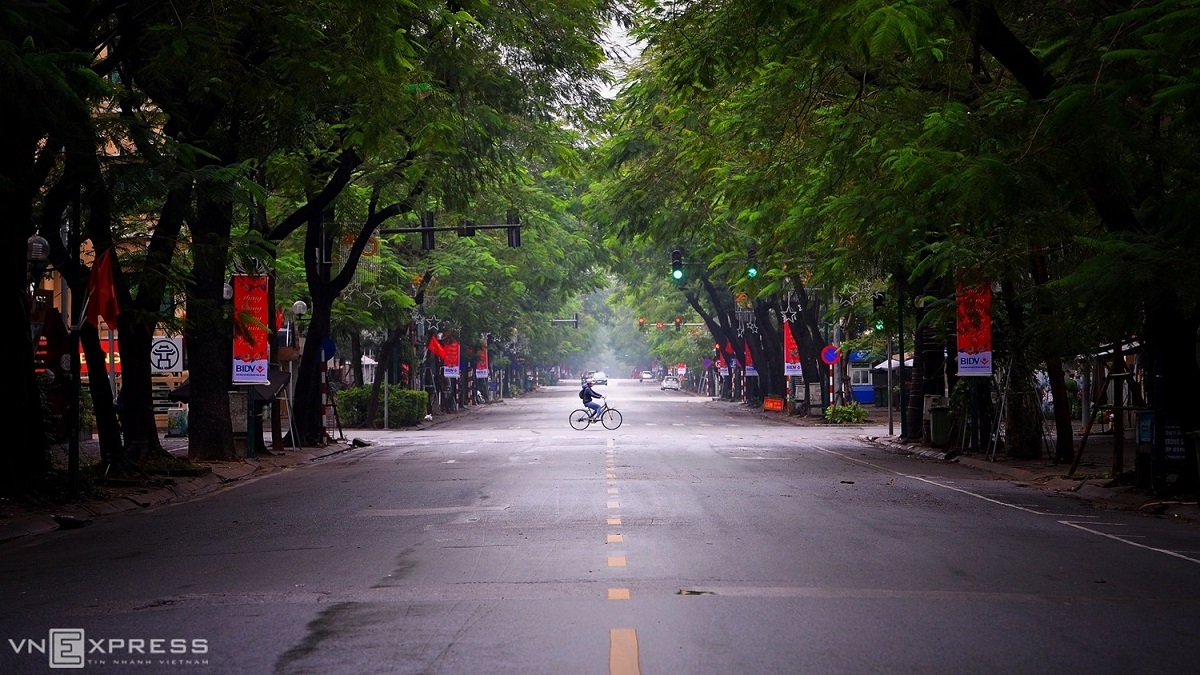 A lone biker passes through a largely desolate Ly Thuong Kiet Street in Hanoi just before a nationwide social distancing order was imposed on April 1, 2020 (Photo: VNE)
The Global Alliance for Vaccines and Immunization said in May: "Vietnam relied on four relatively cost-effective solutions to combat the virus: strategic testing, contact tracing through apps and effective public communication campaigns. As well as these, it implemented a national lockdown."
It noted how Vietnam acted swiftly as soon as China reported its first Covid-19 cases, closely monitoring its borders and carrying out tests at airports, utilizing technology to help with contact tracing and quickly developing its own Covid-19 test kits.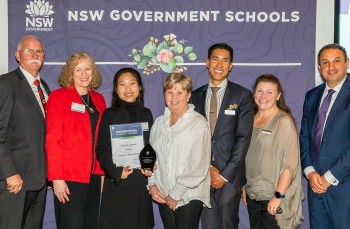 Overseas Vietnamese
The award for international students studying at New South Wales state schools (Australia) honors excellent ones from many countries, including a Vietnamese female student.