A Safe, Swimmingly Summer in Quang Tri
Free swimming lessons for children are being held to limit the risk of drowning in the central province of Quang Tri.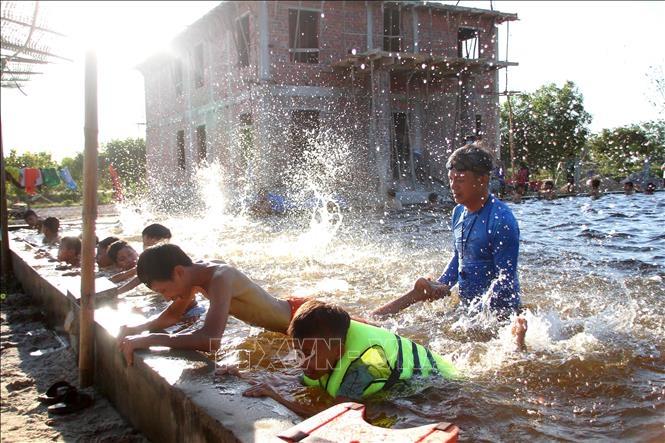 Photo: VNA
Every summer, the rate of children drowning in Quang Tri province increases. To counter the grim situation, the provincial Youth Union has coordinated with relevant units to organize a series of swimming lessons for children, especially in rural and remote areas.
Aiming to implement skills so that children can swim on their own and can handle situations when accidents occur, the Youth Union's swim lessons offers many practical activities, thereby creating a fun, useful and meaningful summer for the children.
From the beginning of June until now, the whole province of Quang Tri has organized 46 classes with a total of over 1,000 students. Each class is held for 10-15 days, in the early morning or evening.
Due to lack of proper size pool, many creative swimming teaching models were implemented in rivers, streams with artificial barriers, and portable swimming pools.
In classes, children will be taught swimming techniques, how to hold their breath, the ability to stand in the water, different swimming styles, first aid, and skills to prevent drowning accidents. Along with that, through advocacy sources, Quang Tri Youth Union has donated 200 life jackets, 100 warning signs for swimming classes.
Recently, the Youth Union of Hai Hung commune (Hai Lang district) in collaboration with World Vision organized a free swimming class for 15 children with disabilities. This is the first swimming class for children with disabilities in the province so they know how to swim and aware of water safety rules and first aid techniques.
This swimming class will end when the children master swimming skills and know how to swim. This is a new model that has practical significance and is supported by locals and people.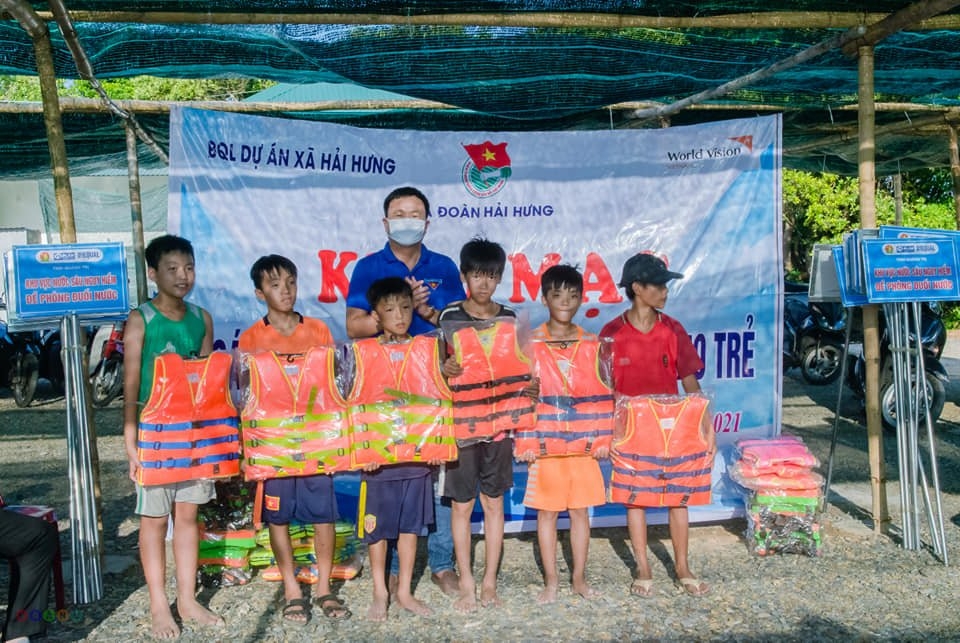 Life jackets given to children in Hai Hung commune, Hai Lang district. Source: Youth Union of Quang Tri province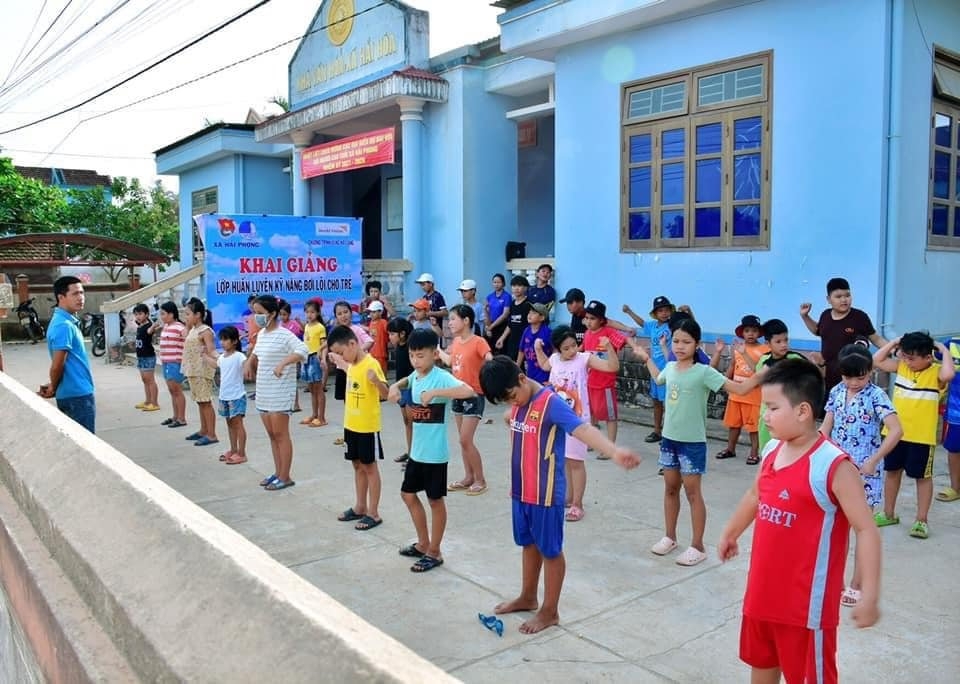 At a local swmming class. Source: Youth Union of Quang Tri province
According to Nguyen Minh Dung, youth union secretary of Hai Hung commune, as a low-lying area, the rate of children drowning in the summer and the annual rainy season here is very high. They had opened a swimming class for children with mild disabilities. In the summer of this year, together with World Vision successfully opened a swimming class for 15 children with disabilities in the area.
This great community asset would not have been possible without the efforts oof the Youth Union. Young members went to each house to mobilize the parents, pledging to pick up and drop off children before and after the school session, explined Dung.
Children with disabilities require patient and meticulous guidance so each member goes into the water with one child to ensure the best safety and quality. After only a short time, the students have overcomed their inferiority complex and got along with everyone, confidently learning. Along with the special swimming class, in the this summer, the Commune Youth Union has coordinated with relevant units to organize 9 swimming classes with about 250 children.
Recently, 6 students have drowned in the area, according to the Provincial Department of Education and Training. Due to the large budget and limited facilities, Quang Tri has 400 schools, but in reality, there are only 17 ones with swimming pools. Therefore, swimming classes for children has great meaning and effect, thereby minimizing tragic accidents.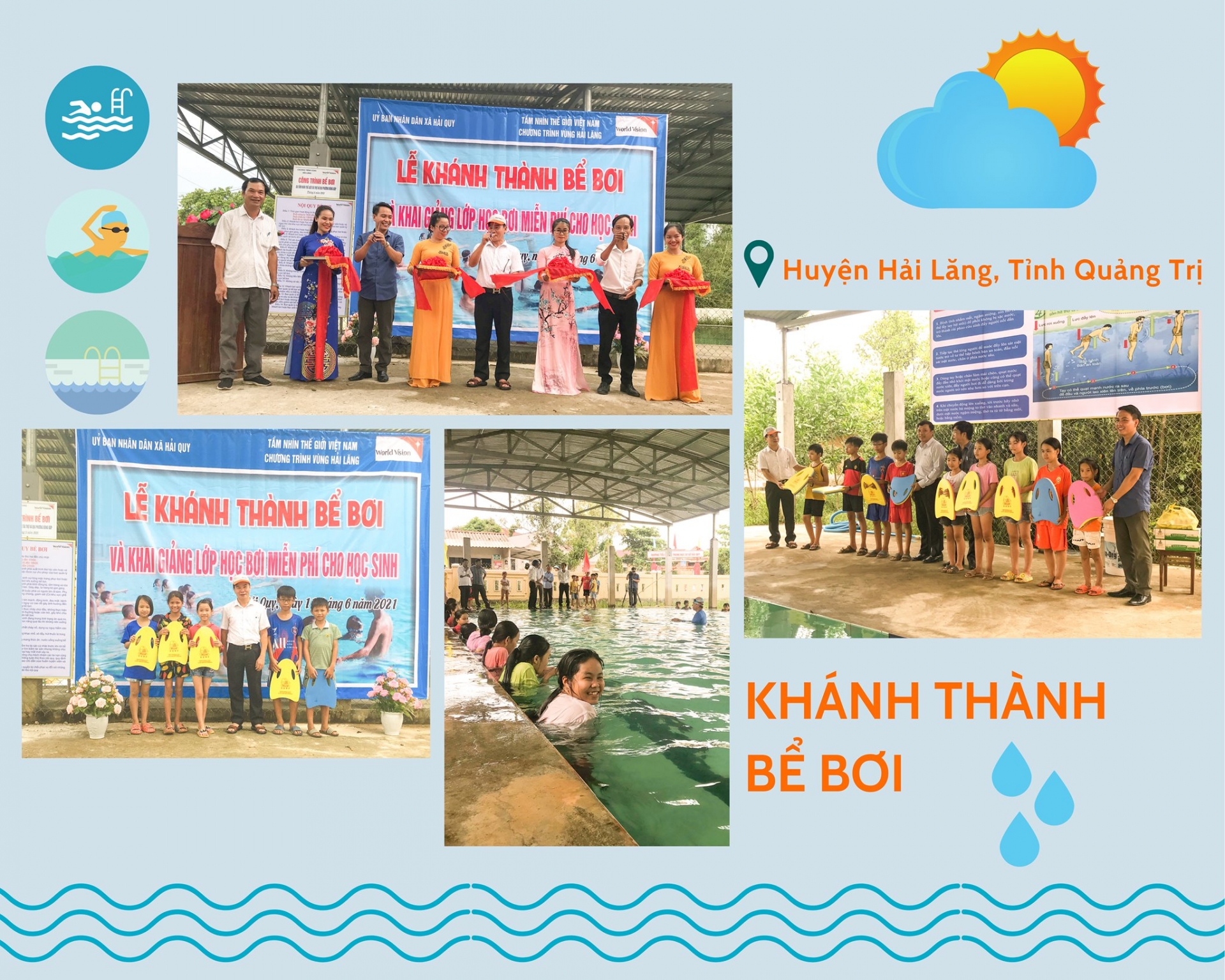 World Vision Vietnam and Hai Quy commune, Hai Lang district (Quang Tri province) build a standard swimming pool, contributing to safe swimming places for children.
Meanwhile, Tran Thi Thu, secretary of the Quang Tri Provincial Youth Union shared that from the beginning of 2021 the union has directed and assigned tasks to its members carefully prepares to open swimming lessons and water skills training in the summer.
In order for swimming classes to have the best effect, the Provincial Youth Union has mobilized resources to support life jackets and teaching aids for these classes. In the coming time, the union will offer more swimming classes, effective and creative swimming teaching models; coordinate with functional sectors, localities and mass media to promote water safety rules, Thu said, adding that they will coordinate with localities to review dangerous places with the high risk of drowning to put up warning signs.
Accidental injury amongst children is a pressing problem in Vietnam. However, drowning and traffic accidents are sadly the most common.
Keeping children water-safe this summer

According to statistics, over 2,000 children lose their lives in drowning accidents every year in Vietnam, making drowning the country's leading cause of death among ...