Two Vietnamese athletes make record as swimming over 200km in cold river water
Finishing a staggering 200km swimming distance, Quang and Khanh have earned the title of Vietnam's longest distance river swimmers. The incredible journey amazes and surpasses anyone's expectations.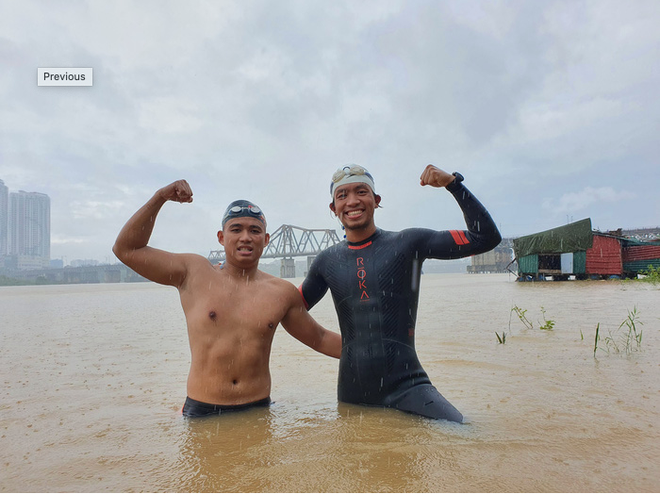 Duong Minh Quang and Nguyen Ngoc Khanh (Photo courtesy of Nguyen Ngoc Khanh)
As reported by Tri Thuc Tre, the 34-year-old blue-collar Nguyen Ngoc Khanh was the one who initiated the "crazy idea" after hearing what he called an inspirational story from his friend.
"One of my friends wanted to break the record in Vietnam by swimming for 80km. However, I wanted to step up the game and raised the distance to 200km", Khanh was quoted as saying.
Duong Minh Quang, 25, a physical education teacher in Hanoi, decided to join Khanh as he was intrigued by the idea. Both Khanh and Quang, however, had only swum for a maximum of 50km and 20km respectively. 200km, even 100km is way out of their comfort zone.
1h30 am on November 6, 2020, Khanh, Quang and 3 other athletes, including one female, started off the staggering 200-km journey from Red River at the foot of Long Bien bridge (Hanoi) to Bo Lat estuary (Thai Binh province).
On November 8, Khanh and Quang were the only two that crossed the finish line. Meanwhile, another member stopped after swimming 100km, the remaining two quit after 70km and 90km.
The athletes swim an average of 70km in about 15 hours. After every 15-20km, the team would stop to eat, rest on a boat that sails along.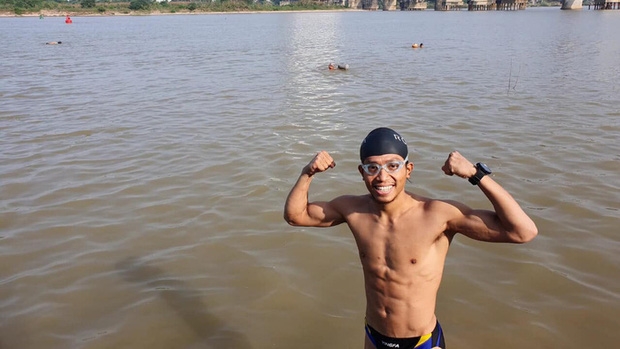 Ngoc Khanh is the one who initiated the idea (Photo courtesy of Nguyen Ngoc Khanh)
"We had prepared really carefully for the journey. You know, us 5 swimmers were accompanied by 20 volunteers who were on the ship and would feed us, give us light at night or provide medical care in case any accident occurs", Khanh said.
"We ventured out in the middle of the night, with sparkling lights on the bridge waved us goodbye. As dawn broke, it was incredibly wonderful to see the sun rising above the sea. The sunset, however, treated us with another gorgeousness", a swimmer in the team said. "If it had not been for the swimming journey, we could never have admired such a breath-taking spectacular. The feeling was just amazing".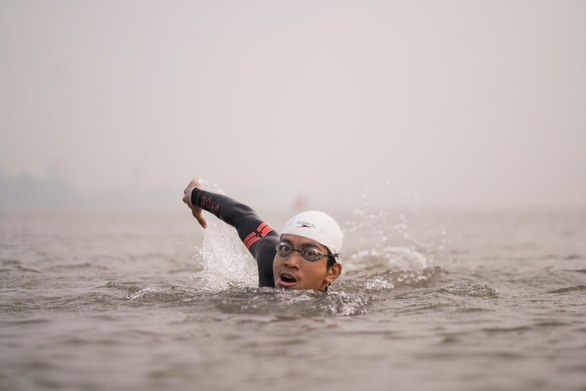 (Photo: Tuoi Tre)
Khanh and Quang are planning to invite more swim enthusiasts to his swimming club.
"We would generalize and share interesting knowledge about swimming in the wild, as well as organize certain river swimming tournaments", Khanh said, adding that long-distance swimming helps balance his mentality, relieve stress, and horn his persistence to pursue life goals. His distant dream is to swim all the way along the coast of Vietnam.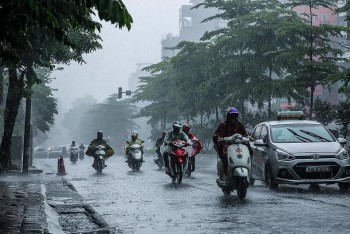 Economy
Vietnam Business & Weather Briefing (August 7): Vietjet offers 888,888 tickets with discounts up to 88%, Vietnam to form seven marine economic clusters by 2030