About 1000 Vietnamese citizens brought home from pandemic-hit India
Most of around 1,000 Vietnamese expats in India, which has been battling a world-record Covid-19 spike, have been sent home, an embassy official says.
The Vietnamese living and working in India have been brought back home in six rescue flights, said Do Thanh Hai, Counselor and Deputy Chief of Mission at the Embassy of Vietnam in India.
The 100 or so who still remain live in different parts of India and the embassy is keeping in touch with them to provide timely help when needed, he said.
"We are working on preparing another flight to send them home soon because the more they stay back in India, the higher the risk they would face," Hai told VnExpress.
"We have been preparing and making ourselves ready to deal with any development with the ongoing outbreak here."
Hai noted that the Vietnamese people left in India were facing many difficulties apart from the very high risk of contracting the dreaded Covid-19 disease.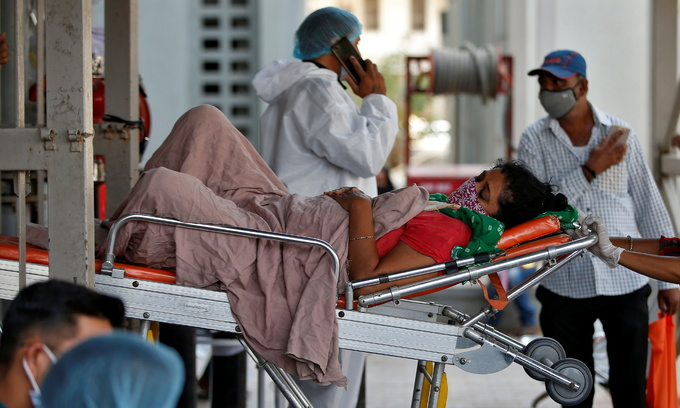 A patient is wheeled inside a Covid-19 hospital for treatment, amidst the spread of the disease in Ahmedabad, India, April 19, 2021. Photo by Reuters/Amit Dave.
If they get infected, the risk of serious illness or death is very high because the health system of India is overwhelmed already. Traveling and getting access to essentials have also become difficult these days, and the psychological stress they are experiencing is high, he said.
Hien Nguyen, who stays in Mumbai with her baby and husband, said she did not dare to go out because "almost all people in my neighborhood have been infected and more than a few have died even before they were taken to hospitals."
Hien gave birth to a baby girl 16 months ago and she and the baby have been staying indoors ever since. "My baby has never been taken outside since she came into this world." Her family has been using a room to store some food and ordering food online in some cases.
Tan Nhi, who lives in Kochi, Kerala with her husband, said: "It seems like the situation is still under control and is not as stressful as in Mumbai or New Delhi." But she was worried because her husband works at a hospital and she has been living under huge pressure. Nhi said she has completely locked herself in the house, Vnexpress reported.
"My husband is in charge of the shopping and he does that every seven or ten days. Every time he goes to the store, he would do his best to bring home as many essentials as possible to avoid going out again and again."
Update on Covid-19 situation in India
India's new coronavirus infections hit a record peak for a fifth day on Monday as countries including Britain, Germany, and the United States pledged to send urgent medical aid to help battle the crisis overwhelming its hospitals, said Reuters.
Infections in the last 24 hours rose to 352,991, with overcrowded hospitals in Delhi and elsewhere turning away patients after running out of supplies of medical oxygen and beds.
"Currently the hospital is in beg-and-borrow mode and it is an extreme crisis situation," said a spokesman for the Sir Ganga Ram Hospital in the capital, New Delhi.
On Sunday, Prime Minister Narendra Modi urged all citizens to get vaccinated and exercise caution, while hospitals and doctors have put out urgent notices saying they were unable to cope with the rush of patients.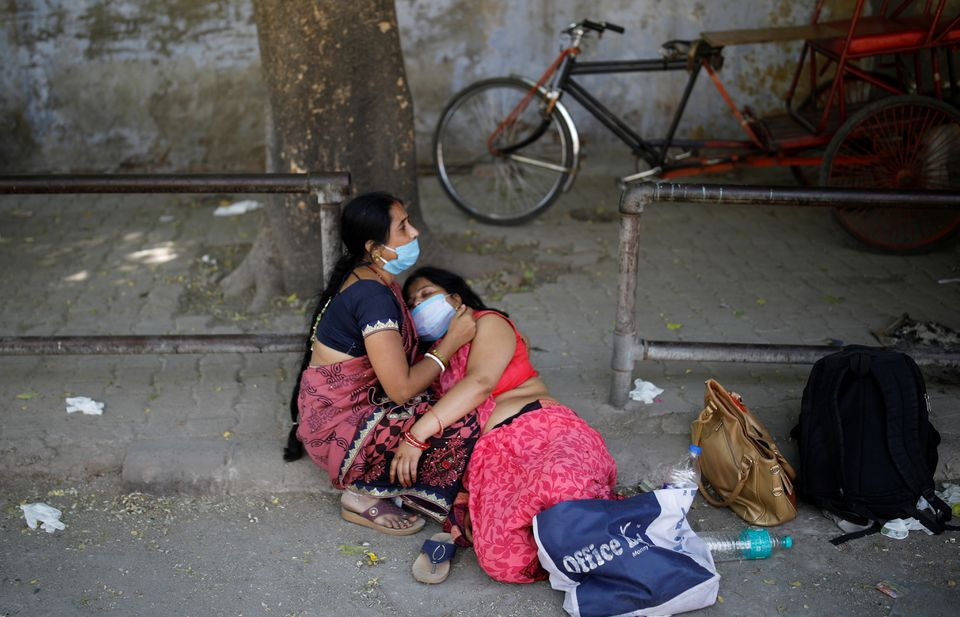 Women mourn the death of a family member, who died from coronavirus disease (COVID-19), outside a crematorium in New Delhi, India April 24, 2021. Photo: Reuters /Adnan Abidi
In some of the worst-hit cities, including New Delhi, bodies were being burnt in makeshift facilities offering mass services.
On Sunday, President Joe Biden said the United States would send raw materials for vaccines, medical equipment, and protective gear to India. Germany joined a growing list of countries pledging to send supplies.
India, with a population of 1.3 billion, has a tally of 17.31 million infections and 195,123 deaths, after 2,812 deaths overnight, health ministry data showed, although health experts say the death count is probably far higher.
Politicians, especially Modi, have faced criticism for holding rallies attended by thousands of people, packed close together in stadiums and grounds, despite the brutal second wave of infections.
Several cities have ordered curfews, while police have been deployed to enforce social distancing and mask-wearing.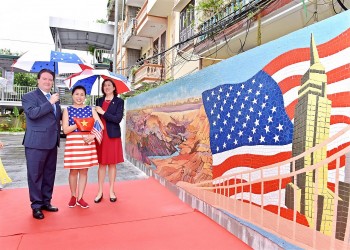 Multimedia
A ceramic mosaic mural named "Vietnam - US friendship" depicting the natural and cultural heritages of the two countries, was just revealed in Hanoi