Absence Leaves Foreigners' Hearts Fonder, Yearn to Return to Vietnam
Away from loved ones in Vietnam for various periods from months to nearly two years, many foreigners are desperate to return to their wives, fiancés and children
American Ethan Hale has been eagerly checking for the latest news on Vietnam reopening its borders since early October.
With recent reports on conditions for tourists to visit Vietnam, he has become more impatient, as reported by VNE.
Hale has not seen his Vietnamese wife Tu Anh and his little daughter Minh Tu since early this year, when he left Hanoi for Saudi Arabia for work. As a technician in the oil and gas industry, he is allowed to return home every month, but has not been able to do so because Vietnam is yet to reopen its borders.
"I keep blaming myself a lot for not being able to get back to my family."
At the beginning of 2021, when Hale left Vietnam, the couple did not worry too much about the pandemic as Vietnam had recorded a low number of total infections at just over 830 cases.
These days, he is hoping that he can return to Vietnam at least as a tourist.
Hale is among many foreigners yearning to see their loved ones in Vietnam after being forced to live apart by the pandemic and subsequent suspension of international flights. Several foreigners have expressed fear that their relationships might be adversely affected by their prolonged absence.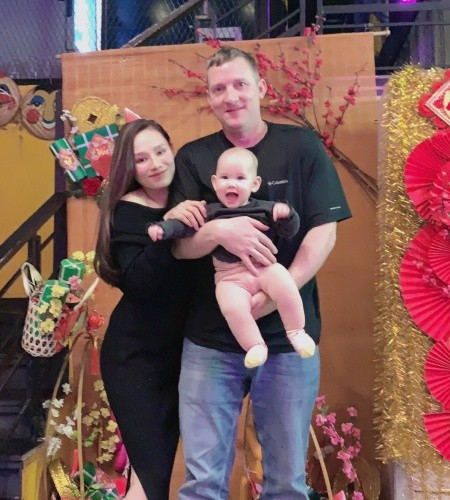 Ethan Hale with his wife Tu Anh and their daughter in Hanoi in early 2021. Photo courtesy of Hale/ via VNE
The Vietnamese government closed its doors to foreign tourists and canceled all international flights in March last year as a Covid containment measure. Only Vietnamese repatriates, foreign experts and highly-skilled workers have been allowed in since with stringent conditions.
Over the last few months, authorities have been discussing the possibility of allowing foreign tourists to come in, shifting its strategy from zero Covid to living with the novel coronavirus.
In all the discussions, tourists will only be allowed to stay in sequestered resorts in certain destinations and cannot move around the country freely.
Wedding delayed
Ken Lee, a Taiwanese working in the banking sector, went to Hong Kong for work in March 2020 and has not been able to return since. Lee and his Vietnamese fiancé who lives in the northern province of Tuyen Quang were planning their wedding when they were separated.
For the last year and seven months, Lee has been trying to talk to his fiancé every single day at least once, even when on the busiest of days. He feels sad because he is not able to help her solve the problems she is facing. Sometimes they quarrel about unimportant things, he said.
"I find that it is getting harder to ask her to wait patiently for me without knowing the exact day we can meet again. We're in a very difficult time, and it is affecting our mental health."
Kevin Lescop, a Frenchman, said he had to go to his hometown in June 2020 to see his ailing mother. His Vietnamese wife could not go with him because she was convalescing after a surgery. After his mother passed away early 2021, Lescop wanted to return to Vietnam but even his visa exemption status could not help him do so. The couple have no other choice than keeping in touch through social networks.
At first, on reading the news about requirements for tourists coming to Vietnam, Lescop was delighted at the possibility that he could return and reunite with his wife. But the delight proved short lived as he realized that he would not be allowed to leave designated places.
Lescop said he loved Vietnam for many different reasons and has happy memories in the country.
"I dream of spending the next Tet with my wife in Vietnam."
Trisha Thuy Tien, a Vietnamese Canadian living in HCMC, said she was waiting for her husband to come from Canada.
In July this year, Tien said goodbye to him soon after their wedding because her employer asked her to go to Vietnam on business. It has not been easy for the young couple to live far away from each other as they have been together for over 11 years.
She said that they were trying to find a way to be together because she would stay in Vietnam for two years.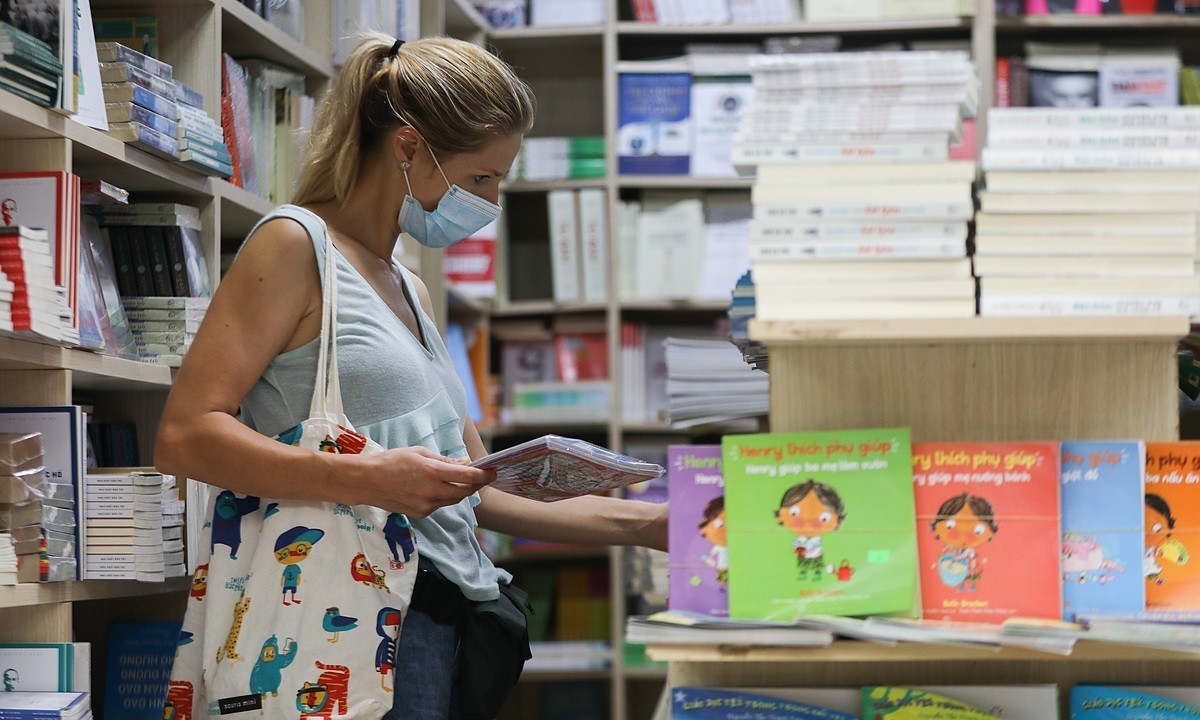 A foreign woman at Nguyen Van Binh Book Street in HCMC, which has reopened after months of closure, Oct. 9, 2021. Photo: VNE
Why not us, too?
Lee said that he understood the issues regarding Covid in Vietnam as well as the nation's policies to control the pandemic.
However, he saw no difference between foreign experts, highly-skilled workers and people like him as far as meeting requirements for reducing transmission risks was concerned.
Lee has been fully vaccinated and is ready to go to quarantine centers and undergo required testing at his own expense, he said, stressing: "I don't mind the length of the quarantine period."
He suggested that Vietnam could permit foreigners who have test negative at the end of their stay in designated places to travel to other parts of the country to meet their loved ones.
If he could return, Lee said he and his fiancé would get married as soon as possible. He would find a job in Hanoi later so that they will not be separated again, he added.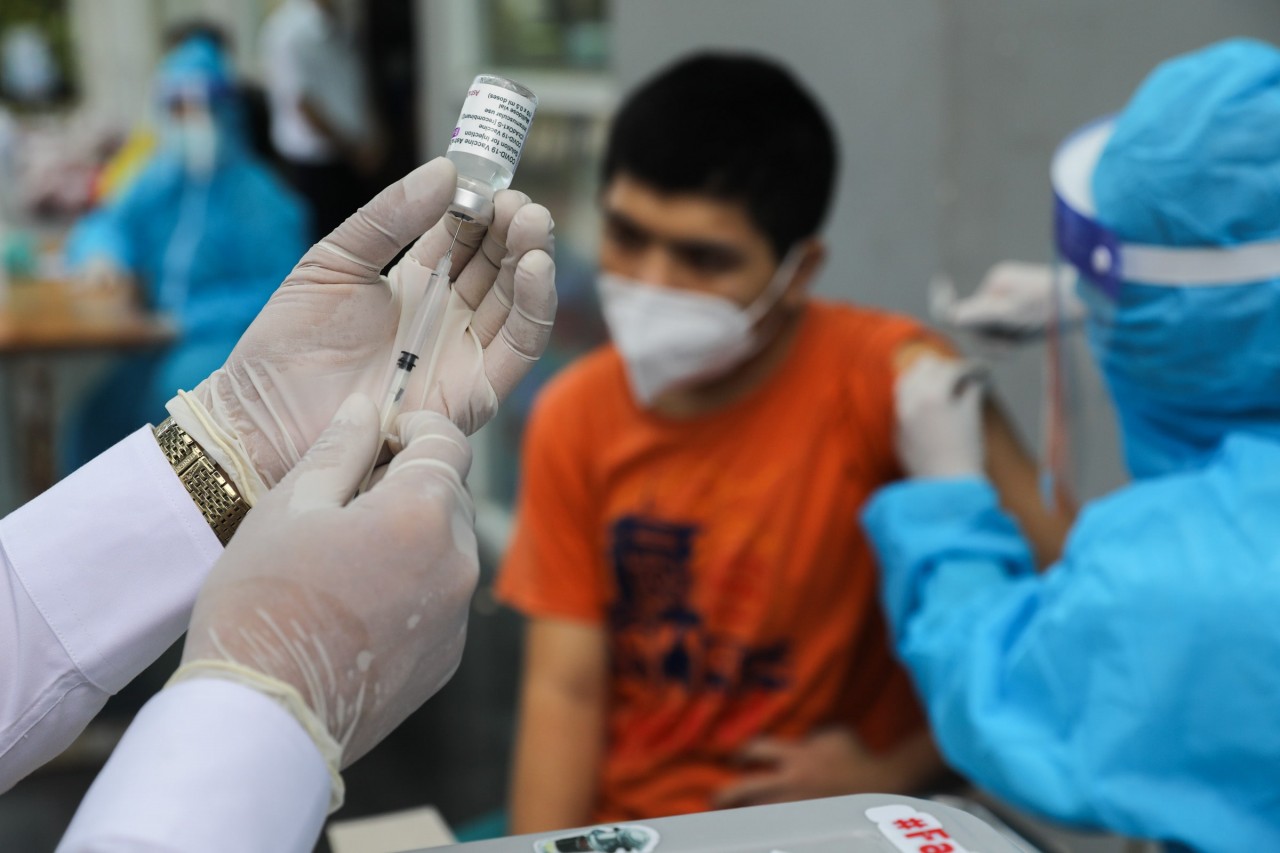 A man gets Covid-19 vaccine in Go Vap District in HCMC, August 14, 2021. Photo: VNE
Drew Kirton, an Australian who has not seen his Vietnamese fiancé for two years, said he hoped Vietnam would prioritize the return of loved ones. In the U.K for work, he said that he has been vaccinated twice and did not mind where he would be quarantined before reuniting with his fiancé.
Tien said her husband has had two shots of vaccine, has all needed legal documents, and her employer could provide him with a spousal visa. She said she was hoping that he could join her soon.
Hale said he would do "anything" to get back to his family.
In their separation, he was striving to talk with his wife and baby more regularly "and share more laughs". He felt Vietnam was his home and was grateful he met the love of his life here in 2018.
While waiting for the border to reopen, Hale has hired lawyers to start the green card process for a reunion in the U.S. But the process has not been as quick as he expected.
His wife Tu Anh, in Vinh Phuc Province now, told VnExpress International that while she has their daughter by her side, she felt sorry that her husband has been alone for a long time.
Tu Anh also said that she and Hale have learned how to overcome big obstacles. She was no longer worried he would suffer from serious stress again. They were not unique in experiencing distress during the pandemic; there were many other people facing similar and worse troubles, she felt.
At present, she is trying to complete documents required for her daughter and her to fly to Thailand for a family meeting, Tu Anh said.
"I plan to go there in November, but have not yet considered ways to return to Vietnam."
The Vietnamese Government closed its doors to foreign tourists and canceled all international flights in March last year as a Covid containment measure. Only Vietnamese repatriates, foreign experts and highly-skilled workers are allowed in with stringent conditions.
Vietnam recorded a 79% decline year-on-year in the number of foreign visitors in 2020 due to travel restrictions amid the pandemic.
The nation welcomed just 3.83 million foreign visitors against a record 18 million in 2019, according to official data.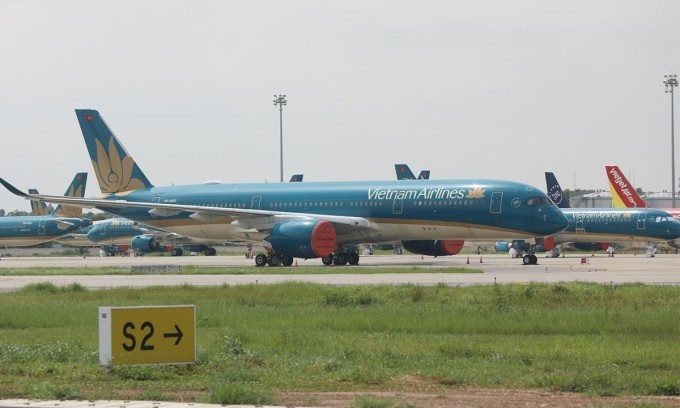 Aircraft park at Noi Bai Airport, Hanoi. Photo: VNE
The country is piloting opening of several domestic air routes starting Oct. 10 with further adjustments being made later on.
Accordingly, from Oct. 10-20, there will be 23 return flights every day, 10 of them from HCMC to other localities, six from Hanoi, four from Da Nang and three from Thanh Hoa, according to the domestic flight resumption plan presented by Le Anh Tuan, Deputy Minister of Transport, at an online meeting Friday.
Passengers can take the flights if they are fully vaccinated with the last dose administered at least two weeks before the flight; or if they are Covid-19 patients who have recovered at least six months prior, as reported by VNE.
All passengers are also required to take Covid-19 tests 72 hours before their flights with negative results.
When moving from the airport to their accommodation and during their stay, passengers have to strictly follow Covid-19 prevention guidelines.