Acting New Zealand Ambassador's first experience of making Chung cake
Acting New Zealand Ambassador Joseph Mayhew tries making and eating Chung cake for the first time with the guidance of young local people.
(Video: VNE)
"This is my first Tet here in Vietnam. I feel tremendously honored to be able to join the family today, to come and learn how to make Banh Chung is a new experience for me", Joseph was quoted by VNE as saying. "It's very special for me to be able to witness the Tet tradition and I'm looking forward to learning more about Tet in Vietnam".
The acting ambassador said it was quite difficult to learn how to make Chung cake but he had some very good teachers. The hardest part was to wrap the cake at the end and keeping it in a good shape. The experience allows him to know more about the importance of Tet in each Vietnamese family.
"I feel like I learn a lot of important skills today and maybe next year I'll be a little bit better at it", he said.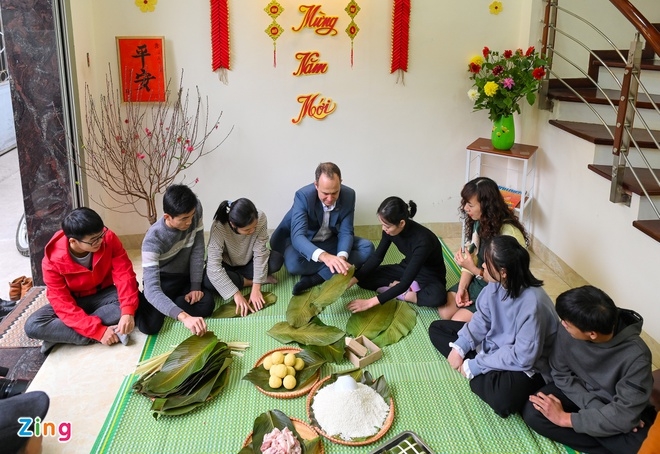 (Photo: Zing)
Chung cake is one of the indispensable dishes of Vietnamese people on Tet holiday. For Vietnamese, making Chung cake is a way to express gratitude to their ancestors and homeland.
Chung cake was invented by the 18th Prince of Hung Emperor in the contest of looking for the new Emperor. According to the legend, 3,000-4,000 years ago, Prince Lang Lieu, made round and square cakes, the round Day cake symbolizing the sky and the square Chung cake symbolizing the Earth (under the ancient Vietnamese perception), to be offered on the occasion of Spring.