Activities held nationwide to celebrate Chol Chnam Thmay with Khmer, Cambodian people
Authorities in many cities and provinces across Vietnam have organised activities to join Khmer ethnic minority people and Cambodians in celebrating Chol Chnam Thmay, their traditional New Year festival.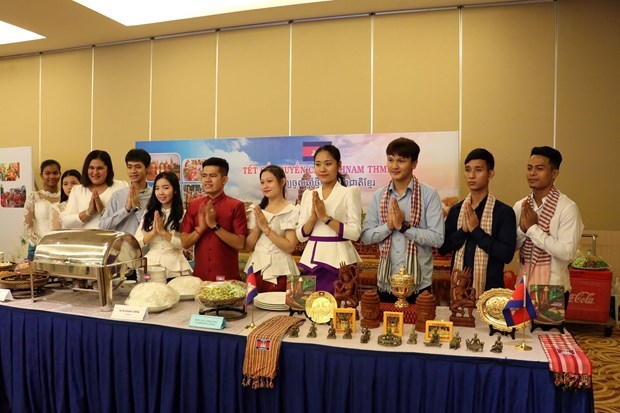 Some of the young Cambodians participating in the celebration held in Ba Ria-Vung Tau province on April 13. Photo: VNA
A festival celebrating the traditional New Year of Cambodia, Laos, and Thailand took place in the southern province of Ba Ria-Vung Tau on April 13, reported VNA.
Addressing the festival, the head of the provincial Department of Information and Education and Chairman of the provincial Vietnam - Cambodia Friendship Association Nguyen Van Xinh said the celebrations are expected to increase mutual understanding and tighten the friendship and solidarity between the Vietnamese people and those from Cambodia, Laos, and Thailand.
Participants were treated to musical performances, traditional cuisine, and traditional rituals.
In the Mekong Delta province of Bac Lieu, representatives from local authorities have visited and offered New Year greetings to Khmer people and Buddhist monks, encouraging them to continue leading a good religious life.
Representatives from the Khmer community thanked the Party, State, and authorities for their support in improving the livelihoods of the ethnic minority group and pledged to contribute more to local development.
Bac Lieu is home to more than 17,000 households with nearly 74,000 people from the Khmer ethnic minority, accounting for 7.5 percent of its population.
On April 12, leaders of the Border Guard Command in the Central Highlands province of Dak Nong visited and extended New Year wishes to Cambodian police and military units performing border defence duties in Cambodia's neighbouring province of Mondulkiri.
Colonel Nguyen Van Lu, head of the Dak Nong Border Guard Command, expressed his hope that border protection forces in Mondulkiri will coordinate closely with Dak Nong border guards in safeguarding the border and preventing and controlling COVID-19.
In response, the Cambodian side affirmed they will enhance ties to boost border management and protection and develop bilateral solidarity and friendship.
On the same day, the Can Tho city Union of Friendship Organisations held a gathering of Khmer members and Cambodian students from universities in the Mekong Delta city to celebrate the traditional New Year.
Venerable Ly Hung, head of Pitu Khosa Rangsay Pagoda and Vice Chairman of the Can Tho's Vietnam-Cambodia Friendship Association, presented 14 scholarships worth VND 1 million each to Cambodian students in the city.
The Vietnam Union of Friendship Organisations and the Vietnam-Cambodia Friendship Association in Can Tho also raised donations to offer support of VND 400 million (USD 17,300) to people of Vietnamese descent in Cambodia.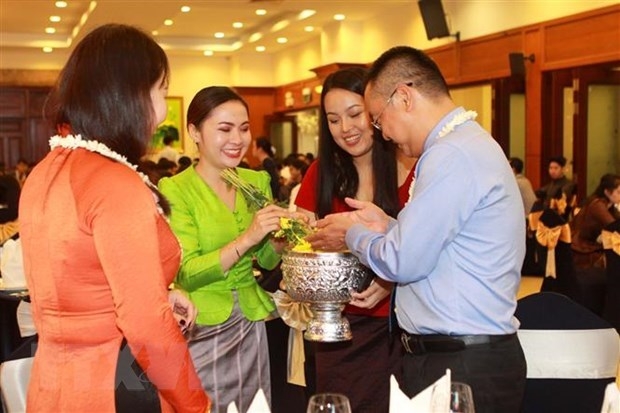 Students of Cambodia and Laos in Ho Chi Minh City on April 12 joined a get-together held by the Ho Chi Minh Communist Youth Union (HCYU) of the city on the occasion of their New Year festival. Photo: VNA
Students of Cambodia and Laos in HCM City on April 12 also joined a get-together held by the Ho Chi Minh Communist Youth Union (HCYU) of the city on the occasion of their New Year festival.
The get-together also featured Laos and Cambodia's rituals like thread tying on the wrist and water-splashing to wish for a year of happiness and prosperity.
Addressing the event, Vice Secretary of the municipal Party Committee Nguyen Ho Hai wished the participants a new year of happiness.
He added that the friendship, solidarity and mutual support between the countries are the factor ensuring victory in the countries' national development and safeguarding in the past, at present and in the future.
Hai voiced his belief that students of Laos, Cambodia and HCM City will actively strengthen their bond and bolster the sound relations between the countries towards the goal of building the ASEAN Community of peace, cooperation and development.
There are some 925 Lao and Cambodian students learning at HCM City's educational establishments./.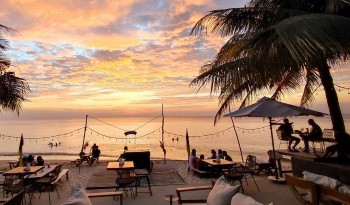 National
Vietnam News Today (Jan. 27): Vietnam confirms 15,885 local cases; Vietnam among top 20 World's Best Places to Retire in 2022; HCM City continues with vaccination during Lunar New Year festival; Vietnam enjoys trade surplus from 54 export markets globally.