Expert: Vietnam at high risk of COVID-19 infections from Cambodia
Vietnam is at the high risk of COVID-19 infections from neighbouring Cambodia, which is facing a significant surge in community transmissions, an expert has said.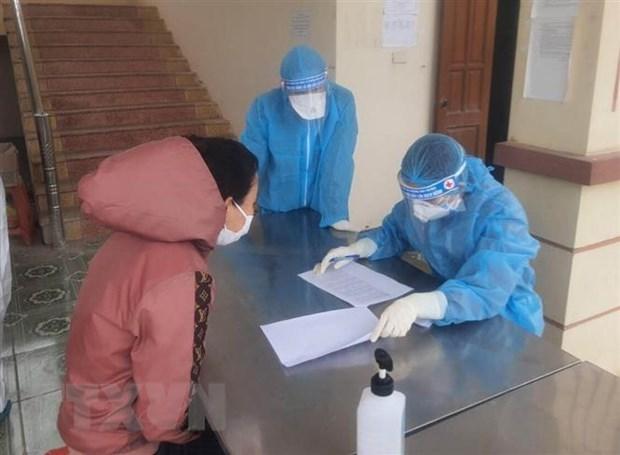 A Vietnamese returning from abroad fills out medical declaration at the Regiment 855 under the Military Command of Ninh Binh province. Photo: VNA
Tran Dac Phu, senior advisor to the health ministry's public health emergency operation centre, explained that people have constantly crossed the border between Vietnam and Cambodia, both legally and illegally.
The border between the two countries is really long, not to mention the sea and air routes, he said. "Notably, it is difficult to control travel by sea."
Phu pointed to large numbers of Vietnamese staying and running business in Cambodia, as well as those travelling back and forth legally and illegally.
Given the high risk of infections, it is a must to tighten control over border gates and small paths, he said, warning that community outbreaks would re-emerge in Vietnam if someone sneaks in illegally with the virus.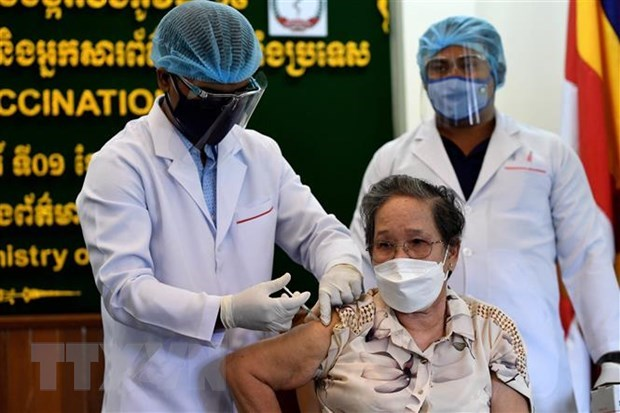 An official of the Cambodian Ministry of Information is vaccinated against COVID-19 in Phnom Penh on April 1. Photo: AFP/VNA
The Cambodian Ministry of Health on April 13 reported the country's 33rd COVID-19 death and another 181 transmission cases, all but three of which were linked to the February 20 community outbreak, according to The Phnom Penh Post.
Phnom Penh recorded the most cases at 140, followed by Svay Rieng at 14, Preah Sihanouk at eight, Prey Veng at six, Siem Reap at four, Kandal at three, and one each in Takeo, Kratie and Preah Vihear.
As of April 13, Cambodia had recorded a total of 4,696 COVID-19 cases with 2,406 receiving ongoing treatment and 33 confirmed deaths from the disease.
The World Health Organization (WHO) in Cambodia has recently warned of the risk Cambodia is facing.
"We stand on the brink of a national tragedy because of COVID-19. Despite our best efforts... new cases occur every day and we are racing against the virus. Unless we can stop the outbreak, Cambodia's health system is at high risk of being overwhelmed, which would have disastrous consequences," said WHO Representative to Cambodia, Li Ailan.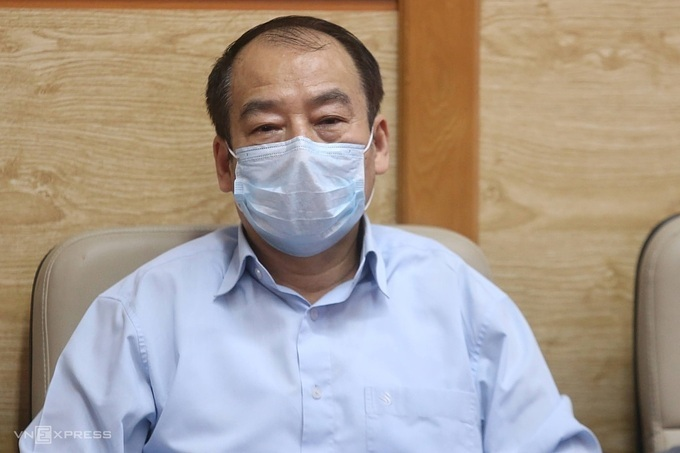 Tran Dac Phu, senior advisor to the health ministry's public health emergency operation centre. Photo: Gia Chinh
Meanwhile, Vietnam has recorded no domestically-transmitted cases for around three weeks. However, the number of imported cases has been increasing gradually, with many of them returning from Cambodia.
Phu, therefore, called on people to report to authorities if they come to know any person entering Vietnam illegally.
Figures show Vietnam has administered the COVID-19 vaccine produced by British-Swedish firm AstraZeneca to more than 59,000 citizens, mostly frontline workers in the pandemic fight.
The country's total cases of COVID-19 now stands at 2,714, according to the Ministry of Health.
Up to 2,445 COVID-19 patients have been given the all-clear, while the death toll remains at 35.
Among patients still under treatment, 16 have tested negative for the novel coronavirus once, 18 twice and 18 thrice.
A total 36,234 people who had close contact with COVID-19 patients or arrived from pandemic-hit areas are under medical monitoring across the country.
The health ministry continues to urge all people to follow the 5K motto – Khau trang (wearing facemask) – Khu khuan (disinfecting) – Khoang cach (keeping distance) – Khong tu tap (no gathering) – Khai bao y te (making medical declaration), in order to live safely amid the pandemic./.