Almost 20 Vietnamese Entrepreneurs Display Products at Franchising & Licensing Asia
Presented annually by the Franchising & Licensing Association (Singapore) and organized by Constellar, FLA2023 offers tremendous opportunities for aspiring individuals and entrepreneurs to connect with global-ready brands who are looking to expand into the rest of Asia Pacific and globally, with Singapore as the springboard.
Vietnamese exhibitors are attending the 2023 Franchising & Licensing Asia (FLAsia) with the theme 'Breaking Barriers with Franchising: Paving the Way for Aspiring Entrepreneurs & Global-Ready Brands', held in Singapore from August 17-19, VNA reported.
Over 100 brands from Australia, Hong Kong (China), Malaysia, Philippines, Singapore, the Republic of Korea, Taiwan (China), the US, and Vietnam are on show at the event - Asia's leading franchising & licensing marketplace.
Representatives from Vietnamese and foreign agencies cut ribbons to open a Vietnamese booth at Franchising & Licensing Asia (FLAsia) in Singapore.
FLAsia is the most international event of its kind, an excellent platform that brand owners choose to showcase innovative and unique business concepts. This is the second time Vietnam has joined the event, with the presence of the Vietnamese trade office in Singapore, Hanoi's Department of Industry and Trade, and 17 companies.
Singapore's Minister of State for Trade and Industry Low Yen Ling in her opening speech of FLAsia 2023 highly appreciated the participation of Vietnam as well as the potential and strengths of brands from the country.
She said she is impressed with the new products displayed by Vietnamese businesses when she visits the Vietnamese booths.
Vietnamese products at FLAsia 2023 also attracted the attention of Singaporean and international businesses, and diplomatic officials from other countries.
Within the framework of FLAsia 2023, the Vietnam Trade Office in Singapore and the Hanoi Department of Industry and Trade coordinated to organize a conference on Singapore's Halal market and connect Vietnam-Singapore businesses.
More than 100 Vietnamese businesses registered to attend the conference online while nearly 100 Vietnamese and Singaporean businesses attended in person.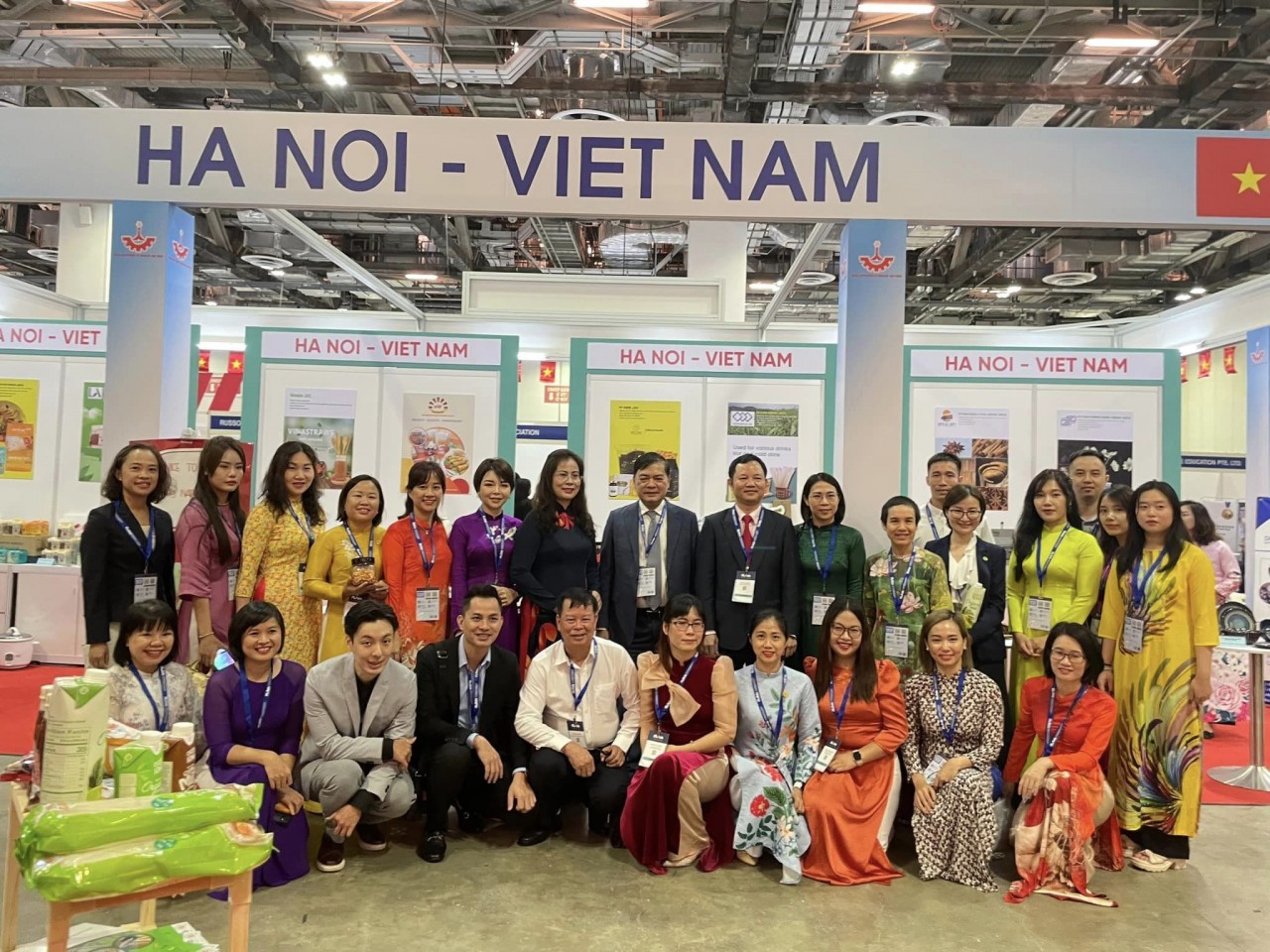 Vietnamese Ambassador to Singapore Mai Phuoc Dung and Vietnamese companies.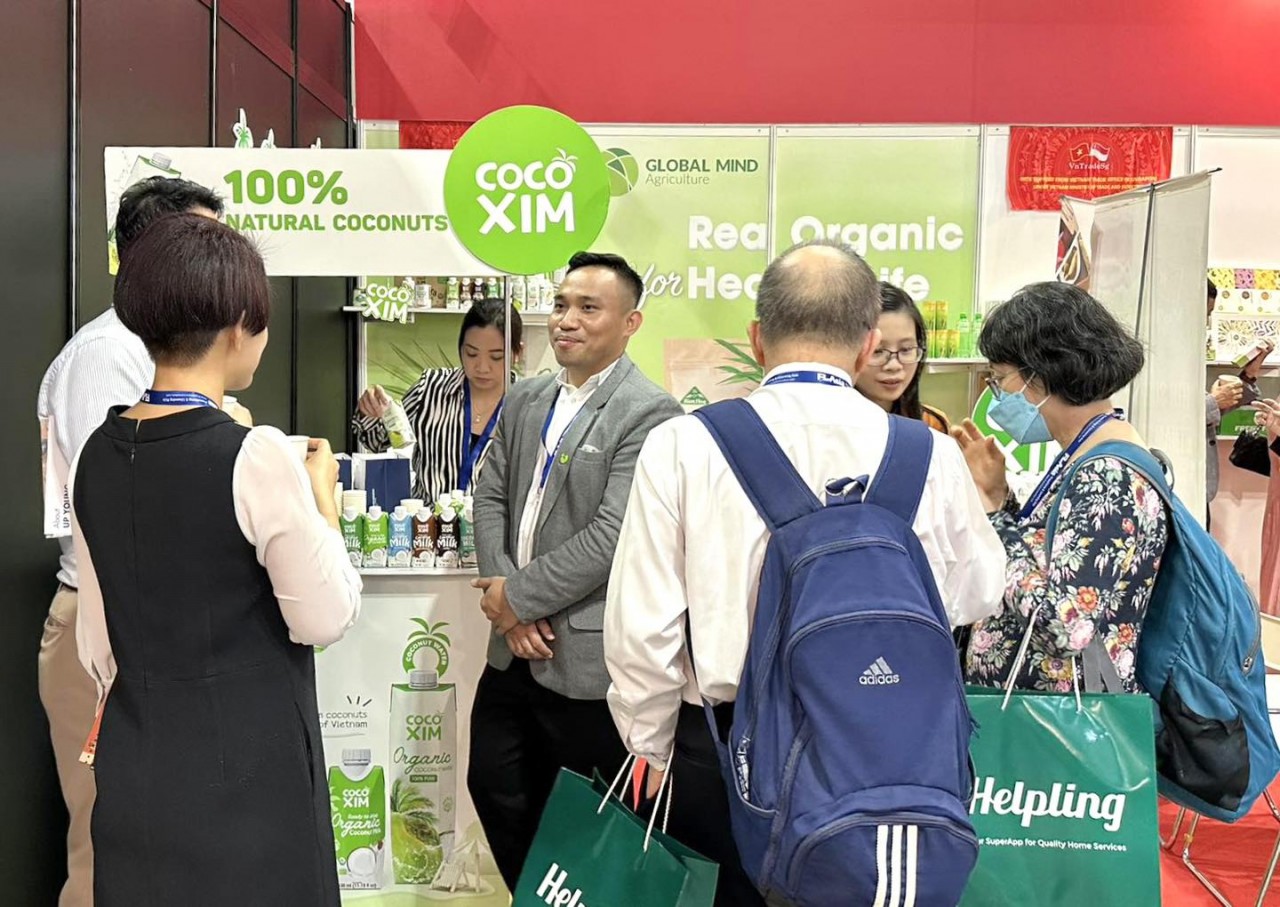 Visitors try Vietnamese drink at a booth.
Speaking at the conference, Vietnamese Ambassador to Singapore Mai Phuoc Dung said that Singapore has experience in commercial development, including Halal products. Singapore has a very good Halal certification system, which is recognized by Islamic countries such as Brunei, Indonesia, Malaysia, and other major trading partners. Therefore, Singapore is an ideal gateway for Vietnamese businesses in the production, trade, and re-export of Halal food products to major Islamic countries.
With a diverse and unique range of product and service brands on board, FLA2023 is the ideal platform to meet brand owners and franchise leaders, as well as discover how franchisees can play unique strategic roles in furthering the brand's success in the local markets with their in-market knowledge of business, marketing and talent strategies.
"Singapore is a lucrative market and springboard for both master franchisors looking to expand in the region and for aspiring individuals seeking opportunities. Singapore's dynamic pro-business environment, political stability, among other considerations, offer a much lower barrier of entry. FLAsia2023 is the key knowledge exchange and business networking platform where both franchisors & franchisees can greatly benefit from," said Dickson Low, President of Franchising and Licensing Association.