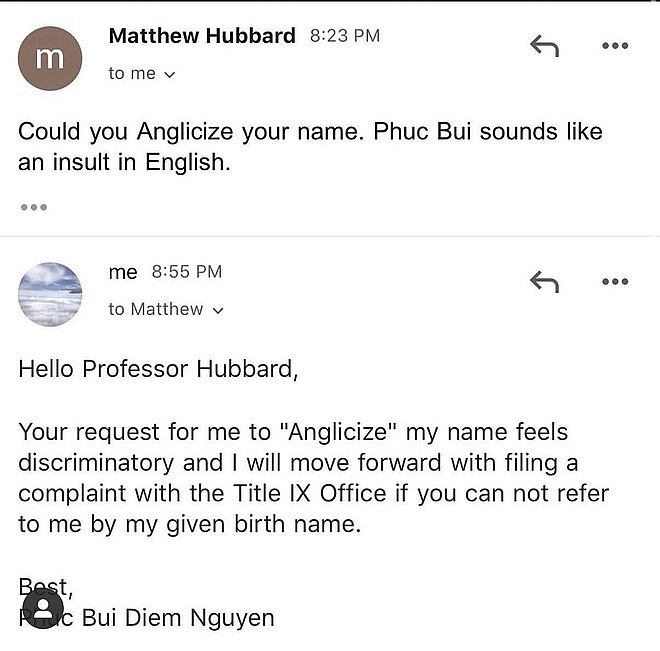 The email between Prof. Hubbard and Ms. Phuc Bui. Photo: TWITTER @AYBARLYY
On September 19th, the Twitter account named @aybarlyy posted screenshots of emails between Professor Matthew Hubbard and a Vietnamese student named Phuc Bui Diem Nguyen (referred to as Phuc Bui), in which Prof. Hubbard asked the student to "Anglicize" her name because Phuc Bui's name when pronounced in English sounds offensive.
In response, Phuc Bui said that Professor Hubbard's request was discriminatory and claimed to "filling a complaint" about Prof. Hubbard if he did not call her by her birth name.
In an email reply later, Prof. Hubbard said that Phuc Bui (the student's name) sounds like vulgar words when are pronounced in English. He also said that if he lived in Vietnam and his name and he is in the same situation, he would change another name to avoid embarrassment for him and the people who say it.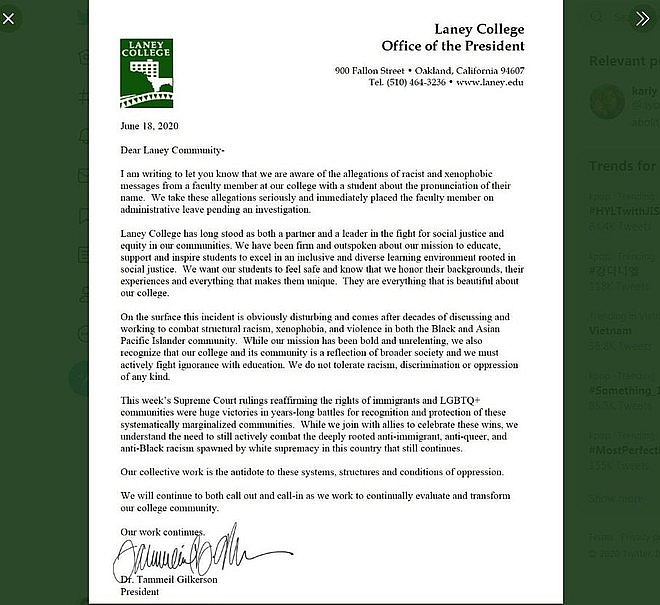 The announcement from the Principal. Photo: TWITTER @AYBARLYY
"I understand you are offended, but you need to understand your name is an offensive sound in my language", he wrote and repeated his request.
The account @Aybarlyy then posted a picture of the message from the student said she was really appreciated since the account has raised the voice in order to protect her. Miss Phuc Bui also announced she would meet the school principal to discuss the case and was about to complete allegation.
In a statement on June 18, Principal Tammeil Gilkerson said he was taking the case seriously and gave the professor a pause to wait for an investigation. According to information on the Laney school website, Professor Hubbard is teaching at the Department of Applied Technology.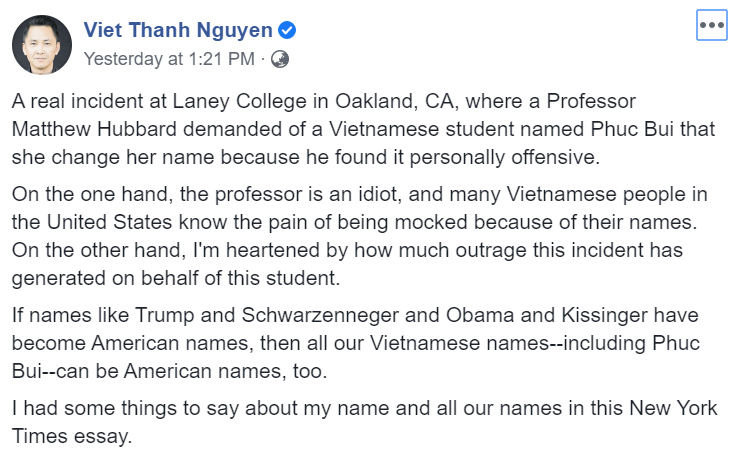 The post on Nguyen Viet Thanh's Facebook
The incident has caused a heated debate on social media. Nguyen Thanh Viet, a Vietnamese writer won Pulitzer prize, also expressed his opinion on his Facebook. He also has an article published on the New York Times about this topic named "America, Say My Name."
Annie Nguyen