Protests in America update: Protests in Seattle become more aggresive
Protesters in Seattle are prevailing the police precinct, President Donald Trump warns against "falsely labeling" Americans racist and Oklahoma cop won't apologize for controversial saying about African Americans are remarkable news updated today.
Protesters in Seattle are prevailing the police precinct
Protesters in Seattle have prevailed in front of a police station and have no signs of moving despite evening is coming, CNN reported.
The police station has been "overtaken by these protesters. It's totally been defaced", said CNN Correspondent Dan Simon. Additionally, in front of the station, the sign used to read "Seattle Police Department" now now is changed into "Seattle People Department".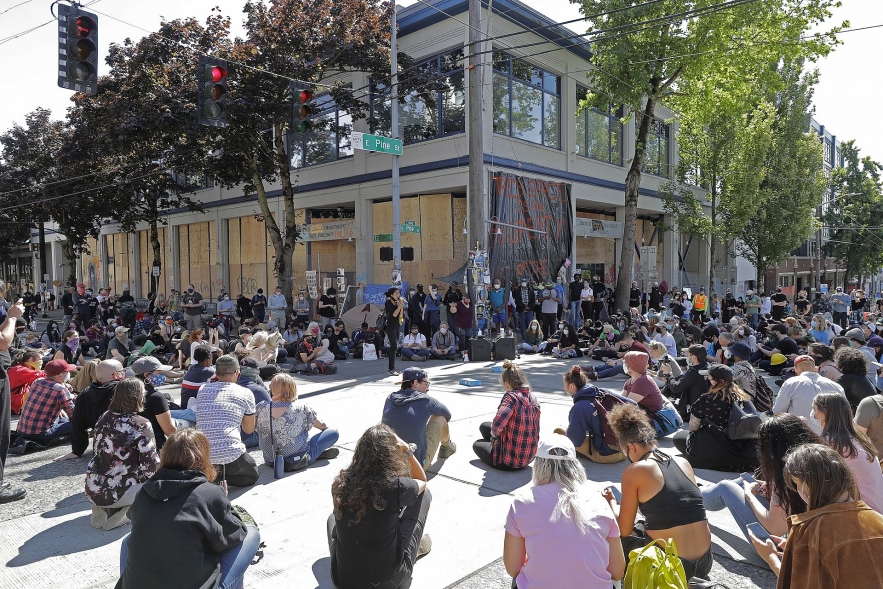 Protestersare sitting in front of the Seattle Police Department East Precinct building, on June 11. Photo: AP
After George Floyd's death, racism protestors have waken across the US and ones in Seattle cannot be out of involving. In front of this department, violent broke out between protestors and police officers, who deployed tear gas. The scene was not pretty good.
After that, the situation had been de-escalated by the police with "essentially abandoned the department. That's when protesters flooded in", Simon said.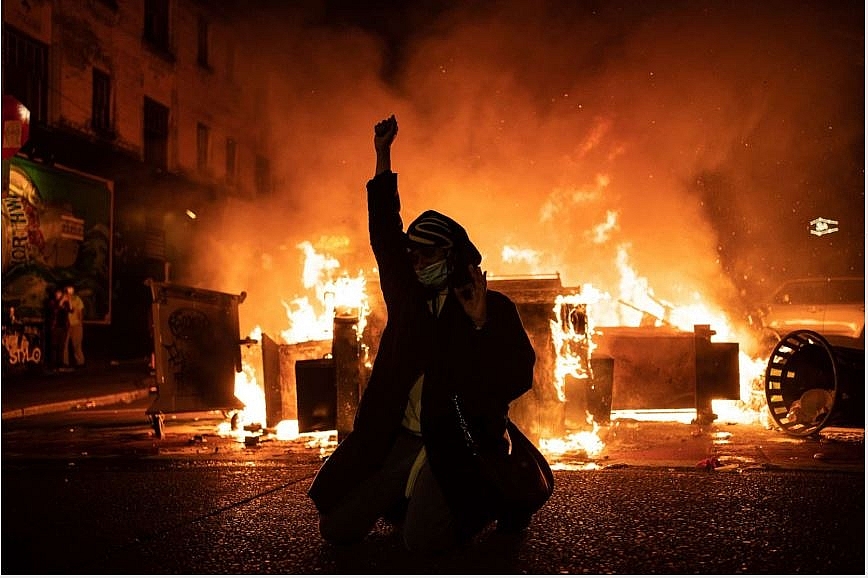 Fire burnt in the street in Seattle on June 8. Photo: ABC News
At the moment, the situation remains peaceful. "It really has the feel of a street festival", Simon said. The protestors sitting in front of the station with food served by people, medical tent set up. they even watch movies and play live music at night.
"It's sort of a contradictory situation. On the one hand, it began with force, but right now it's peaceful," Simon said.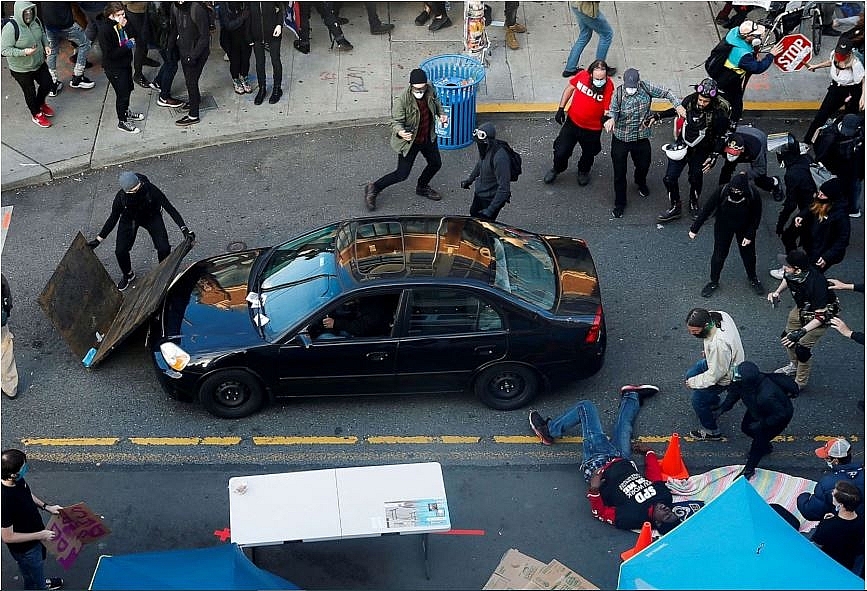 A man shot in Seattle among protestors. Photo: ABC News
President Donald Trump warns against "falsely labeling" Americans racist
On June 11, President Donald Trump raised voice against labeling "tens of millions of decent Americans as racist or bigots" during an event of discussing "justice disparities" in Dallas, Texas, Newsbreak reported.
"We have to work together to confront bigotry and prejudice wherever they appear, but will make no progress and heal no wounds by falsely labeling tens of millions of decent Americans as racist or bigots," Trump said.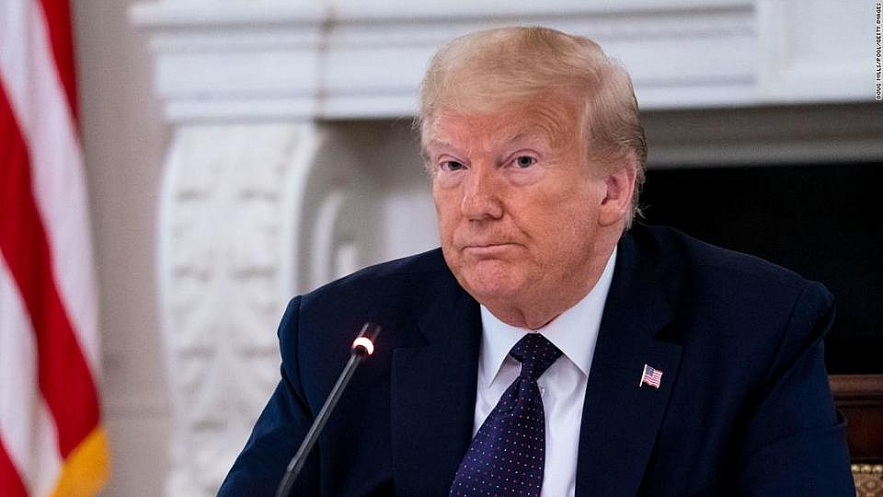 President Donald Trump. Photo: Newsbreak.com
The discussion included faith leaders, law enforcement representatives, small business owners and senior members of the president's administration. President Trump also affirmed that "Americans are good and virtuous people" after warning against blanket descriptions of Americans as racist or bigoted.
In his remarks, Trump described those who used excessive force as "bad apples" and call on: "We have to get everybody together, we have to be on the same path".
The President also confirmed during the discussion that the White House is finalizing an executive order on policing standards amid the national rise of over George Floyd's death in Minnesota. Trump said the order "will encourage police departments nationwide to meet the most current, professional standards for the use of force, including tactics for de-escalation."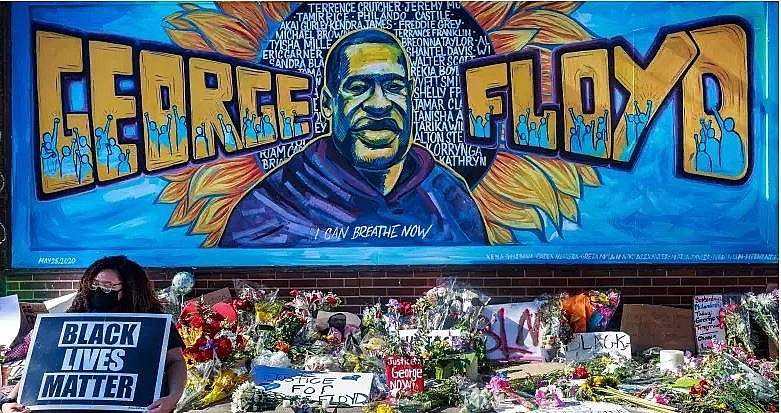 Flowers, signs and balloons are left near a makeshift memorial to George Floyd near the spot where he died while in custody of the Minneapolis police, on May 25, 2020 in Minneapolis, Minnesota. Photo: Getty
Despite facing blacklash, Oklahoma cop won't apologize for controversial saying about African Americans
After a local radio interview, a police commander in Oklahoma, is "under review" after saying that officers are shooting African Americans "less than we probably ought to be".
In that interview, Yates said advocates against police brutality have "made regular Americans believe that cops are just hunting blacks down in the street and killing them. And it's completely the opposite of what the research says and what the data says."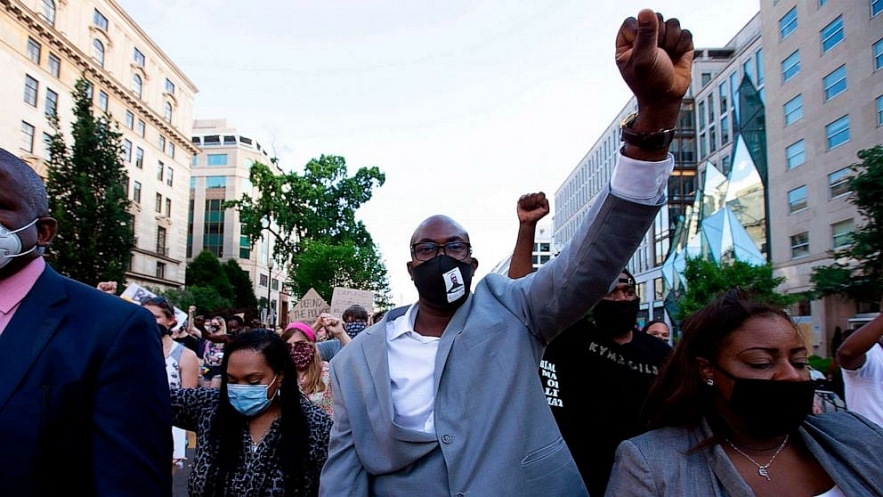 Philonise Floyd, a brother of George Floyd march with others on Black Lives Matter Plaza street near the White House. Photo: Jose Luis Magana/AFP via Getty Images
"All the research said - including Roland Fryer, an African American Harvard professor, Heather MacDonald and the National Academy of Sciences - all of their research says we're shooting African Americans about 24% less than we probably ought to be based on the crimes being committed," Yates said.
He also referenced statistics of fatal shootings by police officers since 2015 of The Washington Post's real-time database, which showed that shootings involving black Americans was 2%, while those involving unarmed white Americans was 3%.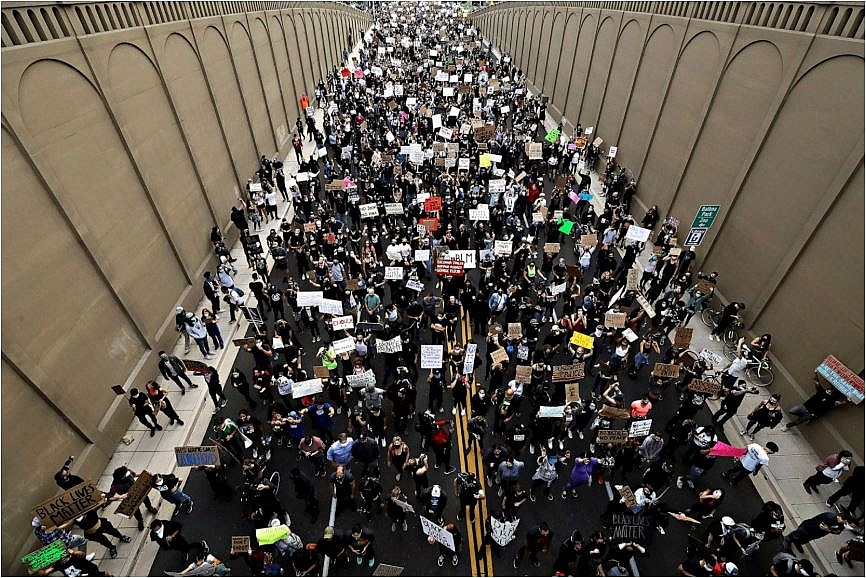 Protesters against the death of George Floyd and police brutality march, June 4, 2020, in San Diego. Photo: ABC News
The Washington Post cited that while the data shows that white people make up half of the shootings by police, black Americans are killed by police at a disproportionate rate. White Americans make up 76.5% of the U.S. population, while black Americans make up 13.4%. That means black people are 2.5 times more likely to be shot and killed by police than white people.
In a Facebook statement, Tulsa Police Department denounced the comments made by Major Travis Yates, who is white, and Tulsa Mayor G.T. Bynum called Yates' comments "dumb" and required an apology.
Demonstrators gather at police headquarters in downtown Kansas City, Mo., June 5, 2020, as they protest the death of George Floyd. Photo: ABC News
However, Yate said that he wouldn't apologize "because what I said was accurate based on the data."
Yates' comments appeared amid nationwide protests against racism and police's exessive force after the death of George Floyd, a black man who died in Minneapolis on May 25.
Seattle Mayor tells President Trump "Go Back To Your Bunker"
According to npr.org, Seattle Mayor Jenny Durkan put strict criticism on President Donal Trump and Washington Gov. Jay Inslee for the handling of racism protests by saying via Twitter, "Take back your city NOW. If you don't do it, I will."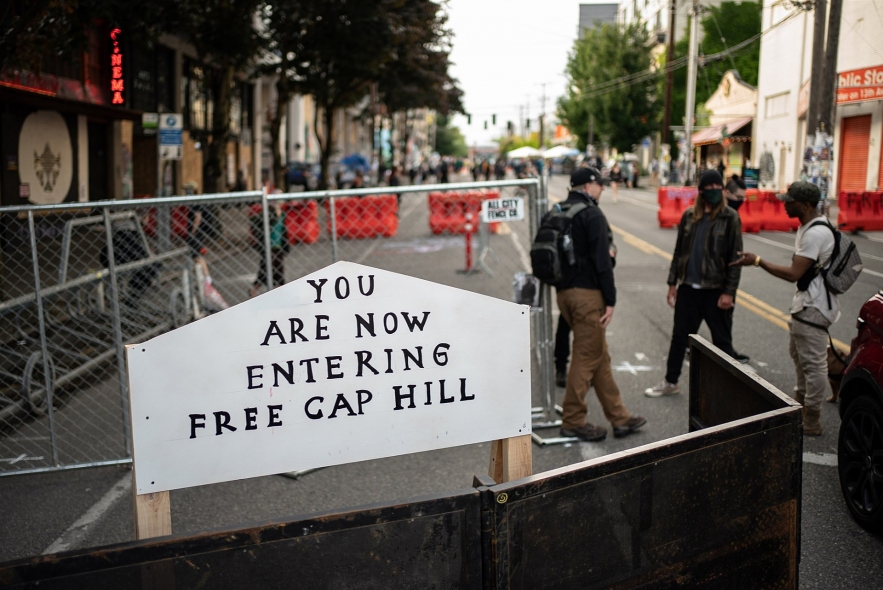 A sign on a barrier at an entrance to the "Capitol Hill Autonomous Zone" in Seattle on June 10. Photo: getty
On June 10, President Trump commented that Both Durkan and Inslee "are being taunted and played," after protesters established an "autonomous zone" on a Seattle street and clash erupted between them and police.
"Make us all safe. Go back to your bunker," Durkan tweeted and referred to Trump being taken to a White House bunker late last month during protests in Washington, D.C. She alos added the hashtag #BlackLivesMatter to show her support for those demonstrating against racism and police's excessive force.

Durkan's tweet. Photo: Tweeter
Inslee replied: "A man who is totally incapable of governing should stay out of Washington state's business."
Trump took aim at Inslee and Durkan late June 10, possibly relating to the creation of the "Capitol Hill Autonomous Zone," where protesters have been allowed to move freely without police interference.
The autonomous zone was established this week after Seattle police took down a barrier near the department's East Precinct building. This is a change in strategy prompted by backlash against police use of tear gas, pepper spray and flash-bang grenades amid demonstrations which were mostly peaceful.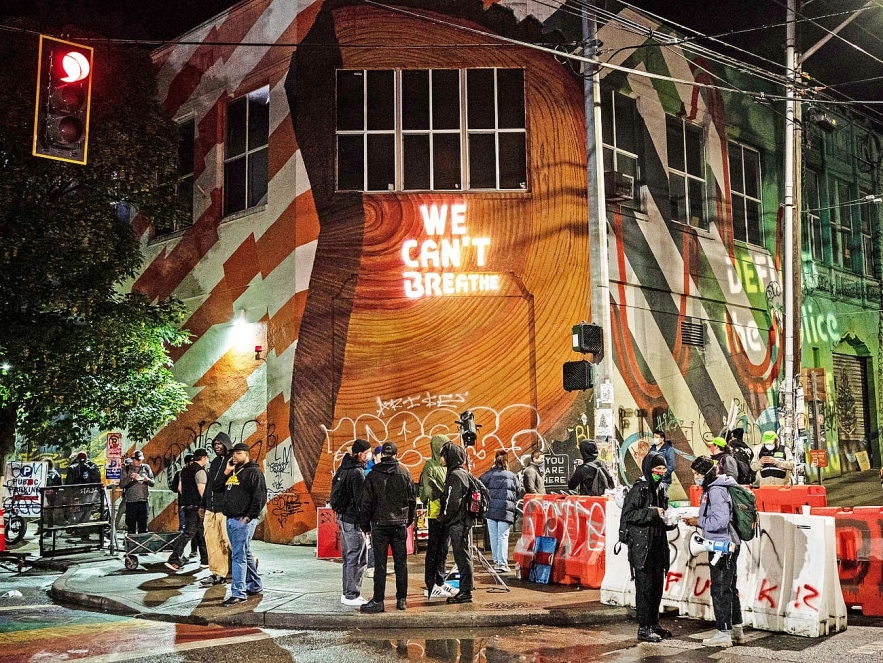 A projected message is seen on a wall near the Seattle Police Departments East Precinct on June 9. Photo: Getty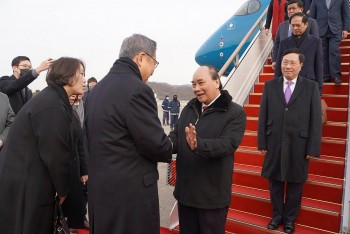 National
Vietnam News Today (Dec. 5): Additional 204 Covid-19 cases recorded on December 4; State President warmly welcomed in Seoul on RoK visit; Vietnam, Venezuela boast potential for fishery cooperation; Northerners feel chill as cold wave intensifies.