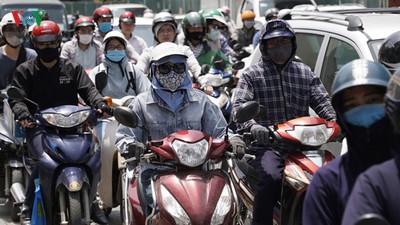 Another heat wave strikes northern, central regions. Source: VOV
Temperatures in both northern and central localities will regularly rise up to 37 degrees Celsius or even 38 or 39 degrees Celsius, according to the National Centre for Hydro-Meteorological Forecasting.
With the humidity levels expected to be fairly low at between 50% and 60%, the peak time for temperatures will be from 11am to 4pm each day when highs rise over 35 degrees Celsius.
The UV index in Hanoi capital and central Da Nang city is predicted to increase to between six and seven on June 18, a reading which could potentially harm those who are directly exposed to sunlight, the centre said.
From June 20, both northern and central regions will be hit by similarly scorching temperatures, with the forecast ahead being more spells of intense heat.
Due to these conditions, it is possible that local people, especially the elderly and children, could suffer from dehydration, exhaustion, or a stroke. They are therefore advised to remain cool, avoid going out in the middle of the day, and drink fresh water as often as possible.
It is anticipated that showers and thunderstorms will occur in the evening and night of the coming days. In northern mountainous areas, rainfall may reach between 10mm and 30mm over the course of 12 hours, increasing to more than 50mm in 12 hours in some locations. The mountain provinces are warned of whirlwinds, lightning, hail, and strong winds.
VOV