Another Vietnamese Female Officer Assigned to UN Peacekeeping Mission
The Ministry of National Defence on August 17 handed over the President's decision to assign Lieutenant Colonel Vu Thi Kim Oanh to the UN peacekeeping mission in South Sudan
The event was chaired by Sen. Lieut. Gen. Hoang Xuan Chien - member of the Central Military Commission, Deputy Defence Minister and Head of the MOD's steering committee for Vietnam's participation in UN peacekeeping operations.
Lieut. Col. Vu Thi Kim Oanh will serve as a military observer at the UN Mission in South Sudan (UNMISS), replacing Lieut. Col. Tran Van Giang. She has become the fifth Vietnamese female officer to join the UN peacekeeping operations on an individual basis.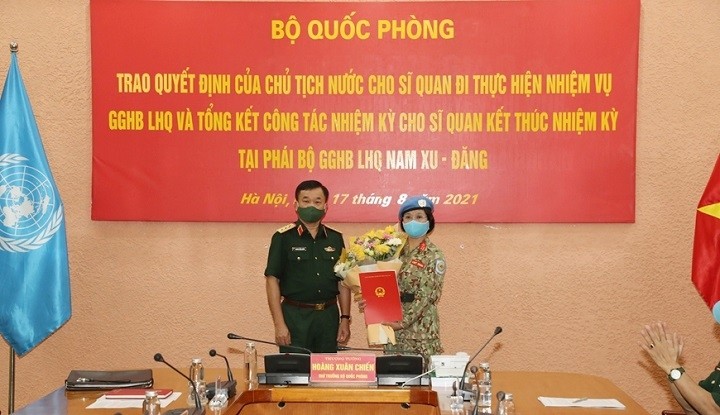 Sen. Lieut. Gen. Hoang Xuan Chien hands over the President's decision to Lieut. Col. Vu Thi Kim Oanh. (Photo: VGP)
So far, Vietnam has dispatched 39 female officers for UN peacekeeping duties, accounting for nearly 16% of its total officers in UN missions – much higher than the average rate of female officers deployed by other countries.
Oanh is expected to depart for the new mission early next month, VNA reported.
At the ceremony, participants also reviewed the performance of Lieut. Col. Nguyen Thi Minh Phuong during her office tenure as a military observer at UNMISS.
Maj. Gen. Hoang Kim Phung, Director of the Vietnam Department of Peacekeeping Operations, said that Lieut. Col. Phuong was recognised by the UN as having excellently completed the tasks across all criteria. For her significant contributions, she has been awarded the "For the UN peacekeeping cause" medal by the UN and received a certificate of merit from the UNMISS Commander, Phung stated.
As of August 2021, Vietnam has dispatched 245 military officers to the UN peacekeeping missions in South Sudan and the Central African Republic, as well as to the UN headquarters, in both individual and unit forms.
In recent years, Viet Nam has increased its engagement in global peacekeeping efforts.
In October 2017, Major Do Thi Hang Nga of the Vietnam Peacekeeping Centre, under the Ministry of National Defence, has become the country's first female officer to join the UN peacekeeping mission in South Sudan.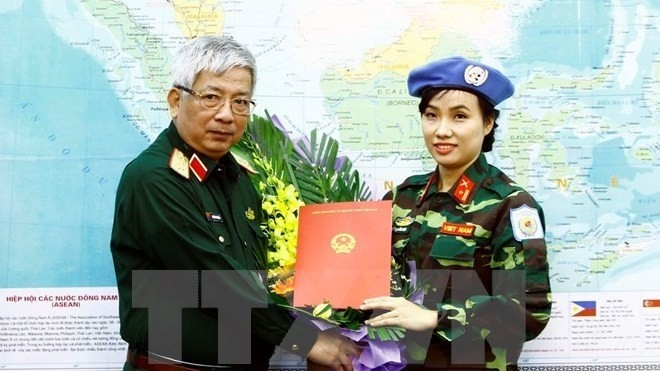 Deputy Minister of National Defence Senior Lieutenant General Nguyen Chi Vinh (L) hands over to Major Do Thi Hang Nga a decision sending her to UN peacekeeping mission in South Sudan (Photo: VNA)
The Ministry of National Defence hosted a ceremony in Hanoi, on October 30, to assign the task to Nga, who began working as a staff officer in charge of overseeing military operations.
Before embarking on the task, Nga reportedly partook in various training courses in Sri Lanka, China, the Netherlands and the Republic of Korea.
Despite the difficulties in their daily lives, female officers of the People's Army of Viet Nam in South Sudan and the Central African Republic not only fulfilled their duties but also proactively proposed to the United Nations Peacekeeping Mission many extra-duty activities to help local people, such as: voluntarily teaching homeless children, donating gifts to the poor, and guiding local people on farming activities.
Increasing women's participation means more effective peacekeeping and peacebuilding. Women peacekeepers are enablers to build trust and confidence with local communities, thus help prevent and reduce conflict and confrontation.
More importantly, they inspire, encourage, create role models for women and girls to become a meaningful part of peace and political processes, as reported by Vietnam UNDP.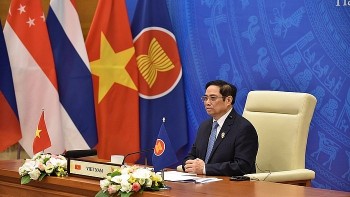 Friendship
Prime Minister Pham Minh Chinh spoke highly of Australia's assistance to ASEAN member states in the fight against Covid-19 pandemic.