Vietnamese peacekeepers in South Sudan wins hearts of local people
With high expertise, dedication and compassion, Vietnamese doctors and soldiers doing UN's missions are earning gratitude and appreciation from South Sudan patients.
One local patient was admitted to Vietnam's field hospital No.2 for emergency treatment. He was supposed to be transferred from the Aweii base to another medical facility in Juba capital. However, due to flight delay, he was taken to Field hospital No.2 instead. Under the treatment of Vietnamese medical personnel, the patient's condition improved. He was discharged not long after that.
"At the base I'm working, there is one Vietnamese man named Son. I really like him for his professionalism at work, his closeness, patriotism, and hard work. He had made great effort to grow green veggies and flowers on such a gravel terrain," the patient who wants to stay anonymous, said.
Last November, during his return to Aweii after a long hospital stay, the patient paid a visit to Son's working place to meet him and send his gratitude towards medical staff and other personnel at Vietnam's Field hospital No.2 in South Sudan.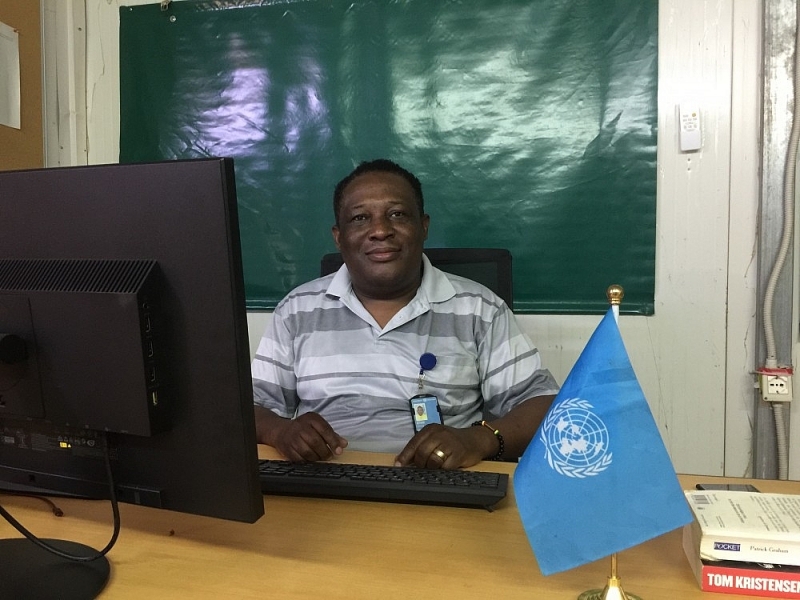 Thomas Mtaisi used to be treated by Vietnamese doctors at Field Hospital No. 2 (Photo courtesy of Thomas Mtaisi)
"Vietnamese doctors and staff had picked me up at the airport, which is 6 km from the hospital. I knew I had been taken to the right place for my emergency operation," he said. "Doctors and nurses at all departments were really attentive to patient's needs and gave us timely encouragement. Their professionalism was what made me feel more reassured."
He added that Vietnamese were amazingly delicious. He was taught how to use chopsticks.
"I am also very thankful to receive such generous support from Vietnamese soldiers," he added.
Thomas Mtaisi, Head of Relief, Reintegration and Protection has been serving at 8 UN peacekeeping missions for the last 20 years. One night in July 2019, he fell ill, had high fever and was taken to Vietnam's Field hospital No.1. Three hours into treatment, his body temperature returned to normal. He made a quick recovery.
"Not only me but my over 2,200 colleagues working at Bentiu felt a sense of security knowing that there is a field hospital run by Vietnamese professors nearby. We highly appreciate the professionalism, expertise, dedication, and attentive care of Vietnamese doctors and nurses," Thomas said.
According to Thomas, Vietnam's hospital has long been a reliable go-to medical establishment for him, his colleagues, and local people.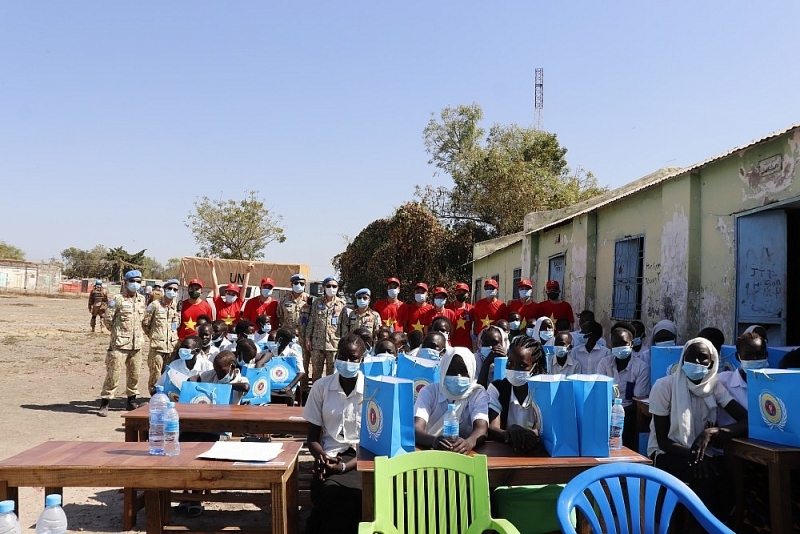 Vietnam's field hospital No.2 in South Sudan presenting self-made tables and chairs to local people (Photo courtesy of Thomas Mtaisi)
Earlier in late April, Vietnamese officials in South Sudan received recognition and high appreciation from the United Nations and international friends for their fruitful contribution to the UN-led peacekeeping mission.
Lieutenant Colonel Stéphane Pierrat, UN-affiliated advisor to the Vietnam Peacekeeping Department, said that Vietnamese peacekeeping force was capable of responding to all UN requirements. His evaluation was based on Vietnamese peacekeepers' support to not only the army but also local people.
"I learn that the UN highly appreciates Vietnam's contribution. I see Vietnamese officers who have fulfilled their mission returning to Vietnam with a bright smile. I also see those departing to South Sudan are all smiley as they say goodbye. They must take great pride in undertaking the mission", Pierrat was quoted by Bao Tin Tuc.
As of June 2014, Vietnam has set up three field hospitals level 2 in South Sudan. The first two hospitals have accomplished their mission and sent officers home while the third one is about to welcome another 24 peacekeepers in the next few days.
"Vietnam's mission in South Sudan is exemplary in medical aid, especially in the context of the current epidemic challenge", Major Adam R. Lulay, Bilateral Affairs Officer from the US Officer of Defense Cooperation, said.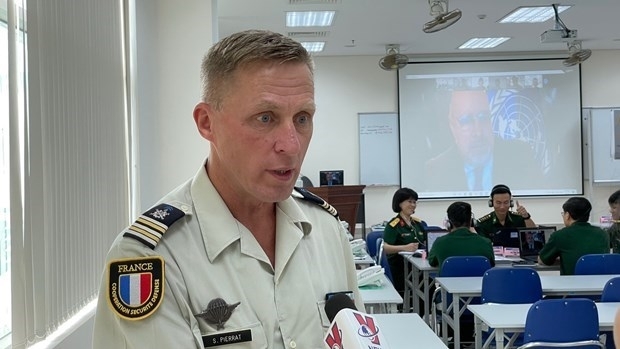 Lieutenant Colonel Stéphane Pierrat, an European Union expert for peacekeeping at the Vietnam Department of Peacekeeping Operations (Photo: VNA)
During the Covid-19 pandemic time, Vietnamese peacekeepers have been strictly abiding by anti-pandemic regulations in South Sudan. One female officer earlier made 800 face masks for officers.
Along with performing ty the UN, Vietnamese peacekeepers also extend helps to local people by means of humanitarian activities, including raising and teaching children, giving locals gardening tips, etc.
Lulay said the peacekeepers from Vietnam have "done an incredible job leading the way in many ways", especially the percentage of women higher than the level recommended by the UN
Over the last six years, Vietnam has included 20 servicewomen in its level-2 field hospital staff, accounting for nearly 16 percent, and four others individually deployed to UN peacekeeping operations, higher than the recommended 15 percent.